UCLA rugby players find brotherhood, life skills in elite play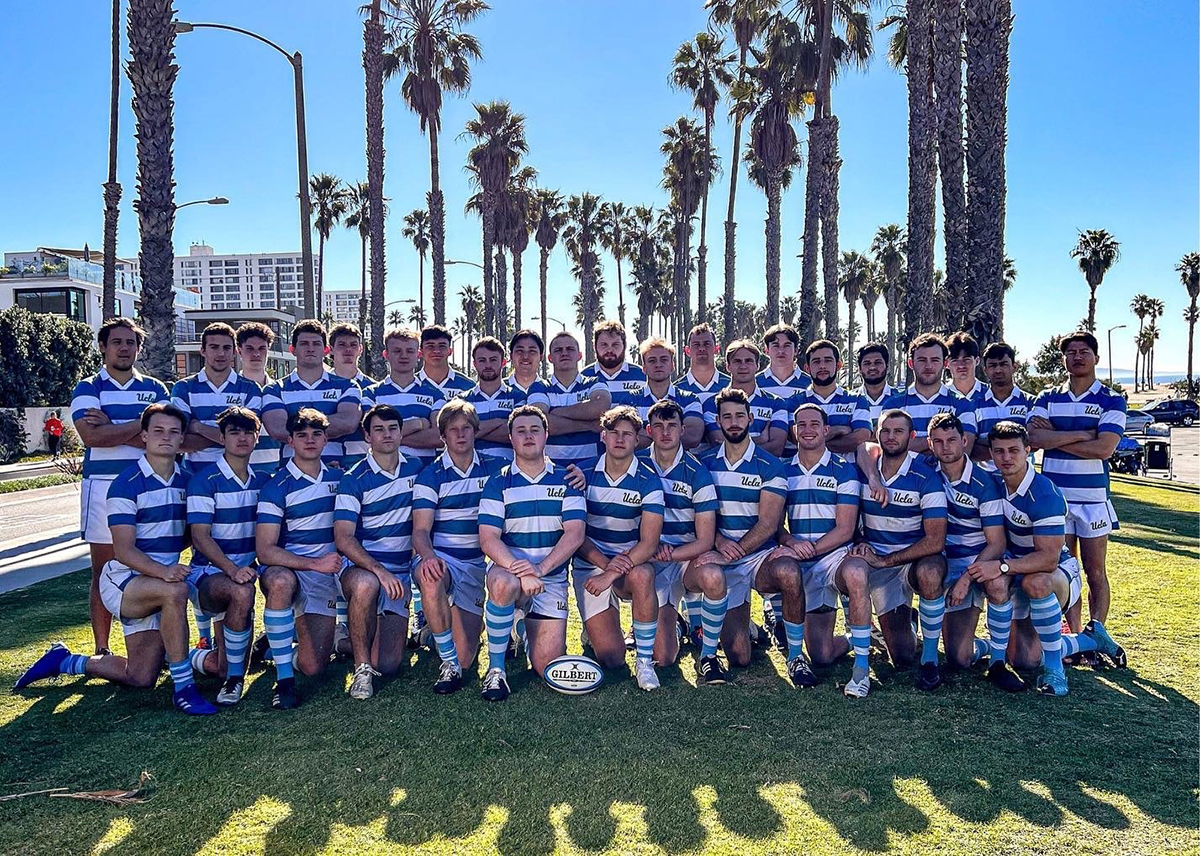 The 2021-2022 UCLA men's rugby team poses for a photo. The sport allows players of all walks of life to come together. (Courtesy of Dalia Joudi/UCLA Rugby)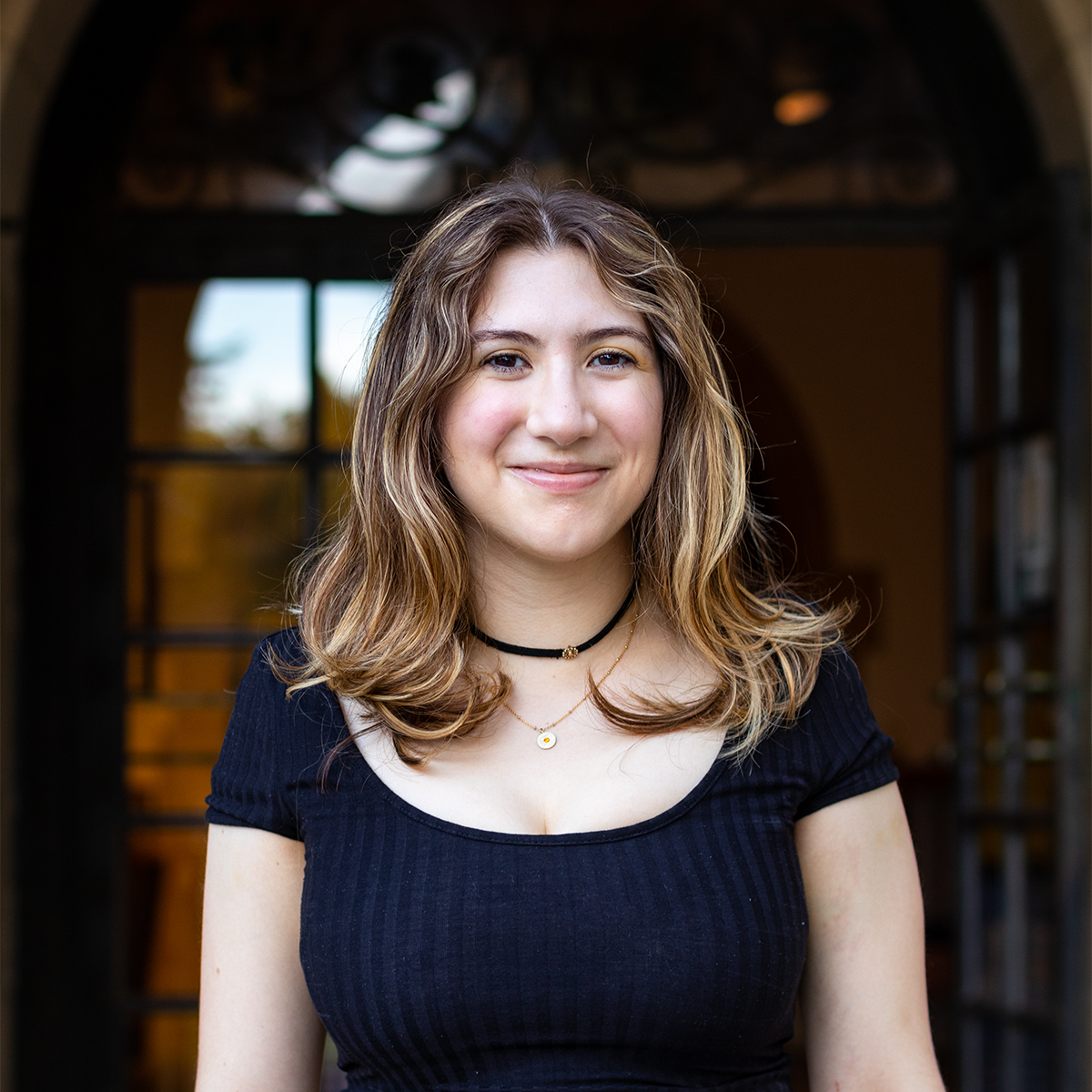 Brotherhood.
It's the word Colby Schnayer used to describe his relationship with the 42 other members of his team.
Schnayer is a senior prop for UCLA men's rugby – a team that went 8-5-1 in the regular season last year and sent three of its players to the 2022 Major League Rugby Collegiate Draft, with one drafted 12th overall and the other two looking to sign somewhere in free agency. Additionally, the 2021 No. 1 overall pick of the MLR Collegiate Draft came from the Bruins.
Senior center Lucas Lacamp echoed his teammate's sentiment about the culture of playing on a rugby team.
"You're literally putting your … whole body on the line for your friend next to you, and you know they're doing exactly the same for you," Lacamp said. "It's really the only sport that has you create such an amazing bond with your guys you're playing with, and … my best friends are the guys I play with."
It's the brotherhood that separates rugby from the other sports Lacamp played throughout his life and makes it – in his eyes – one of the greatest sports in the world.
As a child, Lacamp grew up around rugby, beginning to play at eight years old with his dad – who played for Hong Kong in the 1993 Rugby World Cup. After growing up with the sport in Hong Kong, he then went on to play at his boarding school in England and later followed in his mother's footsteps to UCLA. He ended up pursuing rugby in college – an option he said he didn't even know he had until he got accepted.
After spending over a decade with the sport, Lacamp said he has cherished the opportunity to play in college with people of all different rugby skill levels.
"I love it," Lacamp said. "There's no better feeling than watching someone get better and you're like, 'Yeah, I kinda helped mold his rugby experience.'"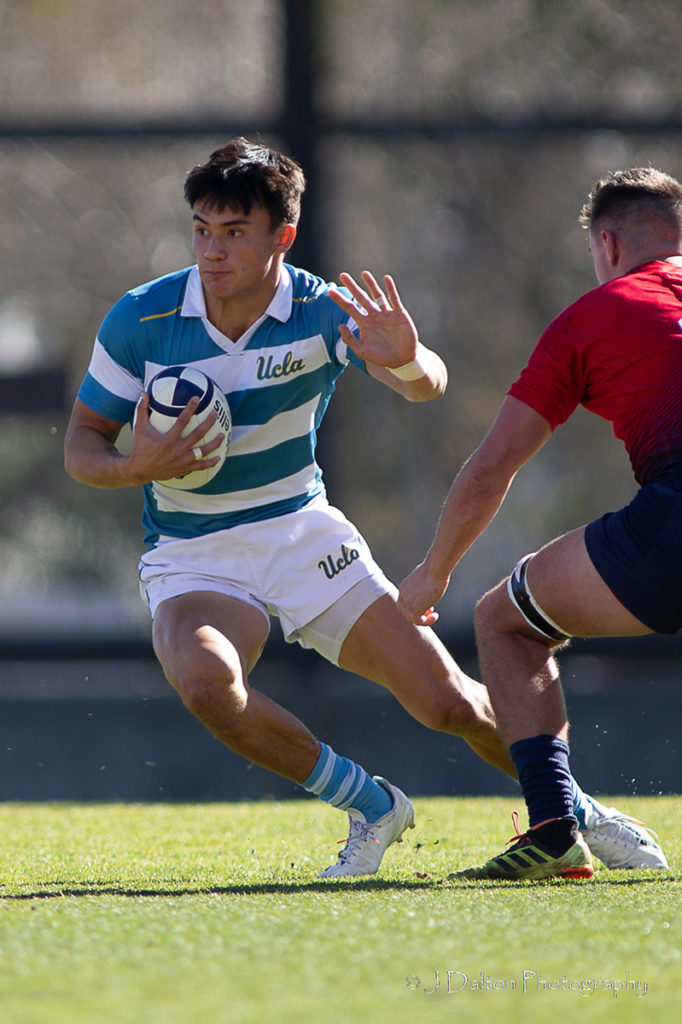 Despite claiming he doesn't see his rugby background as special, Lacamp represented Team USA in his own corner of America – Los Angeles – in the LA Sevens tournament in late August.
He has spent the last year juggling being a Bruin with being a pro rugby player, using online classes to pursue his other passions in playing for Team USA in Sevens tournaments around the world.
The LA Sevens tournament is one of 10 tournaments of its kind across several different continents where the world's 16 top teams compete over the course of two days. Team USA emerged in the middle of the pack in the USA leg, dropping matches against the tournament winner and runner-up – New Zealand and Fiji, respectively – while beating current world champions South Africa as well as Canada during Day 1 play.
Lacamp's experiences playing rugby taught him real-world skills, he said.
"You got to be able to adapt," Lacamp said. "It's a sport that I'm quite passionate about, so I keep wanting to organize stuff. … If you really want to do it, you can always find a way to do something."
Lacamp is currently the only college student competing for rugby's Team USA at a national and global level, with opportunities such as an Olympic appearance becoming increasingly plausible in the coming years, said UCLA coach Harry Bennett.
Bennett added that Lacamp's contributions to the Bruins' team and to the sport are immeasurable.
"The experience and advice that he brings to some of the less-experienced players that are new to rugby is infectious," he said. "It's hard to quantify the impact that a player like Lucas has on our program."
Bennett, who comes boasting his own professional rugby career in both Australia and the United States, added that experienced players like Lacamp aid him in his coaching as well.
Because of his past experiences working in LA, when the coaching position opened up in 2021, Bennett jumped at the opportunity to join the Bruins. Through generous ongoing contributions from alumni and supporters of UCLA Rugby, Bennett has also been able to make coaching his full-time career and has spent this offseason preparing for the coming year – his first full season with the squad.
"I'm absolutely loving my experience so far," Bennett said. "Everything is trending in a very positive direction for us."
Unfortunately, finding a reliable head coach hasn't always been easy for the Bruins. In 2019, their coach quit less than a month into fall quarter, leaving the team to rely on themselves along with several assistant and volunteer coaches through the rest of 2019 and part of 2020.
March 2020 came with a new head coach – and COVID-19. He stuck with the team through 18 months fraught with COVID-19-driven uncertainty before departing at the beginning of the 2021 season and leaving the team coachless for a period of several months once more.
Bennett – alongside bringing stability to the Bruins – is also attempting to elevate the team back to varsity status, after it dropped to club status in 1982. In its tenure as a varsity sport, the blue and gold won three national championships and amassed a 362-46-2 record over 17 years.
"We're creating a culture of excellence around guys wanting to compete at the highest levels," Bennett said. "And they're certainly ambitious to reach the heights that I know we're all capable of."
While UCLA has become a home for elite rugby, it has also allowed players like Schnayer to find their place and join the brotherhood.
Up until the summer before he started at UCLA, Schnayer had never even touched a rugby ball. But it only took a few months of playing for him to decide that he wanted to walk on to the Bruins' team in September 2019.
"I kind of fell in love with it," Schnayer said. "The rest is pretty much history."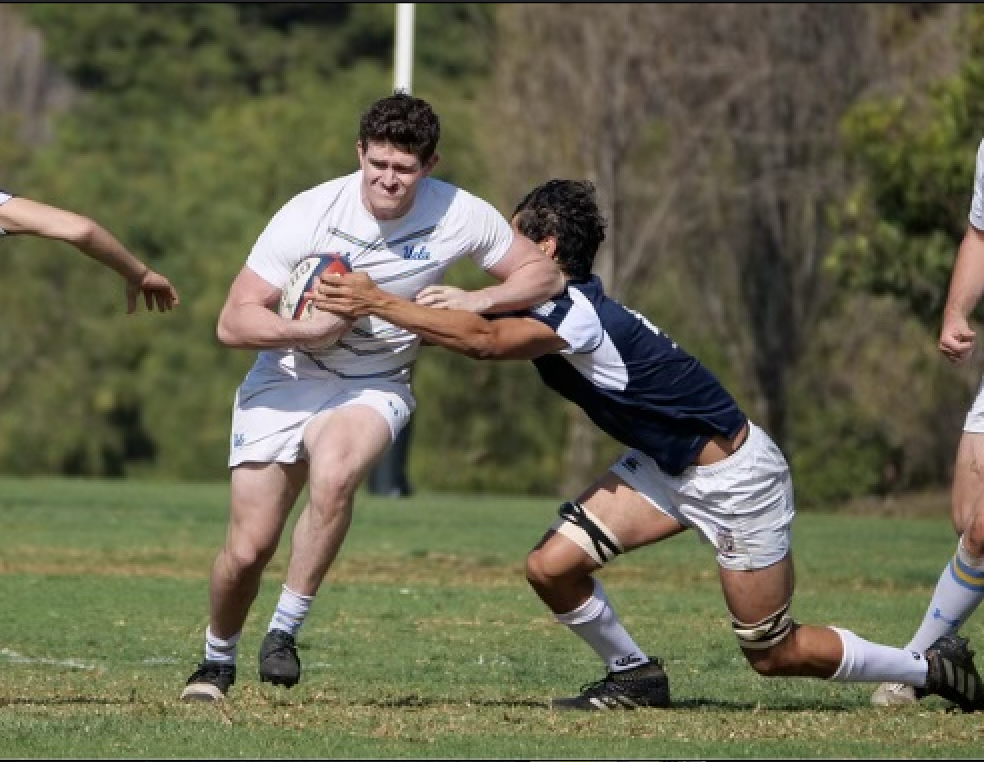 Unlike several fellow teammates, he said he has no desire to begin professional play, instead focusing on getting his aerospace engineering degree so he can be a pilot. But playing for the blue and gold has still offered him life skills that will serve him well in his future.
"For team president, just learning how to lead a team, manage a team," Schnayer said. "It's talking patience as well as how to try to do what's best for everyone."
Schnayer and Lacamp make up two sides of the spectrum of UCLA men's rugby, a team that produces draft picks alongside grad students and takes in new players alongside veterans of the game.
And despite differing widely in future goals and coming from all walks of life, everyone on the team has found a place within UCLA rugby.
"We might not be the biggest team, we might not be the most talented team, but we try to be the most hardworking team," Schnayer said.
Ionescu is currently an assistant Sports editor on the men's volleyball, women's volleyball, swim and dive and rowing beats. She was previously a contributor on the women's tennis beat.
Ionescu is currently an assistant Sports editor on the men's volleyball, women's volleyball, swim and dive and rowing beats. She was previously a contributor on the women's tennis beat.