The Quad: UCLA alumni reflect on entrepreneurial journey, facing uncertainty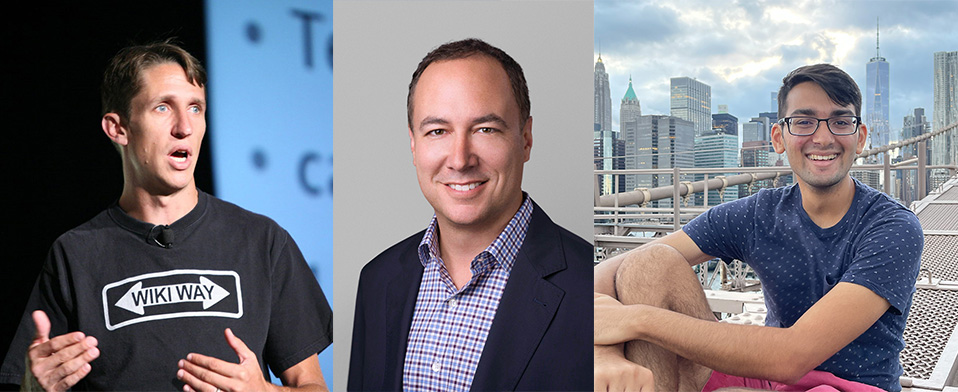 Pictured from left to right are entrepreneurs Alex Dunne, Jim Lanzone and Siddarth Pandiya, who reflect on their career journeys and times at UCLA. (From left to right: Courtesy of Alex Dunne, Courtesy of Yahoo, Courtesy of Rachel Lu)
Sept. 16, 2022 10:36 a.m.
Although the risks and uncertainty associated with entrepreneurship make it intimidating for many, some Bruins have taken that step to change the world.
Alumnus Barry Eggers, the founding partner at Lightspeed Venture Partners, said he applauds the entrepreneurial spirit on UCLA's campus he sees now, an encouraging development since he was an undergraduate in the '80s.
"I love the entrepreneurial spirit that I've seen," Eggers said. "When I was in college, … I didn't even know what (entrepreneurship) was. So it's great … seeing so many entrepreneurs in school."
However, Eggers added that these entrepreneurial efforts on campus have room for improvement, particularly the lack of intersectionality between academia and entrepreneurship. Advocating for the entrepreneurship minor and an introductory entrepreneurship class for freshmen, as well as contributing an annual $5,000 grant to a UCLA-founded startup, are some of Eggers' efforts to bridge that gap.
For some UCLA alumni, their attitudes largely shaped their entrepreneurial successes.
Alumnus and serial internet entrepreneur Ross Mayfield said he attributes his successes to the particular environment he was forced to face early in his career.
Mayfield said he entered the workforce during a jarring economic downturn as a new graduate in the '90s. He added that the harsh job market brought him to a nontraditional role that pushed him to exercise high levels of autonomy and provided unique opportunities, equipping him with the tools to succeed as an entrepreneur amid unforgiving circumstances.
"Some of the best companies start in those downturns," Mayfield said. "I would imagine that people who are reading this just had to go through this traumatic period of the pandemic … that actually sets them up very well for the world."
Mayfield said current students can leverage seemingly unfavorable circumstances to their advantage and build unique solutions that can shape the future.
"Start with the itches that you would scratch for you because you are part of the future and can see it in ways that old people like me can't," Mayfield said. "And … develop a contrarian view about what the solution should be, particularly with the advantage that you have, … a blank slate."
Siddharth Pandiya, a recent graduate and co-founder of workplace mental health startup Kona, said he built several startups in high school and college before he found success, relying on his early failures to guide him.
"That's the mistake we made earlier. … Most founders are solution-oriented people and always want to jump into solving the problem," Pandiya said. "But putting in an effort to really understand the problem in its entirety … before you even think about any solution is so critical."
In July, Kona raised $4 million in seed funding and serves customers such as Canva and GoodRx.
Pandiya said he wants to see more of these success stories at UCLA. He added that UCLA can help by offering cushion – like courses, funding and leeway – for students to explore creative projects without the overwhelming burdens of potential risks.
"People are afraid to take the risk," Pandiya said. "But I think something that the school can do … is to encourage more technical people to branch out and start building things that impact the world, as opposed to going to work at Google or Facebook."
For Jim Lanzone, alumnus and current CEO of Yahoo, a conviction for his vision allowed him to embrace those risks.
"You really are out there on the high wire without a net, and that's stressful. My second startup, I already had three kids and a mortgage when I did it," Lanzone said. "I was just dead set the world needed what I wanted to build, and so I did it anyway. I think that's the only way you can truly commit yourself is if you're just willing to fail."
Lanzone added that his days at UCLA when he was completely unsure of his career path were crucial to his success.
"I was a camp counselor. I worked on Capitol Hill for a summer. I worked for an internet company. I worked for a commercial real estate mogul," Lanzone said.
While there are important steps UCLA can take to encourage more entrepreneurship, Bruin alumni such as Lanzone continue to highlight the importance of putting oneself out there even amid uncertainty.
"You have to get experience. You have to start somewhere, do as good of a job with what you're given as possible," Lanzone said. "Not only do I think more will come to you, … but also you'll figure out what you really want to do."