The Quad: Students, faculty reflect on stress in view of upcoming fall quarter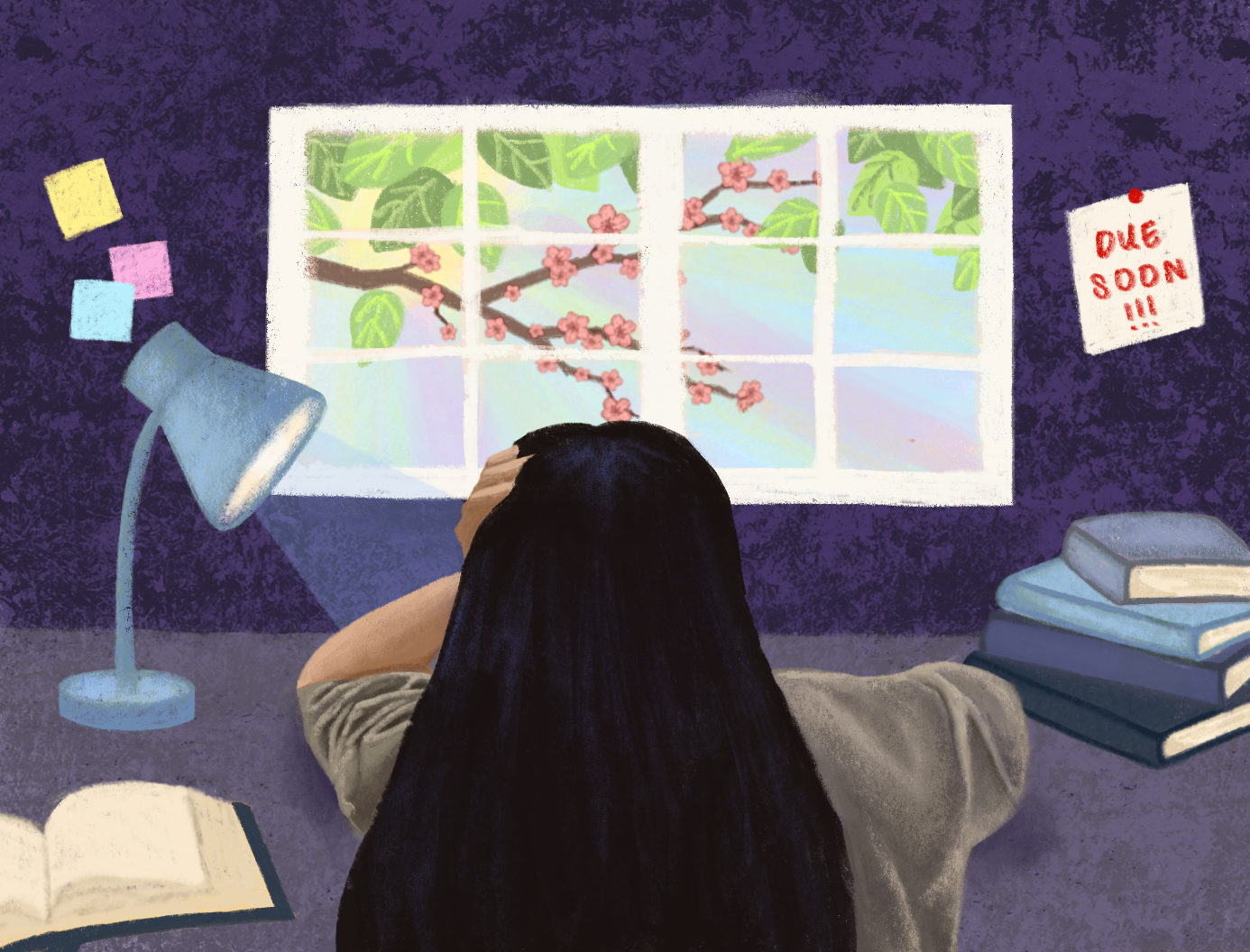 (Megan Fu/Daily Bruin senior staff)
Sept. 16, 2022 10:31 a.m.
While summer serves as a time of rest and recuperation for Bruins, the transition from a holiday to the academic commitments of fall quarter can be a stressful experience, whether a student is going into their first year or their last year in Westwood.
Psychology professor Robert Bilder said stress can arise from a discrepancy between expectations and outcomes, such as facing a challenging task that one assumed to be easy or vice versa.
"Stress always comes from a mismatch between what you expect and what's really happening," Bilder said. "If your expectations are that things are going to be easy and they turn out to be hard, then that's stress."
According to Mayo Clinic, stress is an automatic physical, mental and emotional response to a challenging event. Positively, it can lead to change and growth, yet adversely, it can lower one's quality of life.
Particularly, students may also find it difficult to manage and adapt to their workload amid evolving COVID-19 restrictions.
Fourth-year business economics student Jeremiah Ortega said his fellow Bruins struggled with returning back to in-person classes during spring quarter.
"For spring quarter, … everyone was able to come back from a yearlong's worth of online activities and classes, and now being in person, it was a rough transition," Ortega said.
Nonetheless, COVID-19 is certainly not out of the picture, and the possible isolation experience for students with COVID-19 can pose an even greater barrier to adapting to the hectic quarter.
Second-year psychobiology student Dahlia Kirov said falling behind in classes during her isolation period became a major source of stress.
"I definitely felt the pressure and stress associated with the quarter system as soon as I came out of isolation because I felt that I had missed an entire week of school, and I was trying to catch up while learning the material of the next week," Kirov said.
Psychology professor Constance Hammen added that students may have negative reactions to these stressors and exhibit depressive or anxiety symptoms often labeled as burnout.
"Generally when people are faced with a situation that they interpret as threatening, or disappointing or somehow negative, … the typical reaction is an emotional response," Hammen said.
Bilder added that while students should not diminish the merit of the challenges they face, they should also understand that stressors from academics are normally not life-threatening.
"One thing is … focusing on the likelihood – that's very high – that the outcome is going to be good no matter what," Bilder said. "You're really unlikely to be facing grave threats to your life or security with most of the kinds of actions that you take."
Adopting different coping mechanisms for stress can help Bruins bloom from their struggles. For example, rebuilding constructive study habits and recovering lost time may help ease stress in the long run.
According to a study published in the Annual Review of Psychology, encouraging students to make and correct their mistakes can improve performance in high-stake environments.
Kirov added that understanding her mistakes has been useful for her in making academic progress and advancement in a fast-paced environment.
"It's better to just identify your knowledge gaps, your limitations, as soon as you notice them and then address them," Kirov said. "So that way you can move forward and not feel as though you don't remember anything from the past five weeks of school."
Tina Bahador, a psychologist based in Santa Monica who focuses on neuropsychological therapies, said rebuilding sleep schedules and routines earlier can ease the pressure of transitioning from summer to fall.
"The sleep schedule and your daily routines in summer are likely going to be very different," Bahador said. "I actually really recommend that a few weeks before you start your classes, … you start regulating your sleep schedule … to get a little bit slowly closer to what it's going to be like in the fall."
Bahador added that incorporating regular physical exercise into one's daily routine creates positive neurological impacts.
"There's a lot of research that show regular physical exercise, cardiovascular exercise daily, almost daily, really helps improve attention and concentration, manage stress and anxiety, manage mood," Bahador said. "More frequent exercise really does a lot for your mood and stress levels."
Ortega said he sought out friends and family during times of difficulty and prioritized mental health over schoolwork.
"There's no rush, and … grades are not everything," Ortega said. "People's mental health is more important than having an arbitrary number to determine your career. … Take time for yourself to relax, spend time with friends and family, and just do something fun."
While the uncertainty of life postgraduation and post-summer stressors may persist, building genuine connections can help welcome growth in the face of uncertainty. Bahador added that it is crucial to know support is around you.
"For students, especially, you realize if you can have authentic relationships with one or two people, you can open up," Bahador said. "You realize … you're not in that situation alone."