The Quad: Bruins affirm health benefits of outdoor activities on campus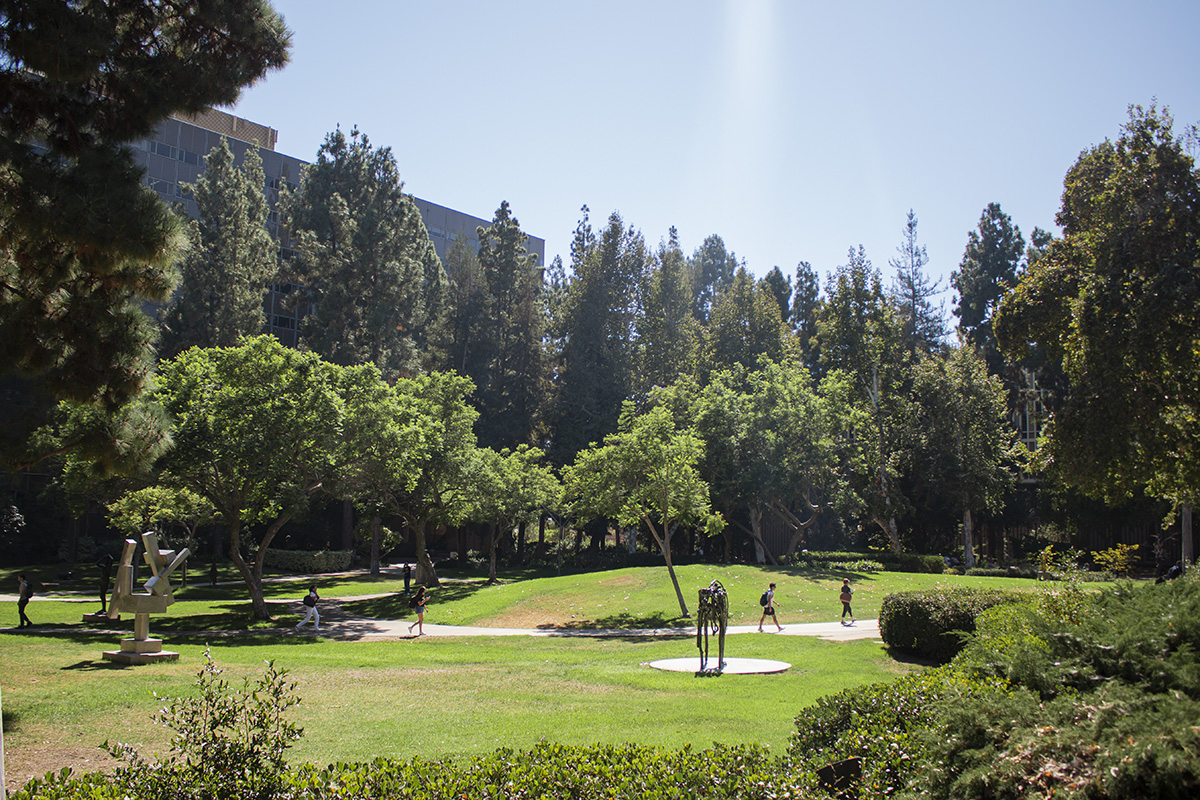 UCLA students walk across the Franklin D. Murphy Sculpture Garden. Exploring the outdoor spaces of UCLA's campus and Westwood may offer physical and mental health benefits for Bruins. (Megan Cai/Assistant Photo editor)
Sept. 16, 2022 10:32 a.m.
Scrolling through social media or watching television is the default decompression activity for many, and spending time outdoors is often overlooked.
While laying down and putting on a good show may be tempting, research shows that spending time outside every day can be more beneficial.
According to the National Wildlife Foundation, spending time outside can lower blood pressure and support cognitive function.
Furthermore, according to the NWF, those with vitamin D deficiencies are more likely to struggle with fighting infection and with preventing the development of autoimmune diseases, making the sun and its surplus of vitamin D all the more helpful.
Some Bruins have already taken advantage of UCLA's campus to find some time outdoors.
Joshua Stepter, a third-year neuroscience student, said long walks are built into his schedule through his journey to classes and around campus.
"I think, particularly at school, it's really easy to incorporate because sometimes too I just end up slowing my walk down and just kind of embracing being outside in the sun," Stepter said.
Sage Frock, a third-year political science student, said UCLA's campus features, such as Janss Steps, make it easy to spend time in the sunshine.
"I love that at UCLA, I can walk to my classes, and I can go sit on Janss and study outside or spend time with friends outside," Frock said. "Because the weather is so nice at UCLA, we can be outside all the time."
For some Bruins, easy access to outdoor spaces can also mean improved sleep.
Those exposed to increased amounts of sunlight before noon fell asleep more quickly and slept more soundly than those who were not, according to Reuters.
In addition to the physical benefits of increased outdoor time, there are also mental health benefits.
According to UCLA Health, spending time outside can improve symptoms of anxiety and stress, increase feelings of calm and enjoyment, and boost one's mood.
Olivia Lam, a fourth-year communication student, said breaking up the monotony of classes and studying indoors with a short walk always improve her mood.
"Putting deliberate effort into that will increase your mental health so much," Lam said. "I think going outside, literally just half an hour, 10 minutes, … it makes such a big difference. So I think it's really important to implement in student schedules especially."
Additionally, researchers have found evidence that time spent outside can also benefit one's academic performance.
According to the Child Mind Institute, outdoor time can help promote creativity, stimulate the senses and reduce fatigue.
Stepter added that going outside in between studying and classes is a great source of inspiration and motivation in his academic pursuits.
"I think going outside for some fresh air definitely helped me to reset and gives me more motivation to kind of keep going," Stepter said. "And then of course, if I'm feeling good, then I'm going to do things better as well, academically and otherwise."
Joining clubs and organizations at UCLA is an additional way to get outside and be active with other students.
The Backpacking Club, Dig Student Garden and Bruin Beekeepers encourage students to engage in outdoor activities and learn about surrounding ecosystems in Westwood.
Although a heavy workload can make it difficult to find free time, there are opportunities for Bruins to get their daily dose of vitamin D with the many resources and recreational sports available on campus.
"One of my favorite parts of going to UCLA is just that being outside is basically always an option," Frock said. "And it's also just cool to be at a school where so many people prioritize activities that are outside, having friends that want to go to the beach, go hiking or anything. That's really helpful to just being happy and having a reset to do well in classes."