Opinion: UCLA students should utilize CAPS, on-campus communities to improve mental health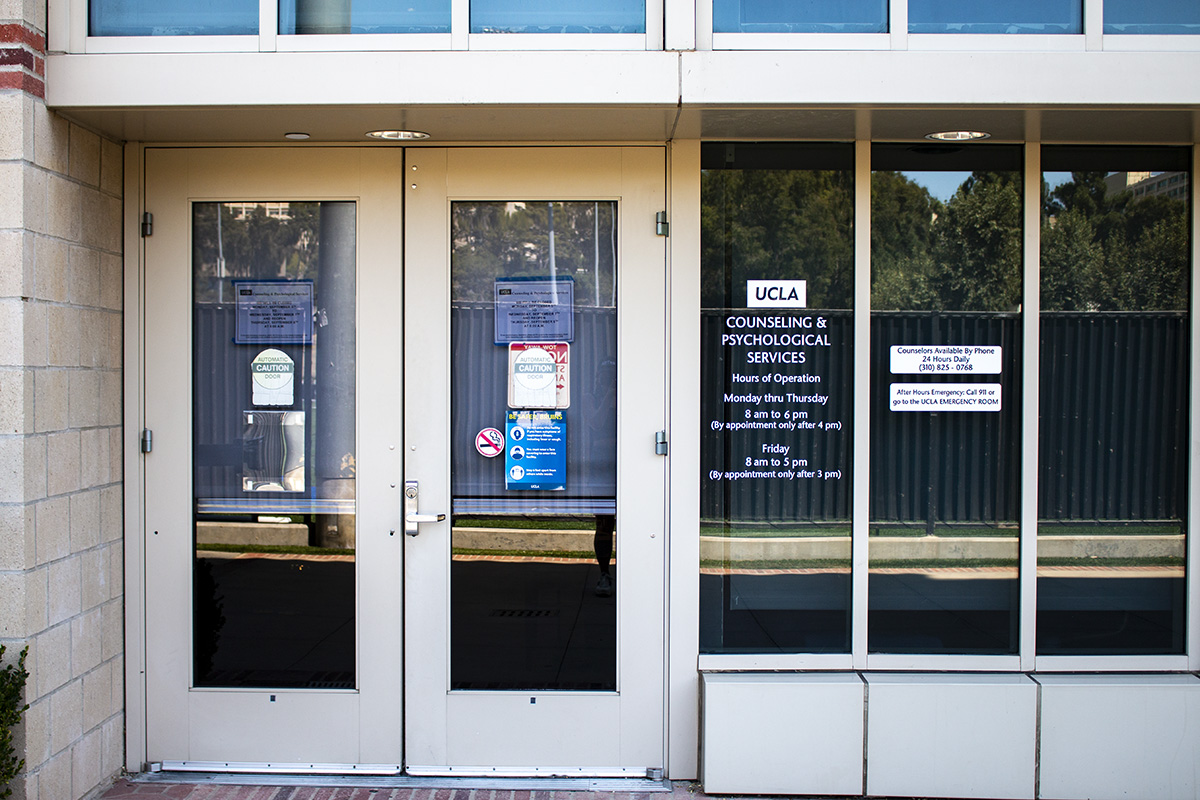 The Counseling and Psychological Services building is shown. CAPS is one of the most well-known mental health resources UCLA students can utilize. (Megan Cai/Assistant Photo editor)
Sept. 16, 2022 10:29 a.m.
There is no doubt that maintaining one's mental health can be quite a difficult task, especially for college students.
According to the Mayo Clinic, rates of anxiety and depression have increased since the COVID-19 pandemic, with 44% of college students reporting symptoms of depression or anxiety.
While it is easy to get caught up in the excitement of the upcoming academic year, students should take advantage of the mental health resources UCLA has to offer. This includes programs offered by Counseling and Psychological Services as well as UCLA Recreation.
Like any competitive university, UCLA is a place where students feel the overwhelming pressure of expectations from parents, professors and themselves. On top of that, many students often experience imposter syndrome and mental health declines.
These expectations are often heightened at the beginning of the school year. First-year and transfer students alike face the unfamiliarity of living in a new environment – many for the first time in their lives. Meanwhile, older students face the pressure of maintaining good grades and securing postgraduate plans.
College can also be an economic burden for many students, specifically those from low-income communities, so health care and therapy may seem out of reach. Although UCLA students face academic, economic and personal challenges that take a toll on their mental health, wellness resources are designed to help and students should seek out these programs.
The most well-known mental health resource at UCLA is CAPS, which provides students with therapy resources.
"Regardless of insurance plan or current residence, all registered UCLA students are eligible for same-day clinical consultation, help with coordination of mental health care and support, as well as referral and treatment recommendations," said Saeromi Kim, a CAPS representative, in an emailed statement.
Under University of California Student Health Insurance Plan, the university's healthcare plan, CAPS services are prepaid for eight sessions, with no fees. Students without UC SHIP can pay $15 per therapy session.
CAPS oversees a prevention and outreach program called Resilience in Student Experience, which provides students with services free of charge. They include programs, classes, training and self-directed resources to help students navigate the challenges of college life.
Both CAPS and RISE are run by mental health professionals, prevention educators, advisors and student ambassadors. In the fall, RISE will host an open house and provide outreach all year round.
While professional help is integral to one's journey to mental wellness, connecting with other students and building a tight-knit community is essential. Kim recommends programs such as Wazo Connect, Active Minds and QueerPeers. These are student organizations, or affiliated with groups such as the Queer Alliance, that offer peer support and work to destigmatize the conversation around mental illness.
UCLA Recreation also incorporates mental health in their programs. Bruin MindFit, one of its programs, is specifically catered to mental well-being, using meditation and mindful movement to reduce stress. While not a replacement for therapy, the program can help create resilience and compassionate communication while staying active.
"There are many studies that have shown the mental health benefits of regular participation in physical activity not just mindfulness," said a UCLA Recreation spokesperson in an emailed statement. "We encourage students to find activities they enjoy and enroll in UCLA Recreation classes and programs to increase social engagement, learn new skills, have fun, boost morale, increase focus and productivity for their academic studies, increase happiness, learn to play in settings and improve overall well-being, physically, mentally, and emotionally."
Mental health is just one facet of wellness.
"I believe that mental health is a component of holistic health – that being social, physical, mental and planetary," said fourth-year molecular, cell and developmental biology student and Undergraduate Students Association Council's Student Wellness commissioner Ana Majer.
Student Wellness also hosts Healthcoming, a fall event where organizations can help address the holistic health of students.
While CAPS has many resources, it has drawn warranted criticism. Some say there are not enough resources, with students waiting months for appointments, and others say it is not specialized for certain areas of mental health. As a single resource, CAPS is unlikely to cover the breadth mental health encompasses.
"We hope to expand wellness resources and prevention programs for all students through RISE. We are still in growing stages and hope to expand further to reach more students," Kim said.
Many students find out about CAPS through social media and peer programs such as RISE, so CAPS is focusing on expanding RISE to improve outreach, Kim said.
Through student outreach and a variety of programs directly or indirectly improving mental health, one may find a healthy balance at UCLA.
UCLA can also improve mental health resources on campus by working with student groups, as well as campus communities such as the Black Bruins Resource Center, Transfer Student Center and the LGBTQ Campus Resource Center.
"When it comes to student groups, I think that it comes to talking with those individuals in leadership to address the sort of needs that they have, and how UCLA is going to be able to fund them," Majer said.
Bruins take pride in putting their best effort out in the world – and they should have the same attitude toward their mental health.