Op-ed: Westwood provides wide variety of opportunities for Bruins to engage with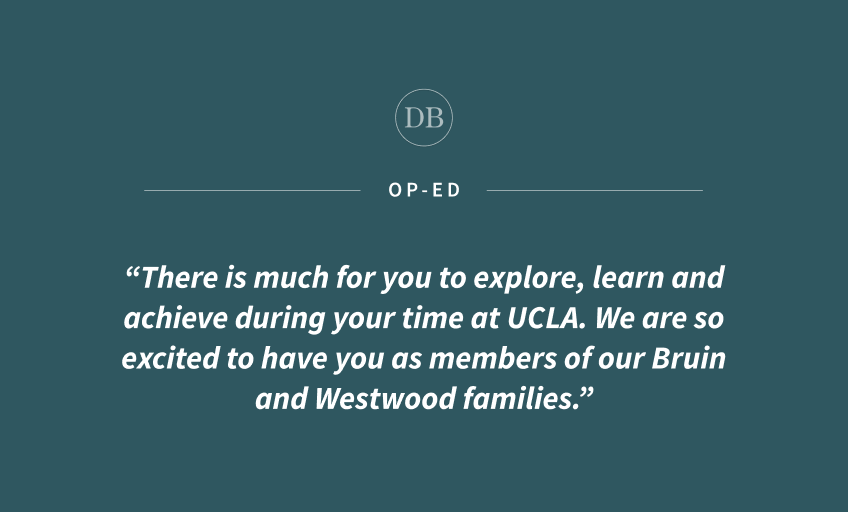 Sept. 16, 2022 10:30 a.m.
Hello Bruins! It is our pleasure to welcome you – or welcome you back – to UCLA and to Westwood.
The UCLA campus is home to a diverse mix of people, opportunities and experiences that will surely challenge and excite you. But a UCLA education extends well beyond the classroom, the dorm room, the lab and the library. We have the privilege of being located in a wonderful part of one of the most lively cities in the world. During your time as students, we hope you will make time to step off campus and engage with everything Westwood and Los Angeles have to offer.
Just across the street from the UCLA campus is the lovely and welcoming Westwood Village. A great resource for our community, Westwood offers a variety of shops, services and restaurants, as well as cultural treasures such as the Geffen Playhouse, the Hammer Museum and the Regency theaters, where you just might see the stars come out for Hollywood premieres. UCLA will add even more artistic vitality to the community when we open our new performance space, the UCLA Nimoy Theater, in early 2023.
Exciting events take place in Westwood Village throughout the year. Our annual UCLA Westwood Village Block Party on Sunday will include DJs, dancing, games, giveaways, a Ferris wheel and booths featuring Westwood merchants. On the first Thursday of each month, check out UCLA's First Thursdays series on Broxton Avenue, which includes an afternoon farmers market and an evening full of music, food and entertainment. The Westwood Village Improvement Association is also planning other events and initiatives to enhance the Village experience for everyone.
Beyond spending time in Westwood Village, we encourage you to become fully engaged members of our community and take part in its civic life. You can join or attend meetings of the ​​North Westwood Neighborhood Council, engage with the Westwood Village Improvement Association and get to know our elected officials. Beyond Westwood, LA is a world-class city with numerous opportunities to take part in unforgettable experiences, fuel your passion for community service and hone your leadership skills. On Sept. 24, you can volunteer for one of dozens of service projects as part of our citywide Serve LA volunteer day, co-sponsored with USC. You can also get involved in longer-term service projects through the UCLA Volunteer Center, Center for Community Engagement and Community Programs Office.
For those who are able to do so, another important way to contribute to the region is by voting. Your vote gives you the power to help determine the character of our city, state and nation, and the next big opportunity to make your voice heard is in the midterm election this November. We will have several vote centers and drop-off boxes on campus and in Westwood, and you can get comprehensive information on how to register and vote on the Bruins Vote website.
In addition to national and state issues, the November election will decide who will be the next mayor of LA and who will represent UCLA on the LA City Council and LA County Board of Supervisors. The city council and county supervisor candidates for our district will be participating in forums hosted by UCLA and Westwood community organizations Sept. 28 at the Hammer Museum. This will be a great opportunity for you to learn about the vital issues facing our community.
A final piece of advice: Remember that a community thrives when it prizes respect for others. This means being a considerate person and a good neighbor to all those who make Westwood their home. It also means recognizing the individual and collective responsibility needed to continue combatting COVID-19, monkeypox and other diseases. Please keep yourself and those around you safe by following campus and county health guidelines.
There is much for you to explore, learn and achieve during your time at UCLA. We are so excited to have you as members of our Bruin and Westwood families. Have a great year!
Gene D. Block is chancellor of UCLA. Michael Russell is the executive director of the Westwood Village Improvement Association.