UCLA women's soccer seeks to defend No. 1 rank against Pepperdine, San Diego State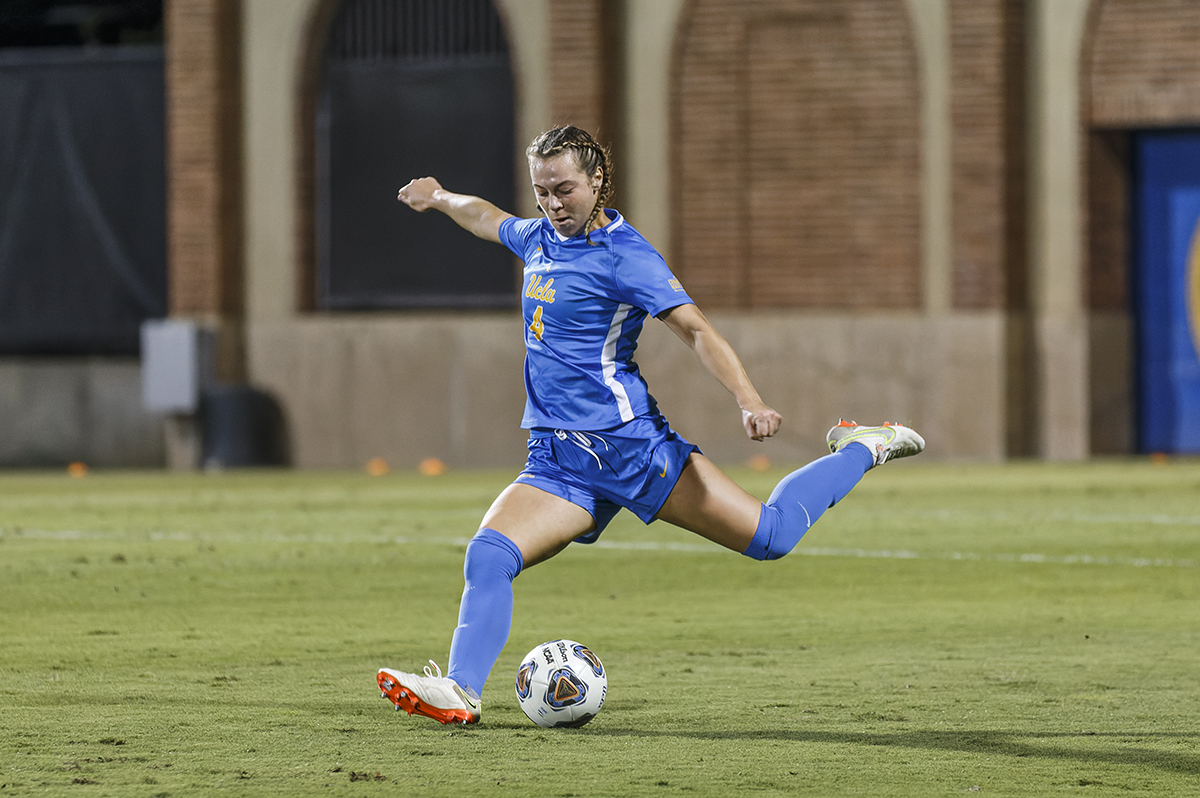 Sophomore defender Lilly Reale sends the ball down the field. Reale is a member of a Bruin defense that has allowed three goals in six games this season. (Joseph Jimenez/Assistant Photo editor)
Women's Soccer
---
San Diego State
Thursday, 7 p.m.
Wallis Annenberg Stadium
UCLA Live Stream-2
---
Pepperdine
Sunday, 1 p.m.
Malibu
No TV info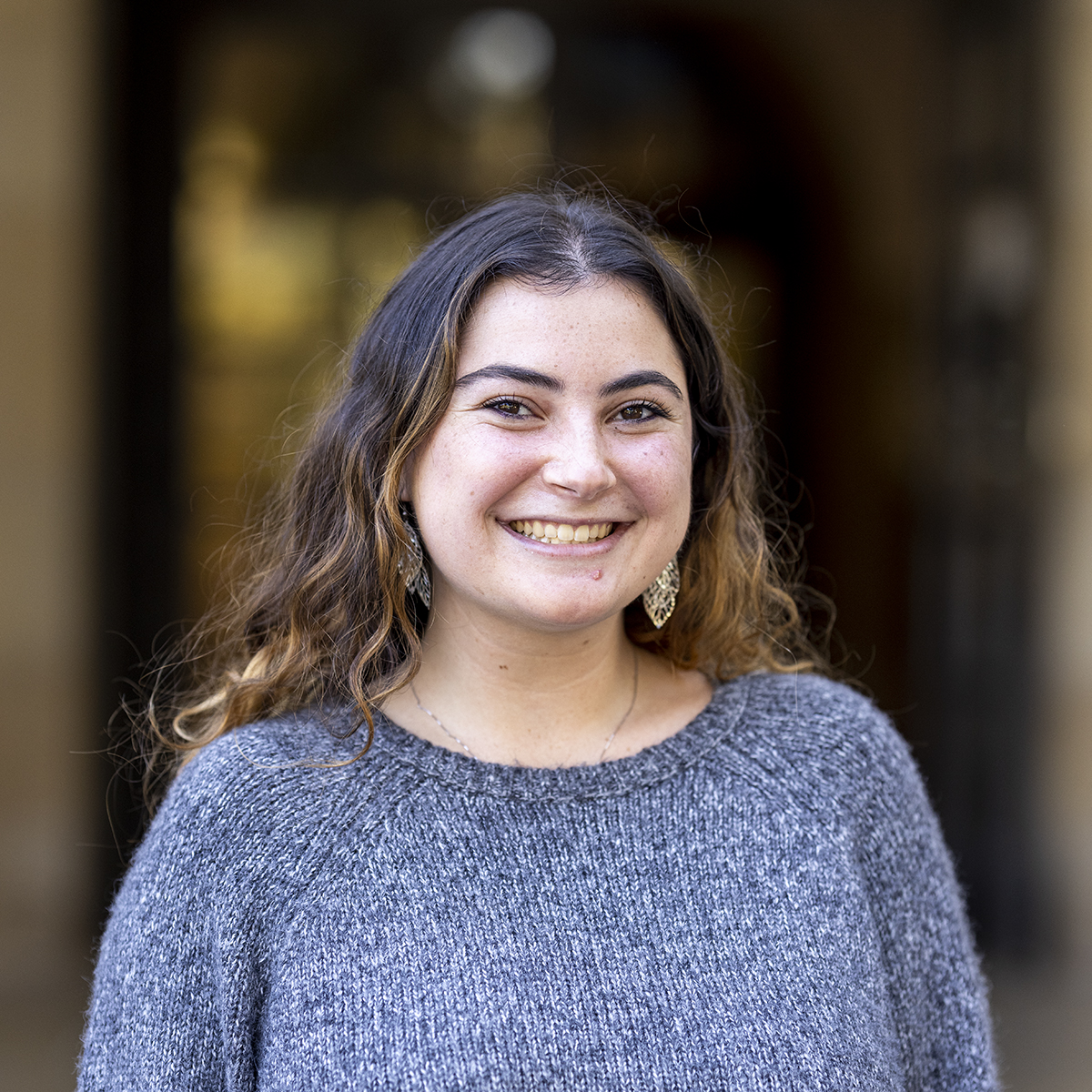 The Bruins are heading into their final week of nonconference play with a No. 1 crown on their heads and a target on their backs.
"We know teams come out and play their best games usually against us," said sophomore defender Lilly Reale. "We expect nothing less."
No. 1 UCLA women's soccer (6-0) is set to take on San Diego State (2-1-4) on Thursday at Wallis Annenberg Stadium, followed by a matchup against No. 9 Pepperdine (5-0-2) on Sunday in Malibu. The Waves are the highest-ranked squad the Bruins are scheduled to square off against for the rest of the season other than Stanford – with whom Pepperdine is currently tied in the polls.
Senior forward Kali Trevithick said UCLA needs to start fast in its upcoming matchup against Pepperdine.
"We can't take anybody lightly, but especially that game, we got to come out strong," Trevithick said. "We show them whether or not we're the No. 1 one team in the nation, and they're going to sit back and let us play our game."
Last year, the Bruins faced the Waves in an exhibition game and the Aztecs in a regular-season contest. UCLA successfully managed to shut out both teams, with one of its goals in each game from now-junior forward Reilyn Turner.
Trevithick said coming out with confidence will be key in replicating last year's results, but coach Margueritte Aozasa noted that facing off against Pepperdine is going to be unlike other teams UCLA has faced thus far.
"We know that it's going to test us in ways that we haven't been tested before," Aozasa said. "I'm really pleased with our nonconference schedule. I think it gave us a little bit of everything, and Pepperdine is going to give us something even different."
Pepperdine enters the contest undefeated but has yet to compete against a ranked opponent in 2022. Last year, the Waves made it to the Round of 16 in the NCAA tournament, while the Bruins were knocked out in round one.
In regards to Thursday's opponent, San Diego State's only loss this season was handed to them by Pepperdine, and the team has collected more draws so far than wins.
With the majority of the nonconference slate in the rearview mirror and Pac-12 play looming, the first-year head coach doesn't quite have her lineups finalized. But Aozasa said that is only indicative of the Bruins' depth.
"That's a good thing. It means that our team is deep. It means that players have been working hard," Aozasa said. "I'd rather have that than to have a solidified 11 already. So hopefully it's kind of a reveal, one, we have still work to do, but two, that we're dangerous with a lot of different combinations."
Nearly a third of the way through the regular season, UCLA has had the opportunity to prove its mettle against the former top two teams in the nation on an East Coast road trip in addition to taking on a trio of California opponents. The Bruins' record emerged unscathed from all.
Ahead of UCLA's upcoming top-10 matchup, Reale said this is just yet another development opportunity for the Bruins.
"We look at each game the same and just see how we can grow," Reale said. "Hopefully we can just try and be more clinical on goal and more solid as a backline and get the result that we want."
Aozasa affirmed the importance of nonconference play, as it allows the squad a chance to iron out any remaining wrinkles before conference competitions. Then, it's make or break.
"Obviously we already play like every game matters," Aozasa said. "But when you go into conference, really, you lose one or two points – that can be the difference between championship or not."
UCLA is set to kick off its final week of nonconference play Thursday at 7 p.m. against San Diego State, followed by its game at Pepperdine on Sunday at 1 p.m.
Friedman is currently the Copy chief. She is also a Sports contributor on the women's soccer beat and was previously a contributor on the women's golf beat and a 2021-2022 slot editor.
Friedman is currently the Copy chief. She is also a Sports contributor on the women's soccer beat and was previously a contributor on the women's golf beat and a 2021-2022 slot editor.