Op-ed: Building back trust and finding my voice after sexual abuse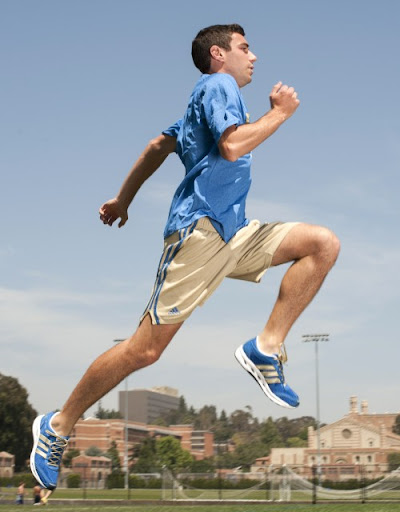 UCLA alumnus Alec Govi, then a senior, poses in a photo for a Daily Bruin story in 2013. (Daily Bruin file photo)
This post was updated Aug. 28 at 10:20 p.m.
Editor's note: The article contains a detailed account of sexual abuse that may be disturbing to some readers.
I was obsessed with becoming an elite athlete during my time as a cross country and track runner for UCLA. During my sophomore year I met Coach A, who claimed to offer me tools to meet my goal that UCLA coaches could not.
Coach A was the private running coach I worked with during my sophomore, junior and senior years. He told me that he coached an Olympic gold medalist hurdler who won multiple World Championships and that he had worked with various legendary UCLA alumni and current UCLA student-athletes.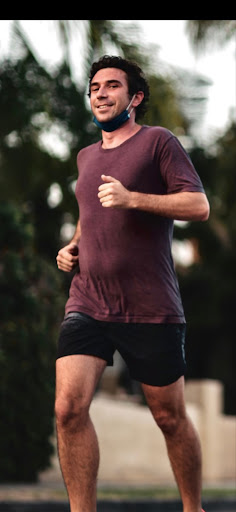 Coach A, whose real name is Conrad Montgomery Avondale Mainwaring, was also the man who sexually abused me. He recognized my ambition and dedication to doing whatever it took to be among the best, then exploited it.
Coach A taught that relaxing through extreme discomfort was a powerful tool to reaching your highest potential. His "therapy" sessions were a major part of developing this mental tenacity. "Therapy" started with a high-quality deep tissue massage that my legs needed from training 70-plus miles per week during most of the year. After almost every massage, he molested me.
He explained that being mentally present during the experience and focusing on the sensations would improve my relaxation during a race. It was an exercise that the best of his students had practiced. He said I had one of the highest testosterone levels on the cross country and track teams, and this, along with my discipline and drive to become an elite athlete, is why he chose me to be among the select few he worked with. I thought I could tell he believed in me and could relate to me, laugh with me and be there for me as a coach. At his encouragement, I even broke up with my girlfriend in February 2011, so I could be all-in on his program.
For the better part of the next two years, Coach A and I talked on the phone or emailed every day. I told him all my workouts. He included me in a large email chain, a community of athletes who he said worked with him. He sent us daily affirmations, training tips and updates about other athletes' accomplishments. He often trained his own squad of athletes on the UCLA track during the official UCLA practices. He took athletes to the same meets as the UCLA team. He cultivated trust, which I felt with him completely.
Per Coach A's instructions, I also gave him detailed information about my sexual arousal on a daily basis. He emphasized the importance of celibacy and focusing on athletics and academics. He asserted that dating, drinking, sex and masturbation would interfere with performance and were prohibited if I wanted to be part of his program. I followed the rules and attended regular "therapy" sessions as my running career bloomed, and I achieved near-perfect grades.
In the years that followed the abuse, I was ashamed of my time going to "therapy" with Coach A. In retrospect, I couldn't understand why I trusted him and allowed him to do what he did over and over. I hated that I had looked forward to the therapy and believed it was making me a better runner. I often recalled when two other athletes who once worked with Coach A tried to convince me to stop working with him when I'd first met the coach, and I didn't listen.
The shame around what happened and envisioning anyone in my life finding out about my time with Coach A was unbearable. I stayed busy with grad school and with a time-consuming, engaging job after school and trying to continue competing in track races. But I felt ashamed of myself when I thought about running in college, which was often and increasing. I clung to a self-harming narrative that I had chosen to get molested for so long.
In fall 2018, I got an email from a name I recognized from my time working with him. I'd been seeing a therapist every two months or so, recognizing I should talk to someone about it but not truly believing what happened to me was "sexual abuse." Otherwise, I did not feel comfortable talking to anyone about it, even though I felt such a strong urge to do so.
The email from Yuri Nosenko began, "Alec, I believe we met back in 2011 when I came out to UCLA to visit Conrad (I don't call him coach any longer) with my wife." I only knew that Coach A's real name was Conrad through a reference to him I'd found online. Reading my fellow survivor's email brought strong feelings of shame. Still, I connected with him immediately and learned about an ongoing national investigation into Coach A's widespread abuse. Allegedly, the coach had been sexually abusing boys and young men since the 1970s. ESPN and the FBI were investigating and trying to discover the scope of Coach A's abuse. The journalists I got in contact with told me I was the most recent victim they had made contact with to date.
As a result of Yuri reaching out to me, I unraveled a thread that led me to connect and share with several other survivors of Coach A's abuse. Most were men in their 40s and 50s with experiences eerily like mine. I reached out to peers my own age that I knew or suspected were sexually abused by Coach A. I spoke with the ESPN journalists and explained the abuse, but the shame kept me from being public. I feared that it could hurt my career if my colleagues knew I had allowed myself to get molested – a self-blaming mindset I still couldn't shake so many years later. Still, I reported Coach A's abuse to the FBI in the Westwood Federal Building not 1,000 feet away from Coach A's apartment where he abused me. And I finally told the people closest to me about what happened to me in college, why I had often refused to go out, drink, date or socialize.
ESPN reported its findings in an explosive story that helped me understand what happened to me truly was sexual abuse.
In my experience, it's rare to connect with another victim/survivor of sexual abuse. Getting molested feels taboo, gross, shameful, and it's easy to feel as though no one really wants to hear about it. The message I got from peers who I know or suspect were also abused by Coach A was that they wanted to keep it in their past. They told me I should move on, focus on myself and not let him keep me down all these years later. Meanwhile, some men I've connected with who were abused by Coach A decades ago say they wish they had the tools to confront it earlier in life.
Coach A is in jail now in Massachusetts awaiting trial and facing criminal charges for abusing several minors, some under the age of 14, while working as a counselor at a summer camp for boys. But the abuse remains a strong source of shame and self-doubt for me and at times, feels like a barrier to trusting others and myself.
It may feel that talking about sexual abuse does not make sense when we conceivably had the ability and the power to stop what happened to us. We may think we should have known we were being abused and walked away, and maybe we don't deserve to talk about it because we brought it onto ourselves. Whether or not we're able to convince ourselves otherwise, it doesn't change our feelings and emotions around the abuse living within us.
It also doesn't change that our abuser manipulated us. It doesn't change that it isn't our fault and shouldn't be our burden to bear.
I have come to understand that a helpful antidote for survivors of sexual abuse is exploring the shame and feelings around trust with yourself, a therapist, friends and family. Embarking on the journey of opening ourselves up to the feelings around sexual abuse and leaning on others will help us become more connected to ourselves and break the cycle of shame that keeps it a secret.
Govi is a class of 2013 alumnus and a class of 2016 alumnus of UCLA School of Law.