UCLA women's soccer puts value on team chemistry as 2022 season commences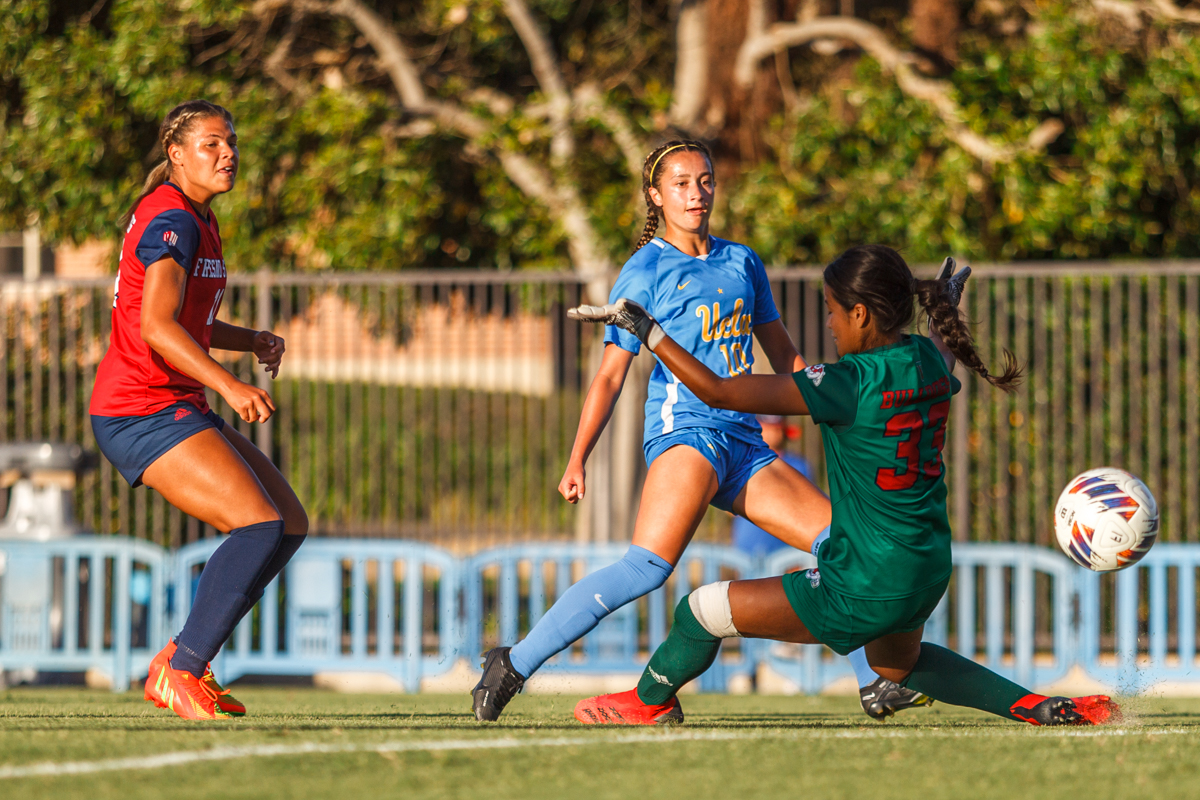 Freshman midfielder Ally Lemos kicks the ball. Lemos scored her first goal of her collegiate career in the final minute of UCLA's exhibition match against Fresno State on Saturday. (Joseph Jimenez/Assistant Photo editor)
Women's Soccer
---
Iowa
Thursday, 7 p.m.
Wallis Annenberg Stadium
Pac-12 Networks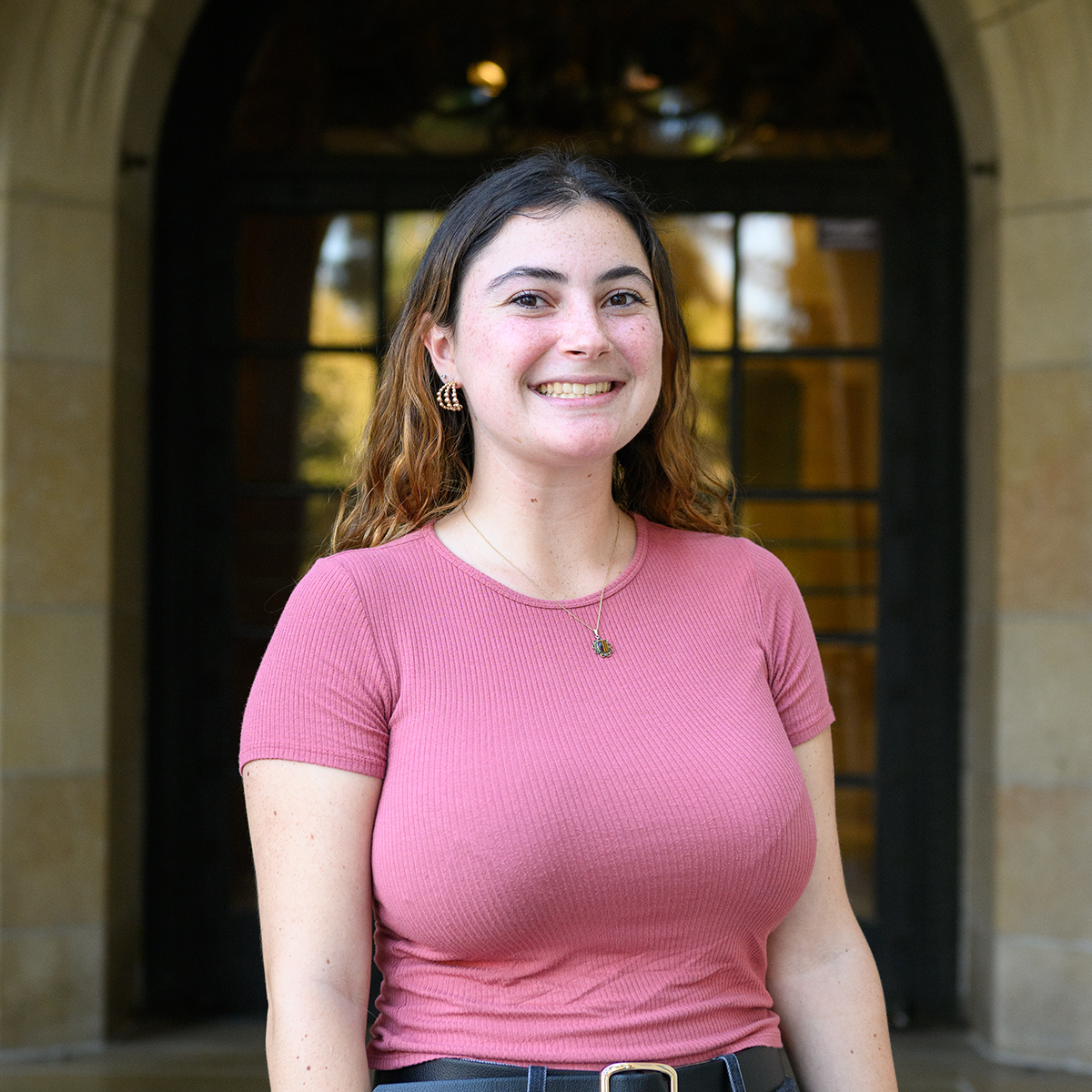 After an early postseason exit last season, the Bruins are looking for redemption.
"It definitely lights the fire under our bellies," said senior defender Kylie Kerr.
With an exhibition victory under its belt, No. 13 UCLA women's soccer is already talking postseason and championships. But first, the Bruins will have to take on Iowa in their season-opener at Wallis Annenberg Stadium on Thursday.
Coach Margueritte Aozasa said the Iowa program is nothing to scoff at but the team is ready to match the Hawkeyes' competitiveness.
"Any team in the Big Ten is known for their physicality, known for their competitiveness – kind of their grit," Aozasa said. "So if we're not ready to match that overall intensity, then we're going to be in trouble."
On Saturday, UCLA had its first opportunity to demonstrate this mettle, facing off against Fresno State at home in an exhibition matchup. The Bruins defeated the Bulldogs 5-1, and newcomers to the program, graduate transfer forward Ally Cook and freshman midfielder Ally Lemos, scored three of the Bruins' goals.
Aozasa said the exhibition game was a great opportunity to observe team chemistry on the field.
"As a coaching staff, one of our jobs is to figure out the best combination of players on the field," Aozasa said. "We had some really great moments during this game that gave us some insight into what those relationships could be."
But even more than developing relationships on the pitch, the squad has been working to create a positive team dynamic on a personal level. The team's new coaching staff has brought a lot of positive energy to the Bruins, according to Kerr, who added that the personnel really care and want the best for the players on and off the field.
And the seniors such as Kerr are taking up this mantle themselves, as well.
"Us seniors, we've really made it our mission to make everyone feel included and feel like they have a voice and that they're not scared to play," Kerr said. "The energy is really good."
Aozasa confirmed that the camaraderie and supportive environment stems from every aspect of the team, from the staff to the players.
She said that every week, the Bruins engage in some sort of team-building activity – whether lighthearted or serious – in order to build relationships and encourage players to open up with each other.
"I have to give credit to the older players," Aozasa said. "They've committed themselves to making sure that every single player in our team – whether they're older, younger, returning, new, whatever – every single one feels welcomed and every single one feels like they belong."
For Lemos, a freshman addition to the Bruins, the team and staff have already proved to be amazing.
Lemos said she's excited to see how everyone's relationships progress – and of course, pursue a memorable postseason.
"We're already all like sisters," Lemos said. "And I'm also really excited to hopefully go for the natty."
The midfielder added that in addition to making friends with her teammates, she's been particularly motivated by the UCLA veterans. Lemos said their high expectations for the season push her to shoot for the same.
"Kind of like iron sharpens iron type of thing," Lemos said. "All they've experienced, they've been helping me out with it. And it's just been a really great learning experience, and it's keeping us all motivated."
The Bruins' 2022 campaign will officially kick off Thursday at 7 p.m.
Friedman is the 2022-2023 Copy chief and a Sports contributor on the women's soccer beat. She was previously a Slot editor, Copy intern and Sports contributor on the women's golf beat.
Friedman is the 2022-2023 Copy chief and a Sports contributor on the women's soccer beat. She was previously a Slot editor, Copy intern and Sports contributor on the women's golf beat.