Zach Charbonnet steps into new responsibility, finds balance in leadership role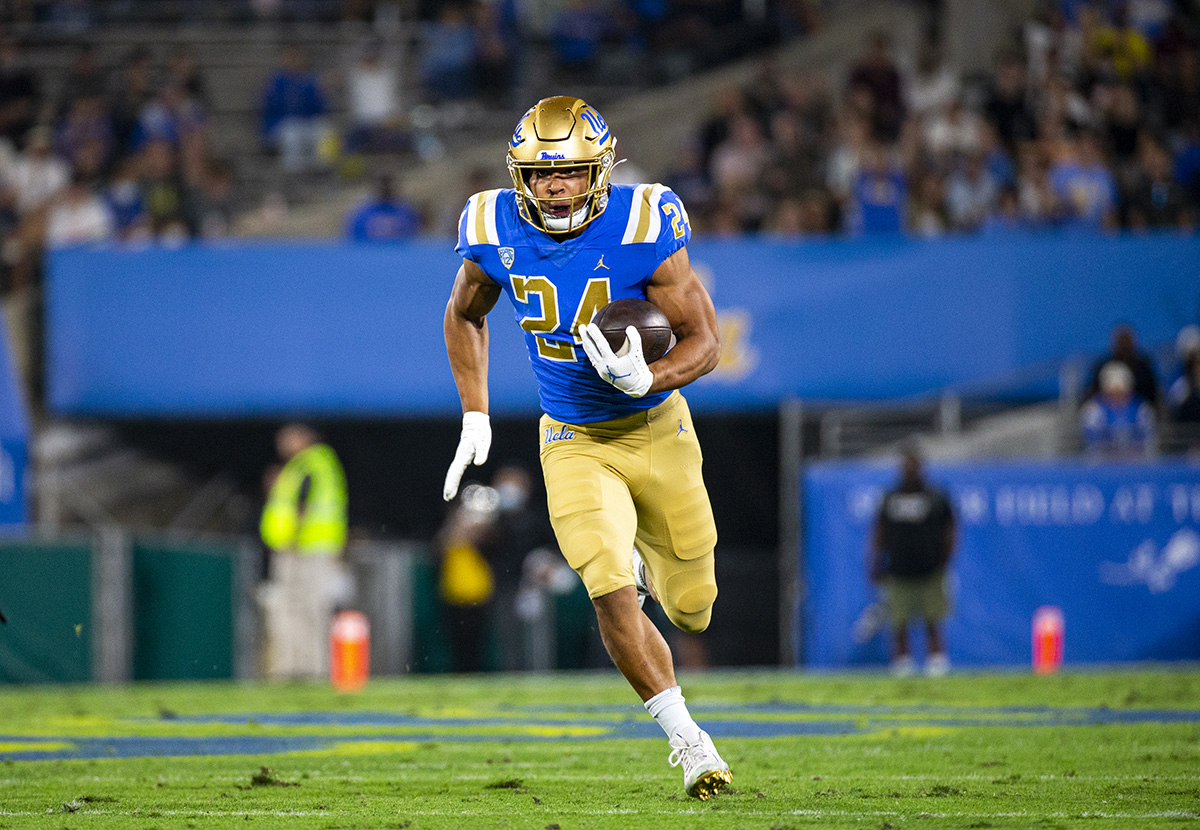 UCLA football senior running back Zach Charbonnet runs with the ball. Charbonnet amassed over 1,300 yards from scrimmage for the Bruins in 2021. (Christine Kao/Daily Bruin staff)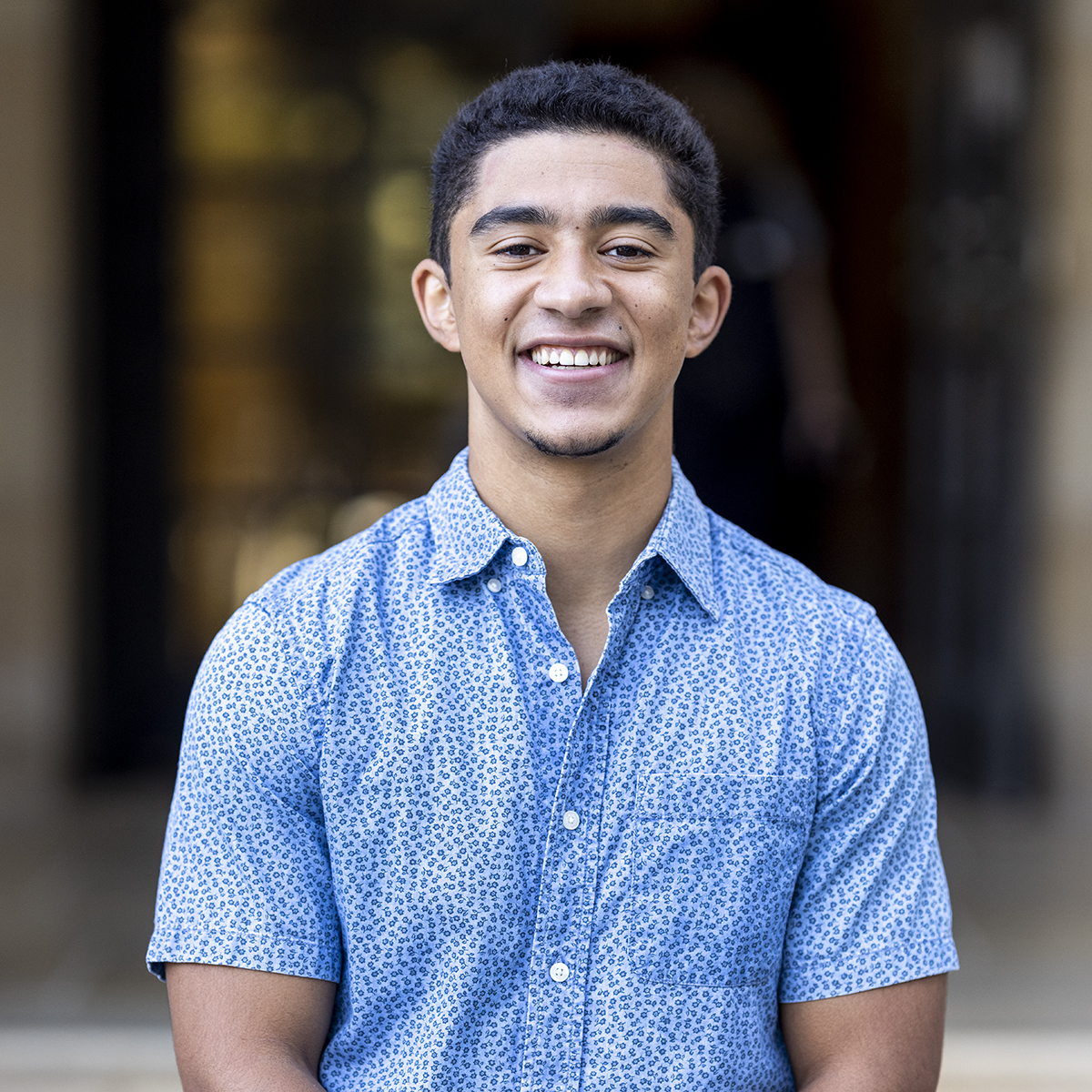 This post was updated on 8/14/2022 at 6:55 p.m.
When Zach Charbonnet transferred to UCLA in 2021, he was fresh off a 124-yard performance.
Not in a single game, but for an entire season. He carried the ball 19 times in five games for Michigan.
After a year in which he totaled over 1,300 yards from scrimmage on 226 touches for UCLA football, the senior running back said he is preparing for what should be the largest workload of his collegiate career.
And according to coach Chip Kelly, Charbonnet's preparation for this heavy usage has earned him recognition – and a nickname – throughout the program.
"His work ethic on our team is probably second to none," Kelly said. "A lot of the kids joke around and call him a cyborg."
Already carrying less than 5% body fat according to coaches, the Southern California native said transforming his body was one of his main goals this offseason.
"One thing I wanted to do was gain muscle mass, but also lose body fat," Charbonnet said. "Last year I was around 217 (pounds), so this year I'm coming in around 223. That was a main emphasis coming into this year, too."
Charbonnet's personal changes come as the blue and gold's offensive roster experiences a recomposition of its own.
With former tight end Greg Dulcich, wide receiver Kyle Philips and running back Brittain Brown all gone to the NFL, Charbonnet is the only Bruin in training camp not named redshirt senior quarterback Dorian Thompson-Robinson who gained more than 400 yards from scrimmage last season.
As a result, running backs coach DeShaun Foster said he expects Charbonnet's 2022 workload to significantly exceed the 18.8 touches per game he accumulated last campaign, which he used to earn All-Pac-12 Second Team honors. But Foster – a former UCLA running back and 2022 UCLA Athletic Hall of Fame inductee – also said he doesn't want to subject Charbonnet to the same overuse Foster faced during his time as a Bruin.
"Twenty-five touches, 18 rushes and seven catches, somewhere around there, just to keep him fresh," Foster said. "But it's not going to be 42 or 30 (touches) or stuff like that. I'm not going to do to them what they were doing to me."
Charbonnet topped 20 carries in six of the Bruins' 12 games last season and totaled a combined 57 touches in their last two wins of the season with former backfield-mate Brown out with an injury.
By removing Charbonnet's first three games as a Bruin, in which he totaled a combined 23 carries, he already averaged the 18 carries per game that Foster hopes to see him at this season, despite Brown being healthy for seven of those 10 games.
While Brown entered that season fresh off an 88-touch season, no Bruin in this year's backfield other than Charbonnet has 50 career touches to their name.
Despite the lack of experience outside of their lead back, Foster said UCLA will keep its two-running back system intact in 2022.
"(We're) just trying to figure out who can fill that void and help out because you can't put all that on Zach," Foster said. "It's a two-back system, two-back league, everybody has two backs. You've just got to be able to stay healthy, and you don't know what's going to happen at the end of the year, so I want to get everybody developed as much as I can."
The rest of the Bruin backfield is headlined by redshirt junior Keegan Jones, freshman TJ Harden and redshirt freshman Deshun Murrell. Jones averaged 2.5 yards per carry on his 26 attempts last season, while Harden and Murrell have yet to see game action for the Bruins.
Nevertheless, Kelly said Jones has been one of the best players in camp thus far, and noted how his skillset differs from Brown's last season.
"He's a legitimate home run threat," Kelly said. "He's not the physical, downhill runner that Brittain is, but I think he can accelerate and run away. He's got legitimate track times where he can go. He's a real big threat out of the backfield as a receiver, so we're really happy where he is."
Foster said the Bruins can also expect redshirt junior wide receiver Kazmeir Allen to play a hybrid role as a running back like he did last season.
Regardless of who slots in behind him, Charbonnet said the Bruins are focused on earning a Rose Bowl appearance the way Foster's team did back in 1999.
"He (Foster) said that was everything," Charbonnet said. "That was the UCLA culture that we got to bring back this year."
Carlson is currently a staffer on the women's basketball and softball beats. He was previously a reporter on the men's golf beat.
Carlson is currently a staffer on the women's basketball and softball beats. He was previously a reporter on the men's golf beat.