North Westwood Neighborhood Council recap – Aug. 3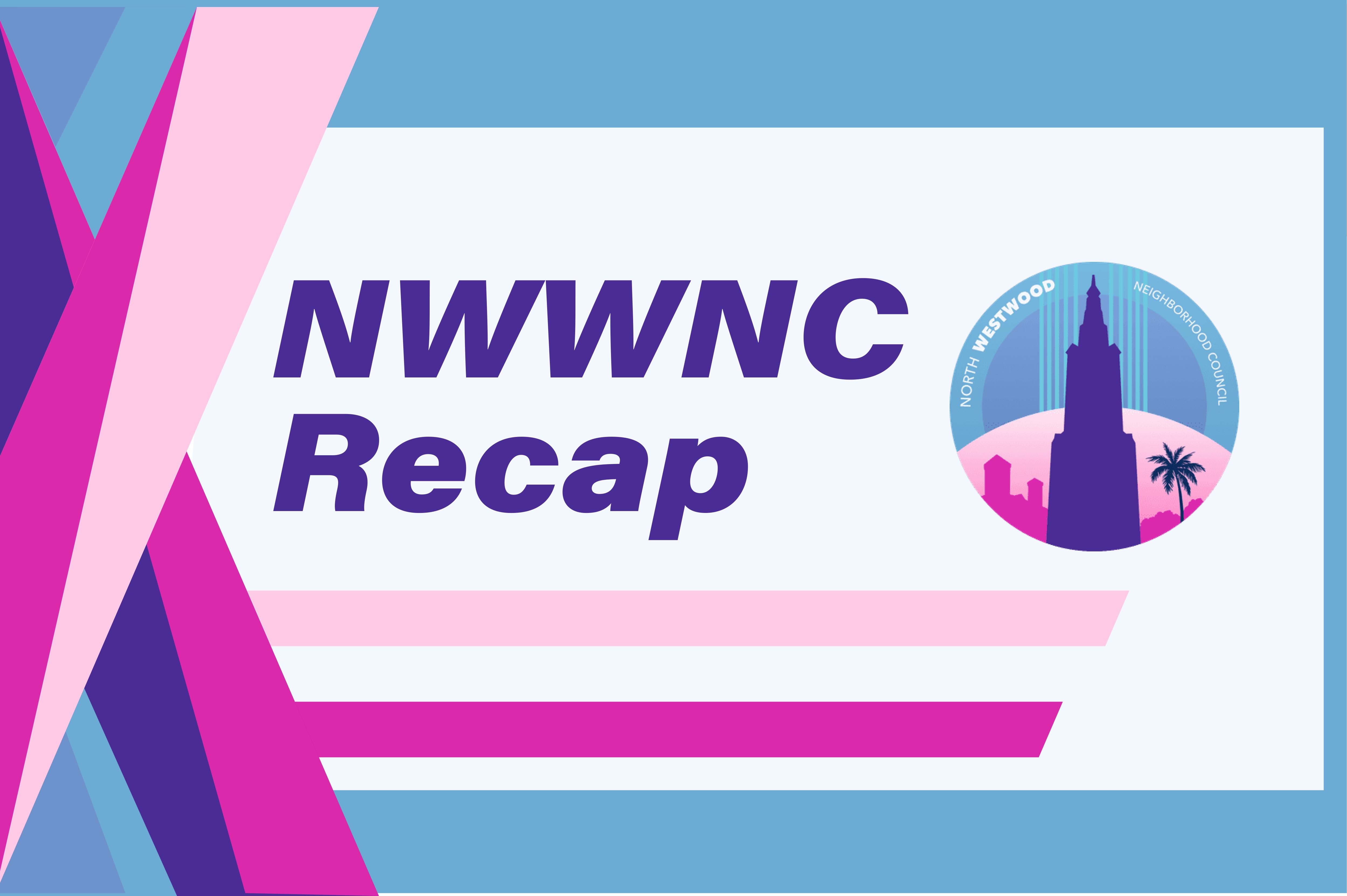 The North Westwood Neighborhood Council is the official neighborhood council representing Westwood Village and UCLA to the Los Angeles City Council. Council meetings are held each month and are open to the public via Zoom. The next meeting will be held virtually September 7.
Comments by public officials:
Vishesh Anand, a spokesperson for Mayor Eric Garcetti's office, said the mayor recently signed an ordinance establishing a $25 hourly minimum wage for healthcare workers. He added the Los Angeles Zoo has released a new conservation initiative focused on California, and said LAX is introducing an automated train system to move passengers in and out of the airport. He said the train is slated to be completed next year.

Janet Turner, a spokesperson for Congressman Ted Lieu's office, said the passport agency is facing five-day appointment delays because of an influx in passport appointment requests. She added that passengers should check their passports immediately if planning to leave the country. Turner also said the new Defense Authorization Act includes funds for West LA Veterans Affairs. She added the 2023 appropriations bill, which recently passed the U.S. House of Representatives, includes funds for UCLA and various projects around LA.

Michelle Persoff, a spokesperson for Assembly member Isaac Bryan's office, said the state assembly is back from recess, with August as its last month in session for 2022.
Carmen Zambrano, a spokesperson for UCLA, said UCLA is planning to hold candidate forums for LA City Council District 5 and County District 3 candidates in September.
Board announcements:
Nolan Gray, the NWWNC secretary and an at-large stakeholder, said California Senate Bill 886 is moving through the Legislature and should be up for vote soon. He added this bill would streamline the process for building new student housing and is important for UCLA students.
Wren Reynolds, an administrative member, said the NWWNC website has been officially updated with more content, a new calendar and updated agendas.
Public comments:
Steven Sann said he was denied public comment during the last NWWNC meeting because the council was not acting on the relevant agenda item. He said he checked with the LA City Clerk's office and this procedure was incorrect, adding that all agenda items must have a public comment period even if the council is not directly acting on them.

Evan Farrar, a UCLA alumnus and former organizational stakeholder, said he supports the appointment of Eric Coestad as his replacement as organizational stakeholder. He added he worked with Coestad at UCLA and has talked with him about several important local issues.

Eliana Sisman, a general representative on UCLA's Undergraduate Students Association Council, said the Jewish Free Loan Association requested $30 million from the California legislature to give interest free loans to college students across the state.
Agenda:
The board unanimously approved the meeting minutes from its July 6 meeting.

The board unanimously approved its June expenditure report. In June, the council spent $0.
The board appointed community members to two open seats on the council.

The board appointed Eric Coestad as an organizational stakeholder.

The board appointed Samantha Smithies as an undergraduate student stakeholder.

The board unanimously approved the NWWNC 2022-2023 Fiscal Packet.

Kyle Schmidt, an undergraduate student member, said the fiscal packet is almost a complete copy of the previous year's fiscal packet. He said the council did not use $10,000 of its funding this year, meaning it will carry over to next year. Schmidt said the total budget for 2022-2023 is $42,000.
The board tabled an agenda item to discuss the approval of a neighborhood purpose grant for up to $5,000 for the 4th Annual Greater Los Angeles Safety and Preparedness Fair.
The board approved a board resignation from worker stakeholder Rachel Gonzalez.