UCLA gymnastics recruit Ciena Alipio competes at US Classic ahead of NCAA season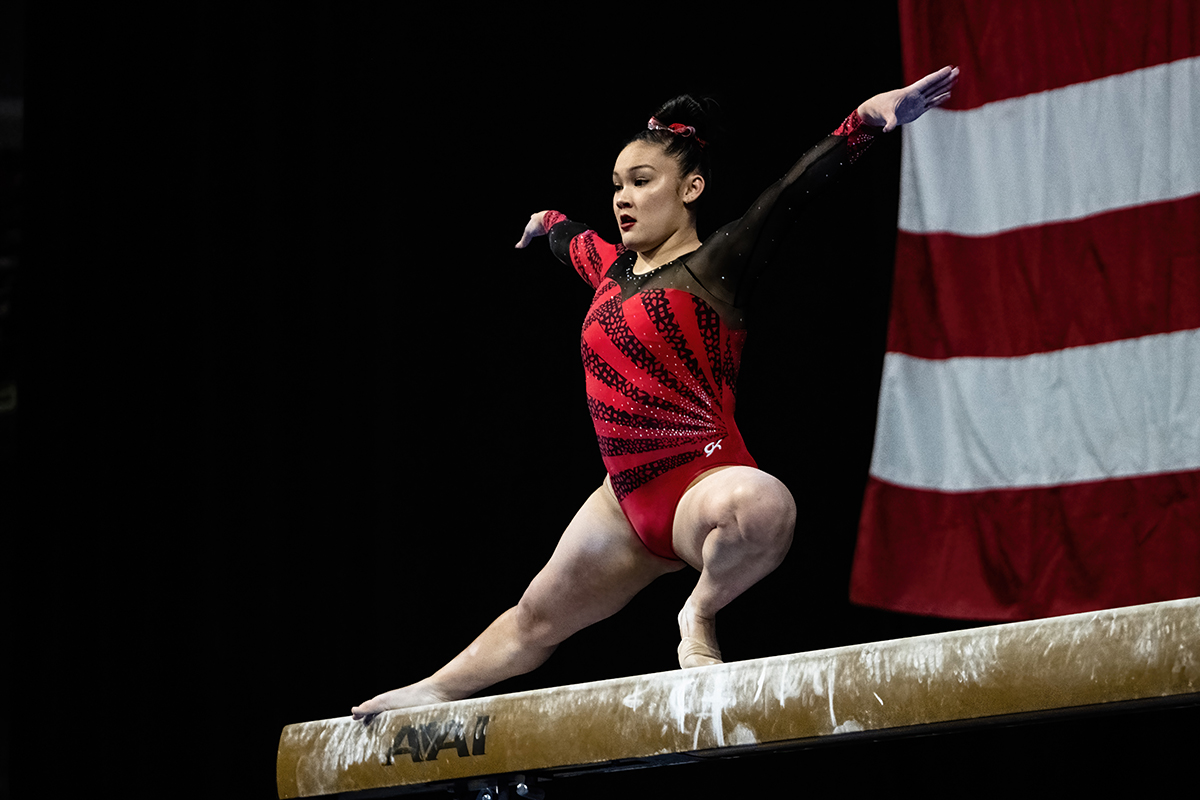 UCLA gymnastics incoming freshman Ciena Alipio competes on beam at the U.S. Classic in Salt Lake Valley, Utah. Alipio placed ninth in the all-around and sixth on floor at the competition. (Courtesy of John Cheng/USA Gymnastics)
This post was updated August 7 at 8:45 p.m.
Bruin fans were able to get an early look at an incoming five-star recruit in Utah.
Ciena Alipio – set to join UCLA gymnastics in the fall – competed in the U.S. Classic in Salt Lake Valley, Utah, placing ninth out of 13 competitors in the all-around.
Coach Janelle McDonald – hired as UCLA's new head coach in May – said the coaching staff is eagerly anticipating Alipio's addition to their team.
"We're very excited to bring her in this year," McDonald said. "She has a positive, kind and enthusiastic personality that I think is just going to fit right in with our team. And her gymnastics will definitely make an impact as well."
Alipio began the meet by landing her Yurchenko 1.5 on vault and completing a no-fall bar routine. She also stuck her acro series on beam with no wobbles before falling off on her leap pass.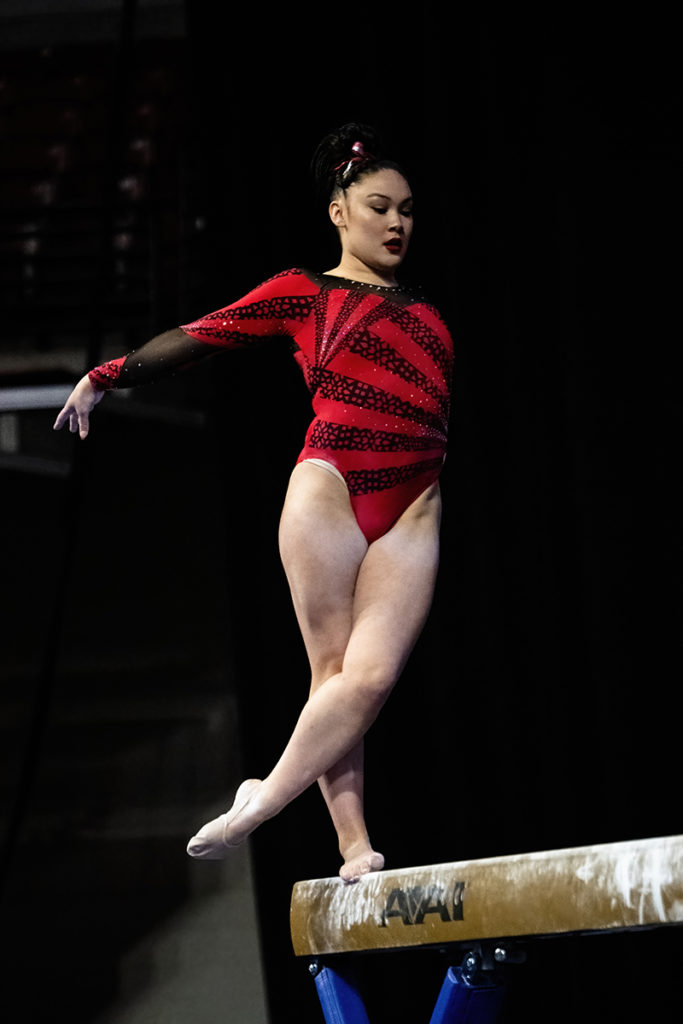 Despite the fall on beam, Alipio was able to finish the meet with a clean floor routine en route to a sixth-place finish on the event.
McDonald said that even with some mistakes, Alipio's performance was an indicator of what she will contribute to UCLA.
"She is a beautiful athlete with a number of skills to choose from," McDonald said. "She's an excellent beam worker, just really confident up there. And she's also competing a (Yurchenko) 1.5 on the vault, which will definitely help us add to our depth on that event."
Class of 2023 commit Katelyn Rosen, a four-star recruit, was also in attendance. She placed third in the all-around with a 52.500, highlighted by a first-place earning 13.700 on floor.
Alipio and Rosen will join a large contingent of former elites at UCLA. In the 2022 season, every freshman who competed for the Bruins had previously competed as an elite gymnast.
McDonald said having experience on big stages is helpful in making the transition to NCAA gymnastics.
"Competing at these big competitions, it just gives you experience," McDonald said. "The more experience you have under your belt, the more confident you can be when you show up to those big moments in college."
UCLA's offseason
As UCLA's offseason continues, the Bruins' coaches have been working together in Westwood for the first time.
This year has marked a period of transition for UCLA's coaching staff. In addition to McDonald being hired as head coach, former volunteer assistant coach BJ Das was promoted to a full-time role.
Das has served primarily as the Bruins' choreographer for the past three years, but McDonald anticipates her contributing in other areas as well.
"She's really known as a choreographer," McDonald said. "But she has a great eye for coaching and the technique behind the skills on the events too. I'm excited to watch her grow in that area as well."
UCLA rounded out its coaching staff with the hiring of Kyle Grable as assistant coach and Autumn Grable as volunteer assistant coach. Both coaches have joined McDonald in Westwood and begun preparations for the 2023 season.
"We're already really meshing well and working well together," McDonald said. "Just the passion and energy of building this next chapter into something really special is something that we're all on board with."
McDonald, Das and the Grables are taking over the team after a 2022 season with numerous highs and lows. UCLA opened its 2022 campaign with its lowest score in seven years but ultimately made a run at a nationals bid before falling short of qualification by 0.025.
2022 marked the second year in a row in which the Bruins failed to make an appearance at the NCAA championships as a team after competing every season from 2006 to 2019.
McDonald said the coaching staff is prioritizing creating a strong team bond for the upcoming season.
"The big thing I think that we need moving forward is just to build connections with each other," McDonald said. "Obviously we're going to be working hard in the gym and ready to build this next chapter of UCLA gymnastics, but I really think that we're going to be able to go really far if the team is really well connected and everybody's moving in the same direction together."
The connection-building will begin in September, when the Bruins will start formal practices and add the No. 6-ranked freshman class to their team.
In addition to Alipio, five-star and No. 1 overall recruit Selena Harris will be joining UCLA in the fall. Harris placed first on vault, bars, floor and the all-around at the Women's Developmental Program National Championships this year. According to McDonald, she has already arrived at UCLA and is gearing up for the team's first practice in September.
"She loves gymnastics, and I think all of that is just going to build the culture of our team," McDonald said. "Her gymnastics on every event is just extraordinary."
With many changes already happening and more on the horizon, McDonald said she is ready for the season to be underway.
"I'm really excited for that first meet in Pauley Pavilion," McDonald said. "I just can't wait to have the entire team there, ready to go, all the fans there and just the energy and the enthusiasm behind this team."
Trimbell is currently a contributor on the gymnastics and rowing beats.
Trimbell is currently a contributor on the gymnastics and rowing beats.