UCLA baseball players compete against, alongside teammates in summer leagues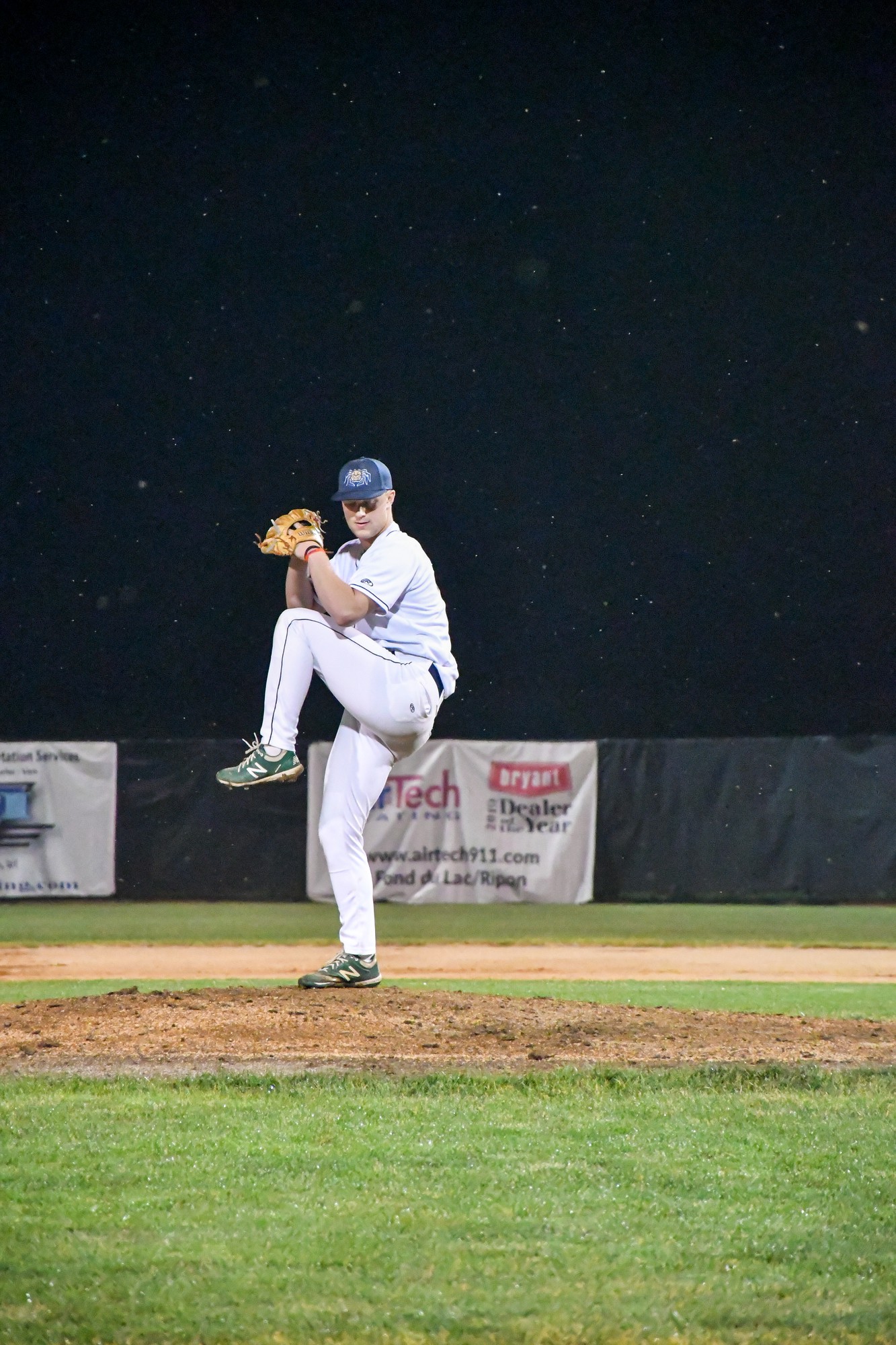 Rising sophomore right-hander Nate Leibold delivers a pitch for the Fond du Lac Dock Spiders. (Courtesy of Ellie Bruss/Fond du Lac Dock Spiders)
This post was updated August 7 at 8:52 p.m.
Baseball season may be over, but the Bruins are still taking swings and making pitches.
Across the country, UCLA baseball players are temporarily ditching the blue and gold to play in collegiate summer leagues for numerous teams, including the Fond du Lac Dock Spiders of the Northwoods League and the Cotuit Kettleers of the Cape Cod Baseball League. Student-athletes from a large variety of schools join teams in the summer leagues, sometimes playing with or against college teammates.
Summer leagues are wood-bat leagues, a marked difference from the NCAA regulations that allow for the use of aluminum alloy bats. Despite the difference in equipment, rising junior infielder Daylen Reyes – playing for the Dock Spiders this summer – said the change doesn't have much of an effect.
"I don't think it's a huge difference," Reyes said. "There is less margin for error with a wood bat, but I think that it's important to go up there and swing comfortably. You don't go up there with a different mentality because you're swinging a different bat."
UCLA sent nine players to six teams in three different leagues, with rising sophomore catcher Jack Holman and rising senior outfielder/left-hander Josh Hahn staying in Southern California to play for the Santa Barbara Foresters and Orange County Riptide, respectively, of the California Collegiate League.
Additionally, Reyes and two others ended up as teammates on the Dock Spiders, while another pair of Bruins ended up on the Kettleers together. Rising junior outfielder Carson Yates joined the Northwoods League as well, but instead joined the Green Bay Rockers.
Rising junior right-hander Caedon Kottinger – who joined Reyes on the Dock Spiders – said the ability to play with Bruin teammates makes summer ball a more enriching experience.
"It's good to have a connection, and it almost feels close to home," Kottinger said. "It's nice to have people out here that you're close to. As far as working on things that we need to, as far as the Bruin principles of competing go, we can also hold ourselves accountable and hold each other accountable."
With the chance to play against his UCLA teammate, rising sophomore right-hander Nate Leibold of the Dock Spiders said he was excited for the opportunity to strike out Yates.
While Leibold and Yates didn't face off against each other, Kottinger did compete against his fellow Bruin, forcing a flyout to center field in the Dock Spiders' win over the Rockers on Friday. Yates got his own revenge, catching a fly ball off the bat of Reyes in the same inning.
Reyes said competing against his own teammates raised the stakes for their summer matchups.
"There's definitely a little bit more on the line," Reyes said. "I'd prefer not to let Carson beat us."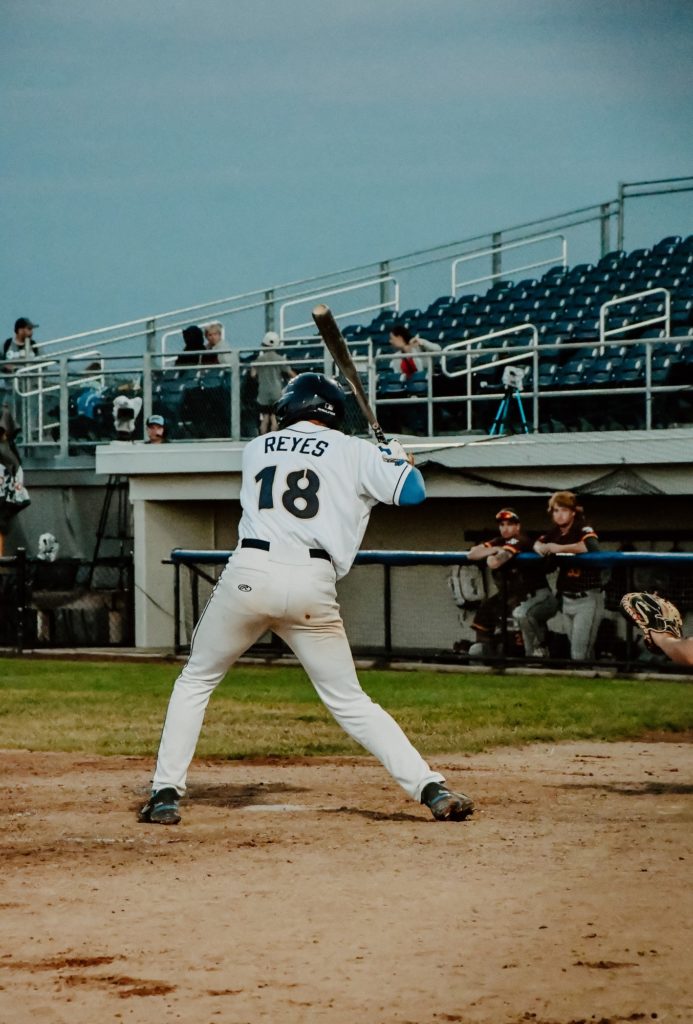 In their two most recent matchups, the Rockers and Dock Spiders took one game apiece, with Kottinger recording a four-inning save in the Dock Spiders' win.
While having the opportunity to continue playing with, or against, their UCLA teammates, the Bruins are also competing with other student-athletes from across the country from schools such as Vanderbilt and Connecticut. Reyes said learning about the perspectives of non-Pac-12 players adds to the experience.
"It's definitely interesting to hear what other guys have to say from different conferences like the SEC (Southeastern Conference) or Big Ten," Reyes said. "People learn different things, people value different things, so I think it's important to pick the brains of the people around you and figure out what makes them successful."
Playing over the summer has also brought on the opportunity to get experience that was missing from the 2022 season. This past year, Kottinger pitched two innings and Leibold pitched 3.1 innings for the blue and gold, but since joining the Dock Spiders, the two have now pitched 22.2 and 16 innings, respectively.
Leibold said the opportunity to pitch now gives him a chance to get up to speed with his teammates in Westwood.
"For guys that pitched a lot during the season, obviously they got their innings then," Leibold said. "So now I'm just trying to catch up and be able to compete against them at school when I get innings here. It's just evening out."
Despite both having the opportunity to pick up extra innings on the mound, Leibold and Kottinger differ in how they are using their newfound pitching experience. While Leibold said he is taking the chance to tinker with his mechanics and approach when the stakes are lower than they are during the collegiate season, Kottinger said he is using the extra reps as a chance to fine-tune himself and continue to recover from a torn labrum.
As the Northwoods League enters its final month, Leibold said despite the challenges of being in the Great Lakes, his experience this summer has been spectacular.
"Going somewhere new and far away from home was obviously a challenge for anyone," Leibold said. "All the people that we're surrounded by have been a gift, and our host family, the other players on the team, the coaches – everyone puts into it and it all comes out. It's just amazing."
Crosby is currently an assistant Sports editor on the baseball, men's water polo and women's water polo beats. He was previously a contributor on the baseball and women's golf beats.
Crosby is currently an assistant Sports editor on the baseball, men's water polo and women's water polo beats. He was previously a contributor on the baseball and women's golf beats.