UCLA study finds COVID-19 vaccination rates may affect influenza vaccine uptake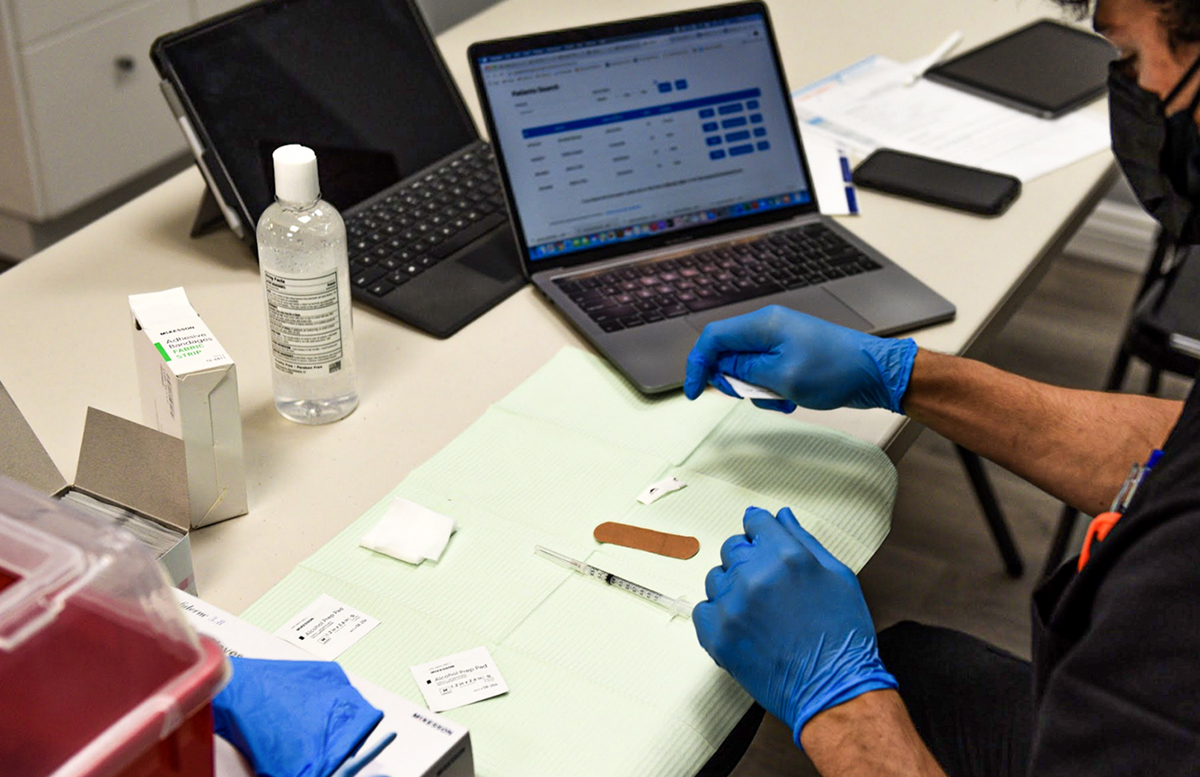 A vaccine is administered at a COVID-19 vaccine clinic in Huntington Park. UCLA researchers found that there could be an association between COVID-19 and influenza vaccination rates. (Jason Zhu/Daily Bruin staff)
This post was updated July 31 at 10:46 p.m.
UCLA researchers found that states with the lowest COVID-19 vaccination rates experienced a decline in adult influenza vaccination rates after COVID-19 vaccines became widely available.
The study found that following widespread availability of the COVID-19 vaccine, flu vaccination rates increased in states with high COVID-19 vaccination rates, said Dr. Richard Leuchter, lead author of the study and clinical instructor of medicine at UCLA. These two findings suggest that factors that affect COVID-19 vaccination rates have also come to affect other public health behaviors, such as flu vaccination, he added.
To determine whether the change in flu vaccination rates was associated with COVID-19 vaccines or other pandemic-related factors, the researchers looked at data from the 2020 to 2021 flu season, which occurred before COVID-19 vaccines were accessible to the general public, and compared it to the 2021 to 2022 flu season, which occurred after, Leuchter said. There was no significant difference in rates until the 2021 to 2022 flu season.
The study was observational, so it does not prove cause and effect, said Dr. Catherine Sarkisian, professor at the David Geffen School of Medicine at UCLA. However, the researchers did find a strong association between flu vaccination rates and COVID-19 vaccination rates by state, she added.
Decreased vaccine uptake has been a recent cause for concern and discussion among many physicians, said Dr. Carlos Lerner, vice chair for clinical affairs in the UCLA Department of Pediatrics. This has been evident in discussions with families during visits to their pediatricians, he added.
Leuchter said the motivation behind the study came from an experience he had in his primary care clinic, in which a patient he was seeing refused a flu vaccine for the moment despite having received the vaccine for the past 10 years.
"He said, 'I just don't want to get the flu vaccine right now with all the uncertainty surrounding vaccination,'" Leuchter said. "At that moment, it hit me that maybe all the controversy surrounding COVID vaccination has spilled over to other vaccinations, even though other vaccinations work by completely different mechanisms."
Vaccines have been the most effective public health intervention in reducing cases of infectious diseases for decades, Lerner said.
Leuchter said he fears there will be an increase in cases of preventable illnesses in the near future because of lowered vaccine uptake. He added that he is concerned people may lose trust in other successful public health campaigns, such as those of tobacco control and maternal and infant health.
There is the possibility of diseases that have not been a concern for years, such as polio, reemerging, Lerner said. New York officials identified the first case of polio in the United States since 2013 this month.
Leuchter said further research is needed for children under 18 because public trust was not the only factor associated with the decrease in flu vaccination rates for children. He added that research into other childhood vaccinations, including tetanus, measles, mumps and rubella, should be prioritized, as children are the most vulnerable to these diseases.
Other studies' data indicating a loss of trust in public health agencies, combined with the results from this study, suggest that vaccination rates may continue to decrease in the future, Sarkisian said, adding that current approaches to vaccine rollout should be reconsidered.
She believes there needs to be increased transparency when it comes to the efficacy of COVID-19 vaccinations to increase public trust.
Public agencies should also conduct research to determine factors that lead to decreased influenza vaccination uptake, Leuchter said, adding that this research would help the government understand how to address this issue moving forward.
"We might be trading one pandemic for another," Leuchter said. "I think there's probably already been a lot of damage done, and I think we're going to start to see the fallout from this very soon."