Editorial: UCLA must not repeat former mistakes with inaction against monkeypox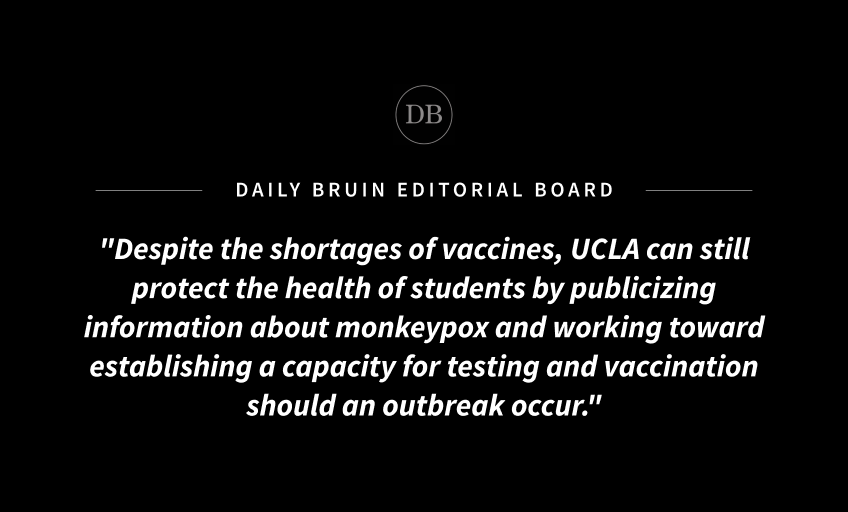 Editor's note: Editorials are intended to serve as the jumping-off point, not the conclusion, to discussion. As part of the Daily Bruin's commitment to its readers, the board hopes to present a responsible and clear analysis of relevant events and news items affecting the lives of those we serve, but our editorials are not representative of the Daily Bruin's views on issues as a whole. We encourage all readers to reach out to our board members and to respond to our editorials.
UCLA's student health and wellness center is named after tennis player Arthur Ashe. His tragic death from AIDS-related complications, along with the death of millions of others, is a perpetual reminder of the consequences of inaction on public health.
On Saturday, the World Health Organization declared the monkeypox outbreak a Public Health Emergency of International Concern.
The number of cases in the United States has already surpassed that of the United Kingdom – the country that reported the first cases of the 2022 outbreak back in May. Many experts predict this ongoing outbreak may not be able to be contained and monkeypox could become endemic, or regularly occurring in the population, according to STAT.
Even though there are already two licensed monkeypox vaccines, they are in extremely short supply around the world. Compounded by a lack of data on their effectiveness as well as an absence of widely available testing, this could spell disaster for efforts to protect public health, especially when it comes to the most vulnerable.
However, fatalities and severe monkeypox infections are preventable with proper access to medical treatment and post-exposure prophylaxis, or vaccination immediately after a possible exposure, according to the Centers for Disease Control and Prevention.
Once again, it seems the world has been caught flat-footed in the face of another rapidly spreading viral outbreak. While the federal government has sought to alleviate some of the vaccine shortage by releasing vaccines from the U.S. Strategic National Stockpile, a lack of early and preventative action possibly contributed to the current lack of access to vaccines and testing in the U.S.
At UCLA, where much of the student body is disproportionately at risk of contracting monkeypox, the Arthur Ashe Student Health and Wellness Center has no monkeypox vaccines available. Despite the shortages of vaccines, UCLA can still protect the health of students by publicizing information about monkeypox and working toward establishing a capacity for testing and vaccination should an outbreak occur.
Monkeypox, which spreads through close physical contact, has disproportionately affected members of the LGBTQ+ community. 99% of patients who tested positive for monkeypox were men who had sex with other men, according to a health advisory from New York City.
The outbreak comes amid a broader attack on LGBTQ+ communities from state legislatures and private hate groups alike.
During this period of growing bigotry and hostility, it is not a given that a disease outbreak disproportionately affecting the LGBTQ+ community will be well managed by our government.
The AIDS epidemic casts a long shadow over the history of public health in this country. The apathy of the Reagan administration toward the disease first called a "gay plague" led to the deaths of tens, if not hundreds, of thousands.
While not nearly as deadly as HIV, monkeypox is highly contagious. Even with good faith efforts from every elected official, the outbreak could have significant consequences given that the precarious state of the American medical system continues to be ravaged by the COVID-19 pandemic.
As such, UCLA, and the U.S. more broadly, has an obligation to protect the people who might be most vulnerable to infection.
Although it would be unreasonable to expect UCLA to distribute the vaccine amid the shortage, administrators still have a duty to directly provide the campus community with timely, accurate information before a local outbreak occurs.
While UCLA continues to brandish the name of Ronald Reagan, it has, at the very least, an obligation to combat the deadly attitudes he perpetuated.
As C session and the beginning of fall quarter approach, UCLA must ensure it is proactive – not reactive – about protecting students from monkeypox.
Hopefully, the past two and a half years have shown our university's decision-makers just how important it is to be cautious with public health.