UCLA athletes reflect on Pac-12 Impact social justice experience in Alabama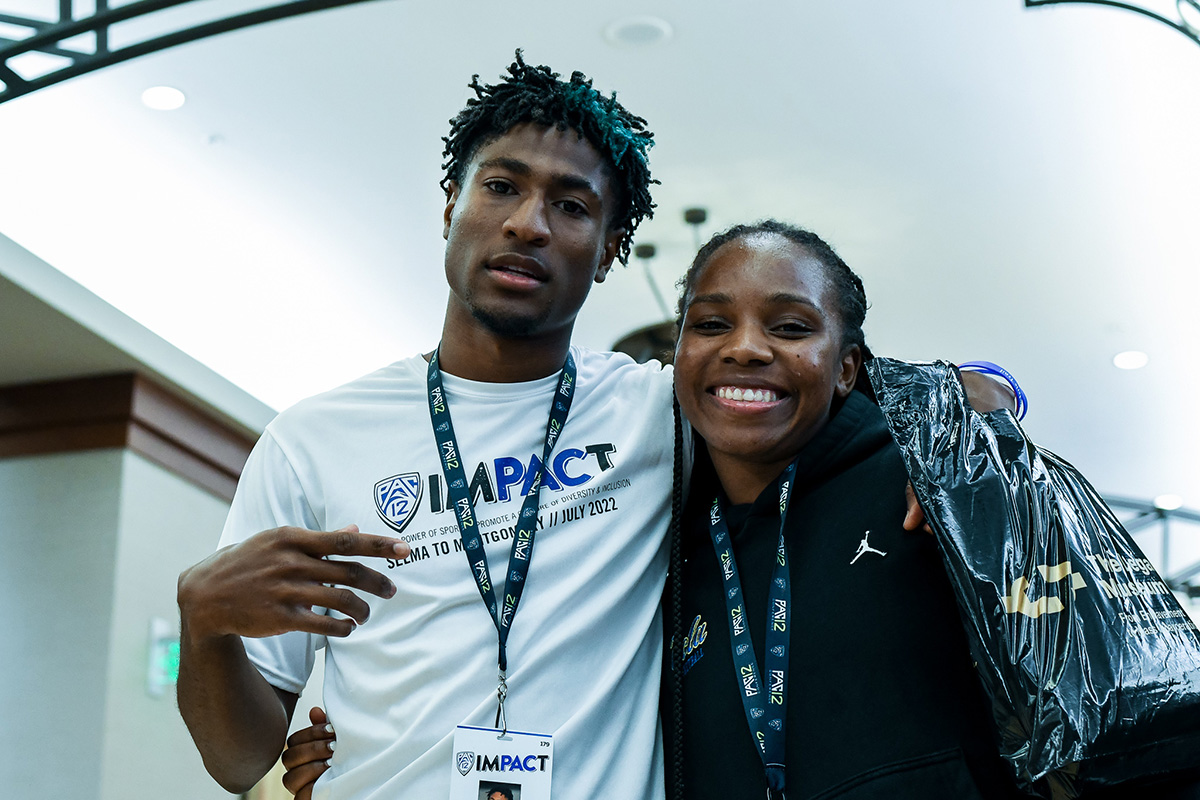 UCLA women's basketball rising senior guard Charisma Osborne and UCLA track and field rising senior sprinter Sam Herenton pose for a photo. Osborne and Herenton participated in Pac-12's Impact trip July 15 through July 17. (Courtesy of Pac-12)
This post was updated July 24 at 10:50 p.m.
On March 7, 1965, over 600 civil rights activists set out to make the 54-mile journey from Selma, Alabama to Montgomery to advocate for the basic right to vote. As they marched across the Edmund Pettus Bridge in Selma, they were violently attacked by state troops in what is now known as Bloody Sunday.
Almost 60 years later, on July 16, 2022, 46 student-athletes, coaches and members of the Pac-12 conference crossed the Edmund Pettus Bridge in honor of the victims and legacy of the Bloody Sunday attacks, walking in the footsteps of leaders of the civil rights movement such as Martin Luther King Jr. and John Lewis.
Two UCLA student-athletes participated in the march as members of the Pac-12's Impact trip July 15 through July 17. The social justice initiative is designed to be an opportunity for student-athletes to travel to historic sites from Selma to Montgomery to become further educated on the civil rights movement and inspire social change in their own communities.
Women's basketball rising senior guard Charisma Osborne and track and field rising senior sprinter Sam Herenton were the two Bruins selected to attend the experience. Herenton said the trip helped him learn about the past and begin to consider ways to enact change in the future.
"I feel like there's four stages of Blacks in American history: first stage is humanity – I can't say freedom first because we weren't even considered human – second is freedom and then third is equality. I feel like now, the last stage, the stage that we're in right now, is survival," Herenton said. "We have a long way to go, and with this trip, it's opened my mind a little bit, and I have talked to some people, like, 'What can we do? How can we organize?'"
The pair of Bruins began the trip in Selma, where they heard the narratives of two marchers on Bloody Sunday: Sheyann Webb-Christburg – an author who witnessed the attacks – and Lydia Blackmon Lowery, who participated in the Selma marches.
After hearing the firsthand accounts, the athletes visited the First Baptist Church, coined "the Movement Church" because of its historic past where hundreds of marchers began their journey. Before heading to Montgomery, the student-athletes walked across the historic Edmund Pettus Bridge.
Osborne said that while crossing the bridge, she recalled the historical accounts she heard earlier in the trip.
"On one of the days when they were marching, they weren't allowed to officially cross the bridge, so they marched all the way to the point where the police were standing, and MLK and the other marchers, they kneeled down and had a prayer," Osborne said. "We decided that we were going to do that right where they had stopped. So that was super cool."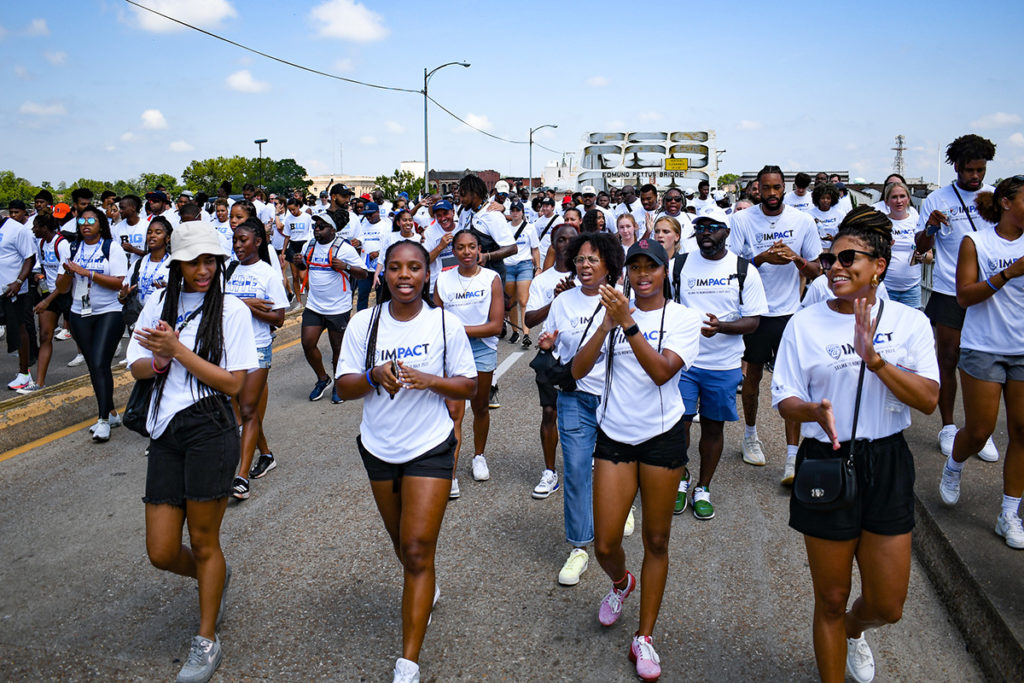 Following their march across the bridge, the two Bruins, alongside representatives from every program in the Pac-12, traveled to Montgomery. At Alabama State University's Interpretive Center, they learned about the profound impact of students during the civil rights movement.
Osborne said she is grateful to have experienced the event with fellow student-athletes because it inspired her and her peers to leverage their platforms to educate others and catalyze change.
"To be able to experience it with them and to be able to share what we've learned, I think it's just great because we do have those platforms to spread the word and educate people who don't know about these things," Osborne said.
During her time with the Bruins, Osborne – who led UCLA in scoring and ranked third in the Pac-12 a season ago – has previously used her platform to amplify Black narratives. She founded the More Than a D.R.E.A.M. initiative alongside current and former teammates Camryn Brown, Michaela Onyenwere and Lauryn Miller, and she participates in their podcast "Bruin Table Talk" in which they have conversations with Black alumni from UCLA.
To conclude the trip, the Pac-12 sent Osborne, Herenton and the rest of the student-athletes home with tools to share what they learned with those around them.
Herenton said the experience was ultimately inspiring because of the impactful conversations he had with fellow student-athletes.
"It was a beautiful thing to see, Black men and women, together, talking about something meaningful," Herenton said. "And at that, athletes breaking that stereotype."
Whitaker is currently an assistant Sports editor on the women's basketball, women's soccer, beach volleyball and cross country beats. She was previously a contributor on the women's basketball and beach volleyball beats.
Whitaker is currently an assistant Sports editor on the women's basketball, women's soccer, beach volleyball and cross country beats. She was previously a contributor on the women's basketball and beach volleyball beats.