The Transfer Take: The Introduction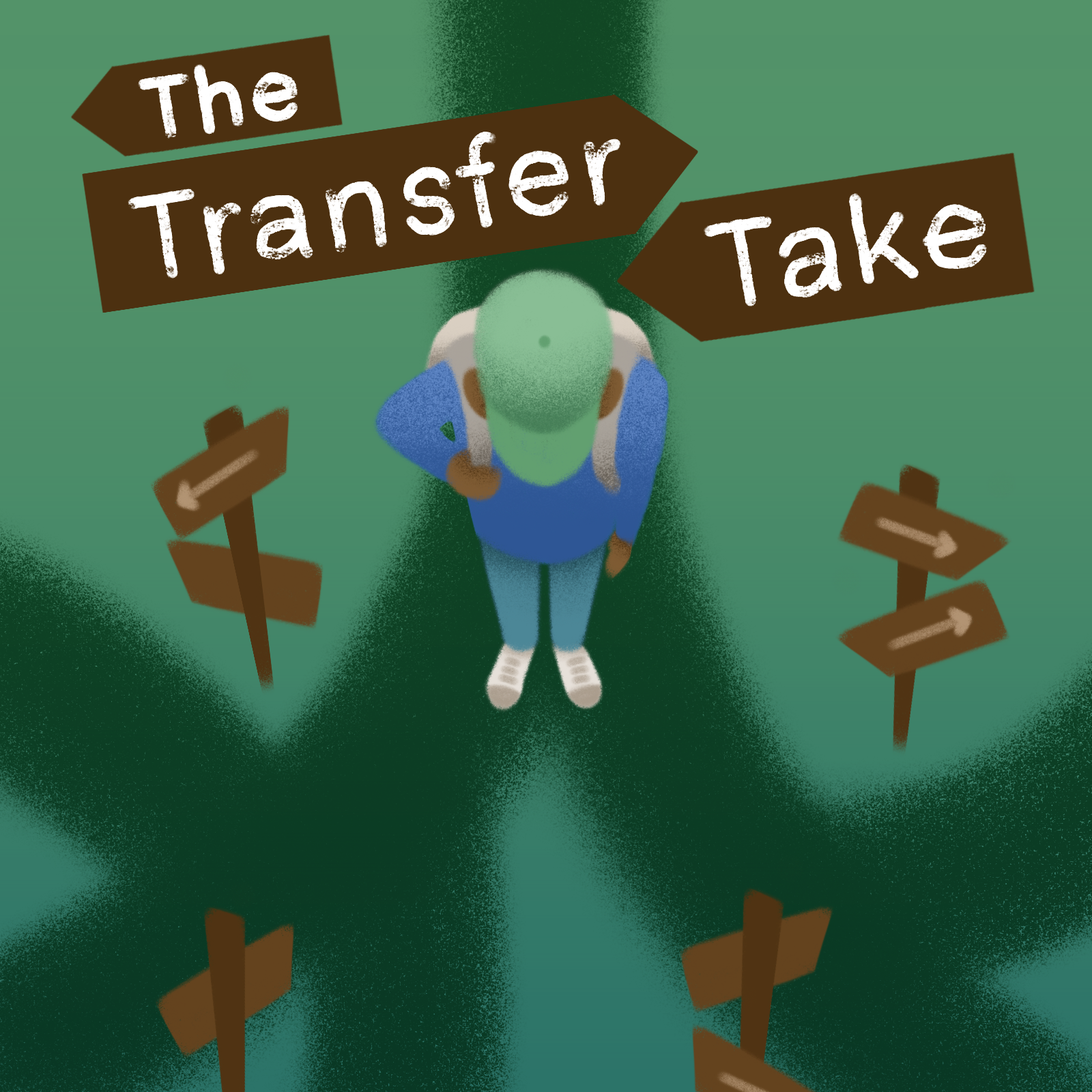 (Isabella Lee/Illustrations director)
In the first episode of "The Transfer Take," a Daily Bruin podcast about transfer students' experiences, Podcasts contributors Julia Bohan, Alexander Chesney and Sophie Lizarraga discuss their struggles as transfer students and their paths leading to UCLA.

Alexander Chesney: This is "The Transfer Take," where we share real experiences of real transfer students at UCLA. I'm one of your co-hosts, Alexander Chesney, here with my other two co-hosts.
Sophie Lizarraga: Sophie Lizarraga.
Julia Bohan: Julia Bohan.
AC: And our sound editor.
Alik Shehadeh: Alik Shehadeh.
AC: So the topic of today's episode is: How did we get here? So, a brief introduction of who I am. As I said, I'm Alexander. I'm a history major from Los Angeles, and I'm a second-year transfer, which means I'm a senior getting ready to graduate. And so yeah, how did y'all get here?
SL: For me, I didn't even know that I would be at UCLA. The transfer process was just, I guess, not what I expected, but I'm really glad I went through it. I went to community college in the Bay Area. I thought I would transfer after a year, and then with COVID it was like, I might as well do another year at my community college and get to apply to more schools. So then I sort of went through IGETC and picking my tag schools and then applying to different schools. And then when I got into UCLA, I really wanted to go because I heard they had such a great transfer community and a lot of resources for transfers. And I knew that would be important because, definitely coming into school when you're a little bit older, it's hard to find your community. So yeah, that's how I got to UCLA.
AC: I totally agree, though. I had a similar experience coming to UCLA. I did all my IGETC certifications and stuff like that, but the challenge for me was really understanding that I'm an adult before I am a student. And that was a really interesting adjustment period for me because I started becoming aware of how much things cost, and I needed to get a job and a car and pay for all these things. And at the same time, I had to go to school. So, I feel like an experience a lot of transfers have is that you're basically an adult before you're a student. And that period after high school, you're not a student anymore, you're just straight up like an adult. You're legally an adult, and you behave as such. And I feel like part of transferring is understanding how to use your newfound power, for lack of a better word, as an adult where you get to choose your path, and you can determine what you want to do now rather than just going through the school system or whatever.
SL: Right.
JB: Yeah, I would have to add that that's probably one of the main deciding factors when I knew that I would be successful at community college versus just trying to apply to colleges straight out of high school. I am not a math or science person at all, and the high school that I went to was very STEM oriented. So, I really struggled with that, and there weren't very many options for history or political science students. I ended up becoming a political science major, and I feel like the freedom to choose my own classes, choose my own electives and have a broader range of those electives that weren't centered around math or science, is really beneficial for me and really helped my educational success blossom really.
AC: So, did any of you guys have to go through that whole issue of figuring out what your major is? Because obviously, you can't transfer undeclared. So did you guys have to go through that whole cycle of going through different general education classes and figuring out what you want your major to be?
SL: For me, it's so funny out of high school I was like, "Oh, I'm going to medical school 100%. That's my path." And so coming into community college, I immediately started taking science classes and just trying to figure out the best science major to transfer into. And then I took a gender studies class at community college just as part of my GEs, and I was just completely blown away by the conversations we were having and just how kind my professor was. And then I was like, "No, this is my major. For sure, this is what I want to transfer into." But it's crazy because if I didn't have that experience at community college and I had gotten into a college out of high school, I would have totally been on the science path.
JB: Yeah, for me, I didn't take any GEs before I decided what my major was. I was very notorious for literally switching my major around every week. It would be something different – I was psychology one week and then microbiology one week. So it was really intense. I thought I wanted to be microbiology for a good second in senior year of high school. And then, like I mentioned, I am not math or science related; I was just focusing too much on what my parents wanted me to do. And so luckily, I had a teacher that showed the movie "Erin Brockovich," which is from the 90s, it's not too old. But it's basically, Julia Roberts plays this paralegal and helps to bring justice to a whole town that has been poisoned with water contamination. And I was like, "Oh, my gosh, I want to be a paralegal now." And so that's how I got into political science. Thank goodness I liked it because I don't know what I would have done.
AC: That's funny that you bring up the political science thing because I feel like a lot of non-STEM majors go for the political science thing at first, and I did too. That was my first major, was political science, but I took one political science class at community college and I was like, "no." It's not fun. And as a transfer, I feel like it's really a blessing that you can explore your academic options at such a low cost. And it, in my opinion, is fairly stress-free because you don't have this pressure to finish in four years. It's very much on your own time and your own path. And I guess that was something that I had to adjust to myself, but it was also something that I felt helped me get into UCLA because I was in control of what was going on. I was in control of what schools I was applying to, what classes I was taking, what teachers I was having. And as a result, my education experience at community college was so, so good. I was blown away at the possibilities that I could see just in my regular community college. People were doctors, had PhDs, but came back to the community to teach. And to me, that was a big deal. I feel like going to community college allowed me to really see what it's like to be an adult in the United States, honestly. Also though, I feel like you guys mentioned this a little bit about coming out of high school, you're like, "Oh, I'm gonna go to medical school, I'm gonna be a lawyer, I'm gonna do this," and I had a very similar thing where I used to be that guy that would say, "I'm pre-law." As I got older, I realized it's kind of silly to say these things. You haven't experienced life when you're 18, 17 and a half, so to say that you're going to pursue something that's so, so grandiose and so, I mean, time consuming, honestly, at such a young age is very naive in my opinion. I feel like for us transfers, we got to sort of experience— we sort of got bruised up a little bit trying to pursue those original ambitions. And in the end, I think as a result of that sort of struggle to break into those original desires, you find yourself. You realize, "Oh wait, I can make money talking about history too. I don't have to be a doctor if I don't want to be, and I could still probably make a good living as a teacher or a museum curator," you know?
SL: No, for sure. I think for me too what was great is my community college. They had a lot of different panels with doctors and lawyers, and so you could actually get to talk to people that are in that career field. And a lot of my professors and counselors were really nice and are like, "Hey, these are the kind of jobs you could get with this major. And this is what the life is like that you would have if you go down the medical route or the law school route." So it's also helpful because it's like, OK, I really get to see what the whole picture is. And it's hard too because we're so young, making such a big decision. I mean, I live in Holly and so I'm around transfers, and some of the transfers are like in their 30s. And they're like, "Yeah, I went down one path and I absolutely hated it. So now, I went back to community college, transferred to UCLA to go down a different path," which I think is really interesting, because it's like, you can— I think with life, you just kind of have to go almost with your gut. I know how cheesy it sounds. But I really thought I wanted to be a doctor because everybody around me was talking about medical school and the money you make, and "Oh, it's like really prestigious." But then, once I was sort of seeing what the major was like and the classes were like, I was like, "You know, this really isn't for me." And there are still other jobs out there and other ways that I can make a living and still be happy, which I think is just the great thing about being a transfer.
AS: What was your, each of yours aha moment when you decided that you should definitely apply to transfer out of community college? Or was there a concrete moment?
AC: Or I mean, like I said earlier though, is that I was very much an adult as an 18-year-old. So I was working at a grocery store, I had a union job, I was doing all these things. And I remember specifically, it was like my first quarter at community college, and I was kind of taking— not quarter, wow. So, first semester at community.
SL: You're already on the quarter system.
AC: I know.
SL: It's ingrained in you.
AC: I've already been indoctrinated. But, so it was my first semester, and I was working a closing shift at Food 4 Less. And the closing, we closed at like 12 or something. And I remember I finished my shift, so it was like 12:15 in the morning, and I checked my phone and I realized I had missed a quiz from one of my favorite classes. It was a sociology class. And I was not even devastated, I was furious with myself because I had broken one of my own moral rules. You know of like to me, putting money or fast money over education is a big no-no, especially at this time of my life. Because at least I felt like I personally could get distracted by money and being able to buy things and lose sight of the things that are important. So really, when I got that zero on a quiz because I was working, that was when I realized like, "No, I got to make some changes and really go after this school thing," and yeah, sort of sacrifice the job at the same time, you know?
JB: Yeah, I think for me, my aha moment— so my dad is a community college professor. He's told me basically all my life, "If you go, if you want to go to a four-year university, and you want us to help pay, you have to go to community college first. Do that for two years, and we can afford to send you wherever you want." So me, I didn't want student loan debt, so I was like, "OK, cool, that's a good plan," realized about junior year of high school that I would miss out on a lot of opportunities when my friends were planning on transferring straight to a four-year. I thought maybe this isn't the right path for me. I could try to get into a four-year maybe with some scholarships or financial aid. And so in order to do that, I had to take the SAT. I paid for the SAT, planned everything out the night before, packed my little backpack with pencils and snacks and what have you, and didn't realize until I got to the testing site that I forgot my ticket. And I realized in that moment that that was my sign to go to community college, and I'm so lucky I did.
SL: I think for me, my sign was probably out of high school when, I mean, I applied to probably like 12 schools, and I really only got into one and it was one that I was told to apply to, like your safety school that everybody is, apparently gets into. And then I was like, OK, I could go to this school that I'm on the fence about or I could try to transfer and get into a school that I was really really excited about. But it was kind of difficult because I was, well I got rejected already. Like, can I handle getting rejected again, you know, burned twice? But then I think after my first year when I kind of applied to some schools just to see as a backup option, and then I ended up getting into one of the schools that I applied to out of high school. And then I was like, "Oh, my God, I could actually go to this school." But then I was like, "Wait, I actually, now I want to apply to more schools. I want to give myself even more opportunity." So it was kind of nice because I ended up rejecting them when they had rejected me, but that was kind of my moment of like, "Wow, I can really do this and I actually can get into these schools."
AC: It was funny you brought up getting rejected at high school, and only getting into one. I got rejected by every single school I applied to out of high school and that was so depressing, bro. Because I went to like one of those fancy like— I still went to LAUSD, Los Angeles Unified School District, but I was in one of those fancy magnet schools and so everyone, we had the highest rate of college acceptance in the district. Everyone was going to school. And then for me, like the AP student to bomb, just absolutely bomb out of college admissions and not get in anywhere was really depressing. But it ended up being— oh, God, now it sounds so corny, right? But it was a blessing in disguise.
SL: It really was.
AC: I really got lucky.
SL: Yeah, no, for me, I remember in high school, they had one day where it was your senior year, you wear your college, and I didn't know that it was that day. And so I walk, came to school and like everybody's wearing their college. And then you see some of the people wearing the college that you wanted to go to and you're like, "oh, God," like way to put salt in the wound.
AC: No, you know what always used to get me? It was those videos of people celebrating their acceptances, and like the whole family's crying.
SL: Yeah.
AC: And I wanted that moment so bad.
SL: Right.
AC: But I just didn't, well honestly, I didn't earn it. You know what I'm saying? I didn't deserve getting in out of high school, straight up. But that was one thing that I was like, I wish I had that little celebration like we won the championship on going to college.
SL: No, mine was like, OK, let me open so my parents don't see because I think I know what it's gonna say.
JB: Oh yeah.
AC: But in the end, I got to tell Berkeley no, so I'm— you know?
JB: Yeah, I did that too.
AC: Right.
SL: We all together.
JB: Oh, my gosh.
AS: Do you have any hesitations? You know, before, during or after?
AC: I mean, I was hesitant to come to UCLA, based off of cost a little bit, even though it was the cheapest school. I was actually, again, talking about how lucky I am, the Los Angeles Unified School District had a deal with the community colleges, and it was this thing called LA Promise where recent graduates of LAUSD got two years of college free. And so I had used up my two years of free college, and I was scared and anxious to have to pay for school for the first time. So that's really why I hesitated, and that's why I picked UCLA because it was cost – cost, location and proximity to my family. So I was hesitant just because of money, but in the end, it was actually probably the most manageable situation I put myself in.
SL: Yeah, I think I was hesitant in the sense of I almost, I mean it's gone a little bit now, but I almost had impostor syndrome coming here because I felt like, OK, I got rejected out of high school, and even though I got in out of community college, maybe it's different, maybe it's harder, maybe I'm not going to succeed as well, because the classes are a lot bigger, the professors' aren't as involved and hands-on as they were in my community college. And maybe there is still kind of some attitude about like, "Oh, you didn't get in out of high school." So I was a little bit hesitant to maybe just, I think, just transfer in general. And then with UCLA though, I think because there's so many transfers, and it— just kind of once you get down your routine, I just felt more comfortable and was like, "OK, I actually do belong here." And there's actually a lot of kids here that feel the same way too, like, "Oh, you know, is this really the right pick?" And so I think that's just a normal feeling. But yeah.
JB: Yeah, I would say for me, just going through community college, I put so much pressure on myself to be the top in my class, to get good grades to do all these extracurriculars, because I felt like, going back to imposter syndrome, I felt like I had to almost prove to people that I was, that I could be a good student at a school like UCLA or UC Berkeley. And then once I did get into those schools, I then had to think about, "OK, where would my needs and my personality best be suited?" And so I really— my top school was Berkeley at the time, but then once I did get into UCLA, I eventually made the decision that UCLA was best for me.
AC: That's it for today. Big thank you to our section editor, Zoe Willoughby, for making this happen, and thank you for listening to "The Transfer Take." "The Transfer Take" is brought to you by the Daily Bruin, UCLA's student newspaper. You can listen to this show and others by the Daily Bruin on Spotify, Apple Podcasts and SoundCloud. Any transcript for the show is always available at dailybruin.com. Thanks, everyone.