Opinion: UCLA students deserve a more flexible meal plan structure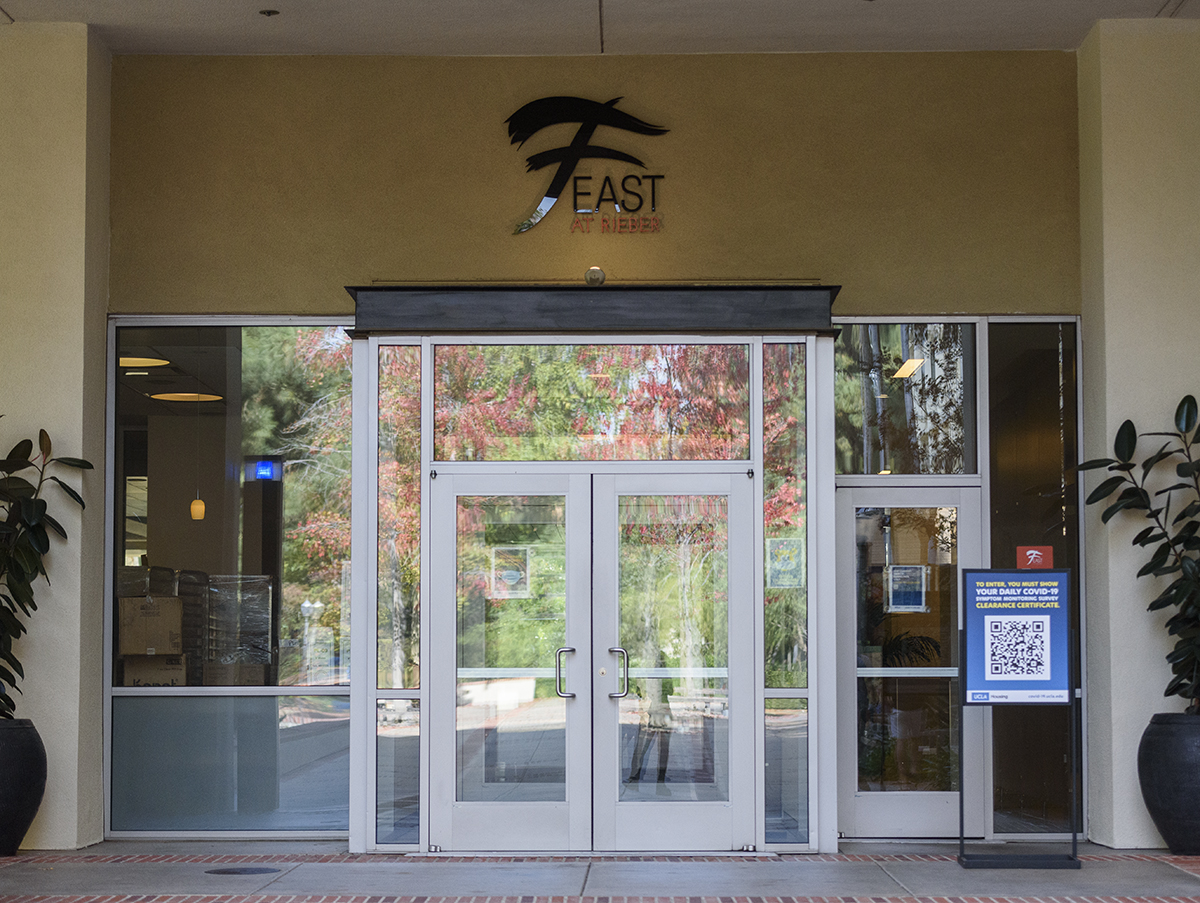 (Sakshi Joglekar/Daily Bruin senior staff)
This post was updated July 10 at 10:40 p.m.
At the beginning of each school year, UCLA students living on the Hill have to make a tough decision: how many meals they are going to eat each week. But 11 may be too many – and 19 may be too few.
This year, UCLA provided six meal plan choices for on-campus dining: 11R, 11P, 14R, 14P, 19R and 19P. The number for each of these plans represents how many dining hall or takeout swipes students on the plan are allocated per week, and the letter – R for "regular" and P for "premier" – represents how freely they may use those swipes.
It's a variety, for sure, but it's not enough for the whole on-campus population – a diverse group of students with dining preferences to match.
Next year, UCLA Dining Services should expand the meal plans so students can choose any number of weekly meal swipes. Ideally, this would include any number from 10 to 21 and allow for students to schedule week-to-week variability in advance.
Students should be able to choose a meal plan that suits them the best.
UCLA Dining, however, seems intent on keeping the current meal plan structure.
"We want to provide students the option to eat every meal in our residential restaurants, as well as offer a mid-range option and a lower cost option with fewer meals if students will be going home on weekends or eating off-campus," said Bill Kisliuk, a representative of UCLA Dining, said in an emailed statement.
Indeed, on the lower end, the plans do seem to achieve their goal; the 11 plans may work great for students who tend to regularly leave campus for meals.
However, that does not effectively include students who infrequently leave campus. George Hitti, a rising second-year microbiology, immunology and molecular genetics student, said that when he goes home, he loses the chance to use meal swipes from his 19R plan. That can add up, leading him to support the introduction of variable meal plans.
"If I were to go home, then I wouldn't have to waste money," Hitti said.
A variable regular meal plan could better allow students like Hitti to have enough meal swipes on average; a variable premier plan would better ensure both that they don't run out of swipes and that they can save when off campus.
Currently, the rigid meal plan structure forces students into buying more expensive plans than they actually need. In order to hedge against the possibility of running out of meal swipes, many UCLA students have to choose plans with far more meals than they actually plan to eat on campus.
"11, 14 and 19 are kind of big jumps," said Srinjoy Chatterjee, a rising second-year computational and systems biology student.
Chatterjee said he is on an 11P plan right now but would likely go for an intermediate option between 11 and 14 if given the chance.
"Having that (a variable plan) would be good for me," he added. "I feel like it would make it a lot more flexible."
And when students end up on meal plans too big for their needs, premier plan users start to hoard. That eventually leads to long lines that plague dining halls at the end of the quarter, lowering meal accessibility.
In addition, extreme amounts of saved swipes are too often traded in for large amounts of unhealthy food, something expressly against UCLA Dining's mission. Variable plans could actually improve the health of students, at least toward the end of each quarter.
UCLA claims that they only offer six meal plans as a function of necessity.
"In order to best plan for staffing coverage and meal preparation, we require some structure in regard to the amount of swipes we can anticipate being used daily and weekly," Kisliuk added in an emailed statement.
On the surface, this is reasonable, but meal swipes are done completely through a computer system. Providing more than three options should not interfere with anticipating how many meals should be made per week – students are still locking in a number at the beginning of the quarter anyway.
Staffing concerns are real, however, and it is possible that extreme shifts in meal plan numbers could cause a ripple effect that would have unintended consequences.
However, some analysis of the number of swipes being used as opposed to being wasted right now should lead to a more effective structure for staffing and meal preparation – and more types of meal plans offered. It could even help reorganize staffing to more desired locations, such as Café 1919, which has remained closed the past school year. And, in the worst case scenario, if the system causes too much chaos, reverting should not be too difficult.
"The meal-plan numbers reflect both the meal periods available each week and data about student dining that we track from swipe usage," Kisliuk said in an emailed statement.
That is perfectly believable, but there's no way that students are most effectively sorted into six categories when so many more are possible and necessary.