Bruins Built This: Campbell&Kramer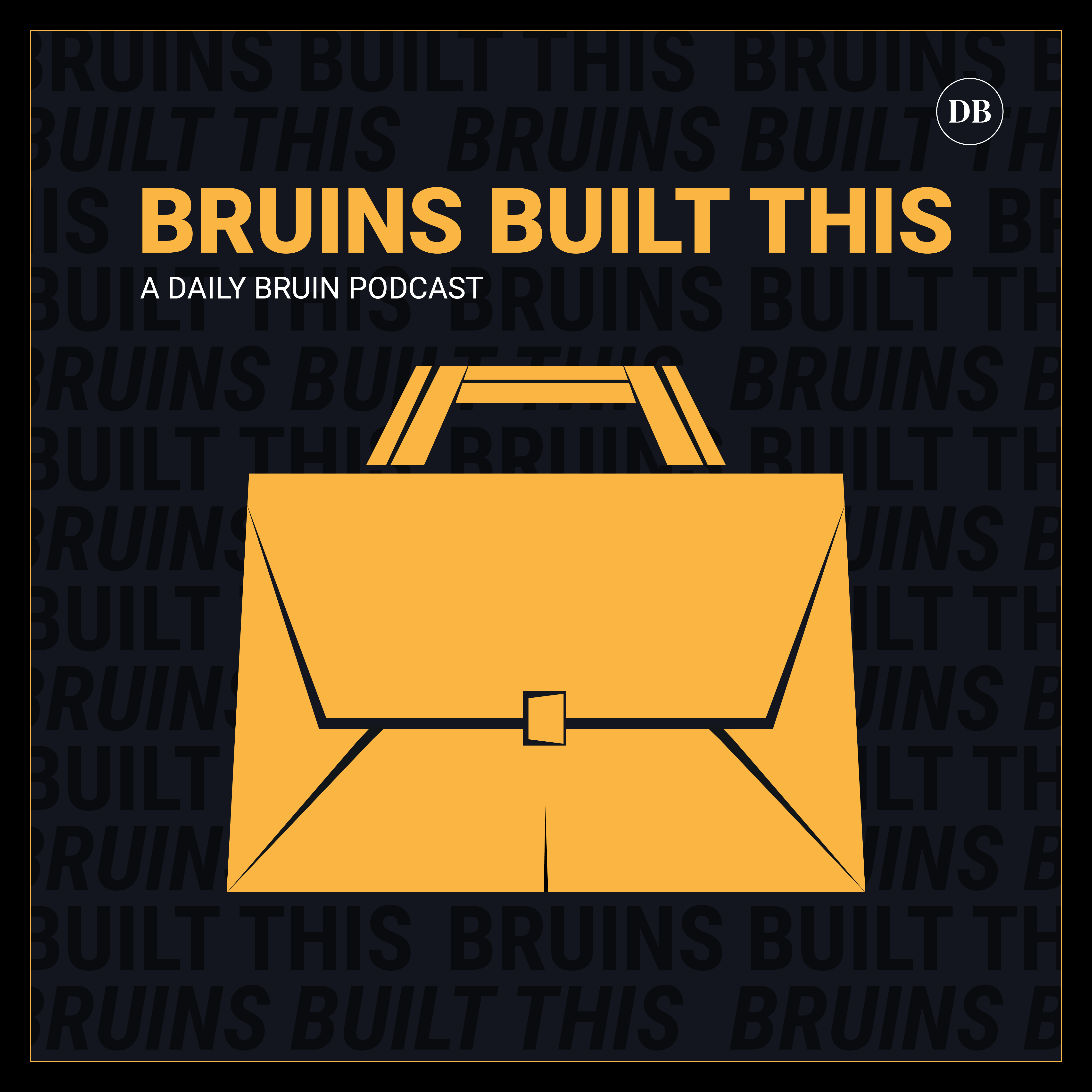 (Alex Yoo/Daily Bruin senior staff)
In the first episode of "Bruins Built This," a Daily Bruin podcast highlighting student and alumni entrepreneurs, Podcasts contributor Evelyn Bailey interviews Presley Campbell and Alden Kramer of Campbell&Kramer about how they created their sustainable fashion brand and their goals for growing their business.
Evelyn Bailey: Hello and welcome to "Bruins Built This," a Daily Bruin podcast about student and alumni entrepreneurs. My name is Evelyn Bailey, a Podcast contributor, and I am here for our very first episode of "Bruins Built This." Today I'm interviewing Presley Campbell and Alden Kramer of the brand Campbell&Kramer. Campbell&Kramer is a business that specializes in creating sustainable fashion. The Southern California brand has been seen on numerous celebrities and influencers. And we're excited to have its founders on the podcast today.
EB: Hello, Presley and Alden, and welcome to "Bruins Built This." I'm very honored to be here. So you two met as first year roommates at UCLA, then after discussing sustainable fashion, you decided to create your own clothing line. Can you tell me a little bit about the process of starting your business?
Alden Kramer: Yeah, I would say that Presley and I bonded over our love of fashion. That's kind of how we became— that's a bonding point that we had when we were becoming roommates. And she was in a sustainability cluster. Sustainable fashion was kind of a buzzword at the time anyway. And, you know, combine our love for fashion and the growing influence of sustainability, we decided that we wanted to try out launching our own clothing line, Campbell&Kramer. And we did that in the spring quarter. It was very trial and error when we first started. But I would say the first concrete start was when we went to a Goodwill and bought a bunch of stuff that we thought we could fix up and turn around. And that was the start of our company.
Presley Campbell: I would also say when we were first starting, we were two people who loved fashion and constantly kept up with it. And we didn't know of many sustainable brands that were on trend and had pieces that we would wear on an everyday basis. So we wanted to sort of be a brand that could be that and also be at a decently accessible price point for people. Because the only accessible, sustainable shopping method we knew at the time was thrifting.
EB: And can you describe a little bit more for me— you said that you went to a Goodwill and you just started thrifting from there. How did that take off into Campbell&Kramer?
PC: Yeah, we just literally used our own 50 bucks and went to the thrift store and got pieces that we thought we could use the fabric or the shape to make into a few designs that we had sketched. At the time, we had an extra bed and desk in our dorm room. We just started cutting and sewing things and took pictures and started an Instagram and website for it.
AK: Yeah, we had this top called the Lola top. And we were able to find cashmere, lace, things to kind of combine into that one design. And I would say before we went public and told everyone on our Instagram, we kind of had a couple designs, had a couple of trial pieces, just to make sure we knew what we're doing, and could do what we had envisioned. And then, yeah, so we just started with a couple of pieces before we mentioned it to anyone.
EB: How did you balance your academic and social lives with running a business all while being at UCLA?
PC: I would say when we— well, we started it in the spring of freshman year, and then during the summer, it was a lot easier to do it being at home. We're both from Orange County, so we live close to each other, which makes it convenient. But we have a lot more space and resources at home. And then when we moved into our sorority houses sophomore year, it definitely presented challenges. We would be in the basement of Alpha Phi sewing once a week or something because we both at that time were in the heaviest part of our majors too. So that was definitely hard. And I would say, we would just prioritize school versus this at different times of the week. But then it really started growing and taking off during COVID, during quarantine, which was convenient timing because we had nothing else to do and we were at home with all of our resources and stuff. So at that point, the time balance issue wasn't really an issue anymore.
AK: Yeah, I would say exactly what Presley said. I remember there were definitely challenges, though, when we just had to forfeit something at Campbell&Kramer for school, or, every now and then, forfeit, you know, something at school to move something along at Campbell&Kramer. I remember sophomore year, I was doing econ and architecture, and architecture, was obviously, you know, really time intensive. And so there were definitely some hard parts. But I think once we went home, for better or for worse during COVID, it definitely freed up time. And so that was a helpful breakthrough, finding something good out of something bad that happened. And since then, I feel like we also put a lot of time in on the weekends, we're able to be pretty organized and understand when things need to be done. And then we just prioritize from there. And, lastly, it does use up a lot of free time, but it's also something we love doing so much so that it doesn't really, I guess, it doesn't hurt too bad to just spend a bunch of free time on it.
EB: So you guys mentioned the brand taking off during COVID. Could you tell me a little bit more about that and what that was like?
PC: Yeah, so basically, we had always experimented with dyeing things, like hand dyeing. And during quarantine, obviously tie dye became a huge trend. So we started out at the beginning just thrifting whatever we could find of plain sweat sets and cutting them into shorts or whatever we wanted them to be and began sewing and hand dyeing them. And then the demand outgrew that, so we had to source other materials to make our sustainable sweat sets. And we were hand dyeing hundreds of pieces out of our laundry rooms at home. Because influencers started— it was really because of the influencers. I feel like during quarantine, everyone was on their phones a lot, and the whole influencer market was really taking off. And once we had a few influencers start posting in it, it was like a domino effect, which turned into celebrities DMing for them. And that was really our piece, especially the pink and yellow sweat sets. Everyone was obsessed with those specific ones.
AK: Yeah, and we still get asked all the time to have a constant stock of pink and yellow sweat sets.
EB: Are you guys both working full time for Campbell&Kramer right now?
AK: No, I actually work full time at another job right now. But, once again, most of my free time, or, you know, the remaining hour of the evening, I'll spend doing some Campbell&Kramer work. But largely on the weekend I spend time doing Campbell&Kramer.
PC: Yeah, I'm still in school, at UCLA so [no].
EB: Did you experience any backlash building your business? Did you have any hard moments that made you think, "Maybe we should stop here"? And how did you overcome those obstacles?
AK: I, at one point, when— sophomore year, when architecture was getting super heavy, and Campbell&Kramer, it was more of a passion project and we hadn't had the success that, you know, we've witnessed in the more recent years. I was kind of wondering, "Okay, I need to at least pause this." Because I don't have any more time and I don't, I'm not seeing results. Fortunately, though, that's the great thing about having a business partner, is that you can't really make decisions for— you can't make executive decisions. And I think that's a good thing, to have someone there to help you, help encourage and push it along. And also just to feel like, it gives you a bigger sense of responsibility, that this brand isn't just yours, it's also someone else's, and you need to help them. And so that, even during that moment when it was really hard, it was good having someone there to be accountable.
PC: I feel like another hard time was when the demand for the tie dye was outgrowing the two of us because it was literally just us dyeing them ourselves. And it was really hard for us to find a factory and a dye house that were sustainable, were local to OC and LA, and willing to meet our low minimum quantities because we wanted it to be almost made to each order so we didn't waste anything, and it sells out every drop. Most places have huge minimums or it's overseas production to be able to be something we could afford at the time. And so it was really hard to find people that would work with us and work with what we wanted to accomplish. So that was definitely a challenge we faced.
EB: Can you elaborate on your goals of being a sustainable brand and how you work to achieve them?
PC: Yeah, I think one thing that we've done pretty well is create clothes based on demand. So we barely have any— we just don't have clothes going to waste. And that's largely because we also do this small batch production. And we currently only use American-made manufacturers to make our tees and sweats. And then we invest a lot of time vintage shopping and sourcing so many used clothes and kind of improving them and then reselling them. We're, you know, obviously operating very sustainably now, but in the future, we're kind of challenging ourselves to improve that even more. And instead of having just American-made sweat sets, we want to have them be, you know, made from 100% recycled cotton. And we want to have a couple of custom designs that allow for the same pattern, but we can incorporate a bunch of deadstock materials and kind of recycle them throughout just a couple patterns. So I would say there's a lot— while we are kind of doing a lot to be sustainable, there's a lot, there's a long way to go. And we're excited for that.
EB: In terms of marketing, how do you use social media to promote your business?
PC: We use Instagram and TikTok, but mainly Instagram. And for social media, it's mainly influencers, but the market is changing so quickly. And just the whole social media marketing in general changes so quickly. And even during quarantine, when it was taking off more we saw such bigger turnarounds and results from when an influencer would post like the influx of orders and followers we would get was so high at that time. And I don't know if that's just because people were on their phones more during quarantine and paying more attention to that, or if now just the influencer market became so saturated that people aren't necessarily clicking on every brand that an influencer posts or tags because there's so many influencers and they post every day about something new. So it's tricky, definitely, to keep up with what the new thing is on social media marketing, because I already feel like it's changed so much from when we were just working with influencer posts. But there's also, you can promote your things on Instagram, you can pay for them to promote the posts and things, but I honestly don't see much results from that either. But I feel like the new wave right now is more Reels and TikTok because people— the more relatable, real content and to see it styled in a video format, it's more relatable, I guess. So yeah, that's what we're working with right now.
AK: Yeah, and I would also say it just helped us, having social media has really helped us connect with people across the country, internationally to either work on collaborations with them or just customers in general, keep in touch with people, and obviously that one, you know, helps us keep in touch with our customer based on such an easy platform that everyone wants to spend time on anyway. And also it's, you know, facilitated collaborations with us and restaurants, influencers, and I don't think that could have been possible without Instagram.
EB: How involved are you two in the process of posting and creating a social media presence?
PC: We do it all, we do everything for the brand. Yeah, doing all the social media and stuff for sure is, yeah, all us.
EB: What is it like to see celebrities like Cody Ko or Olivia O'Brien in your designs?
PC: Unreal. I feel like it doesn't hit you.
AK: Every time we text each other.
PC: Yeah. I feel like it doesn't really hit you. And then, I don't know. It just is like, it's such a surreal feeling. But just the other day I walked into my friend's apartment, and they're watching a Cody Ko video and he was wearing our shirt. And they're like, "Oh, my God, look," and I'm like, "Oh, my God." It's just crazy. It doesn't even fully process in your mind. I feel like, that you're DMing these people. I'm just DMing Madison Beer.
EB: What have been some of your favorite projects so far?
PC: What would you say, Alden? I feel like one of my favorites was our collab with Lucy McFadden that we recently, the baby tees we recently collabed with her on. Because I followed her and her sister Ella since I was in middle school, since we're all from Orange County and stuff and knew of them. And they were the first influencers to really support us in the beginning. Ella was one of the first ever posts, the pink and yellow tie dye set. So I feel like collabing with her was kind of like a full circle. Her being the first influencer we collabed with on a collection was a full circle moment and really fun to work with her and design with her.
AK: Yeah, I would say that was one of my favorite projects, too, especially because it was so, super insightful into what it's like working with people, especially when you're going back and forth on designs. It's also so refreshing to get a third person. It's so refreshing to see their set of ideas that are completely not influenced by yours. So it's like having, yeah, just a very fresh set of ideas. And then also, I'd say some of my favorite projects are all of our vintage drops because we spend hours finding the pieces and then we spend hours styling them. And it's really fun to take an object and give it a new context in a really usable, wearable kind of way.
EB: What was the process like collaborating with Malibu Farm and influencer Lucy Ray McFadden?
AK: Yeah, it was great, Malibu Farm was great to work with, they— it's so cool, because, you know, there's the Malibu location, there's a Newport location. So whether we're at school or at home, we feel close to each one. And initially, we kind of found the common ground. They, you know, have extremely fresh, local ingredients. And that's kind of our ethos when it comes to clothing: local, new. So that was kind of the common ground. And we're both from Orange County, so we kind of pitched that and got to work with them. In designing clothes, that was also a great project, because it was interesting seeing what a restaurant wants as their aesthetic and what they wanted to have the clothing look like. And yeah, it was just like a third party bringing in new ideas again, which was super fun.
PC: Yeah, I love the collabs we've done. I feel like it's so fun. And you learn so much more than I could in a classroom from collaborating and talking business and contracts and all of that kind of stuff, too, and negotiating with a big restaurant, chain business. We've learned a lot from that process. And I also feel like it's a long process. It's so fun and great. But everything with clothing, but especially the collabs, takes so much longer than anticipated. I remember in the beginning, we thought in a month, we could have samples or pieces going, but all the back-and-forth and everything just takes a lot longer than you would think.
AK: Yeah, it really does. But with that said, I think the next ones we do, we learned so much that it'll really expedite the next round of collabs that we do.
PC: Yeah, for sure.
EB: What can you tell us about the future of Campbell&Kramer? Can you tell us about your upcoming projects or any goals you're hoping to accomplish?
AK: I would just say, we're so excited to— we'll have some new sweat sets soon. And we're hoping those are going to be 100%, made from 100% recycled cotton. And so we're really excited for new sweat sets. We're releasing kind of like a tube top and a mini skirt soon. But what's so exciting is that we're using some deadstock fabric for that, and the patterns are so versatile that we can constantly rotate new deadstock fabrics in them. So it'll be really exciting. Yeah, those are the two newest items on the horizon.
PC: We're working on some upcycling, some vintage pieces, and we want some staple, vintage pieces, basically, that we've upcycled and turned into things, new things that we've designed. And we're working on some new collabs, too, hopefully, in the near future, which is exciting. Always.
EB: What's the biggest piece of advice that has helped you create and maintain a successful sustainable clothing brand in the era of fast fashion?
AK: I think just go for it. Presley and I always talk about the fact that we just started, it was easiest using existing garments, which just happened to fulfill one of our mission goals. But just actually doing it, getting started, figuring things out, is the most important step. Maybe there are times when I think we could have planned more. But in the end, you just got to do it.
PC: Yeah, I would say for sure people, I feel like, have a lot of ideas, and then don't act on them because they're worried about if they can do it or not. But we didn't have any experience necessarily, and we just dove right into it. And if you're willing to put in the work, then I think you'll figure it out eventually. But also, I would say having a partner to start something with helps so much because I feel like I never would have started it on my own. If I didn't have someone else pushing me and pushing each other and holding each other accountable and just someone to lean on for every through every step of the way, I feel like I could never imagine doing all that on my own and staying motivated.
AK: Yeah, especially when, you know, when things don't work out when we, when problems happen, it's so great to have someone to work through them with.
PC: It'll definitely be a lot more stressful if it was alone.
EB: So looking out into the future do you guys have any long term big, future dream goals for Campbell&Kramer?
AK: Personally, I would love to see a continuation of the sweats just because the new ones that we get have such a cool texture, they fit so well. So as for now, I would love to do iterations of different colors and all that. But I would also love to see us kind of having really staple patterns where we just endlessly move in new fabrics that are all deadstocked, all, you know, from random places where the fabric isn't going to be used anymore. I would love to just make a bunch of designs, rotating in new fabrics.
PC: Mhm. I feel like we like combining edgy with laid back SoCal fashion and also have a few pieces that are really feminine. And I like that we have a versatile style in different items, I guess, that cover a lot of bases, and we like having a lot of unisex pieces. So in the long run, yeah, I feel like if we can be a sustainable brand that has timeless, versatile pieces people can wear everyday, that would be awesome.
EB: And for those listening who have either never heard of Campbell&Kramer or who have been longtime fans, do you have anything you want to tell them, or any messages you want to spread?
AK: I would say first off, we have so many Bruin supporters and it literally makes our day because, I mean, I think everyone at UCLA is so cool, so to see people around wearing Campbell&Kramer makes me so happy, it makes me very proud. And so thank you to everyone that has shopped with Campbell&Kramer. And yeah, that's the major thing I want to say.
PC: Yeah, just thank you. I feel like starting something while you're in college, is also, even though it is hard with all the time balance and stuff like that, it definitely provides you with a support system that's insane and would not be there if you started this post-grad. And I feel like being here and, we have so many connections here and wonderful people around us that support and help us all the time. And we are so thankful to have that community behind us all the time.
AK: Yeah, actually, adding in, we have been able to use local talent like models, photographers, interns. It's been so great working with UCLA community, and everyone is so bright, engaging and motivated and creative. So that has been really helpful for us, our brand, developing an image and keeping us super motivated.
EB: Thank you so much for talking with me today. I really appreciate hearing from you and your business, and I'm looking forward to seeing what's in store for Campbell&Kramer.
AK and PC: Yeah, thank you so much for having us.
AK: Yeah, we really appreciate it.
EB: "Bruins Built This" is brought to you by the Daily Bruin, UCLA's student newspaper. You can listen to this show and others by the Daily Bruin on Spotify, Apple podcasts and SoundCloud, and a transcript of this show is available at dailybruin.com. Thank you, and we'll see you next time.