Women's golf alumnus Ryann O'Toole discusses life as an openly gay athlete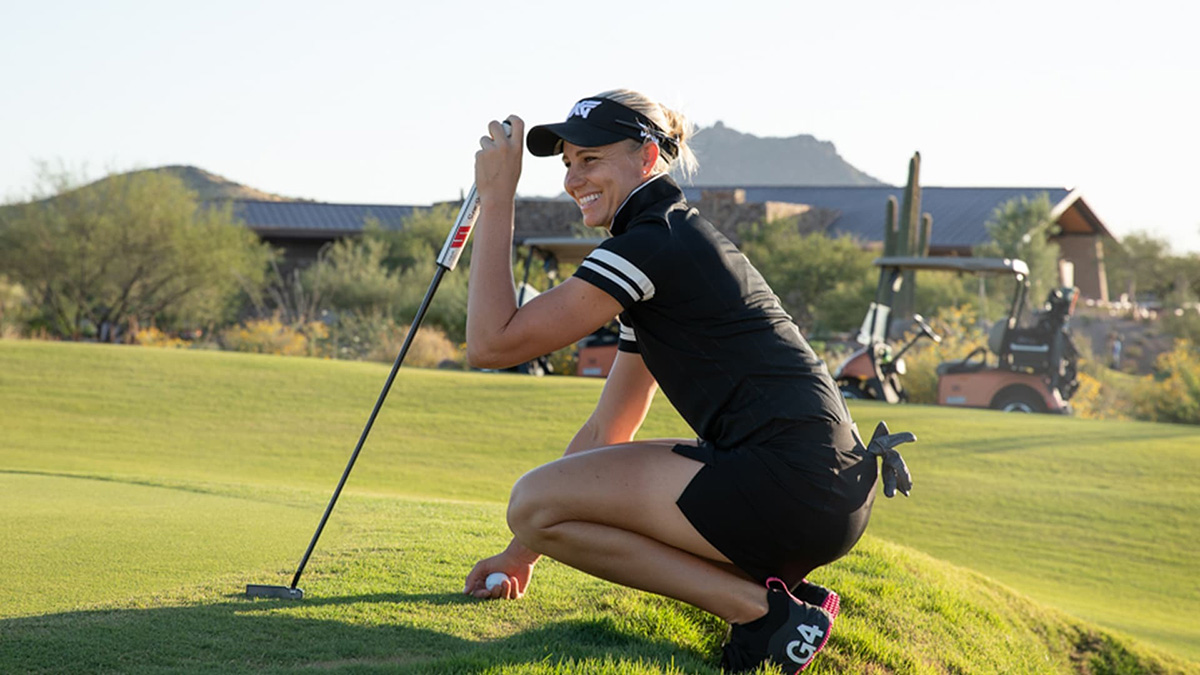 Former UCLA women's golfer and current LPGA pro Ryann O'Toole smiles while preparing for a putt. (Courtesy of PXG)
This post was updated July 4 at 8:47 p.m.
Being true to yourself isn't always the easiest thing to do.
But for former UCLA women's golfer Ryann O'Toole, it's been the one thing that has propelled her through her career.
During her four years as an undergraduate, O'Toole was the only openly gay student-athlete at UCLA. The 2009 alumnus said remaining steadfast in herself has been key to her success as a professional golfer despite the challenges brought on by discovering her identity.
"By me sticking strong to who I was and not fearing it or not running from it or not listening to those close to me or any outside voices saying that this isn't the way it should be, … it's made me into a stronger individual," O'Toole said. "It challenged me, but I feel like I overcame it."
Now, the LPGA Tour pro and No. 44-ranked golfer in the world is thriving both on and off the course, picking up her first win at the 2021 Trust Golf Women's Scottish Open and marrying her wife Gina Marra last year.
However, her path to success wasn't always easy, she said. O'Toole picked up golf at 13, much later than when most collegiate players start. While other junior golfers were already knowledgeable, O'Toole was forced to learn the physical and mental sides of the game at a fast pace.
"I still needed time," O'Toole said. "I was just trying to buy time and steal time that I never had and obviously just make the most of it."
The young golfer quickly found her stroke, winning team MVP three times in high school as well as picking up All-America honors from ESPN The Magazine in 2005.
In her first season at UCLA, O'Toole notched just one top-20 finish, but she improved as a sophomore with a pair of top-10 finishes before being welcomed into the captain's chair for her junior season.
While O'Toole found success on the course as a student-athlete, she said she felt isolated at times, as only one part of herself fit in with other athletes.
"It just was tough in the sense of just finding a group or trying to find your own path," O'Toole said.
So, she went to the LGBTQ Campus Resource Center and discovered a community that embraced her sexuality, which she said became one of her formative experiences at UCLA.
O'Toole rounded out her senior season with three more top-10s – two of which were top-five placements – and earned her second All-Pac-10 honorable mention. Coach Carrie Forsyth said O'Toole had to – and did – grow in college because of her late start to the sport.
"Her development as a player, it was happening in college, but she really blossomed towards the end of her college career and then into her first couple of years as a professional golfer," Forsyth said. "It took her some time to be as successful as she is, but she was just a really great player."
After graduating from UCLA, O'Toole turned to the Futures Tour for a few years before joining the LPGA Tour in 2011 while also qualifying to play for Team USA at the Solheim Cup as a captain's pick. O'Toole said her time both at UCLA and on tour was a necessity for her growth as a golfer before reaching the LPGA.
"I took it all as stepping stones," O'Toole said. "I always felt like I needed to go through all the steps to create that good foundation."
O'Toole ultimately made a successful transition from collegiate golfer to professional golfer. However, she was still dealing with the ramifications of a strained relationship with her parents in addition to potential discrimination from sponsors.
She and her parents clashed over her sexuality during high school – when she first realized she was gay – and college. One dispute during her time at UCLA led to a month of no contact between them. O'Toole said it was a challenge to deal with the lack of understanding from the people she was closest to.
Golf proved to be an outlet for O'Toole, who found solace in playing a sport where she was shielded from the judgment of others.
Over time, her relationship with her parents healed, but it took eight years for acceptance and understanding to fully return.
"I fought with them as far as fighting through it and knowing that they would love me unconditionally," O'Toole said. "People ask, 'Well, how did you forgive them?' I said, 'Because love is unconditional.' It's the same thing. I would get through it too and see understanding and see sadness versus anger and hate."
Golf wasn't free from biases based on her sexuality either. O'Toole said she was confronted with the possibility of sponsors taking issue with her being gay but wasn't going to allow that to stop her from being open about who she was.
"I'm not going to hide who I am just to please a sponsor or represent a company," O'Toole said. "If they don't want to associate with someone being gay, then that's not someone who I want to associate with. … I got to stick true to myself."
For O'Toole, Pride Month is an opportunity to show others who might be struggling with their identity that they aren't alone, and she added that it is a time to share stories and give strength when it's needed most.
"Focus on the person you want to be, who you want to surround yourself with, your goals, all that," O'Toole said. "Know that being true to yourself will only help you along the way to achieving those things."
Crosby is currently an assistant Sports editor on the baseball, men's water polo and women's water polo beats. He was previously a contributor on the baseball and women's golf beats.
Crosby is currently an assistant Sports editor on the baseball, men's water polo and women's water polo beats. He was previously a contributor on the baseball and women's golf beats.