Elected members of USAC detail policy objectives for 2022-2023 school year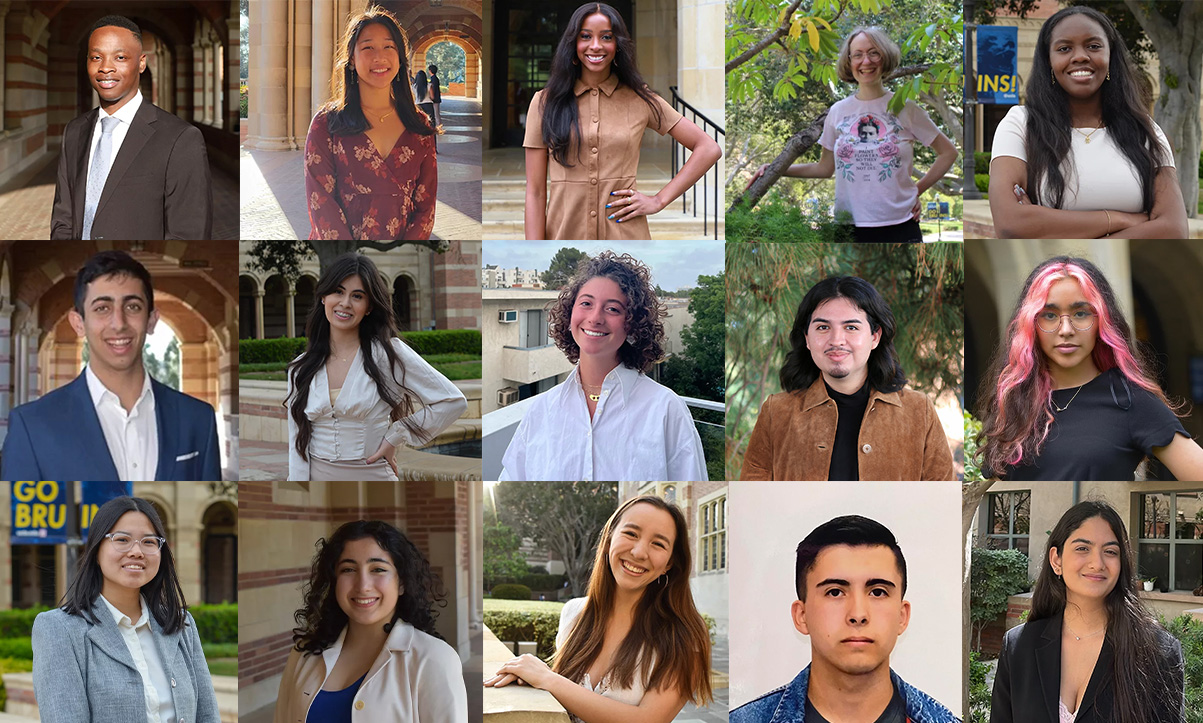 The 2022-2023 Undergraduate Students Association Council officers have begin working on their platforms for the year. Officers include (from left to right) Carl King Jr., My-Lan Le, Divine-Faith Johnson, Eliana Judith Sisman, Naomi Hammonds, Kian Kohanteb, Daniela Anais Cortez Bravo, Giovanna Boffa, Juan Flores, Alicia Verdugo, Phoebe Chiu, Sara Broukhim, Ana Majer, Teddy Moreno and Hansika Nath. (Courtesy of USAC candidates)
Correction: The original version of this article incorrectly referred to holistic health as different aspects of mental health, including physical, social and planetary health. In fact, holistic health is comprised of mental, physical, social and planetary health individually.
This post was last updated July 10 at 2:56 p.m.
Over the next academic year, the incoming Undergraduate Students Association Council officers plan to focus on issues of accessibility, affordability and mental health.
Each year, the student body elects representatives to fifteen USAC officer positions: president, internal vice president, external vice president, three general representatives, Academic Affairs commissioner, Campus Events commissioner, Community Service commissioner, Cultural Affairs commissioner, Facilities commissioner, Financial Supports commissioner, Student Wellness commissioner, transfer student representative and international student representative. Election results for these positions were released May 6, and officers were officially sworn in May 10.
[Related: 2022 USAC election reaches conclusion, sees lowest voter turnout in over 10 years]
President: Carl King Jr.
Carl King Jr., a second-year business economics transfer student, plans to focus on five specific goals – community unity, affordability, revitalization of campus mental health, equitable learning and social engagement.
King said in order to establish community unity, he aims to listen to and uplift the voices of communities beyond those which he is a part of. King said one of his priorities will be to build a women's center on campus using feedback from women's groups to determine what resources it should include.
Now that many Bruins are back on campus, King also hopes to increase affordability by creating a needs-based financial assistance program for parking permits.
King said his overall objective is to create an environment of transparency. In particular, he aims to be more transparent about the USAC budget by having an independent coalition of students audit the budget and by cutting student fees when possible.
He also plans to continue his work from the past year as general representative 3 by collaborating with UCLA Counseling and Psychological Services to expand diversity within CAPS staff, which he believes will better assist students seeking mental health resources.
"We're going to continue to get data in from the individuals that are coming to UCLA – to see what illnesses, what diseases, what mental health issues essentially are students facing that we're (our resources are) lacking," King said. "We're going to be working with CAPS to ensure that these individuals are being hired."
To ensure more equitable learning, King said he intends to expand the use of BruinCast, a service that provides video and audio recording for student lectures. King said students who are unable to attend class should still be presented with the same learning opportunities as their peers.
King said many students have missed out on social events because of the COVID-19 pandemic, adding that he hopes to increase social engagement by bringing back UCLA's Mardi Gras, an event that last took place in 1995.
Internal vice president: My-Lan Le
My-Lan Le, a second-year molecular, cell and developmental biology and political science student, said she plans to increase engagement with USAC for both students and student groups as well as support funding for student groups and accessibility in both community events and online learning opportunities.
As both a north campus and south campus student, Le said she has noticed those in STEM-related fields tend to avoid interacting with USAC because of certain misconceptions. However, Le said she believes the council should work to represent everyone across campus.
Le added she plans to ensure that student groups are represented as well.
"I want to create direct involvement of student organizations by creating a body of student representatives for each of the organizations … and integrate them into USAC so that we're able to run our ideas through them," Le said.
Le also hopes to increase funding for student organizations, particularly pre-med and pre-law clubs, in order to expand these clubs' programs and accommodate more students.
As the director of institutionalized events in the Office of the Internal Vice President this past year, Le said she has planned various student events and hopes to continue encouraging student involvement in the community in her new role.
She added one of her upcoming plans is to add an online format for the activities fair to include students who can't attend the activities fair in person.
In addition, Le aims to provide more online learning resources for students to make classes more accessible.
"I really want to push for UCLA to upgrade their technology and to hire more tech assistants so that lectures can be recorded and so that teachers can have their online resources published," Le said.
External vice president: Divine-Faith Johnson
Divine-Faith Johnson, a third-year political science student, plans to address safety, accessibility for marginalized groups, affordability and sustainability.
Johnson said she believes there are several ways to increase safety around UCLA, starting with implementing alternatives to campus policing.
"I just want to make sure that Westwood is safe, both internally on campus and also externally off campus," Johnson said. "That means using my platform, the EVP resources that we have at hand, to make sure that organizations that have already thought of implementing ideas for alternatives for policing … have the resources available."
She also said she hopes to uplift the voices and advocacy of marginalized groups, whether that's advocating for issues that affect marginalized groups specifically or increasing these groups' awareness of the University of California Board of Regents meetings.
Johnson said since living in Westwood can be expensive, she plans to advocate for affordable on-campus and off-campus housing units, expand CalFresh – a financial assistance program for purchasing food for low-income residents – in campus stores and work with local restaurants to expand the on-campus food pantry.
Having served as internal chief of staff for the external vice president over the past year, Johnson said she has already spearheaded the on-campus free housing proposal within the external vice president's office. Though the proposal did not get approved in the past, she added she hopes to continue fighting for it.
Lastly, Johnson proposes working toward a more sustainable campus, particularly by ensuring that any legislation for sustainability is advocated for within her office.
General representative 1: Kian Kohanteb
Kian Kohanteb, a first-year political science student, plans to focus on safety, lecture accessibility and sustainability.
Kohanteb said he hopes to implement discounted or free Uber and Lyft rides for students at night, something offered at other schools.
"I've always heard people tell me they don't feel safe to walk home at night and other things like that," Kohanteb said.
He added he hopes to increase access to remote education by advocating for mandated lecture recording.
In terms of sustainability, Kohentab said he aims to ensure that his office will have net-zero carbon emissions and hopes to set an example for other students to follow.
General representative 2: Naomi Hammonds
Naomi Hammonds, a second-year psychobiology student, plans to advocate for microaggression training and more resources for marginalized groups, especially African American students.
One of the platforms that Hammonds said she is most excited to implement is "Take Space, Make Space," a plan that would enforce a microaggression training requirement for all undergraduate students.
"A lot of people around campus don't know what a microaggression is; it's what kind of inspired this," Hammonds said. "A lot of people fail to recognize what it is and the impact it has on marginalized students."
On the ballot this year, there was one referendum – Education, Access, and Retention NOW! – that would have increased student fees to fund the Black Bruin Resource Center and Transfer Student Center. Although it did not pass, it is a measure that Hammonds said she continues to support, adding she will keep working to promote events for Black Bruins.
As the staff development director in the Office of the President this past year, she said she highlighted small student businesses and plans to continue doing so as a general representative.
General representative 3: Eliana Judith Sisman
Eliana Judith Sisman, a second-year international development studies student, plans to increase resources available for disabled students and address nutrition at UCLA.
As a member of the Disabled Student Union at UCLA, Sisman said it is important to collaborate with DSU to provide it with resources. In many ways, UCLA can be very bureaucratic, meaning issues don't get resolved quickly, Sisman added.
"There's also been various changes in terms of transcript markings which have been harmful and discriminatory," Sisman said. "I would like to see progress on that … people can't really wait indefinitely when their grades and their wellness are being harmed by some of the practices we have."
Sisman also proposed a nutrition-focused platform with plans to implement cooking classes and increase spaces – especially kosher and halal spaces – for students to cook.
To accomplish these goals, she hopes to bring her ideas directly to the people, reaching out to student groups about her plans for cooking programs.
She said she also hopes to make toxicology tests more accessible without the typical barriers and delays that currently exist.
Academic Affairs commissioner: Daniela Anais Cortez Bravo
Daniela Anais Cortez Bravo, a second-year education and social transformation and public affairs student, plans to improve accessibility for students in general and students with disabilities in particular as well as work to increase mental health resources and student retention rates.
As an extension of the work she has done as the internal assistant commissioner in the Academic Affairs commission's office this past year, Bravo said she hopes to focus on access and inequity at UCLA. Bravo said she wants to reimagine what accessibility means – in terms of both getting into the institution and, once accepted, the resources made available at the institution.
She added she hopes to continue working on an initiative to increase accessibility to scribes to help students who cannot receive accommodations from the Center for Accessible Education.
Bravo also hopes to make resources to learn about disabilities more accessible to the student body. For instance, she said she plans to start workshops to teach students how to be allies to people with disabilities and be aware of ableism.
Her work from the previous year has also inspired her platform to better respond to mental health issues, she said. Bravo plans on ensuring that students feel safe and included at UCLA by bringing mental health professionals to speak to students on the Hill, especially because resident assistant staff is often inadequately supported for this role, she added.
"I think that we don't acknowledge enough just how much of a burden that is to put on students (resident assistant staff)," Bravo said. "Or also just the fact that these students are not trained professionals."
In addition, Bravo aims to collaborate with CAPS to determine if staff is being properly trained in terms of cultural sensitivity. She also plans to work with different organizations to host events that address mental health.
Another concern for Bravo is student retention, which she said could be improved by reducing the expenses college students face. She plans to advocate to reduce the cost of essentials like Wi-Fi, the iClicker program and textbooks and ensure that student labor never goes unpaid – especially so that students don't have to choose between an education and paying the bills.
Bravo said she also plans to work on various other goals, including instituting a graduation requirement to meet with Career Center advisors and creating a course on professional development.
Campus Events Commissioner: Giovanna Boffa
Giovanna Boffa, a third-year mathematics/economics student, plans to increase access to and engagement with campus events.
As the co-director of concerts in the Campus Events commission's office this past year, Boffa said she felt the commission's visibility could be improved through better marketing of campus events.
"Just spreading more information about what events we're having – what's going on, how to access them – just like as much detail as possible and as much of that distributed as possible," Boffa said.
Boffa also plans to add new options to participate in events to reach as much of the student population as possible. For larger events such as Bruin Bash, she said she hopes to utilize American Sign Language interpreters while, for concerts and speakers events, Boffa plans to have a virtual option for students who cannot attend in person. She said she also plans to try to host events at different times of the day to accommodate those who are commuter students.
Another of Boffa's platforms is to increase engagement overall, including by working with other student organizations.
"We sort of started doing that more this year, and I noticed that not only increased attendance for events, but it also just got our name out to more students," Boffa said.
In addition, Boffa said she is planning to host student music competitions to give student artists performance experience and financial compensation through prizes.
Community Service commissioner: Juan Flores
Juan Flores, a third-year public affairs student, plans to establish stronger relationships with community service organizations.
Flores hopes to create a central document that details all the service organizations at UCLA, which he hopes will help create connections across the community.
"Ultimately, the deeper intention is to start building coalitions, start building partnerships, to start aligning service orgs through similar or overlapping work to make sure that we're maximizing our impact by building solidarity," Flores said.
Historically, student groups tend not to know the role of the Community Service commissioner, Flores said, something he hopes to change.
As the director of outreach in the Community Service Commission this past year, Flores said he has already started working on building relationships with service organizations. He said he hopes to continue working closely with the student organizations within the commission to ensure that they have the tools necessary to transition back to in-person activities.
More generally, Flores said he plans to ensure that institutional support is given to students performing community service because of how important assistance can be to disadvantaged community members.
"I share lots of the same vulnerabilities or barriers to higher education as them," Flores said. "I am the direct product of community service … I have been prepared for this role through years and years and years of being the benefit of community service projects."
Cultural Affairs commissioner: Alicia Verdugo
Alicia Verdugo, a first-year education and social transformation and sociology student, plans to focus on funding dance movement therapy, letter-writing materials, culturally oriented programs and a community center.
Verdugo said her platform Healing Hearts plans to encourage nontraditional forms of healing within the community, such as dance movement therapy. Verdugo said she will work with dance troupes, DSU, the Resilience In Your Student Experience Center and other organizations to organize activities.
Verdugo said she also plans to redirect funding to have postage and letter-writing materials available for student use in her Please Deliver To platform.
In addition, the Arts Restoring Community Initiative will fund culturally oriented programs, which she said she believes are relatively inaccessible to cultural groups on campus. Her plan is to promote these programs in a way that reaches those who need immediate aid.
Another of Verdugo's plans, Grounding the Future, would establish a community center where students can go to provide support, build community and stand in solidarity with each other.
"It's rooted in fostering the pockets of warmth within this campus so that students know that there's always a place for them to go outside of religion, ethnicity and other boxes that usually students are placed in," Verdugo said.
Facilities commissioner: Phoebe Chiu
Phoebe Chiu, a third-year economics and psychology student, plans to address transportation issues, quality of student resources and sustainability.
An ongoing project for Chiu involves increasing mobility, especially accessibility to public transportation, she said. She hopes to create conversations with commuter students to see what resources the commission can provide beyond BruinHub, a commuter-friendly space in the John Wooden Center.
She added another one of her concerns is the quality of facilities at UCLA. Chiu said she hopes to examine different classrooms across campus to assess and report on the quality of microphones, computers and ventilation.
Chiu, who served as the Sustainagoals project director in the Facilities Commission this past year, said she is also looking into increasing environmentally friendly choices on campus, including a reusable mug option at Kerckhoff Coffeehouse.
Chiu also said she plans to ensure that all partnerships with independent companies will amplify UCLA's sustainability and ethical labor values.
"Like (with) the Coca-Cola contract they'll be renewing in 2023, whether or not there's more negotiation power by either the university but especially by students to have more say in what we want those relationships that UCLA has with external providers to look like," Chiu said.
Financial Supports commissioner: Sara Broukhim
Sara Broukhim, a second-year political science and psychology student, said she plans to obtain free subscriptions to The New York Times, improve discounts at local restaurants and lead financial literacy workshops for all Bruins.
Broukhim said students at other UCs such as UC Berkeley can access a free NYT subscription, and she believes UCLA should provide the same to its students.
In addition, she said she also plans to increase affordability both on and off campus. To do this, Broukhim added she hopes to work with both businesses in Westwood Village and Ackerman Union to offer discounted prices for students.
"College is not cheap, and I want to try to lessen the financial burden as much as possible," Broukhim said.
Broukhim also said she hopes to change the current system of using meal tickets at Ackerman Union and allow students to use regular meal swipes instead.
As the director of outreach and coordination in the Office of the General Representative 3 this past year, Broukhim said she has worked on financial literacy workshops, which she plans to continue.
"I want to make the financial literacy workshops led by undergraduate students and specifically teach students how to invest," Broukhim said. "It'll make it more engaging within the workshops, and then also we'll be able to pinpoint what students actually need help with learning."
Student Wellness commissioner: Ana Majer
Ana Majer, a third-year molecular, cell and developmental biology student, plans to create spaces for students to receive support and holistically address the issue of student wellness.
Majer said she plans to create a peer support lounge for students to relax and seek support from counselors.
"PSL acts as a place for students to get the help that they need when they aren't able to be seen by CAPS or a clinician of sorts," Majer said.
Partly inspired by her experience as the co-director of Student Education and Research of Contemporary Health in the Student Wellness Commission over the past year, Majer plans to host a health literacy conference where students can present their own research on health, earn their CPR certification and get tested for sexually transmitted infections for free.
In addition, Majer said she wants to establish the DiverSWC committee, for which she would recruit leaders on campus who focus on identity and culture-based health programs.
Majer said she aims to focus on holistic health, which is comprised of mental, physical, social and planetary health. To ensure that each area of health is addressed, she added she plans to create various programs to support students in each of these particular spaces.
Majer also said she hopes to increase transparency about what the SWC is accomplishing, including posting weekly wrap-ups and quarterly budget reports to maintain accountability for every part of the commission.
Transfer student representative: Teddy Moreno
Teddy Moreno, a fourth-year anthropology and Ancient Near East and Egyptology transfer student, said he plans to increase resources for transfer students.
Moreno wishes to expand accessibility to services and programs for transfer students.
He said that as juniors, transfer students often miss out on opportunities targeted toward direct-entry freshmen and sophomores. By the time these students have familiarized themselves with a new institution, they are almost a senior – if not already one, he added.
"I'm just here to be a helping hand to get people on the right track, to let people be themselves – truly develop academically, professionally, just socially," Moreno said.
Moreno added he specifically plans to work with the director of the Transfer Student Center and the assistant resident director to plan town halls, career fairs and bring students to athletic events.
He said he wants to emphasize the need to be accessible – and that applies to himself as well. Moreno said he plans on holding weekly office hours depending on demand.
International student representative: Hansika Nath
Hansika Nath, a first-year business economics and global studies student, plans to help international students adjust to a Californian lifestyle.
Coming from a small town in India, Nath said she understands the need to have a home away from home. She said she plans to adopt a holistic approach, starting with addressing the most basic needs – healthcare, financial management and mental health – then moving on to bigger subjects, including inclusivity and diversity.
"In terms of healthcare, we're not very aware of the United States' insurance policies when we come in, so we don't exactly know what point of contact to go to when we're in need," Nath said.
Nath said she hopes to get in touch with every office that is relevant to her policies, such as the housing and transportation departments.
"The admin at UCLA is brilliant … They understand the resources we have and then what we can do with those resources way better than I do," Nath said. "So I want to work with them and together come up with a plan."
Nath added that with so many already existing international student organizations, she hopes to delegate so that each voice, either directly or indirectly, will always be heard.
Contributing reports from Anna Dai-Liu, Daily Bruin contributor.