Op-ed: Overturn of Roe v. Wade threatens safety of pregnant people of color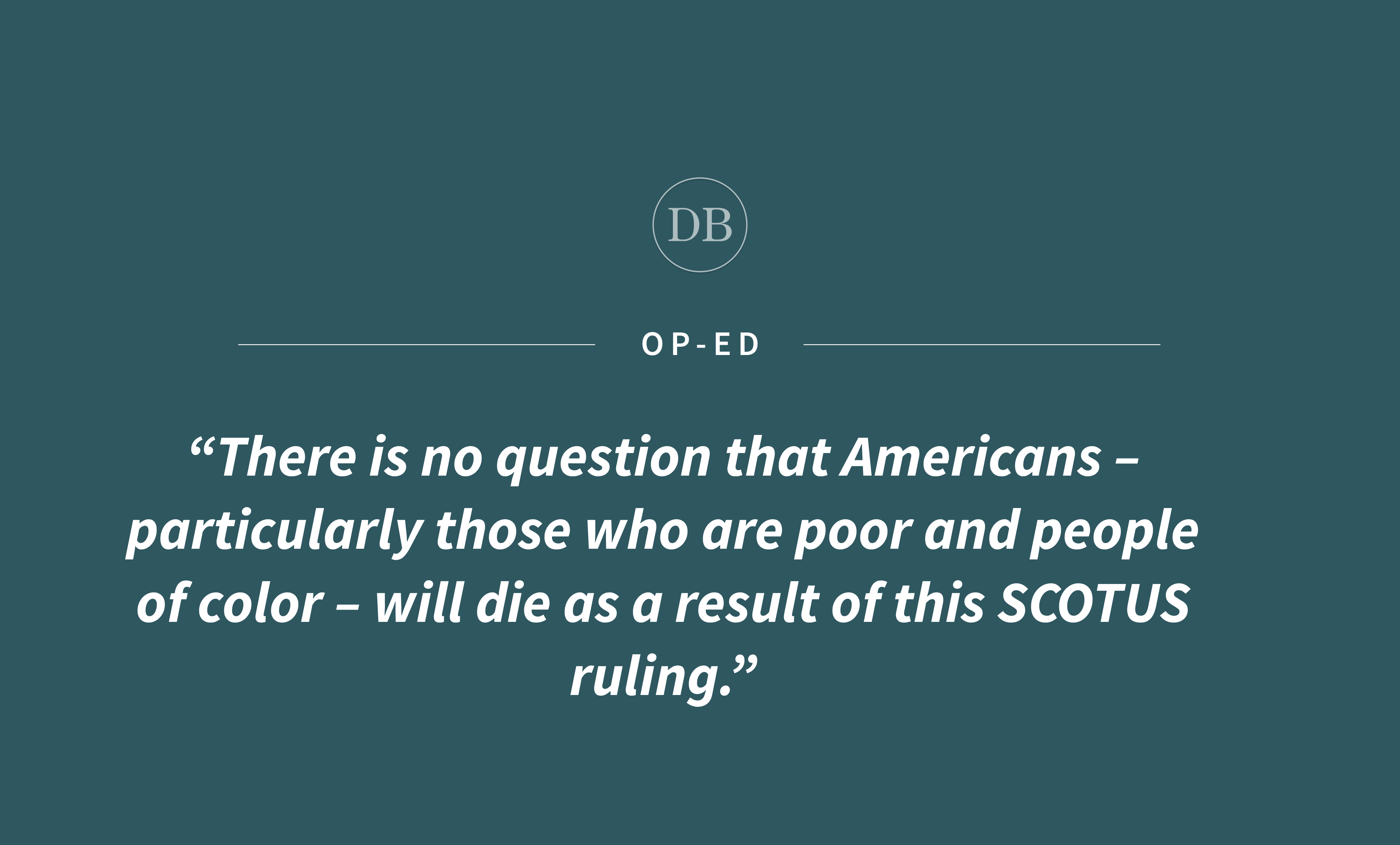 This post was updated June 26 at 10:21 p.m.
Nearly 50 years after the landmark Supreme Court decision, we are left to confront the question of what exactly will happen now that Roe v. Wade has been overturned, eliminating the constitutional right to abortion on June 24. With federal protections no longer in place, it is up to individual states to decide if and when abortions will be legalized. Twenty-two states are certain to ban abortion in the coming weeks and months – with another four likely to join them – and many abortion services in some of these states are already suspended because of trigger bans, which were designed to take effect automatically once Roe was overturned. Within hours of the Supreme Court decision, health centers across the country, such as the Women's Health Center of West Virginia, announced they will no longer provide abortion care. Pregnant people seeking abortions will now be traveling to states such as California, which will strain care systems, increase wait times and cause people to die.
The decision of Roe v. Wade in 1973 was part of one of the greatest United States public health achievements in the past century because the ruling helped significantly reduce maternal mortality. Beyond no longer forcing people to carry their pregnancies to term, the ruling also prevented many deaths caused by unsafe abortions. An analysis from the Guttmacher Institute, a leader in reproductive policy research, estimated that before Roe v. Wade, illegal abortions accounted for nearly 17% of maternal deaths in the U.S., with numbers ranging from 2,700 to 5,000 deaths per year. By 1980, just seven years after the decision of Roe, nonwhite maternal mortality in the U.S. decreased by 30%-40%.
Prior to the decision of Roe v. Wade, pregnant people in low-income and minority communities endured a disproportionate number of abortion-related deaths. Unlike wealthier white people who had the resources to access safe abortions regardless of state law, they were forced to consider other means, turning to dangerous methods to end their pregnancies. They were more likely to undergo low-cost, back-alley abortions performed by unqualified practitioners in unsanitary conditions. As a result, of the thousands of pregnant people who died each year from complications because of unsafe abortions, a disproportionate number were people of color.
This is not a phenomenon of the past. In regions of the world where abortion is illegal, unsafe abortion practices and their subsequent complications persist in the modern day. While there is variability in abortion laws within these areas, Latin America, sub-Saharan Africa and Southeast Asia continue to experience the highest rates of abortion-related deaths worldwide. In these regions, pregnant people seek some of the same unsafe methods that Americans sought in the 20th century to induce their abortions. Globally, it is estimated that 5 million women are hospitalized each year from abortion-related complications, and 68,000 women die annually from unsafe abortions. Now that Roe v. Wade has been overturned, abortion-related deaths in the United States will irrefutably cause these global estimates to increase.
Contrary to many Republicans' beliefs, outlawing abortion does not make the practice less common. In fact, a 2022 report by the Guttmacher Institute found that in countries with prohibitive abortion policies, abortions occur at a similar rate as in countries allowing legal abortion. This underscores how rates of abortion do not decrease under prohibitive legislation – only the rates of safe abortions do. Outlawing abortions will instead have the devastating effect of increasing maternal mortality, returning us to a time when abortion-related complications and deaths were common. A 2021 study by Duke University estimated that banning abortion at the federal level would lead to a 21% increase in pregnancy-related deaths overall and a 33% increase among non-Hispanic Black people. There is no question that Americans – particularly those who are poor and people of color – will die as a result of this SCOTUS ruling.
It now falls on our nation's state legislatures to protect a person's right to make their own reproductive decisions. Now is not the time to be complacent – we must take action. Americans must hold policymakers and state leaders accountable in meeting this critical moment with bold legislative action we need to protect access to safe abortion care. In California, the push for laws protecting reproductive rights at the state level is already underway. The California Future of Abortion Council released a blueprint in December outlining 45 recommendations policymakers can implement to better prepare California as the threat to abortion access continues to grow. To better support these efforts, it is crucial that we as California residents contact our state senators and assembly members and urge them to vote "Yes" on bills bolstering abortion services.
Joining the fight for abortion rights can also be as straightforward as fundraising for practical support organizations and engaging in conversations about the issue with family and friends. Practical support organizations assist individuals seeking abortion services by providing logistical and financial help for those who need to travel. Being vocal about your support of abortion rights is just as critical, as it marks a necessary step toward normalizing abortion. Making safe and legal abortion accessible to all requires generational change, and that must start with us.
Barajas is a second-year master of public health student.
Fehrman is a second-year master of public health student.
Neuman graduated from UCLA in 2022.