Op-ed: Latin American studies has power to diversify, enrich Bruin academic experience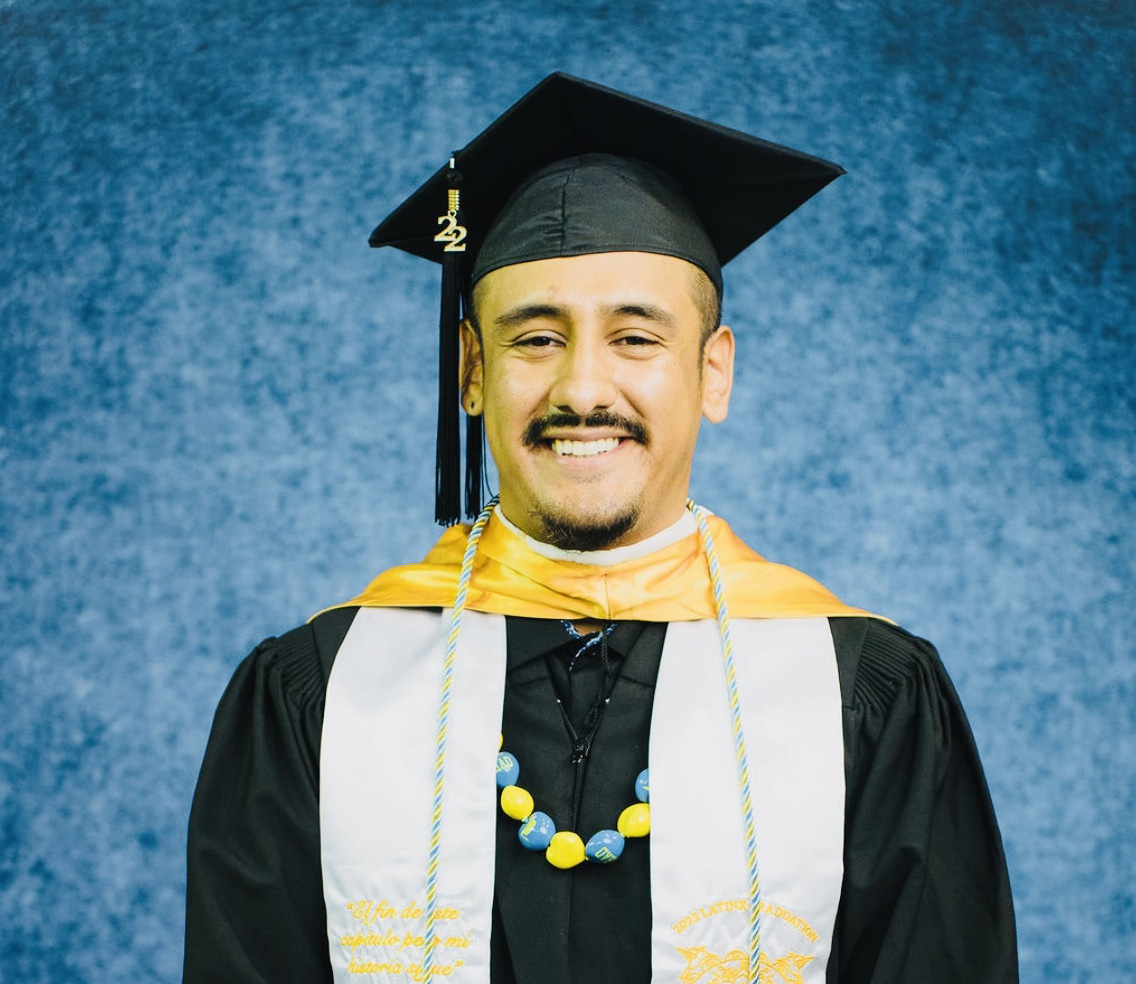 Christopher López stands for a portrait in his graduation cap and gown. In this column, López argues UCLA students would benefit from learning about Latin America. (Courtesy of Christopher López)
This post was updated June 26 at 10:46 p.m.
Earlier this month, I not only became the first in my family to earn a master's degree but also one of four students to graduate from UCLA's Latin American Studies M.A. program. As the Latin American Institute's director, professor Rubén Hernández-León, read our names, I felt pride in being recognized in Royce Hall. Many at UCLA remain unaware of our program, and others, like my parents, are still struggling to fully understand this field of study.
In short, this discipline brings together history, geography, society, politics, culture, languages and economics, all in the context of North, Central and South America. This wide range of subjects challenges students and scholars to adopt a multidisciplinary approach to their studies. Perhaps as a result of this complexity, the students of Latin American Studies are easily distinguishable across campus as those who aspire to raise awareness of Indigenous-led resistance to natural resource extraction and infrastructure projects, provide critical perspectives on United States foreign policy in the region and introduce their classmates to the root causes of Honduran migration. We are truly fortunate to enrich our learning experiences across many departments and make connections throughout the student population at UCLA.
As someone who dreams of becoming a Latin American Studies professor in the future, naturally, I want every Bruin to take a course on Latin America. My advice to all students enrolled in the upcoming academic school year is to search for any course content related to Latin America across the social sciences. This will increase your capacity to critically analyze issues associated with Latin American populations and societies, which will increase the complexity with which you can understand the world you live in.
However, I've seen that our university still struggles to maintain a consistent offering of courses focused on this region's affairs, so these opportunities won't be available to all of those who would gain this benefit from studying Latin America. The great news is that undergraduate and graduate student experience with Latin American Studies is not limited to academic enrollment. UCLA is also home to the UCLA Latin American Institute, which supports research by funding grants and foreign-language instruction as well as organizing conferences, publications and workshops. In early June, LAI was one of the few institutes on campus invited to collaborate with the U.S. Department of State and organize programming for the 9th Summit of the Americas. During the week of June 6, political and business leaders of the Americas came together in Los Angeles to address the hemispheric challenge, and UCLA's Burkle Center, LAI and Luskin School of Public Affairs were able to organize a side event to the summit dedicated to discussing democratic governance in the region. Bruins getting the chance to welcome Gabriel Boric, Chile's most recent and youngest president ever elected, is one example of what makes our experience at UCLA truly unique. LAI is a center within the International Institute, and though it does not administer courses, it always welcomes students' ideas for future programming.
I have come to appreciate that the curriculum for Latin American Studies cannot be static because it must continuously incorporate new research and analysis on Latin American affairs. This field of study is no longer confined to elitist journals and scholarly associations, but is now manifested by the ways in which students and people of Latin American envision the region's future. As aspiring international scholars from the No. 1 public university in the country, our Bruins are determined to make an impact in América Latina – I only hope that our community can continue to grow.
Christopher López is a Class of 2022 UCLA alumnus.