UCLA track and field heads to NCAA championships with national title in mind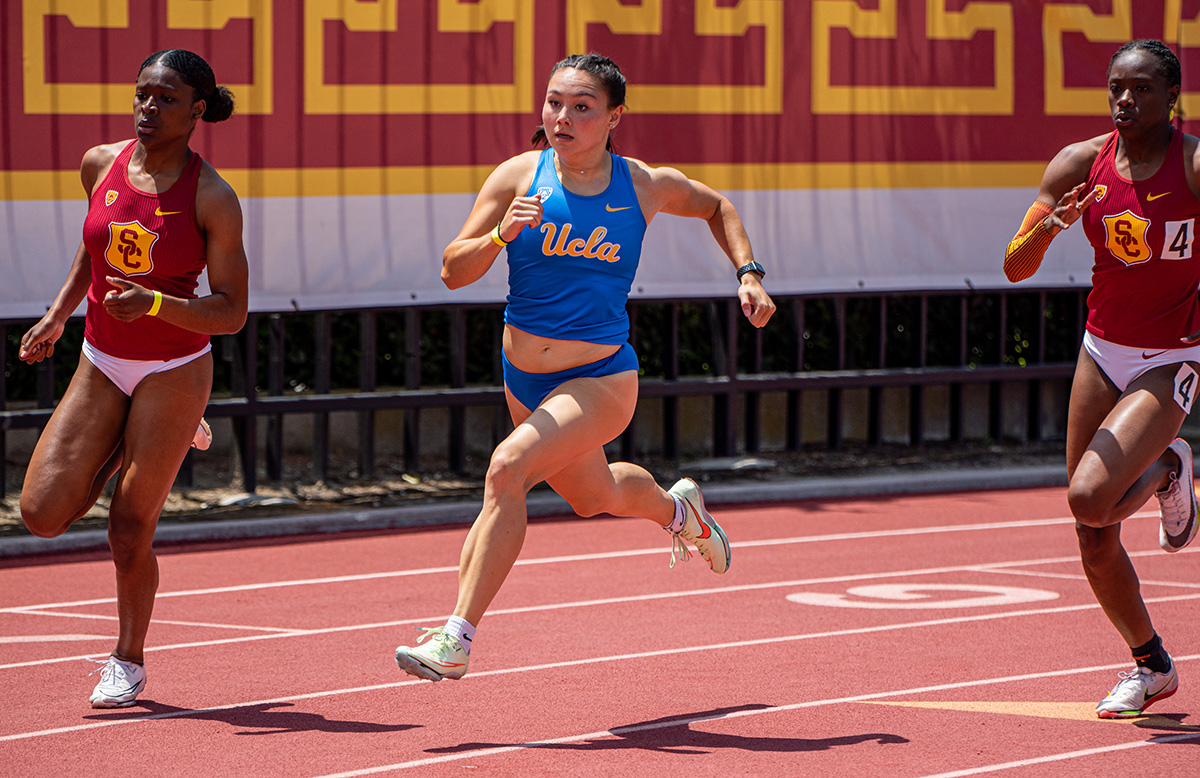 Junior sprinter Maddy Doane competes in the 4×100-meter. Doane is one of seven Bruins headed to the NCAA championships in Eugene. UCLA is set to compete in four events following multiple top-10 finishes at the NCAA West Preliminary Round last week.
(Jeremy Chen/Assistant Photo editor)
Seven Bruins are bound for the biggest stage in collegiate track and field.
After months of competition and training, UCLA track and field will travel to Eugene for the NCAA championships beginning Wednesday. The team will compete in four total events for a shot at a national title.
The blue and gold will be represented in the 400-meter by multiple athletes as well as by the women's 4×100-meter and 4×400-meter squads.
Coach Avery Anderson said he was extremely proud of his team for its effort throughout the year and for giving itself a chance to compete at the highest level.
"This is the crowning moment of the season, every season," Anderson said. "I'm extremely excited and happy for them heading into this week. It's always special to get athletes here and see them, both as individuals and as a team, make it this far."
The 4×100-meter quartet of junior sprinters Catherine Leger, Makenzy Pierre-Webster, Maddy Doane and redshirt senior sprinter Shae Anderson qualified last week with a time of 44.05, placing them seventh at the West Preliminary round.
The 4×400-meter squad recorded a time of 3:32.34 to give them a second-place finish in its heat. This team included Leger, Pierre-Webster, Doane and sophomore sprinter Kate Jendrezak.
Anderson will be racing in both relays as well as her own individual 400-meter event. Last week, she finished second in her quarterfinal heat and seventh overall with a time of 51.89 – her second-fastest time of the season.
On the men's side, two sprinters will be competing in the 400-meter. Junior sprinter Ismail Turner will now be competing in his second straight year for the event. At the quarterfinals, Turner posted a 45.06 and notched third place overall at the meet, also granting him the eighth-fastest time in program history.
Junior sprinter Cameron Reynolds will make his first NCAA championships appearance after finishing right behind Turner in the qualifiers with a 45.07. This time was not only a personal record for Reynolds, but it also gave him the ninth spot in UCLA's all-time marks for the event.
Coach Anderson said he knows his athletes are prepared, as they have been performing at their highest level. Now, it's just a matter of laying it all out there, Anderson added.
"Go out, perform and execute," Anderson said. "Let it all hang out and now knowing there is nothing to save for next week. Everyone knows what this is about and we are ready to get it done."
Anderson said his only advice for his athletes is to compete the way they have all year and see who has what it takes to be a champion.
"What level of All-American are you capable of?" Anderson said. "We can control what we have at hand, and there is no person that is not ready to set a personal best," he added. "If they do that, then we will do well."
Freeman Sacker is currently a Sports contributor on the men's golf and track & field beats.
Freeman Sacker is currently a Sports contributor on the men's golf and track & field beats.