UCLA softball beats Florida, advances to semifinal in Women's College World Series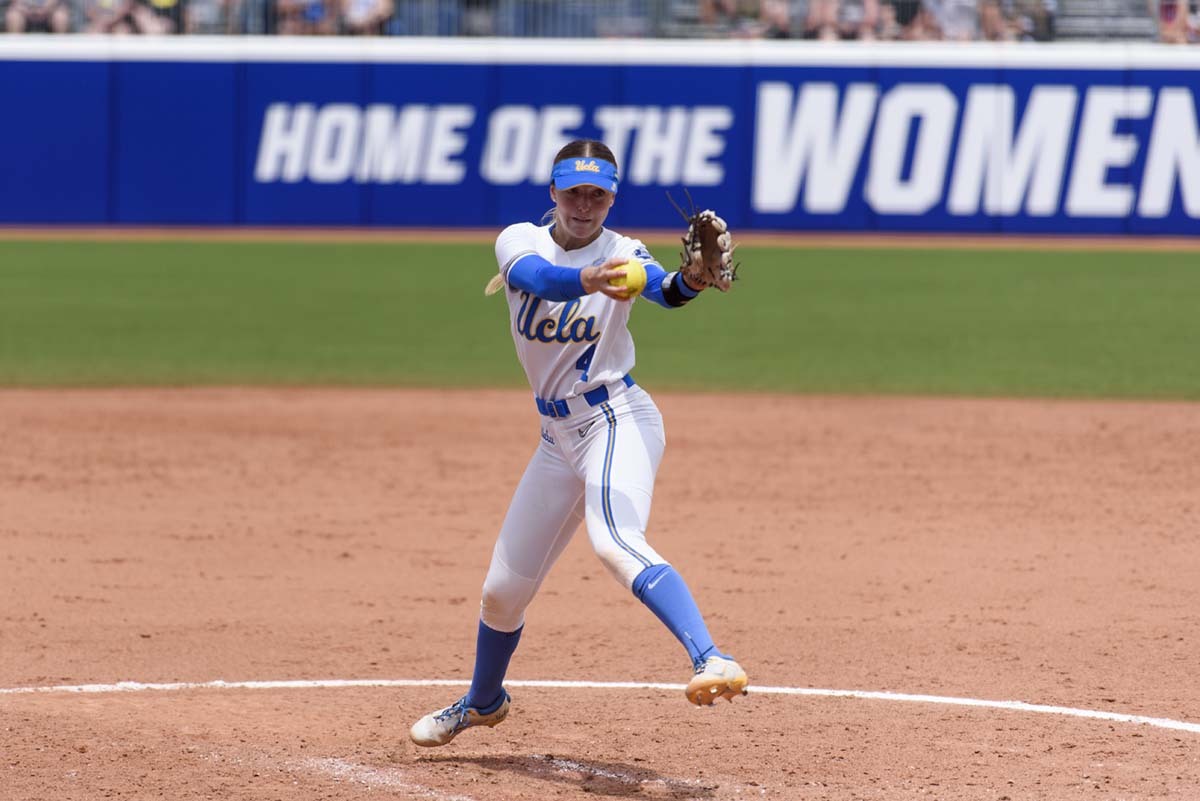 Redshirt senior pitcher Holly Azevedo throws a pitch against No. 14 seed Florida on Sunday. Azevedo threw a complete game, two-hit shutout to guide No. 5 seed UCLA softball to its 14th Women's College World Series semifinal. (Marc-Anthony Rosas/Daily Bruin)
softball
---
| | |
| --- | --- |
| No. 14 seed Florida | 0 |
| No. 5 seed UCLA | 8 |
This post was updated June 5 at 4:13 p.m.
OKLAHOMA CITY — A run-rule victory moved the Bruins one step closer to their 20th appearance in the NCAA championship series.
No. 5 seed UCLA softball (50-9, 19-5 Pac-12) trounced No. 14 seed Florida (49-19, 13-11 SEC) by a score of 8-0 in six innings in a must-win game Sunday to advance to the Women's College World Series semifinals. UCLA will face No. 1 seed Oklahoma in the WCWS semifinals Monday, in which they must defeat the Sooners in back-to-back games to advance to the championship series.
Redshirt senior pitcher Holly Azevedo held the Gators scoreless in her first career WCWS start. Giving up two hits and recording two strikeouts through six innings, Azevedo relied on her defense to make 16 of the 18 outs through a combination of ground outs and pop outs.
Azevedo said she credits the shutout to her teammates having her back on offense and defense.
"I couldn't do it without the people behind me," Azevedo said. "Our defense was really, really on point today, and obviously we had a really good outing with offense."
It was UCLA's bottom of the order that gave it the game's first run in the second inning.
Freshman right fielder Savannah Pola and redshirt junior second baseman Anna Vines reached first on a walk and a single, respectively, bringing redshirt junior Kelli Godin up to bat with two outs. With a 3-2 count, the number nine hitter looped a single to right center to score Pola and record her first RBI since March 12.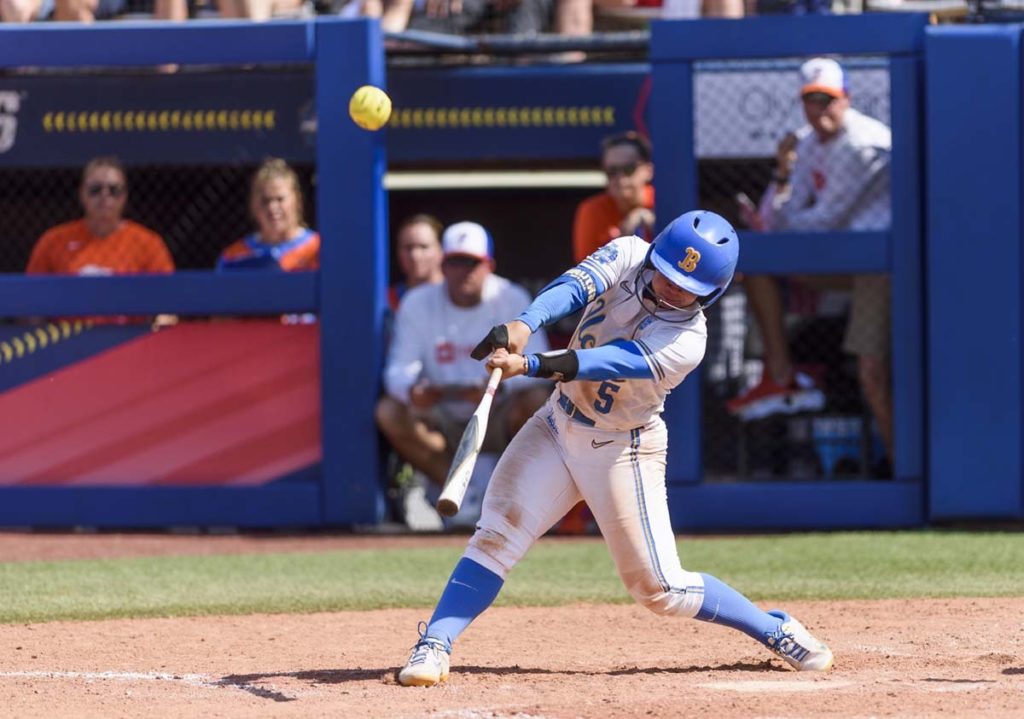 UCLA nearly took a 3-0 lead the following frame when redshirt sophomore catcher Alyssa Garcia launched a ball to deep left field. Florida left fielder Katie Kistler leaped into the air to catch the ball inches before it cleared the fences, robbing Garcia of a two-run home run.
Redshirt sophomore center fielder Maya Brady said her team was able to score seven of its eight runs in the second half of the game because it adjusted to sit on the change-up.
"We just decided that we weren't gonna let the change-up be a factor anymore," Brady said. "Our team does a really good job of getting stronger throughout the game."
A string of mistakes from Gators shortstop Skylar Wallace allowed the Bruins to take a 4-0 lead in the bottom of the fourth.
After being walked for the second time, Pola scored her second run of the game on a fielding error by Wallace. Later in the inning, redshirt senior shortstop Briana Perez lined a single to Wallace, who bobbled the ball and allowed two more runs to score.
Coach Kelly Inouye-Perez said the Bruins know from experience the detrimental effect that inconsistent defense can have at this stage of the season.
"The name of the game was defense today," Inouye-Perez said. "We did not execute well on this stage last year defensively, so that was the focus from fall – that at this point in the game, it really comes down to defense and the timely hits will come."
In its last turn at the plate, UCLA walked it off to clinch the run-rule victory.
Brady and Pola hit consecutive two-RBI singles in the sixth inning. The four additional runs were all the Bruins needed to mercy rule the Gators.
Inouye-Perez reiterated Brady's earlier sentiment, adding that the Bruins' patience is what led to their success against a tough Florida staff.
"One of the hardest things to do … is to be patient and be able to sit back on change," Inouye-Perez said. "They did a great job of making an adjustment and that is a credit to them and their commitment and will to win because those Florida pitchers were throwing some nasty stuff in the strike zone."
Coyle is currently a Sports contributor on the softball beat.
Coyle is currently a Sports contributor on the softball beat.