Using my 1st byline to reflect on Daily Bruin achievements, memories -30-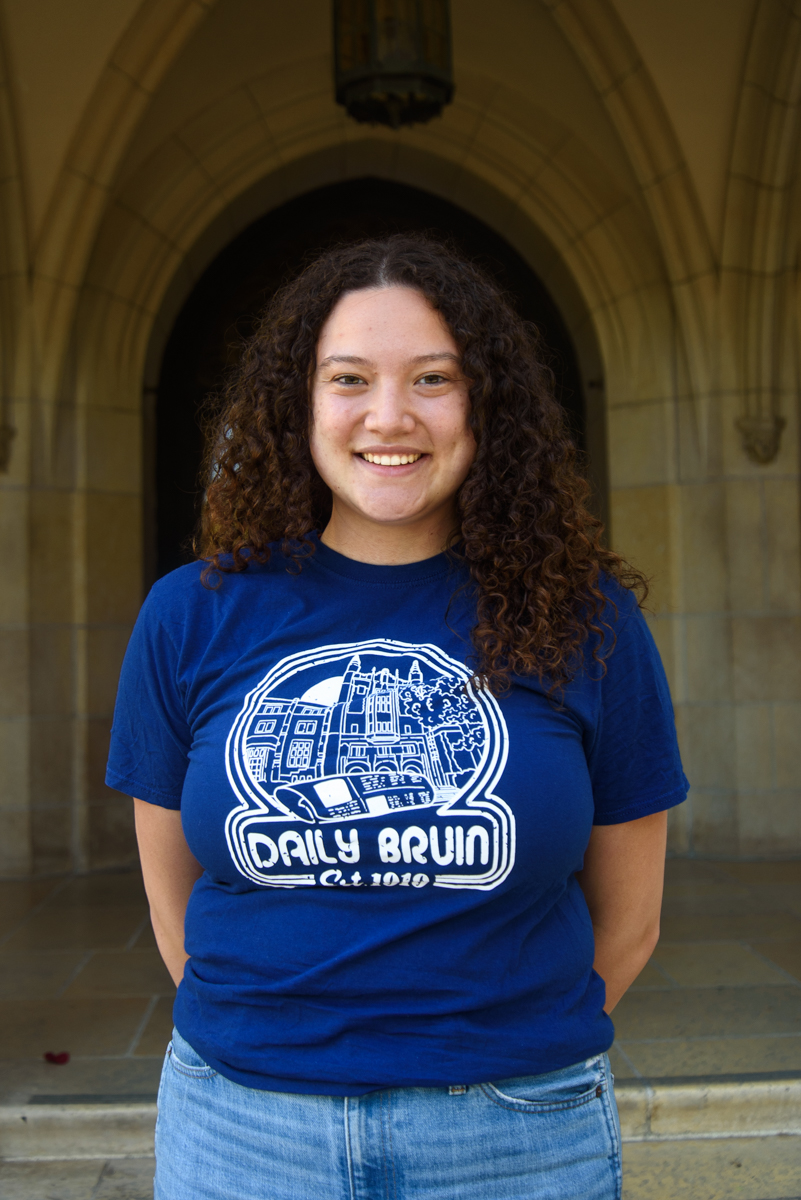 Emily Dembinski stands for a portrait. (Anika Chakrabarti/Photo editor)
To be honest, I still don't understand how this paper works.
I first discovered this during my intern interview with the Design director in my freshman year, when I realized the section did not create any of the art that accompanied articles.
Afterward, I was, of course, promptly rejected from the section.
Eventually, I found my place in Illustrations as a winter intern, worked my way to being the Illustrations director and became the PRIME art director my senior year. Despite these years and roles, I am in perpetual awe of the newspaper's production. The impossibly fast churn of writing, editing, re-writing, copy editing and publishing that I watch from a bird's-eye view is an incredible feat in itself and made even more insane when I factor in the course loads and responsibilities each student must balance on top of all of it.
Part of this confused amazement probably originates from the fact that I have never written an article. While it was not a conscious decision, as the time till graduation dwindled down, I realized that my last chance to write for the paper would be a -30- column.
Each year when the -30- columns are printed, me and my best friend Ashley Kenney read through them and remark on the archetypal format they follow. Editors and contributors regale us with stories of them crying in the office and missing sleep to cover stories, ending with telling us the friendships they made along the way were worth it – although sometimes they don't even do that. Though I understand the need to commiserate and the journalistic urge in most to be realistic, my most stressful times with the paper are not memories that I feel the need to relive, retell and revel in.
When I look back on my Daily Bruin memories, they are filled with racing to watch music video releases in the office, laughing while making trips up to Kerckhoff Coffeehouse and the satisfying swirl of emotions seeing my work in print. Surely, this is because of the people. The pain I might feel when remembering fall quarter PRIME production is smoothed over when I recall cackling with Shirley Yao over Adobe InDesign. The stress melts away for me as time passes, so all that is left are memories of sharing birthday cake with Justin Huwe and Abi Siatkowski and excitedly grabbing copies of the paper on campus to see my illustrations in print.
It has been an honor to work alongside so many talented and driven people during college. I could fill an article with all of the people I want to thank. Thank you to PRIME for being my home this past year. Thank you to Illustrations, the section that contains my entire heart. And thank you to everyone who has had to deal with my stream of consciousness Slack messages. I have learned so much in the past few years, but as I leave, I know there is still so much more that goes on beyond my knowledge to make the paper what it is.
First and last byline done. I understand just a little bit more.
Dembinski was an Illustrations contributor 2018-2020, Illustrations director 2020-2021 and PRIME art director 2021-2022.