UCLA tennis player Sasha Vagramov considers family history amid war in Ukraine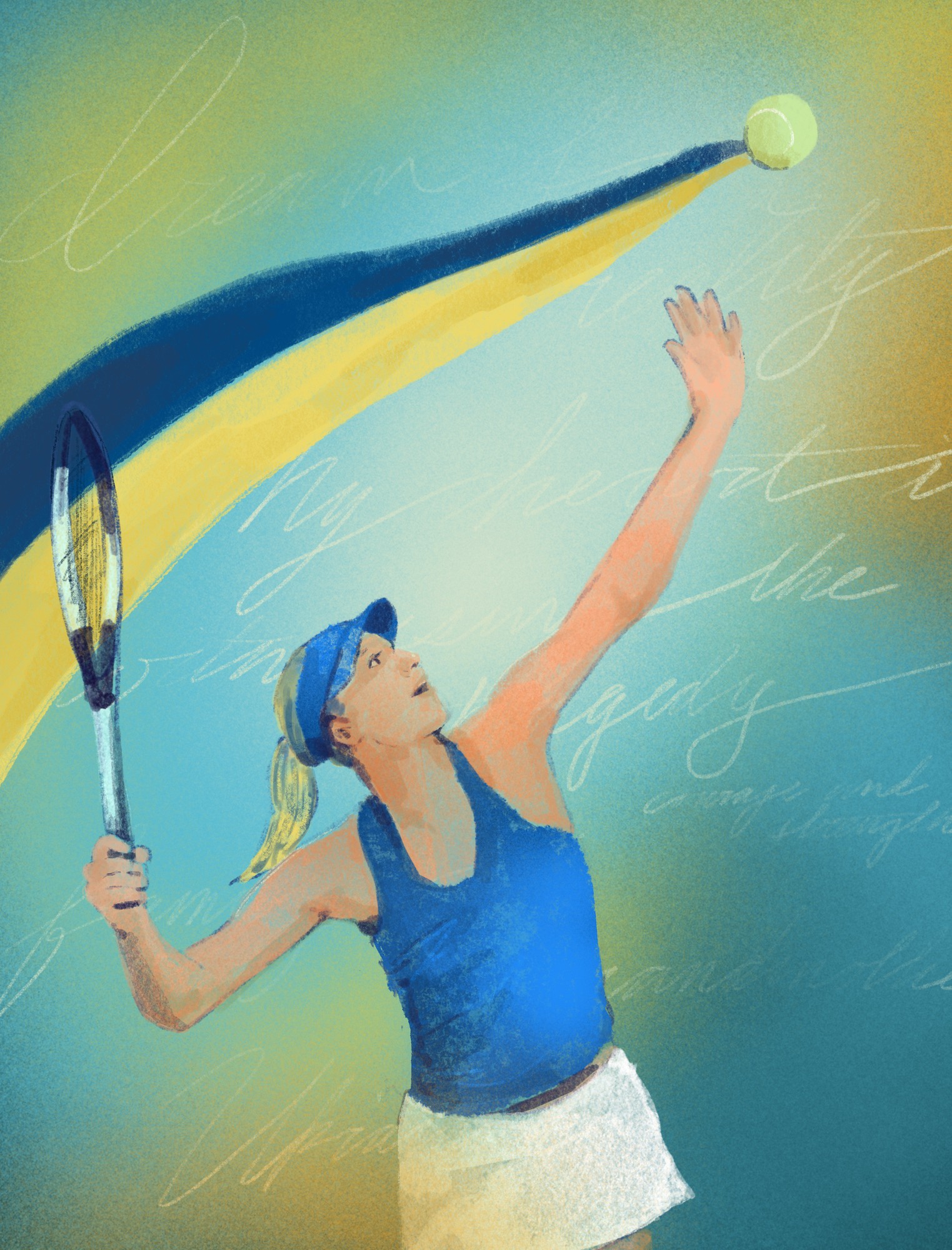 (Victoria Li/Daily Bruin senior staff)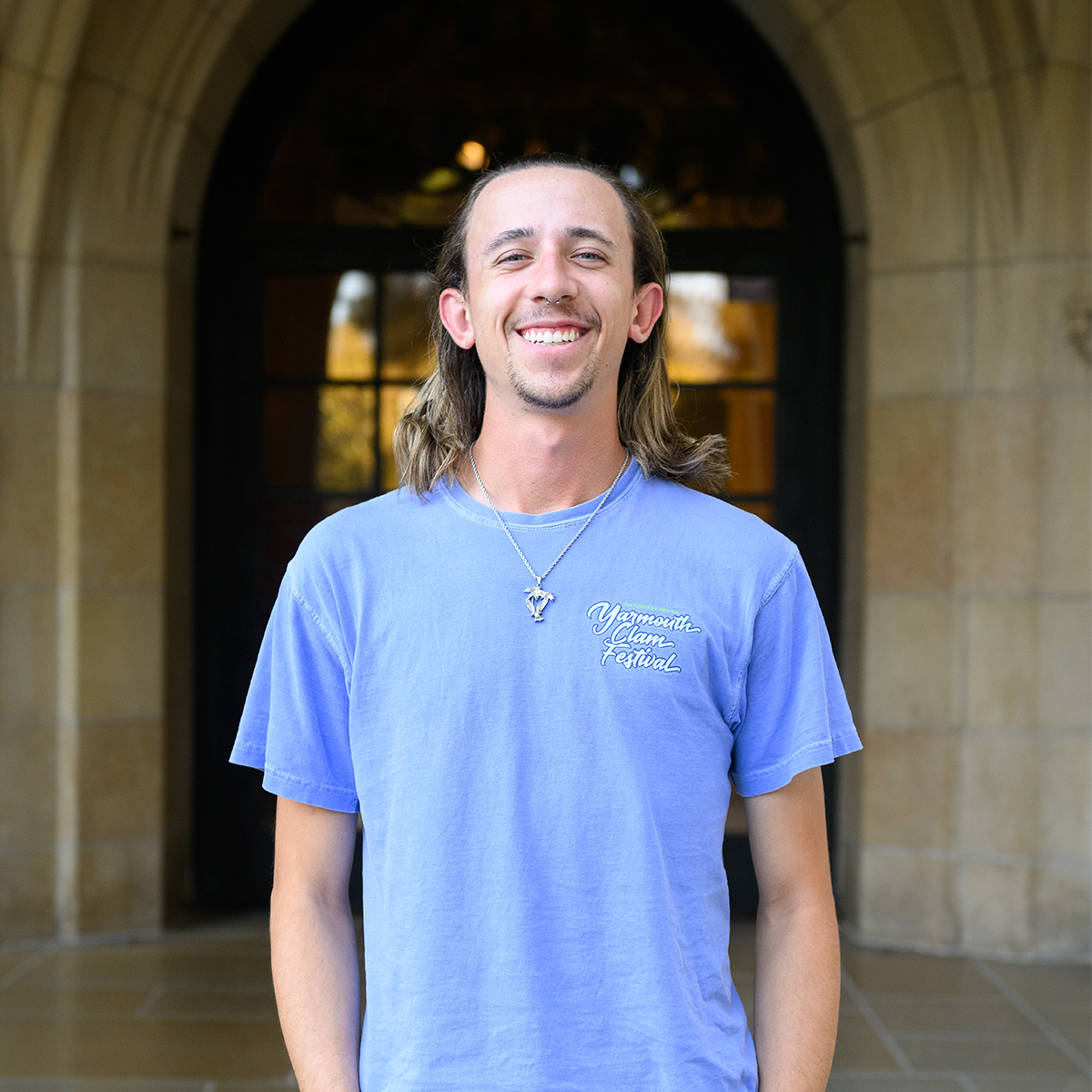 The consequences of war have always been stories to Sasha Vagramov, passed down by her family members that endured them.
But a day before she had to take the court for the Bruins, they were no longer just stories. They were the morning news.
Russia launched a full-scale invasion of Ukraine on Feb. 24, marking an escalation of the Russo-Ukrainian war that has been ongoing since 2014. Vagramov, a junior for UCLA women's tennis who is from Vancouver, Canada, is the daughter of emigrants from the Soviet Union and the first in her immediate family born in North America. She was preparing for the following day's match against USC when the news broke.
"The fact that it wasn't my reality made me super sad, but at the same time made me want to kiss the dirty LA streets in gratitude for me not being there," Vagramov said.
Vagramov remained in the lineup and went on to win her doubles match before losing in singles play. The war continued to unfold in the following months, and not once was she absent from the lineup for the remainder of the 2021-2022 campaign.
Sasha's mother, Anna Vagramova, said she reached out with a familiar message as her daughter grappled with the tragedy.
"I cannot just leave my child in the emptiness, hanging there on her own," Anna said. "I tried to be positive, but since her childhood, I've told her that courage is when it's impossible but you still do it."
The strength and gratitude that guided Sasha to continue fighting for the blue and gold begins with her mother.
"It's like a three-volume story," Anna said. "I've been running away from Russian aggression since my youth."
Anna grew up in Cherkasy, Ukraine, and met Sasha's father, David Vagramov, in Georgia. While they were planning their marriage, tanks crawled into Georgia – a Russian attempt to remove the democratically elected president and install their own. The funeral for the victims of a subsequent demonstration was held on the initial date of Anna and David's wedding, causing them to postpone.
The couple intended to have their first child – Sasha's brother – in Georgia, but the outbreak of civil war changed those plans. A friend of Anna's informed her that mines were being placed in airfields, so she and David opted to leave for Ukraine before they would be unable to fly out.
When Anna returned to her home country with a husband and an unborn child, she sought out her parents to avoid homelessness. In 1992, the family departed for London, where they found employment and stayed as asylum-seekers before applying for immigration through the Canadian Embassy.
Sasha said she admires her mother for the strength it took to start a life for her family away from the oppressive system she grew up in.
"My mother always envisioned a future beyond the Soviet Union, which I think is such a powerful aspect about her as a woman and as a person," Sasha said. "To even think of a better reality is an act of bravery in and of itself because you can make all these Orwellian connections to the Soviet Union. That's really how it was."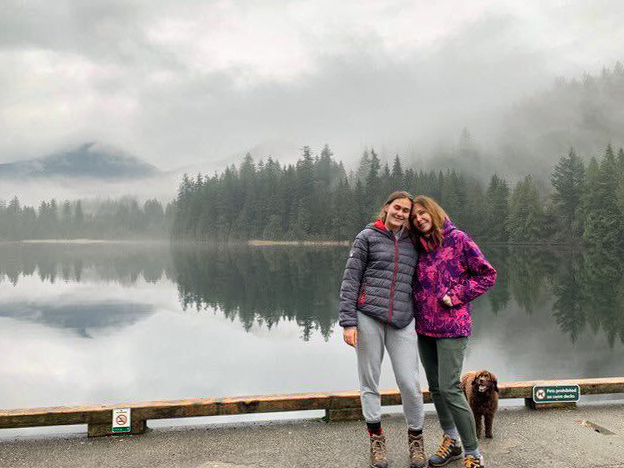 Even with the lived experiences of war behind her, Anna didn't hesitate to throw herself into action in February.
Channeling her emotions into activism, Anna took a detour from her trip to see her mother in order to relocate three Ukrainian families. She would later contribute to the founding of a donations website, "Help UA Now," work to send refugee children to summer camps, sell her preserved moss art to support further aid and organize Zoom calls between Ukrainian women and immigration lawyers to educate them on emigration options.
"For me, coping with this stress is doing something, like helping if I can," Anna said. "I'm basically telling Sasha that doing something always elevates your mood and helps with depression because the first week, I only wanted to sit and cry."
But Anna's activism after escaping the Soviet system didn't come without inspiration. Her father overcame encounters with war in his youth and dreamt beyond borders, laying a foundation for his daughter to one day break free from oppression.
Sasha's grandfather, Mikola Bilous, a writer and admirer of nature, was, as she described, "America's No. 1 fan." He idolized the United States, often listening to a western radio channel banned in Ukraine, and put Anna into a school system that allowed her to learn and study English from a young age.
Spending his childhood in Ukraine during World War II, Bilous had to share a home with a German soldier and experienced near-death situations firsthand, leaving him with anxiety for much of his life. He spent his last years with his wife in their Sacramento home and garden and died in January.
Sasha had to compete in the wake of tragedy even before February, returning to UCLA the morning after her grandfather's funeral to play Loyola Marymount.
"My approach for both situations was to compartmentalize because there's no option to bring that into the match – I can't put that on the court," Sasha said. "That's not being ignorant to the situation or being disrespectful to my family or the people of Ukraine. It's more like a necessity."
As Sasha has persevered, the support system behind her has not been restricted to her family. She was joined at UCLA last season by Georgia transfer and then-senior Vivian Wolff, whose parents immigrated to Germany from Ukraine.
Although she did not appear on the roster, Wolff was around the team earlier this year as she finished up academics. In her time at UCLA, Wolff saw what Sasha brought on and off the court and attributed it, at least in part, to ancestry.
"Sasha is a total fighter, and she will never go down without a huge effort and fight," Wolff said. "Overall, she's a very strong individual, and I'm sure her family history may have something to do with her strength."
"Rather than turning to anger or grief during these times, I turn to the bravery of my ancestors. We all bleed the same. War is good for nothing."
Those were some of the words Sasha wrote in a Feb. 26 Instagram post, the first time she made public her thoughts on the war.
Brushes with war demanded bravery from her mother and grandfather. Bravery was even demanded of her great-grandfather, one of Ukraine's leading biologists, when he was tossed bootless into the winter by revolutionaries.
Bravery is demanded of Sasha now. It has been since that fateful day in February.
"For people here, it's just a horrible event that's happening, and it's the news, that's what it is," Sasha said. "When it has this personal connection, it's a totally different experience to have to process that."
Nelson is currently an assistant Sports editor on the softball, men's tennis and women's tennis beats. He was previously a contributor on the men's tennis and women's tennis beats.
Nelson is currently an assistant Sports editor on the softball, men's tennis and women's tennis beats. He was previously a contributor on the men's tennis and women's tennis beats.