UC community members assert importance of expanded abortion accessibility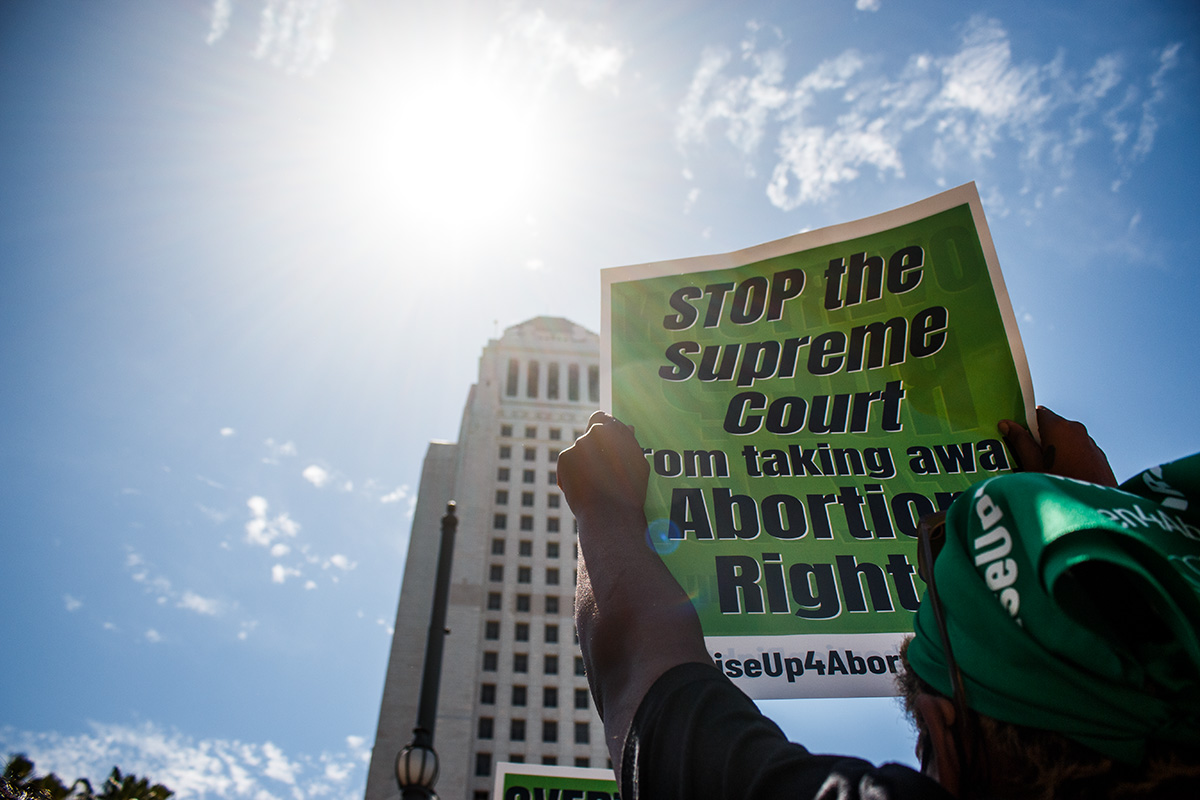 Abortion rights activists and supporters protest after a leaked Supreme Court draft opinion suggested the overturning of Roe v. Wade, a 1973 decision that legalized abortion. California has plans to expand access and facilities for abortions. (Christine Kao/Daily Bruin staff)
This post was updated June 5 at 3:19 p.m.
University of California community members and health professionals are arguing for expanded access and protection for reproductive health care in California.
Professors, health care workers and researchers across UC campuses are advocating for the expansion of abortion training and accessibility to better accommodate the needs of individuals across the country, as a result of the recent questioning of abortion rights.
On May 2, an anonymous whistleblower leaked a Supreme Court draft opinion that indicated the Supreme Court may overturn its decision in Roe v. Wade, according to the Associated Press. In its 1973 decision, the court recognized abortion under the right to privacy, meaning, if overturned, the legality of abortion would be decided by individual states.
[Related: Protestors gather in support of abortion access following leaked draft opinion]
If Roe v. Wade is struck down, 13 states may immediately outlaw abortion and 13 more are expected to subsequently ban abortion, said Bethany Golden, a predoctoral fellow at UC San Francisco and member of the California Future of Abortion Council.
Kristin Luker, a professor of law and sociology at UC Berkeley and faculty director for the Center on Reproductive Rights and Justice, said abortion access in California will not change much regardless of the Supreme Court's decision because Gov. Gavin Newsom has made sure access is not compromised and available for women from other states.
On May 11, in response to the leaked draft opinion, Newsom proposed a $125 million Reproductive Health Package to strengthen California's health care infrastructure, expand access to services and prepare for an increase in out-of-state people seeking services, according to Newsom's website.
Newsom's proposal consists of an additional $57 million that expands upon the California Blueprint, a $68 million package proposed earlier in January aimed at removing barriers for reproductive health, investing in reproductive health infrastructure and increasing health care affordability, according to the proposal.
In December, the California Future of Abortion Council released a report outlining 45 policy recommendations to better prepare California as the threat to abortion rights grows, including the possibility of Roe v. Wade being overturned, Golden said. As a result, there are 13 bills protecting and expanding reproductive health access in the California legislature, she added.
"There is a lot of collaboration right now in this state that is extremely forward thinking," Golden said. "Small details in both the budget ask as well are in sync with organizations that have been working really hard on these issues."
Abortion will only be more challenging to access with the actual overturning of Roe v. Wade, said Sarah Wulf, a senior research project manager at UCSF involved in the Person-Centered Reproductive Health Program. There needs to be an increase in support for people around the country to receive reproductive health care to ensure people from California and out of state maintain access, she added.
Wulf said there could be an influx of patients coming to California for abortion care if Roe v. Wade is overturned, creating the need for more abortion care providers and training.
Forty percent of California's counties lack an abortion provider, adding that many counties have Catholic hospital systems, which do not provide abortion services, Golden said. Aside from expanding access to all counties, improving access to abortion services would also involve enabling primary care providers and trusted community doctors to be able to provide services that would otherwise only be available at a specialized clinic, she added.
Beyond a reproductive health care right, abortion access delegitimized discrimination against women as current or future pregnant bodies, Luker said. Even though access to abortion is increasingly limited in more conservative states, without Roe v. Wade, the legal autonomy could be taken away again, she added.
"Women have always been treated in political theory – not as citizens but as mothers or potential mothers," Luker said. "So I believe what Roe v. Wade did is, in some very fundamental way, give women citizenship for the first time."