UC aims to advance faculty diversity to reflect California with new initiative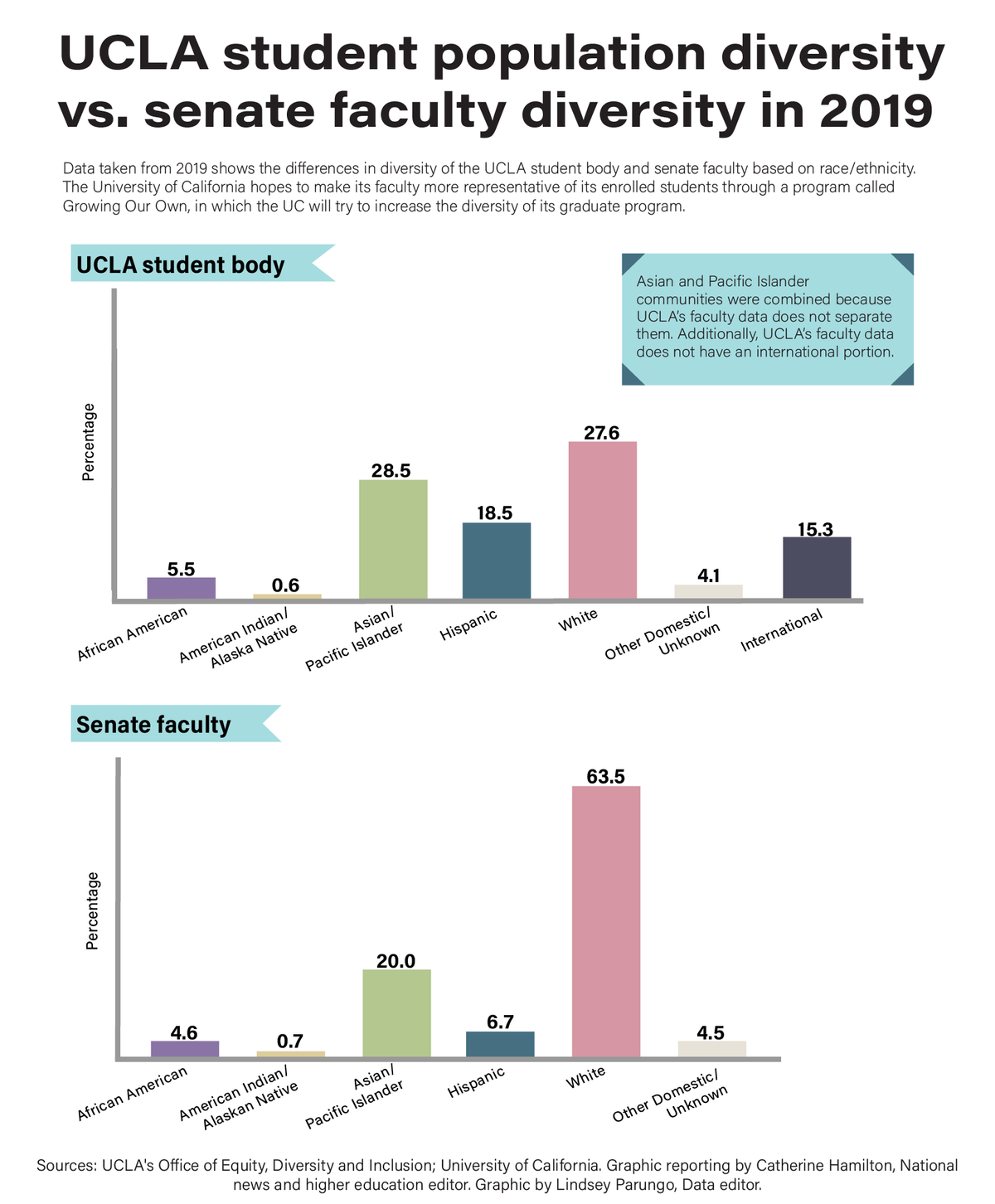 This post was updated June 5 at 4:08 p.m.
The University of California is aiming to improve its faculty diversity to better represent its undergraduate populations through the Growing Our Own program, according to a report from the UC Office of the President.
The systemwide initiative launched by the UC Council of Vice Chancellors will diversify the student body and faculty throughout the UC through a variety of graduate programs. According to the report, the initiative will build pathways for students – particularly those from groups that remain underrepresented among faculty – to become professors by expanding access to educational opportunities and equity.
Growing Our Own also includes coaching and skill development programs to assist students with their future careers, according to the UC Newsroom.
Gillian Hayes, dean of the graduate division at UC Irvine, said the UC undergraduate population has experienced an increase in the number of first-generation, low-income and underrepresented students. However, the UC's faculty have not reflected this diversity, she added.
This lack of representation is partially because of the length of time it takes for undergraduates to become faculty members, said Hayes, who is also the vice provost for graduate education. The UC also needs to diversify the professoriate in order for undergraduates to be able to connect with professors of similar backgrounds and make students more likely to become UC professors, Hayes said.
According to the report, graduate students mentor undergraduates to become the next generation of faculty, with 25% of UC and 20% of California State University professors having a UC degree.
Jean-Pierre Delplanque, vice provost and dean of graduate studies at UC Davis, said the Growing Our Own initiative aims to make academic possibilities and career opportunities visible to underrepresented minority students by leveraging the UC's current efforts.
The UCOP brought this initiative to the attention of undergraduate deans across the UC campuses, asking for reports from the campuses to try to figure out what the population of doctoral programs will look like in the coming years, Hayes said. They aimed to identify the best practices already in place and what areas needing growth they could invest funding and support into, she said.
Hayes said one of UCI's best practices is a long-standing program called the California Community College Internship Program, which allows graduate students to understand what a career as a community college professor may be like. After the deans presented this program to the UCOP, UCI received funding to do a pilot test over the next few years to expand CCCIP to other UCs and local community colleges.
Elizabeth Lambert, senior director of external relations and communications at UC Davis, said programs such as UC Leadership Excellence through Advanced Degrees and the McNair Scholars Program attempt to encourage UC students, especially those from underrepresented groups, to attend graduate school by increasing research opportunities and doctoral pathways.
Various UC campuses are also working toward increasing financial support for doctoral students, especially those from disadvantaged socioeconomic backgrounds, to reduce the economic risk of attending graduate school, Delplanque added. He said graduate divisions are hoping better financial aid will help encourage students to pursue post-undergraduate studies.
He said UC Davis and UCLA are partnering on a grant called the Alliance for Multi-campus Inclusive Graduate Admissions, adding that it will make the graduate admission process more holistic by not defining excellence by just test scores. According to Project AMIGA, some factors considered during admissions would be personal motivations, experiences and coursework.
Delplanque said the University should not only admit a diverse selection of graduate students but also support their achievements academically and beyond. Professors for the Future is one professional development program at UC Davis that provides workshops to a small cohort of graduate students in hopes to retain some as faculty, he added.
The UC recognizes that this responsibility starts with supporting students from a young age and providing them a path to higher education, Hayes said.
The Growing Our Own program has goals to reach certain targets in the coming years for each UC campus, Hayes said. For example, UCI plans to increase their underrepresented minority proportion of doctoral students from 16.7% in 2020 to 27.2% in 2025 and 37.9% in 2030, she added.
Some next steps include showing students their possible career options through events such as diverse professor panels, Hayes said, adding that the panels would include professors who are first-generation, low income or from minority groups to show students of diverse backgrounds possible pathways. The goal is to prepare them for the academic job market by providing them with resources and support during their undergraduate education, Hayes said.
She added that the UC system needs to support and prove the ideal that equality and inclusion can exist in higher education and beyond, which can be achieved through diversifying the faculty population to be more representative.
"I think we have a chance that the legislature, that the regents, that all of the faculty and students from this big, complex, diverse, amazing organization can have (a) massive impact both on the state of California and, again, nationally and globally," Hayes said.