The Quad: UCLA landscaping staff serves as root cause for blossoming campus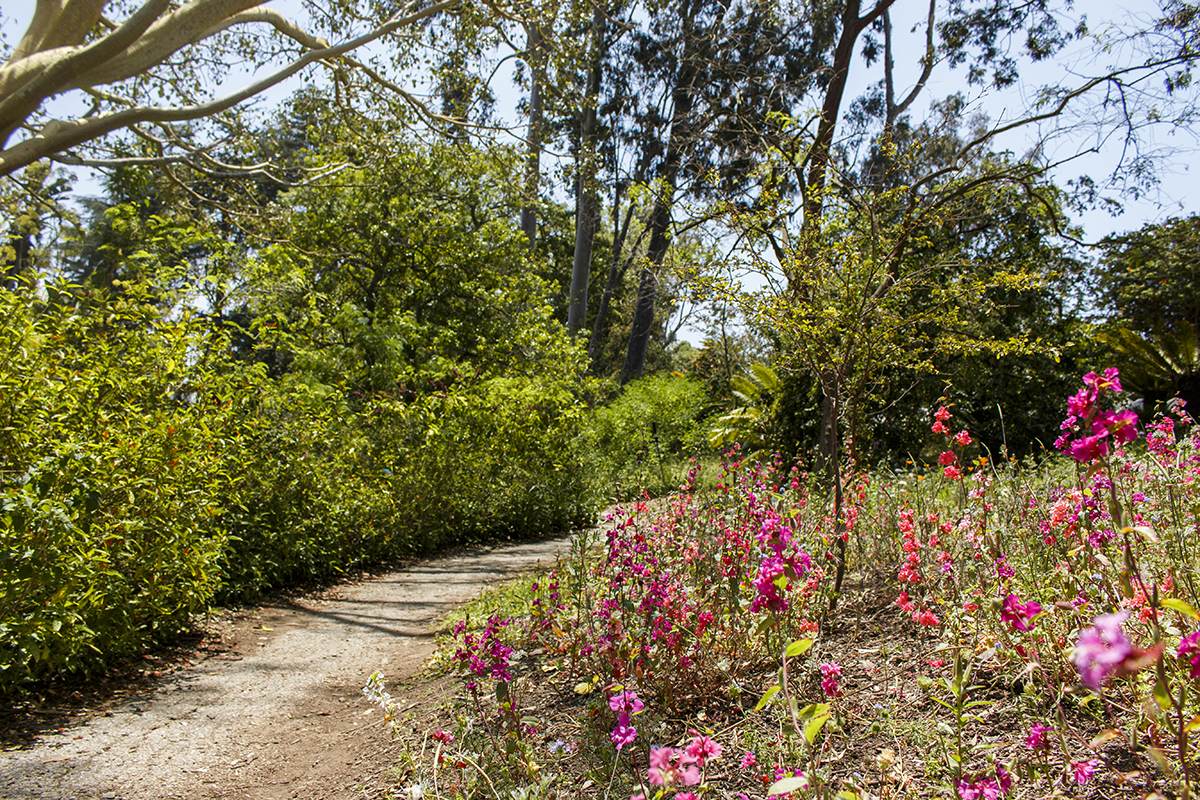 Pictured is the Mildred E. Mathias Botanical Garden, where students can find flora and study spaces. (Christine Kao/Daily Bruin staff)
From fountains to flowers to foliage, the work of UCLA's landscaping staff has created a blossoming space for students since the school's inception more than 100 years ago.
According to The Cultural Landscape Foundation, UCLA hired landscape architect John Gregg to design the campus' outdoor space in the 1930s. His work was carried on by several other landscape architects over the years, resulting in the creation of internationally representative gardens.
Now, the gardens at UCLA hold thousands of varieties of flora. For instance, the Mildred E. Mathias Botanical Garden alone contain more than 3,500 different species of plants.
With the 419 acres of land UCLA sits upon, there are many beautiful spaces for Bruins to enjoy.
Jeana Shin, a fourth-year microbiology, immunology and molecular genetics student, said she enjoys the vibrancy of the botanical gardens and the life it brings to campus away from the crowds.
"I spent a lot of time there, just studying in the tables outside. … There's just so much variety in what kind of plants and flowers there are," Shin said.
Roan Sutton, a second-year molecular, cell and developmental biology student, said while he has not yet explored all of UCLA's outdoor spaces, he enjoys spending time around the hills of Janss Steps.
"In addition to being a nice outdoor space, it's a gathering space. There's tons of people," he said. "It's the heart of campus, and with Royce and Powell in the background, you feel very connected to the school."
Nature can also provide a space for Bruins to mingle and socialize.
Shrinidhy Srinivas, a second-year microbiology, immunology and molecular genetics student, said Janss Steps is one of her favorite outdoor spaces to sit and relax or spend time with friends.
"If I lay down, I think I get the most sunlight, but also there's a natural chatter of people, which is really nice," Srinivas said. "It just makes me feel peaceful and at home."
Outdoor spaces can also provide a sense of peace for Bruins.
Sutton added the green spaces on campus break up the feeling of living in a large, urban environment.
"Education and college and a big campus in a city like this can all feel very … clinical and cold and commercial," he said. "And so to have it kind of broken up by nature feels a lot more comforting."
Second-year political science student Eva Jussim said the landscaping around UCLA creates an oasis from campus premises.
"The landscape at UCLA definitely helps me feel like I'm not just on a college campus," she said. "It's nice to be on a campus where you can sort of escape the streets and everything and just have a moment of peace."
Campus landscaping is just one part of UCLA's larger efforts to create a sustainable campus.
In 2018, the biodiversity and landscaping team was formed as part of a Sustainability Action Research project. This team was dedicated to creating a beautiful, lush campus landscape that supported and enhanced the native plant life of the LA basin.
The biodiversity and landscaping team was not the only SAR project to tackle sustainability in UCLA's landscaping. The outdoor spaces team also published research in 2021 supporting the implementation of edible plants around campus.
Spending time outdoors has also been proven to have beneficial effects on mental health.
According to an article published by the American Psychological Association, individuals who spent increased amounts of time outside between their time of birth and the age of 10 had significantly lower rates of psychiatric disorders later in life.
Those who also spent at least two hours outside reported better health and well-being compared to the week prior, when they did not engage in as much outdoor time, according to the same study.
Being outdoors can also increase one's productivity.
"Because of how nice everything looks, it makes me feel more productive on a daily basis, it makes me excited to go to campus and want to study," Srinivas said.
Ultimately, UCLA's iconic landscape is one that students and passersby can appreciate for decades to come.
"I really enjoy Powell courtyard because I grew up in a UCLA family," Shin said. "Whenever I walk in that area, I'm just reminded of how iconic this area is, and it makes me really proud to be a UCLA Bruin."