The Quad: Bruins share personal developments, discoveries caused by COVID-19 pandemic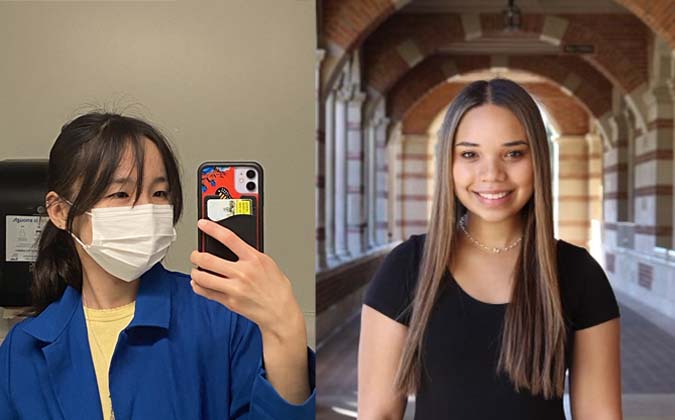 The Quad explores how students have found new hobbies and identities during the pandemic. (From left to right: Courtesy of Anna Bolor, Courtesy of Maddie Marks)
The COVID-19 pandemic has had many lasting effects, not only in terms of public health but also on the development of children and young adults. UCLA Bruins are no exception.
As the rate of COVID-19 cases rises across Los Angeles County and mandatory masking resumes on campus, Bruins continue to grapple with the ways in which their identities, relationships and interests have changed throughout the pandemic.
Third-year chemistry student Anais Bolor said the 2 1/2 years she spent at home allowed her to reflect on her gender identity and sexuality.
"I don't necessarily try to present more feminine or masculine. I just wear whatever I feel like is comfortable for the day or whatever, and I don't necessarily think about it," Bolor said. "Back then, I definitely sort of had the intention of wanting to look more feminine, a little bit more girly."
Bolor, who came out as a lesbian in her first year of college, said she realized her desire to appear feminine was rooted in internalized misogyny.
"Whatever my outward appearance was, it didn't look like something that was like, 'I don't like men' in flashing neon lights," Bolor said.
In quarantine, Bolor experimented with her appearance, first by doing away with makeup, then by chopping off her long hair. Now, she said she wears what makes her feel most comfortable.
"I really did not necessarily wear makeup all the time for myself," Bolor said. "My reasons for enjoying it were wanting to … look pleasing, or palatable or put-together for the outside world."
In addition to experiencing shifts in identity, many students began to see social interaction in a new light as a result of the pandemic. Having endured the isolation and fatigue of online school, some Bruins noted a newfound appreciation for quality time spent with friends and family.
First-year psychology student Maddie Marks said her time in quarantine helped her understand the value of interpersonal relationships.
"You're not always going to have (real connections), or it's going to be virtual, and it's not the same as 'real talk' … and going places with your friends," Marks said. "It's important to hold onto the things that are meaningful to you in the moment."
As stay-at-home orders tightened across California, Marks said she utilized her time in quarantine to grow closer to her family.
"I see my family members differently now, but specifically, my mom," Marks said. "We were always close, but we're definitely probably closer now. … The last time I was with my mom that much was probably when I was like two … before I went to school."
Marks said she coped with the loneliness of the pandemic by connecting with her loved ones through FaceTime. Now, she said she makes a consistent effort to spend time with friends and meet new people in college.
According to the Pew Research Center, adults aged 18 to 29 were more than twice as likely as those aged 65 and older to report high levels of emotional distress during the pandemic. Marks, who struggled with anxiety during quarantine, said she found a support system within her family and friends.
"I don't like being alone as much as I used to," Marks said. "I used to be really independent, and I still think I am, but I'm definitely less independent now."
Other students used their time in quarantine to develop new hobbies. Second-year English student Matthew Esarte said he began writing short stories when lockdown cut his senior year short.
"I always wanted to write. … I think (lockdown) made me realize that I needed to fill up my time," Esarte said. "I was just like, 'I'm really bored. I hate this. I need something to do.' … Writing fills up a lot of time."
A study conducted by researchers at the University of Buckingham during the pandemic found a strong correlation between creative recreation and increased well-being. Participants who regularly engaged in activities such as crafting or learning languages scored higher on the World Health Organization Five Well-Being Index than those who did not.
Esarte said he used writing as an outlet for his emotions amid the chaos of the pandemic.
"I think it's good to externalize things, to a degree. I guess if you're feeling anything, it's good to talk about it," Esarte said.
Esarte said he has written several short stories since the onset of the pandemic. In May, he presented one of his works at the Academic Conference for English Students at UCLA.
"If I had to choose between writing 50 to 60 stories and not going into lockdown, I would probably choose not going into lockdown," Esarte said. "(But) it was good to have something that … I could be like, 'OK, I'm actually doing something.' I'm not just sitting here and playing video games for 12 hours straight, as much as I would love to do that."
Emerging from the tumult of the pandemic has proved incredibly difficult. Nevertheless, Bruins have displayed resilience by seizing opportunities for growth.
"It's a positive change in the way that we have all learned to adapt in a cohesive way," Marks said. "It obviously wasn't easy, but we all kind of did it for the sake of our well-being."