Superlatives: Daily Bruin Sports honors achievements of UCLA's 2021-2022 athletes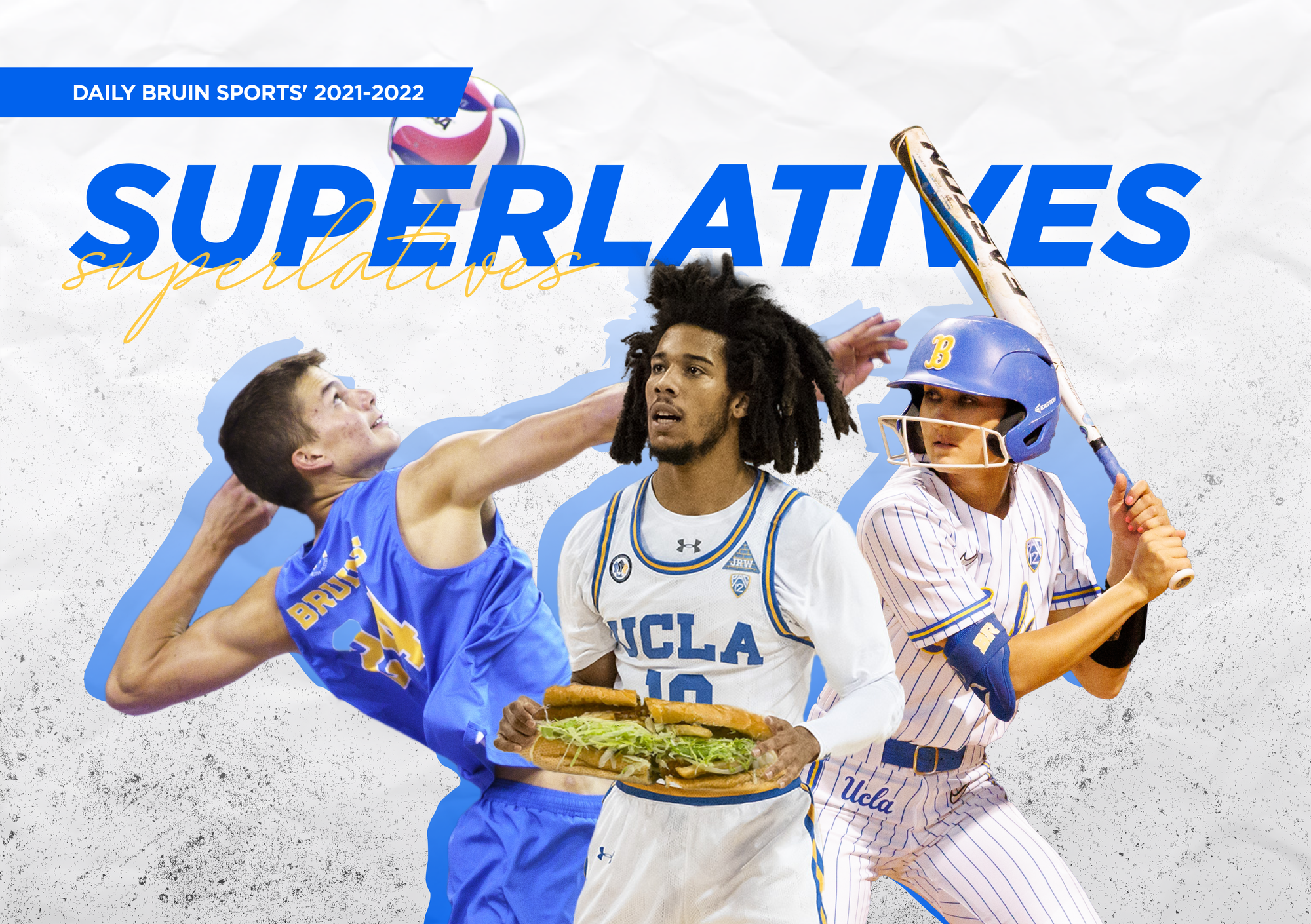 (Lauren Ho/Daily Bruin senior staff. Left photo by Patrick Shao/Daily Bruin. Center photos courtesy of Francis Moon and Daily Bruin file photo. Center photo illustration by Ashley Kenney/Daily Bruin senior staff. Right photo by David Rimer/Daily Bruin senior staff)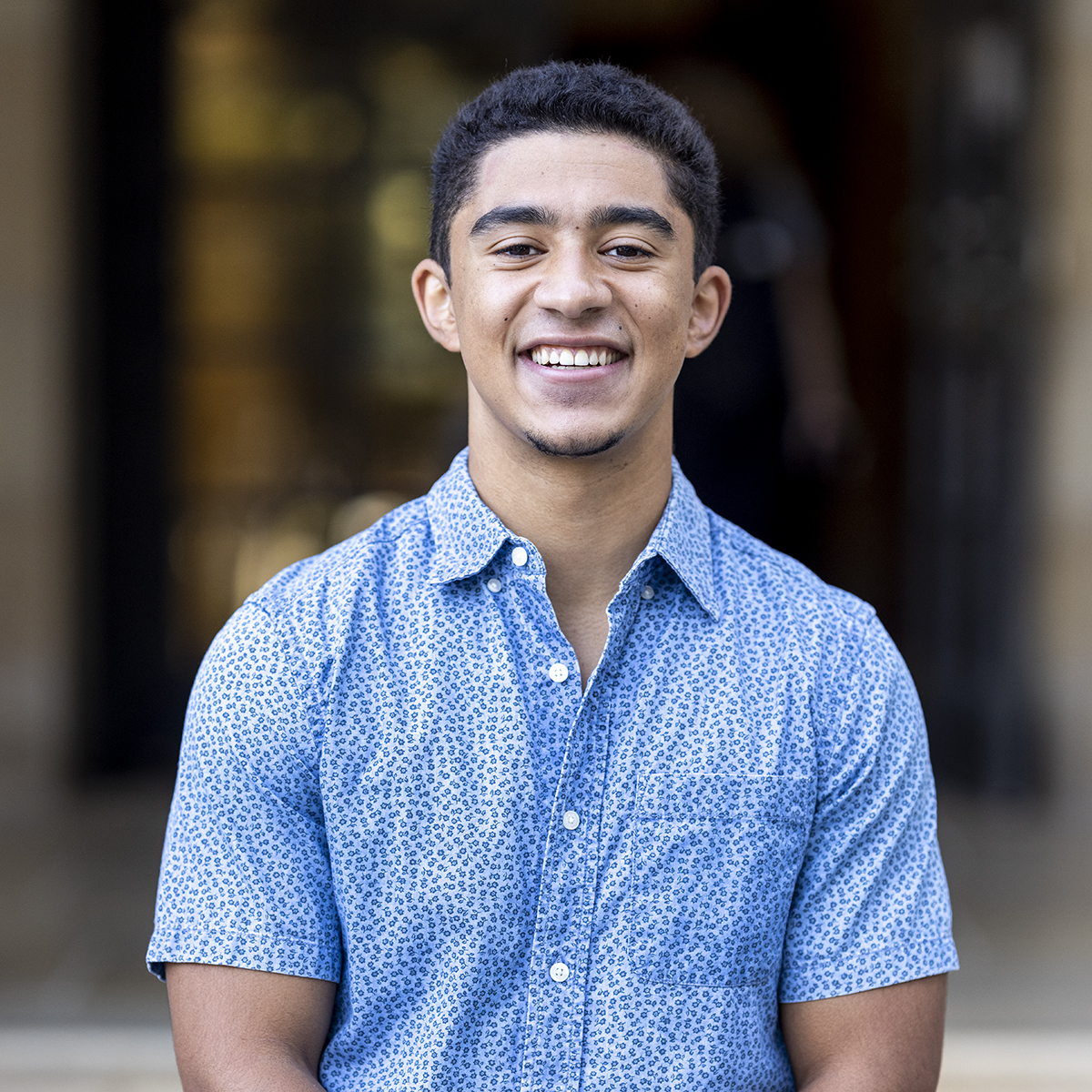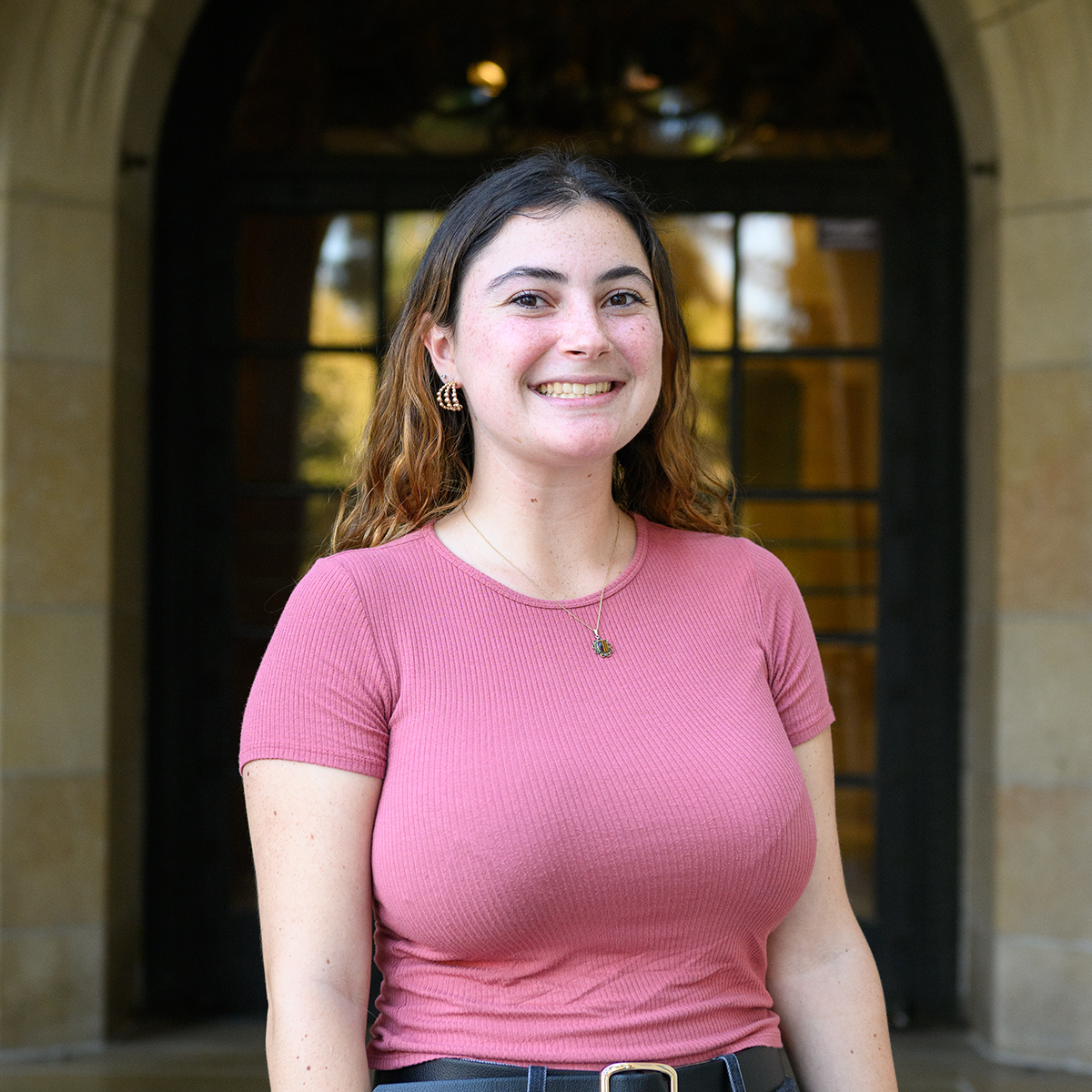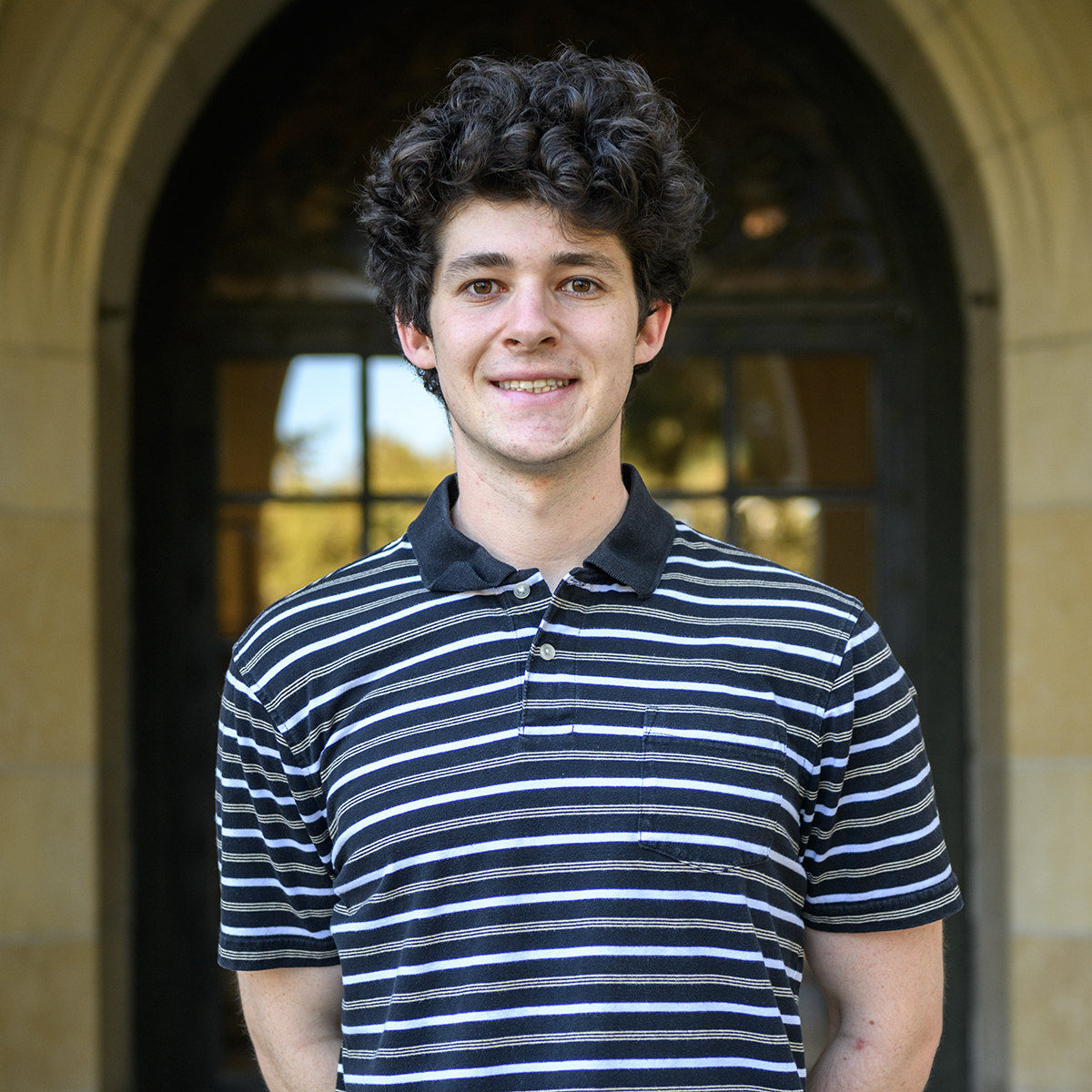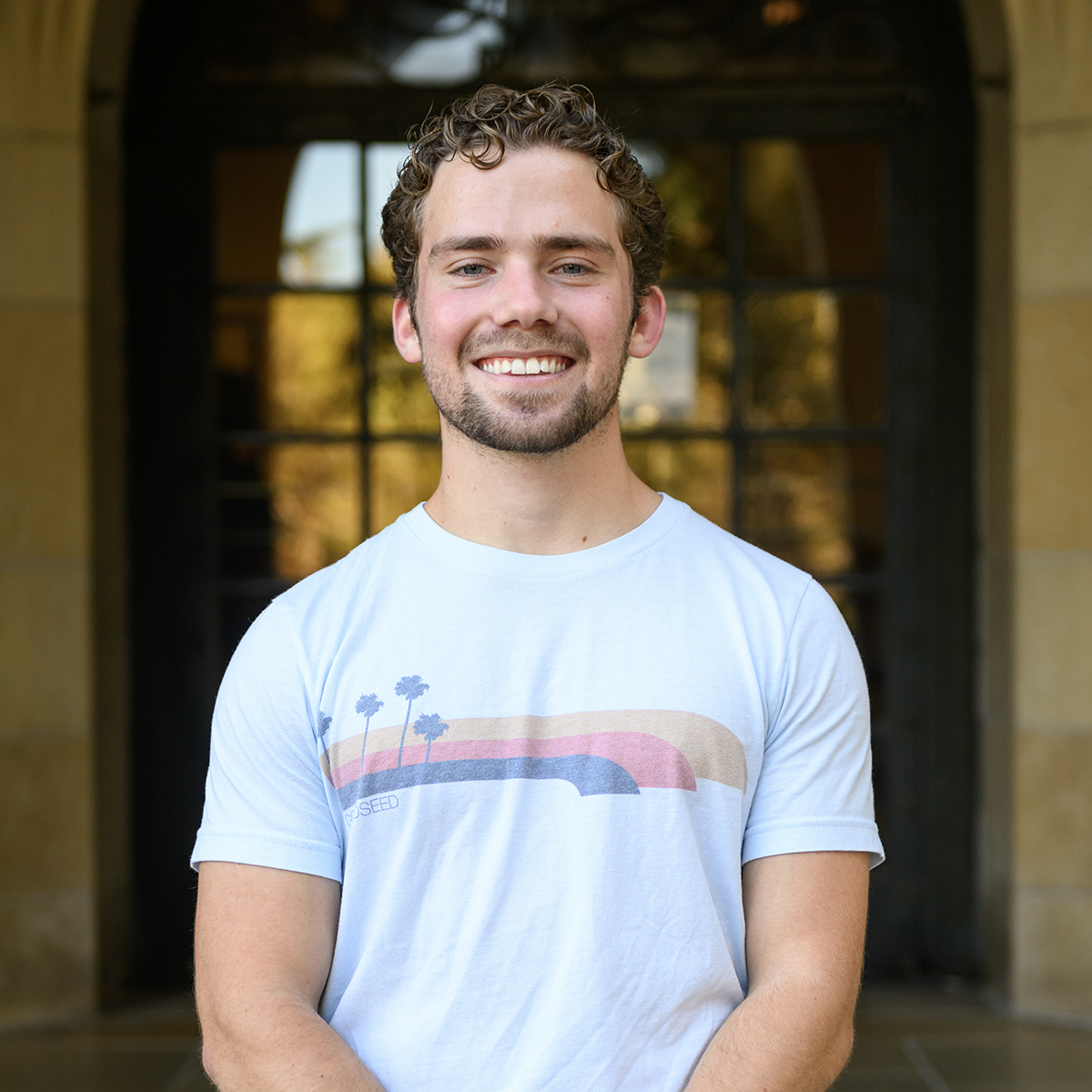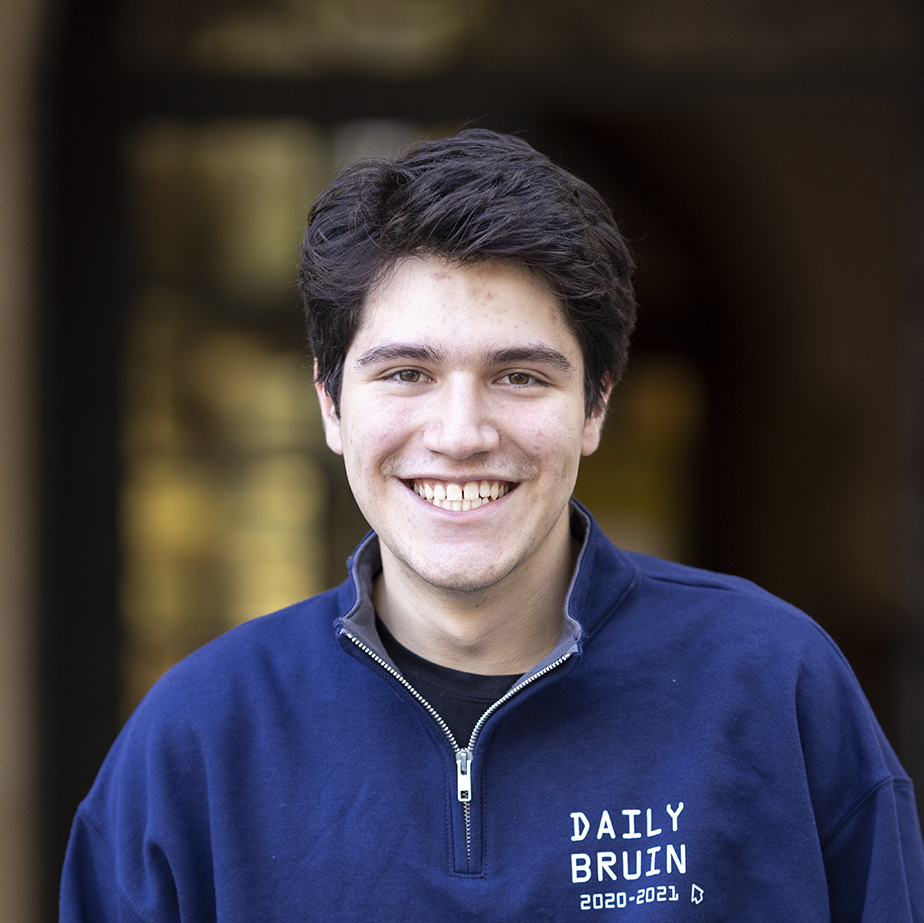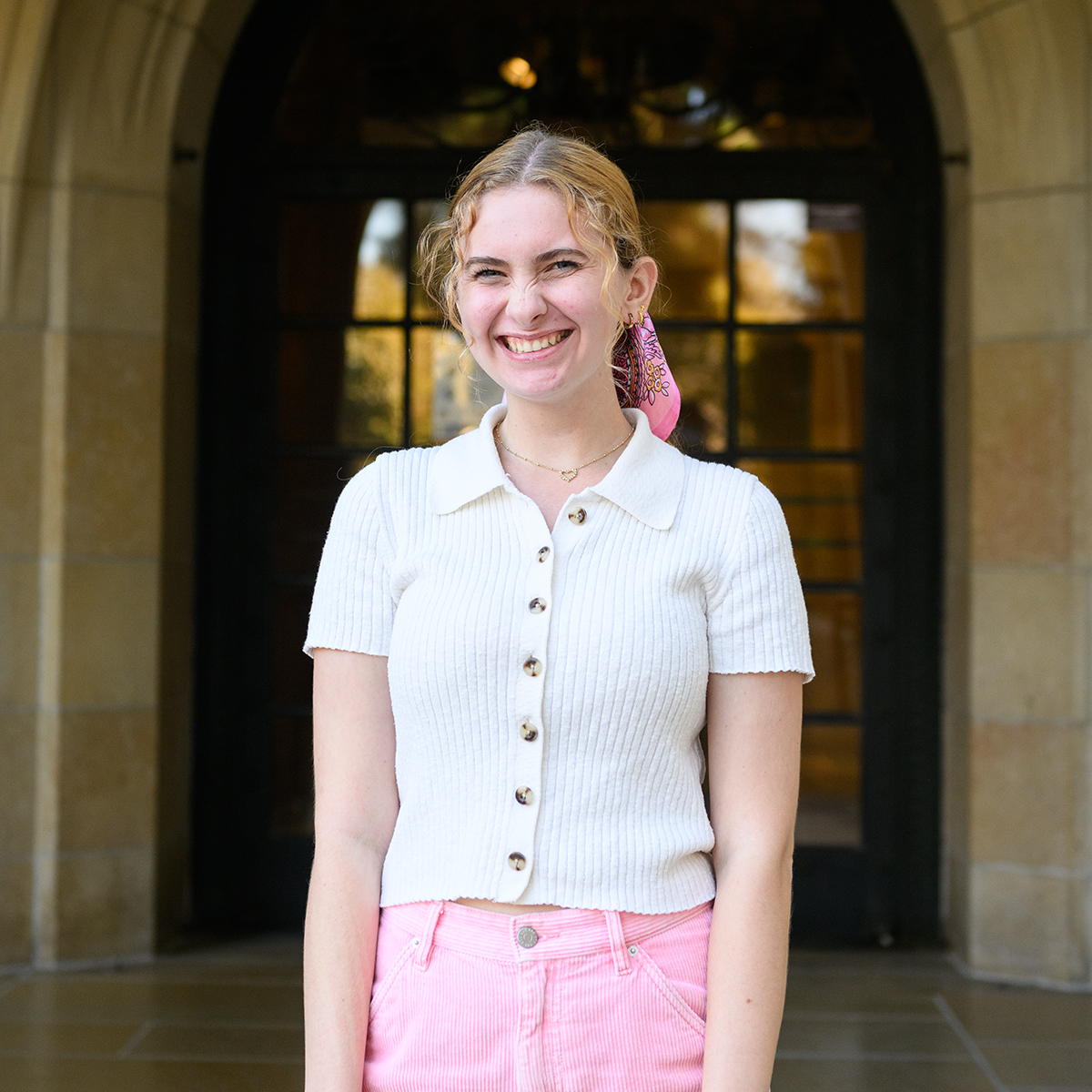 Female Athlete of the Year: Briana Perez
Gavin Carlson, Daily Bruin staff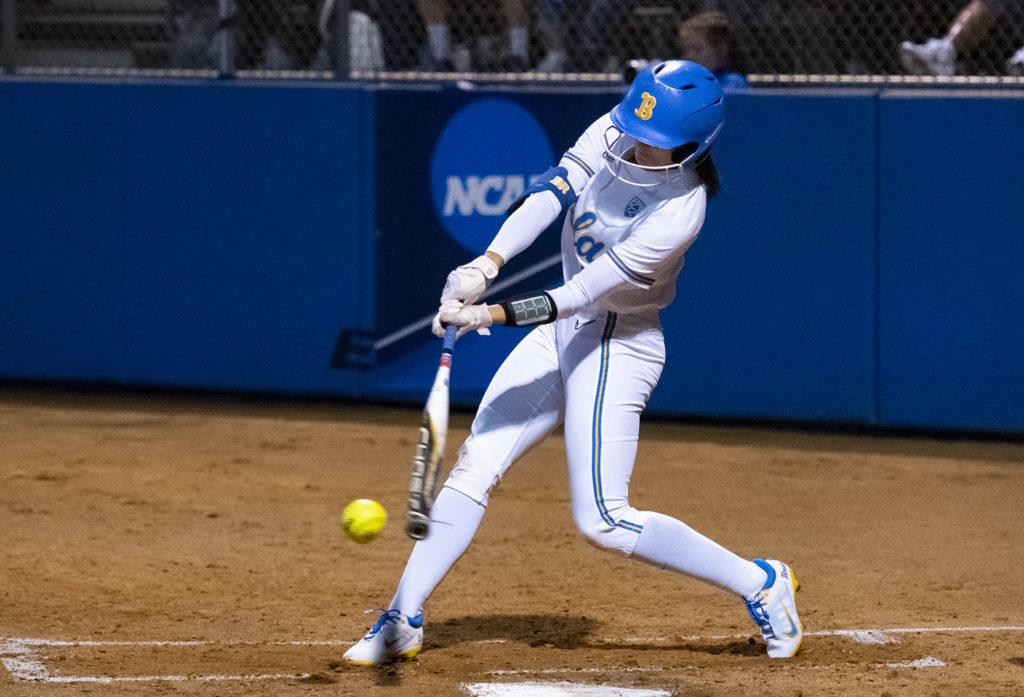 Heading into her fifth and final season in Westwood, Briana Perez already had a flawless career resume.
The redshirt senior infielder entered the 2022 campaign as a 2019 national champion, three-time All-American, and three-time member of the All-Pac-12 First Team and All-Pac-12 Defensive Team. The only thing that stopped her from earning a fourth consecutive selection for the latter two clubs was the pandemic-shortened 2020 season.
She used her final year of eligibility to entrench herself as one of the greatest to ever put on the iconic UCLA softball uniform.
The Northern California native put forth her best two-way campaign with the blue and gold, becoming the first Bruin to win Pac-12 Defensive Player of the Year while storming her way to the most extra-base hits and highest slugging percentage of her already illustrious career. Perez also became the second player in conference history to earn a fourth All-Pac-12 Defensive Team honor, was named to her fourth All-Pac-12 First Team, and garnered All-American honors for the fourth straight year.
And despite playing for the most decorated program in the history of collegiate softball, she moved near or to the very top of several of UCLA's all-time statistical leaderboards in 2022.
In April, Perez became the fourth Bruin to reach 300 career hits and shortly after, passed her sister Kylee to move into third place all time. Now, she currently sits in second place behind UCLA great Natasha Watley after surpassing Stacey Nuveman during the NCAA Super Regionals.
In May, she became UCLA's all-time runs scored leader, passing Watley's mark of 252 set back in 2003, and she'll continue to add to her record during the blue and gold's postseason run.
When her fifth and arguably most spectacular season comes to a close, Perez will also hold Bruin all-time ranks of second in games played and steals. Additionally, she will finish in the top five in triples and doubles and top 10 in batting average and RBIs.
She is cemented in the UCLA record books, but what's most amazing is that she's done it all without proper recognition.
Rachel Garcia was the face of Bruin softball – maybe even the entire sport – during Perez's first four years. Now fellow All-Pac-12 First Team members redshirt junior pitcher/first baseman Megan Faraimo, redshirt senior pitcher Holly Azevedo and redshirt senior infielder Delanie Wisz are vying for the national spotlight.
But make no mistake, Briana Perez is Ms. UCLA softball right now.
Male Athlete of the Year: Miles Partain
Bryan Palmero, Daily Bruin senior staff
Since the start of the decade, coach John Speraw has been searching for a solution at setter.
With UCLA men's volleyball juggling from Mads Kyed Jensen's pandemic-shortened stay in 2020 to Sam Kobrine's one-season stint as the starting setter in 2021, this year raised another question – its fourth in as many seasons – about the team's elusive position.
And Miles Partain proved to be the answer.
Turns out, the setter/opposite was there all along. Stashed away as a reserve during his freshman year – sitting behind Kobrine – Partain broke onto the scene in 2022. Appearing in all 27 of the Bruins' matches, the sophomore not only became the team's signal-caller but also one of the nation's best.
A First-Team All-American. The 2022 Mountain Pacific Sports Federation Player of the Year. All in his first year in the starting role.
Partain was an incision in time, a splinter of the past that will persist for the foreseeable future. He guided the Bruins to their first MPSF regular-season title of the century and their best postseason finish since 2018. A finalist for the Lloy Ball Award – an honor bestowed to the nation's best setter – as a sophomore, he is finally the constant commander for a UCLA ship so used to turnover.
Nine different Bruins led the team in kills during matches throughout the season, but no one can touch Partain in assists – the sophomore's 1,040 assist count is almost 20 times higher than the next-best performer. And the setter/opposite did it all at a nation-leading clip, setting his teammates to the highest hitting percentage in the country at .374.
With two years of collegiate eligibility remaining, Partain has been Speraw's key all along.
Rookie of the Year: Kimmi Hance
Sam Lieberman, Daily Bruin contributor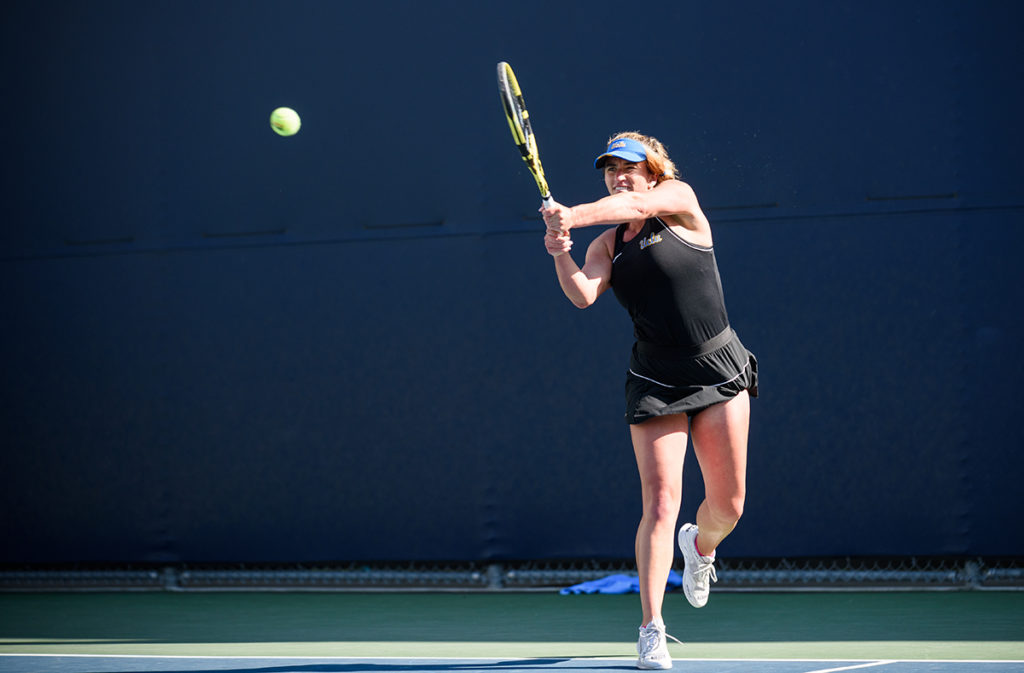 In her first year with UCLA women's tennis, freshman Kimmi Hance cemented herself as one of the most reliable players on the team.
The Southern California native assembled a record of 12-1 in dual-singles play, highlighted by victories over No. 30 Victoria Flores and No. 86 Savannah Broadus – both of Pepperdine – as well as two wins in the NCAA tournament.
What was so impressive about Hance's season was the consistency she showed throughout the campaign. After dropping her first match of the year, Hance never lost again in singles play.
Even more impressive, in each of her singles matches that went unfinished, Hance was either winning or tied at the time of stoppage. When accounting for such matches, her resume improves to 15-1-1.
In doubles play, Hance exhibited a similar level of excellence. She triumphed in her first 11 matches with her main partner, junior Sasha Vagramov, and finished 12-1 across all dual-doubles competition.
Hance's performance on the season earned her an All-Pac-12 Honorable Mention, an ITA women's Player of the Week award April 14 and a peak singles ranking of No. 111.
With the upcoming departure of the Bruins' top two players, junior Abbey Forbes and senior Elysia Bolton, Hance's success this season should provide coach Stella Sampras Webster with optimism that the program is in good hands.
Coach of the Year: Carrie Forsyth
Isabelle Friedman, Daily Bruin senior staff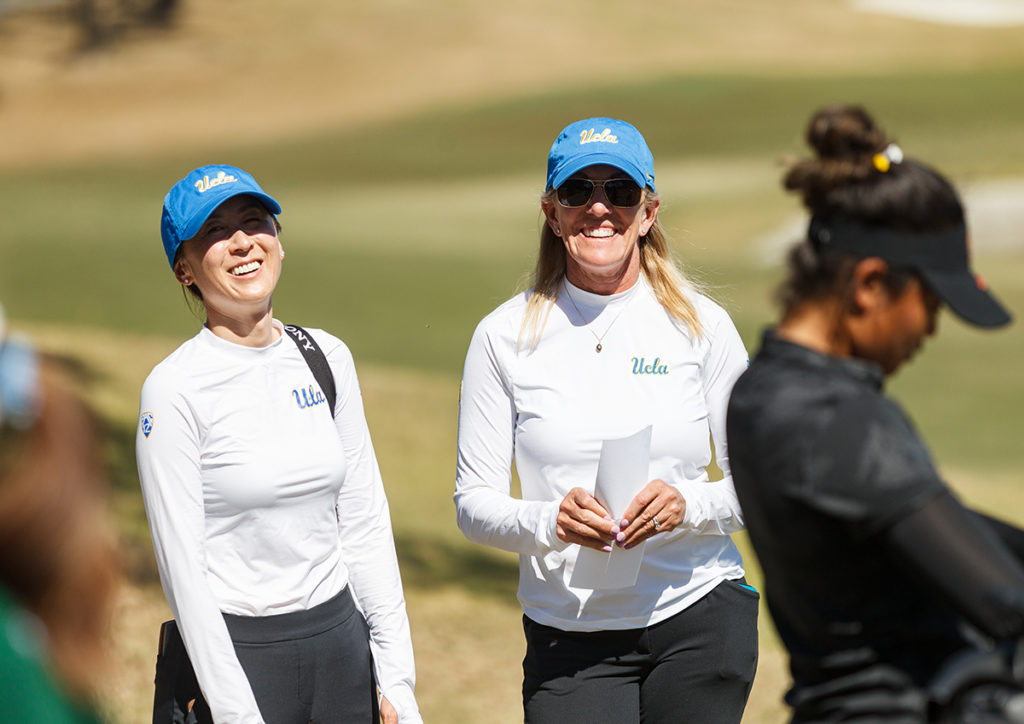 UCLA women's golf exceeded expectations this season.
And in the team's first complete season since 2019, that's really all that you can hope for.
After debuting the season with a 10th-place finish at the ANNIKA Intercollegiate, the Bruins found their stride and placed outside the top five only once more the entire season.
The blue and gold managed this courtesy of one of its largest rosters in years that featured three freshmen who pulled their weight – and then some. The underclassmen rallied and quickly became some of the most consistent members of UCLA's starting lineup despite their lack of collegiate experience.
That's not to discount the contributions of the upperclassmen, especially junior Emma Spitz, who was the Bruins' leading scorer and qualified for the third ANNIKA Award finalist nomination of her career.
On April 12, UCLA swept the team and individual championship at the Chambers Bay Invitational, as Spitz notched her third career win. The Bruins were primed for success with the postseason right around the corner.
Every player on the team made a tournament appearance, and the team's depth proved essential in achieving the Bruins' best NCAA tournament finish in four years.
After not qualifying for match play at the NCAA tournament since 2018, when they fell in the quarterfinals, the Bruins managed to achieve the same results in 2022 under less likely odds.
Auburn ultimately defeated UCLA in a quarterfinal matchup that came down to the wire, but the fact that the Bruins qualified for match play at all demonstrates tremendous improvement from last year and even the start of this season.
These postseason accomplishments and underclassmen breakthroughs would have been unattainable without coach Carrie Forsyth, Daily Bruin Sports' choice for Coach of the Year.
A UCLA women's golf alumnus herself, Forsyth has coached in Westwood for 23 seasons, and her dedication to the school, community and team has seen results, with two national championships and five conference titles under her belt.
Forsyth has seen it all throughout the years, but the hurdles of the past few seasons have been uniquely challenging. Her resiliency and trust in her team, along with the Bruins' postseason successes, make her UCLA's obvious Coach of the Year.
Comeback Player of the Year: Norah Flatley
Genevieve Trimbell, Daily Bruin contributor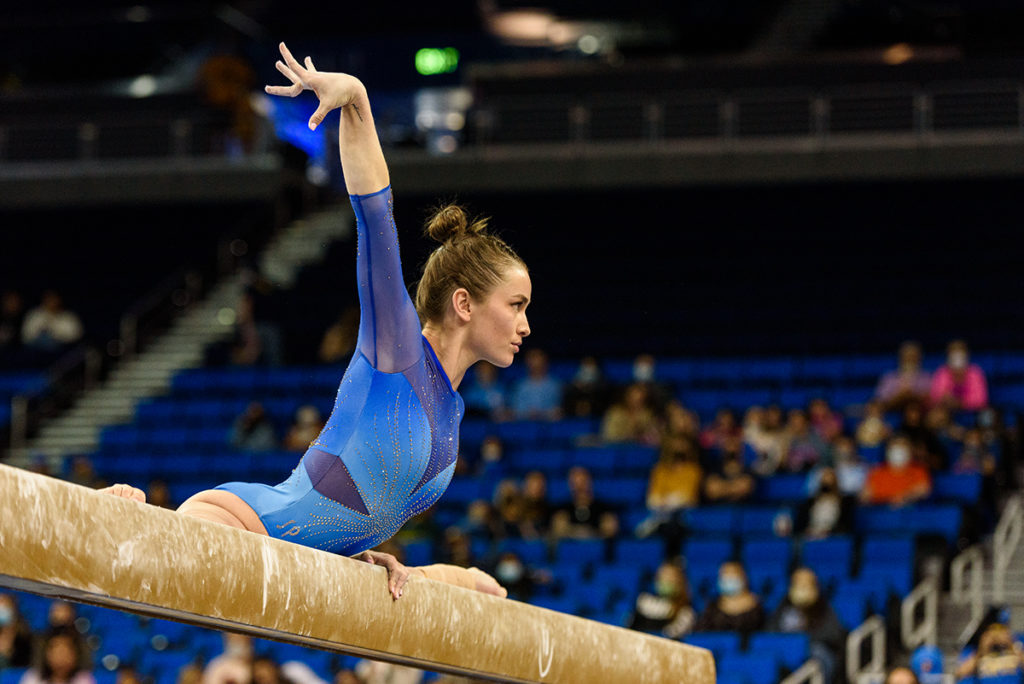 By the end of 2022, Norah Flatley found herself on the podium as the seventh-best all-around competitor at the NCAA championships.
The season prior, she barely even touched the competition floor.
In a season in which UCLA gymnastics got off to a rocky start, failing to score above 197 until its fourth meet of the season, the senior stepped up week after week, competing in the all-around nine times and averaging a 39.444 – the second-highest of any Bruin.
The career year for Flatley came just one season after an ankle injury obtained before the first meet of the campaign sidelined the then-junior for all but three meets in 2021.
In addition to her all-around prowess in 2022, Flatley also reached new heights on individual events, posting career highs of 9.900, 9.950 and 9.975 on vault, beam and floor, respectively.
Aside from her personal-best scores, Flatley was consistent in her contributions, competing in 47 routines on the year and scoring under a 9.800 on just six occasions.
While UCLA made an early exit from the postseason in the NCAA Raleigh Regional, Flatley qualified for nationals as an individual all-around competitor, making her first appearance at the meet since 2019. She continued her consistency on the biggest stage, posting a 39.600 in the all-around that placed her seventh in the nation as well as a 9.9375 on beam that earned her a tie for fourth place and first-team All American honors on the event.
Flatley's final season as a Bruin – one year removed from an injury that kept her out of competition for months – was one for the books.
Most Improved: Dorian Thompson-Robinson
Sam Settleman, Sports editor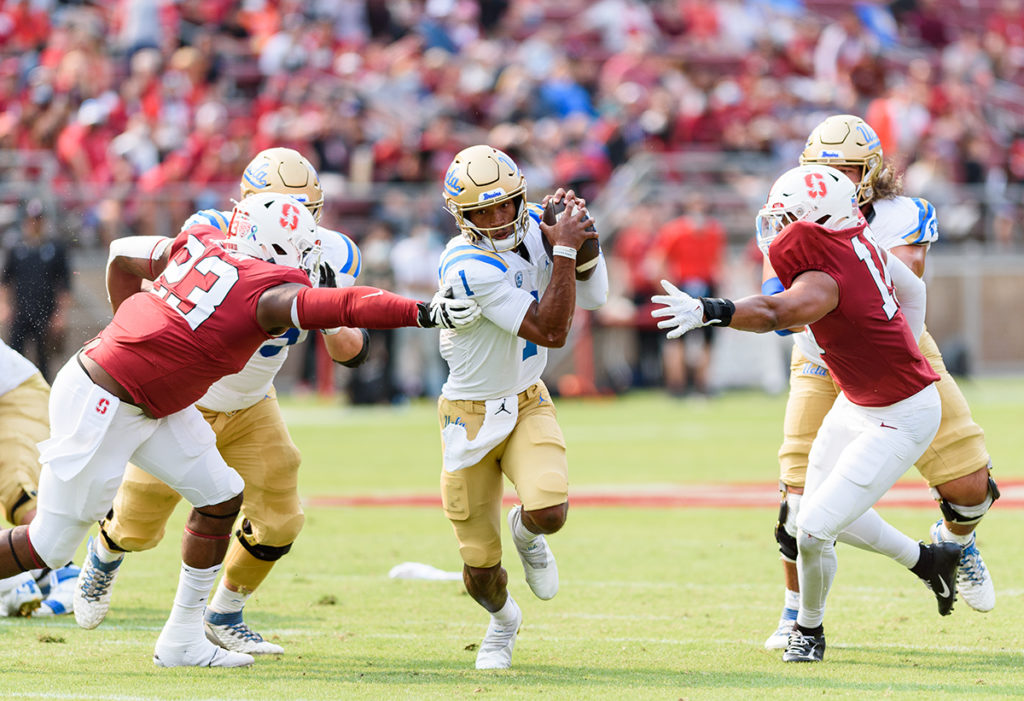 By almost every measure, Dorian Thompson-Robinson didn't have a breakout year in 2021.
The UCLA football senior quarterback had exactly the season everyone expected him to have. But that's all Thompson-Robinson needed to do – finally live up to the expectations of the Bruin faithful.
Judging by the stats, his 2021 season was not much of an improvement over his 2020 season. Thompson-Robinson was a second-team All-Pac-12 selection in both seasons, his per-game stats were nearly identical, and the Bruins' offense put up comparable numbers across the board. The catch: UCLA started winning.
After a truncated seven-game 2020 season in which the Bruins won three games and missed the postseason for the third straight year, UCLA took a leap in 2021. While the Bruins never got to play in the Holiday Bowl because of COVID-19 protocols, they posted their best record in seven seasons.
Thompson-Robinson isn't solely responsible for UCLA's jump back into relevancy, but he deserves a lot of credit for the Bruins' 8-4 record. The biggest knock on Thompson-Robinson throughout his career has been his turnover-prone style of play, costing UCLA games it should otherwise win.
That's exactly where he turned it around this year. Thompson-Robinson took over when he needed to and avoided the blunders that had become synonymous with his name.
In UCLA's triumphant win over USC, Thompson-Robinson put up six total touchdowns, leading the Bruins to their biggest win against their crosstown rivals since 1954. When UCLA found itself in a battle with Washington on the road, it was Thompson-Robinson who marched the Bruins 90 yards down the field on 13 plays in the fourth quarter to secure the game-winning touchdown.
Even in UCLA's losses, it wasn't Thompson-Robinson who tanked the blue and gold. He led what should have been a game-winning touchdown drive in a loss to Fresno State, got injured in the team's three-point defeat to Oregon and didn't play in a loss to Utah.
Thompson-Robinson didn't become the Pac-12's top signal-caller, he didn't lead UCLA to the conference championship game and his 2021 numbers don't jump off the page. But he did do one thing: win.
Best NIL Deal: Tyger Campbell
Jon Christon, Daily Bruin senior staff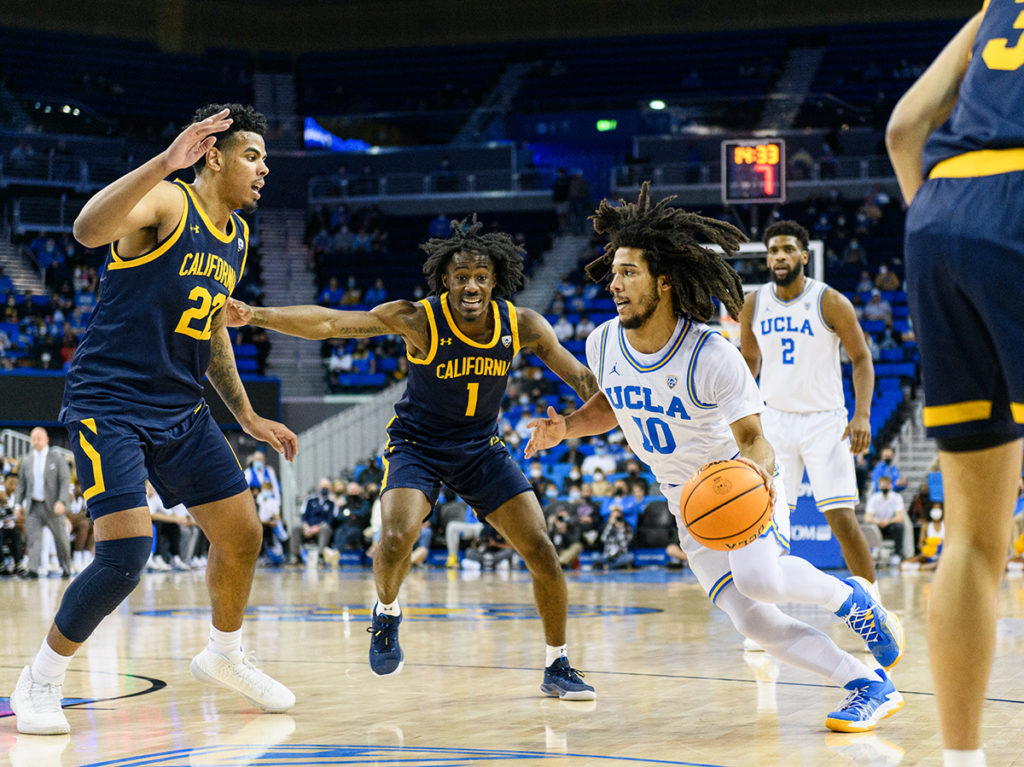 Let me take you back to October.
The leaves were changing colors, cool weather started to creep in and Halloween decorations flooded the streets of Westwood.
In my appreciation for the changing of seasons, I pitched a possibly overly zealous plan for a story to my colleagues: an article about UCLA men's basketball redshirt junior guard Tyger Campbell and his name, image and likeness deal with my beloved Fat Sal's.
The Fat Tyger – a sandwich stacked high with ham, chicken fingers, mozzarella sticks, Swiss cheese, french fries and honey mustard in between two thick slabs of bread.
An interesting, fresh idea for a story that varies our coverage, right?
Wrong, according to my colleagues, who laughed at me for even broaching the idea. The new Sports editor Sam Settleman called it "600 dumb words." The Bruin's new managing editor Olivia Simons said reading it was "the most painful 2-3 minutes of my (her) life."
A particularly bad look for the so-called "free-thinkers" that are going to be running our paper next year, isn't it?
A few months later, we found out that the story was the section's second-most viewed article in the first half of fall quarter. More than 1,000 people graced our website to look at the incredible, punny headline that former Copy chiefs Kaiya Pomeroy-Tso and Maddie McDonagh wrote, to see the creative photoshop that former Photo editor Ashley Kenney performed, and also to view the first photo credit for my former assistant Sports editor Francis Moon, who spent his hard-earned money necessary to make sure our art popped – even if he wrongly added lettuce to the sandwich.
I haven't even eaten the sandwich, and I don't plan on it. It doesn't matter. The idea of the Fat Tyger cultivated some of the most creativity The Bruin saw all year. And because of that, the sandwich lives on in perpetuity in Kerckhoff 118 and in my heart.
No other NIL deal can touch that level of achievement. Not even close.
Best Hype Team: Men's volleyball
Abigail Siatkowski, Daily Bruin senior staff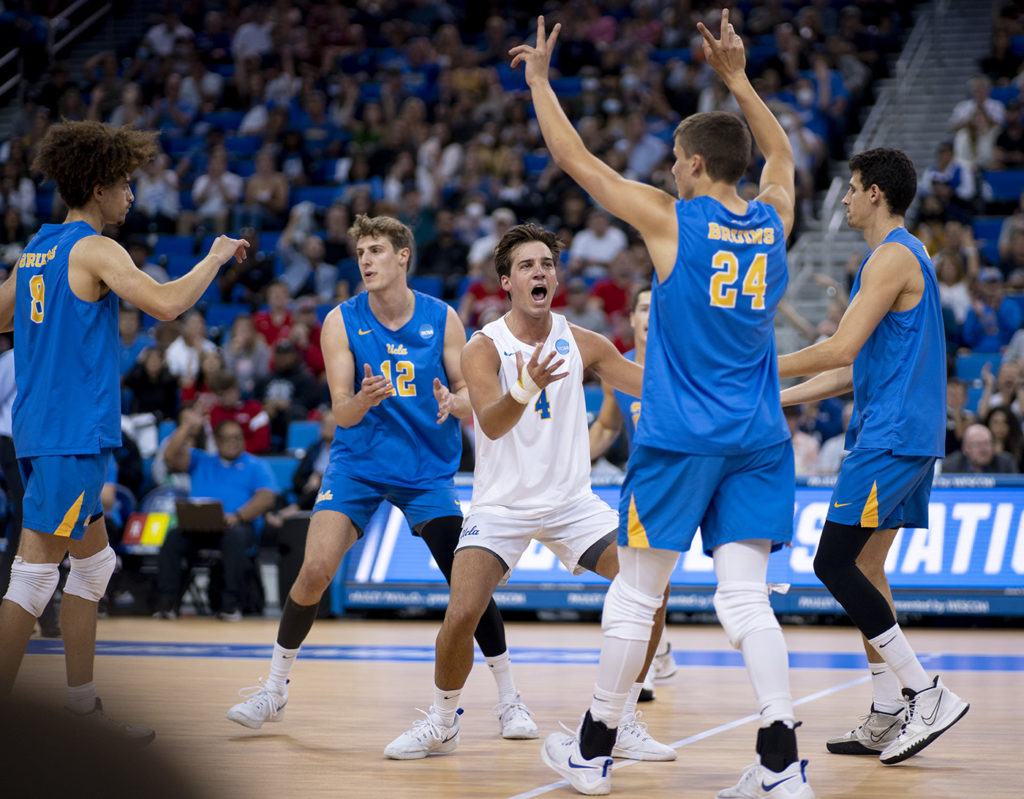 Fans who followed UCLA men's volleyball this year will be familiar with the team's dominating presence throughout the regular season. Winning 21 out of its 24 regular contests, the blue and gold never slipped below fourth place in the AVCA Coaches' Poll rankings.
But fans who follow UCLA men's volleyball on TikTok will also recognize the team for its charisma, charm and closeness.
With more than 164,000 followers and 4.8 million likes on the platform, the @uclamvb account on TikTok has propelled UCLA men's volleyball into winning this year's superlative for best hype team. Posting short videos about everything from media day photoshoots to bus boarding routines, the players offer viewers a glimpse into their lives on and off the court.
The account's first post dates back to December 2020, when the COVID-19 pandemic prevented fans from attending games in person. In early 2021, the team shared a video lamenting the loss of fans' presence. Clips posted over the course of the season showed arenas without audiences and athletes acting out viral trends in masks.
This year, with students back on campus and ready to pack Pauley once more, @uclamvb has only gained traction online. Several of its posts have garnered more than one million views, and the account now boasts 117 videos.
Followers on TikTok have gotten to know the team's players for their individual quirks, like their favorite Halloween candy. For those wondering, sophomore outside hitter Ethan Champlin prefers blue Tootsie Pops, and junior setter Ayrton Garcia-Jurado often enjoys a good Twix bar.
These little details keep fans coming back for more of UCLA men's volleyball, whether that be on TikTok or in the stands. At the end of the season, after getting knocked out of both the MPSF and NCAA tournaments earlier than expected, the players posted a highlight reel reflecting on their camaraderie with the caption "pov: living our best lives." The enthusiasm from fans in the comments echoing dreams to be a part of the team testifies to how a niche sport has transformed into one of fans' most beloved.