Senior signoff: Kendal Poston shares how UCLA gymnastics dreams became reality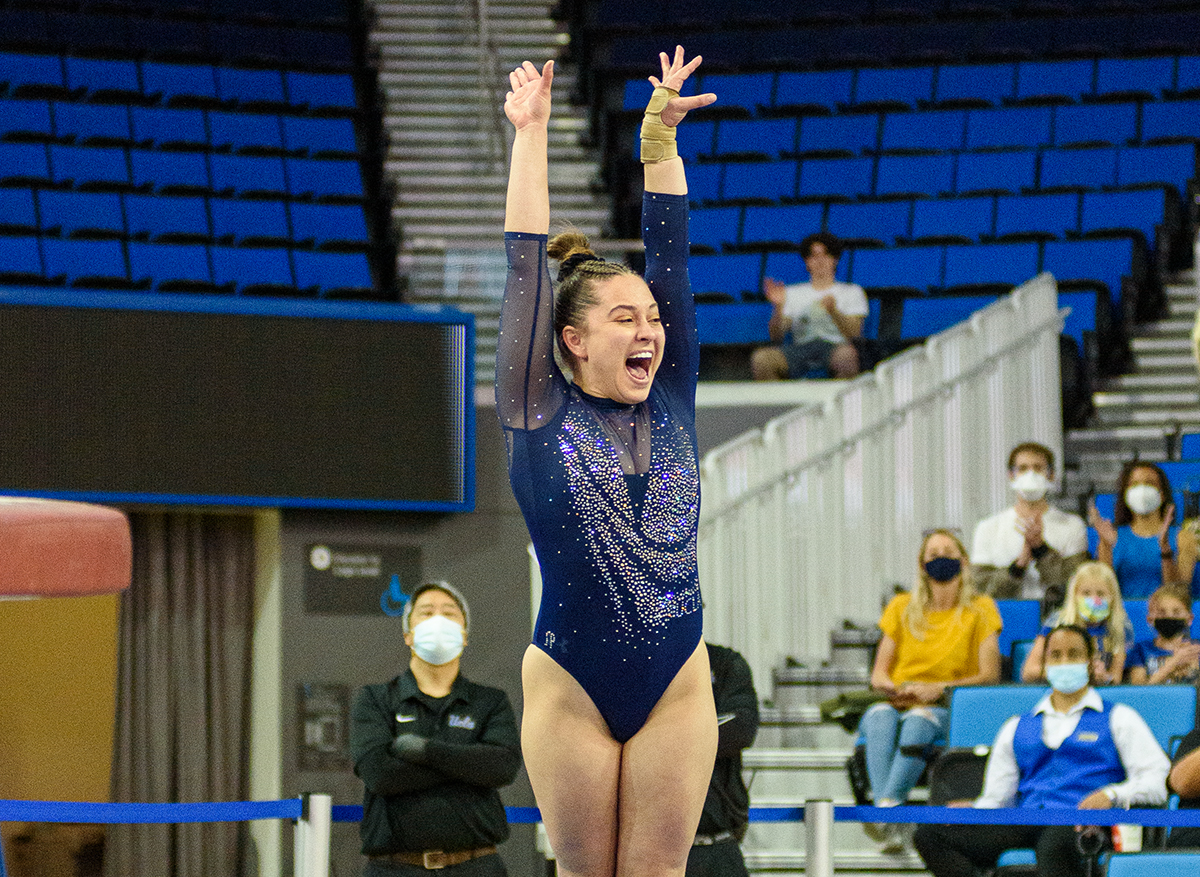 UCLA gymnastics senior Kendal Poston celebrates after a vault. Poston went from walk-on to consistent contributor in her time with the Bruins. (Ariana Fadel/Daily Bruin staff)
Growing up, I used to come to the gymnastics meets at UCLA with my mom and dad. When I was about six, I told my dad that I wanted to go to UCLA. He asked me, "You want to go to school at UCLA?" And I told him, "No Dad, I want to do gymnastics at UCLA." I hadn't yet grasped what college was, and my little gymnast brain couldn't fathom doing anything else but the flips those girls did in Westwood.
As I became older, I started to realize that going to school at UCLA might just be an added bonus to competing as a Bruin. I continued on with my narrative that I was going to go to UCLA and compete for the gymnastics team all throughout my childhood. I started to realize how competitive both the recruiting and application process was to make this dream come true. I had some injuries in high school that jeopardized my chances of making it happen, but honestly, everything just seemed to fall into place. I have 6-year-old Kendal to thank for manifesting this dream into existence, and in 2017, I walked on to the UCLA gymnastics team as a freshman.
That first year was one of the most challenging years of my life but also one of the most rewarding. I was not guaranteed that I would make lineups as a freshman or that I would ever salute in the leotard I so wished to proudly wear. I knew it would take me some time to break into the star-studded lineups of gymnastics royalty. My teammates were now girls I had recently fangirled over meeting, let alone sharing a beam with them. We won the national championship that year, and although I did not compete, that group of women taught me that I had a place on this team, a role played in earning that ring and that I mattered deeply. That, at its most basic form, is what I hold as the most important lesson I learned here at UCLA.
I felt profoundly loved by the people who make up this team: staff, teammates, fans, family. The people in this program relentlessly reminded me that being myself is enough. I stopped trying to be anything or anyone other than the best version of me, and these people thought that Kendal was the coolest thing ever. When Kyla Ross, Peng Peng Lee, Madison Kocian, Brielle Nguyen, Pauline Tratz and Sonya Meraz – just to name a few – wholeheartedly celebrate you and your growth as a person, it makes believing those things to be true so much easier. I started to celebrate myself, to invest in me.
As I did so, I started to shed the weight of insecurities and step into my potential. I broke into lineups my sophomore year. I became a reliable competitor my junior year on two events and even picked up an event title on vault. The pandemic threw us all a curveball at the end of that year, but I had already laid the foundation to pull through it stronger. I continued to work hard and give my best every single day, and I earned a scholarship my true senior year. A walk-on who once believed UCLA made a mistake by putting me on the roster, now a scholarship athlete. I competed on vault and beam at every meet my true senior year. What I am even more proud of is that I carried this mentality into the classroom as a three-time Scholastic All-American, twice selected to the Pac-12 Academic Honor Roll and earned the Athletic Director's Academic Excellence Award for making the Director's Honor Roll every quarter at UCLA. I had made the dream in its entirety come true.
It wouldn't have been possible without the environment that UCLA – and, more specifically, UCLA gymnastics – created. A network of women who so tirelessly held each other up and cheered each other on. I had never had such a strong group of people who wanted me to succeed so desperately, and I know I will never again experience such a thing. I will try to give all the people I encounter just a taste of that type of love and support. I made it my mission to do the same uplifting these women did to me to anyone I touched, be it in the classroom, in the gym or anywhere else this journey took me. If I could make one person feel that they belonged, that they were seen or that they were enough, I was going to do just that, as that was what was done for me. The love I started to feel for myself bled into every aspect of my life, making me a better student, gymnast and person. I will continue to nurture that self-love. I feel honored to have worn the four letters across my chest and will continue to do so with pride as I enter the next chapter of my life. I am forever grateful to the university and UCLA gymnastics for my time in Westwood that set me on a path to becoming the woman I want to be. Whatever I do, I'll give it my best and do it with love. Go Bruins.
Poston competed for UCLA gymnastics from 2018-2022.