Overcoming imposter syndrome to fulfill my potential at The Bruin -30-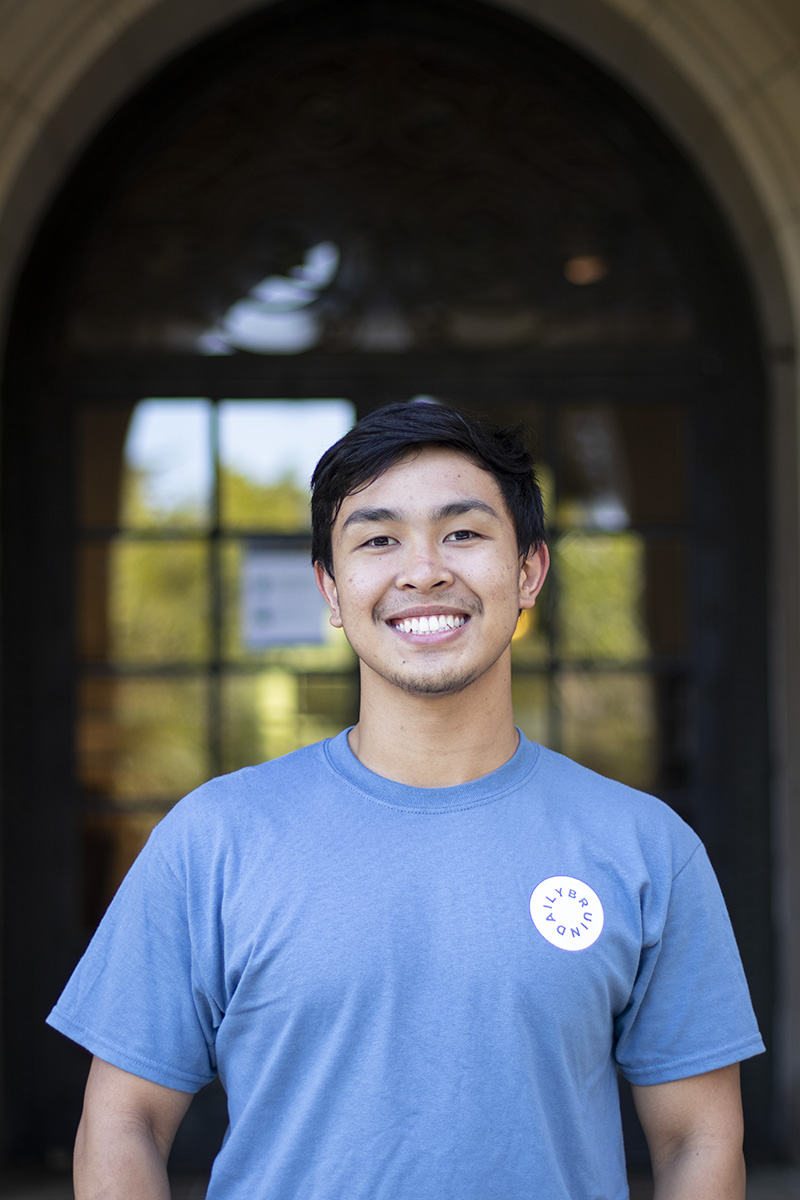 Jay Arceno stands for a portrait. (Megan Cai/Assistant Photo editor)
I had no prior journalistic experience to entice the Daily Bruin when I applied.
This fact didn't do anything to help with my confidence as I worked on my application. I carefully crafted my writing sample to make up for what I lacked, but the paper's reputation in the transfer community nevertheless heightened my doubts. My peers warned me The Bruin was notorious for employing anti-transfer rhetoric in their writing, so I thought snagging a writing position would be impossible. After all, if the institution itself was indeed anything like what my peers said it is, then the chances of me working as a writer there was going to be slim. A few weeks went by after I submitted my application, and the little hope I had of being a student journalist slowly dwindled. But one October night, I was greeted by an email that began with, "Welcome to UCLA Student Media."
I was ecstatic; however, I learned quickly to quell this feeling. I would eventually be too busy navigating the confusing ins and outs of the Daily Bruin. I was thrust into the world of student journalism and all the confusion that came with learning all the writing logistics virtually. I had no idea how arduous and specific the journalistic process was until I had to conduct my first sets of interviews, followed by the hours of labor to transcribe them. I was overwhelmed and terrified. I mean, what the heck was a CQ? A lede? A nutgraf? Not once did I ever doubt whether I deserved to be at UCLA. I did, however, question my place here at The Bruin.
My doubts further grew upon getting my first article published and I received a correction, meaning that I had made a factually inaccurate statement that needed to be revised. At this point, I thought perhaps my writing skills were just not on par with the rest of the interns. Maybe I was not meant to carry the responsibility that came with being a journalist. I was entrusted to be the bearer of truth and relay it to the public, yet I failed. By the end of my first quarter at the Daily Bruin, I seriously considered just focusing on my dance endeavors with NSU Modern and abandoning student journalism entirely.
Through gritted teeth, I decided to move forward and take on more writing assignments. The lifestyle editor wants me to write a feature on a UCLA alumnus's podcast? Sure thing. An assignment to write a feature on a UCLA TikTok star is up for grabs? Let me Slack the editor of the music | fine arts beat before anyone gets their hands on the story. And when assignments were scarce, I took it upon myself to pitch stories that I wanted to write. It took quite a bit of time, but slowly, I found my voice in the uncharted and chaotic online terrain of Kerckhoff Hall 118.
Fortunately, I didn't do it alone. I had editors who continued to put their faith in my abilities and encouraged me to keep on writing. They never made me feel less than for being a transfer student. In fact, they honored this part of my identity for the unique perspective it brought to the paper. They validated my place as a writer in the Arts section, and for that, I am eternally grateful.
Looking back in my final days as a writer for the Daily Bruin, I can confidently say that my time as a contributor-turned-reporter has truly been one of the things that enriched my UCLA experience. As soon as I step into the real world, I know I will look back fondly to the time I got to participate in a virtual round table with actors of a Netflix show. I know one of the amusing anecdotes I will share with my work colleagues will be about that time where I got to watch the highly-anticipated third season of "You" before its public release for a TV review assignment. I haven't even graduated yet, and I'm already telling people I got to stand at the barricade of a Still Woozy show for a concert review.
Truth be told, I am racked with thoughts of how far I would have gone in the Daily Bruin if I just started out earlier. As a transfer, I can't help but feel as though there is so much of me I have yet to pour into this paper, so much untapped potential that would have shown what I can truly do. I wish I didn't have to write this final piece so soon. But with my brief time at The Bruin, I am humbled I was able to occupy a space for many others like me who for so long have felt unrepresented.
If nothing else, I hope my being here brings home one point: transfer voices matter.
Arceno was an Arts contributor and reporter 2020-2022