Opinion: Bruins must be more critical consumers of news coming from social media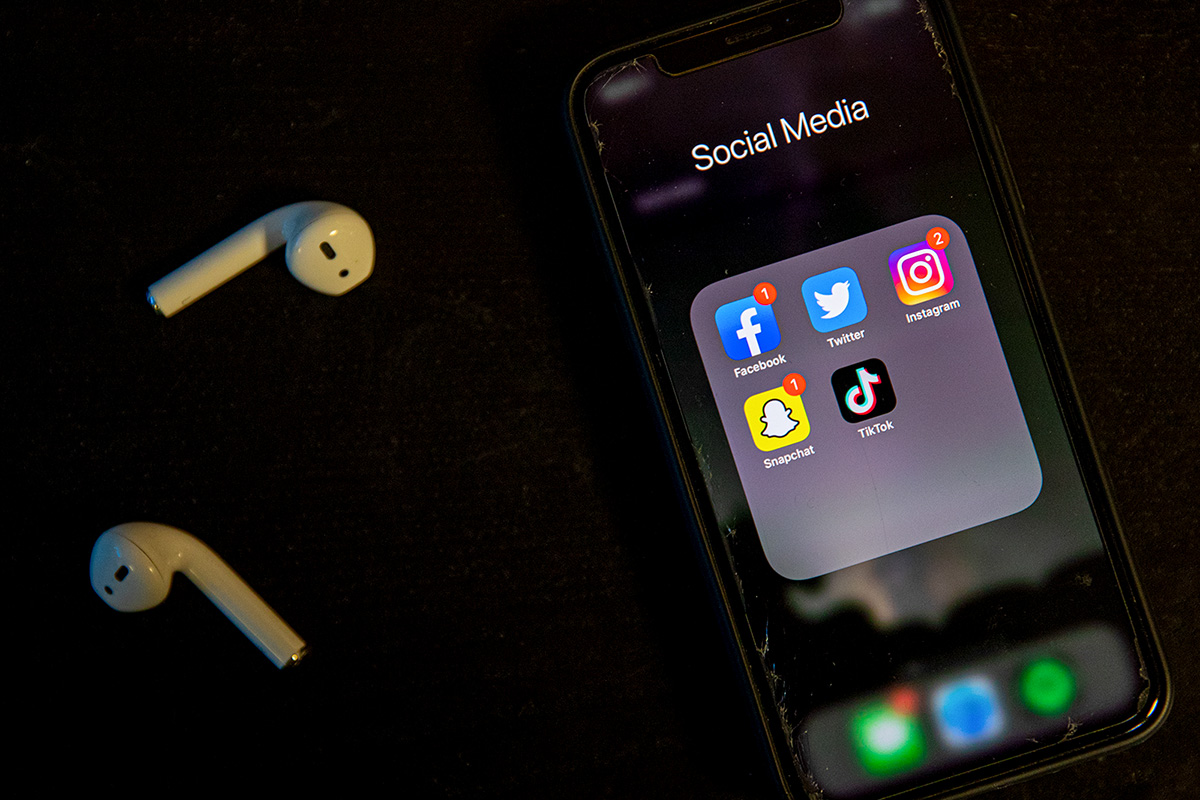 A pair of AirPods lies next to a phone with social media apps on its screen. Social media is a double-edged sword – while it can keep people informed of news in a quick and accessible way, it can also spread misinformation and panic. (Daily Bruin file photo)
There is no doubt that social media has revolutionized news consumption and the spread of information online.
However, along with these benefits comes the imminent danger of misinformation and its severe consequences, both for those who consume it and society as a whole.
According to a survey published in 2021 by the Pew Research Center, 48% of adults in the U.S. said they receive their news from social media "often" or "sometimes." Similarly, over half of teenagers receive their news at least a few times a week from social media, according to a 2019 poll.
As social media increasingly dominates our daily lives, individuals need to be aware of the content they are exposed to. As well as being wary of news found through social media platforms, individuals should supplement the information they receive with credible sources.
Along with social media use comes the threats of offensive images and messages, an invasion of privacy and false information. Misinformation spreads on social media platforms such as Twitter at a considerably higher rate than the truth, according to a study published in Science magazine.
Although there has been a recent push for checking sources' credibility on social media, over a third of Americans believe news found on social media is reliable, according to a 2020 survey published by the Pew Research Center. This demonstrates the need for greater awareness regarding the perils of misinformation online.
Besides the well-known dangers of social media such as misinformation and political radicalization and polarization, social media can also cause widespread panic.
"I think it's very easy for people to redistribute information that's incorrect, and not only incorrect, but actually if people believe it's correct, they'll make bad choices, or their lives will be negatively affected," said Tim Groeling, a professor in the UCLA Department of Communication and a member of the ASUCLA Communications Board, which oversees the Daily Bruin.
For example, social media might have played a harmful role in the panic that ensued after UCLA received threats of mass campus violence in early February.
As many students received news of the threats through social media before the UCLA administration, the Daily Bruin or other news sources addressed it, feelings of anxiety and fear quickly spread. Discussions on social media may have caused more harm than good by creating a campuswide panic.
Despite these evident dangers, however, social media is a highly effective and efficient method of sharing and obtaining information, often distilling complex information and events into comprehensible language for the general public.
In regards to the aforementioned threat, Dane Elliott, a first-year economics and Korean language and culture student, said social media serves as a crucial method of communication and connection for students.
"I think that students taking that proactive approach and finding that information themselves and sharing that information is super important," Elliott said.
Carmen Saguilan, a first-year political science student, said that while she primarily uses social media to stay informed about what's happening on campus, she does obtain information regarding current events on various platforms as well.
Saguilan said that social media prompted a greater understanding and awareness of the Black Lives Matter movement in 2020 and the plight of the Ukrainian people in the face of the Russian invasion and helped encourage people to give their support to these causes via crowdfunding platforms.
However, social media cannot be the end-all, be-all to receiving information. Individuals must dedicate more time to researching the topics in question and stay informed on other news platforms.
Before sharing information online, students must take the time to check credible and minimally biased sources to confirm their accuracy. They should also consider their primary motivation before posting content and whether it will be interpreted as intended.
Social media misinformation has often been spread for the purpose of inciting hatred towards specific groups and individuals.
For example, misinformation revolving around COVID-19 led to xenophobia against Asian Americans. Although later proved false, the circulation of false information such as symptomatic Chinese passengers from Wuhan, China, slipping through the quarantine led to lasting discrimination and even violence towards the Asian American community.
Groeling points to controversy as the main motivator for the circulation of false information. He advises students to judge news presented on social media based on whether or not the news makes them angry.
"If the answer is yes, they need to think about why somebody has chosen to present a view of that story that almost certainly is going to be leaving out important information to make them angry," Groeling said.
UCLA students should heed Groeling's advice and be cautious when engaging on social media by supplementing their news intake with other credible sources such as the Associated Press, The New York Times and The Wall Street Journal.
Although some of these sources have paywalls, making them less accessible to the public, there are sources available that do not require a subscription, such as NPR, PBS and other nonprofit organizations.
Staying informed about the news is not only beneficial for UCLA students in terms of classes and schoolwork but also for being better individuals and members of their respective communities, said Elliott.
Due to our increasing reliance on social media, it is important to be wary of the news shared on platforms such as Instagram, Snapchat and TikTok. We should not only consider the motivations behind information shared but also rely on additional sources before circulating that information ourselves.
Although social media's capacity to spread misinformation can be incredibly detrimental to our society, its ability to provide almost instantaneous communication and reach wide audiences with accessible information can better inform and educate when used cautiously.
With UCLA students commonly connecting with others through and being exposed to content on social media, they must be aware of the dangers that accompany their use and work to stay educated and informed about current events.
With everything happening in the nation and the world, reliable information is more important now than ever before.