No. 2 recruit Kiki Rice brings winning pedigree to UCLA women's basketball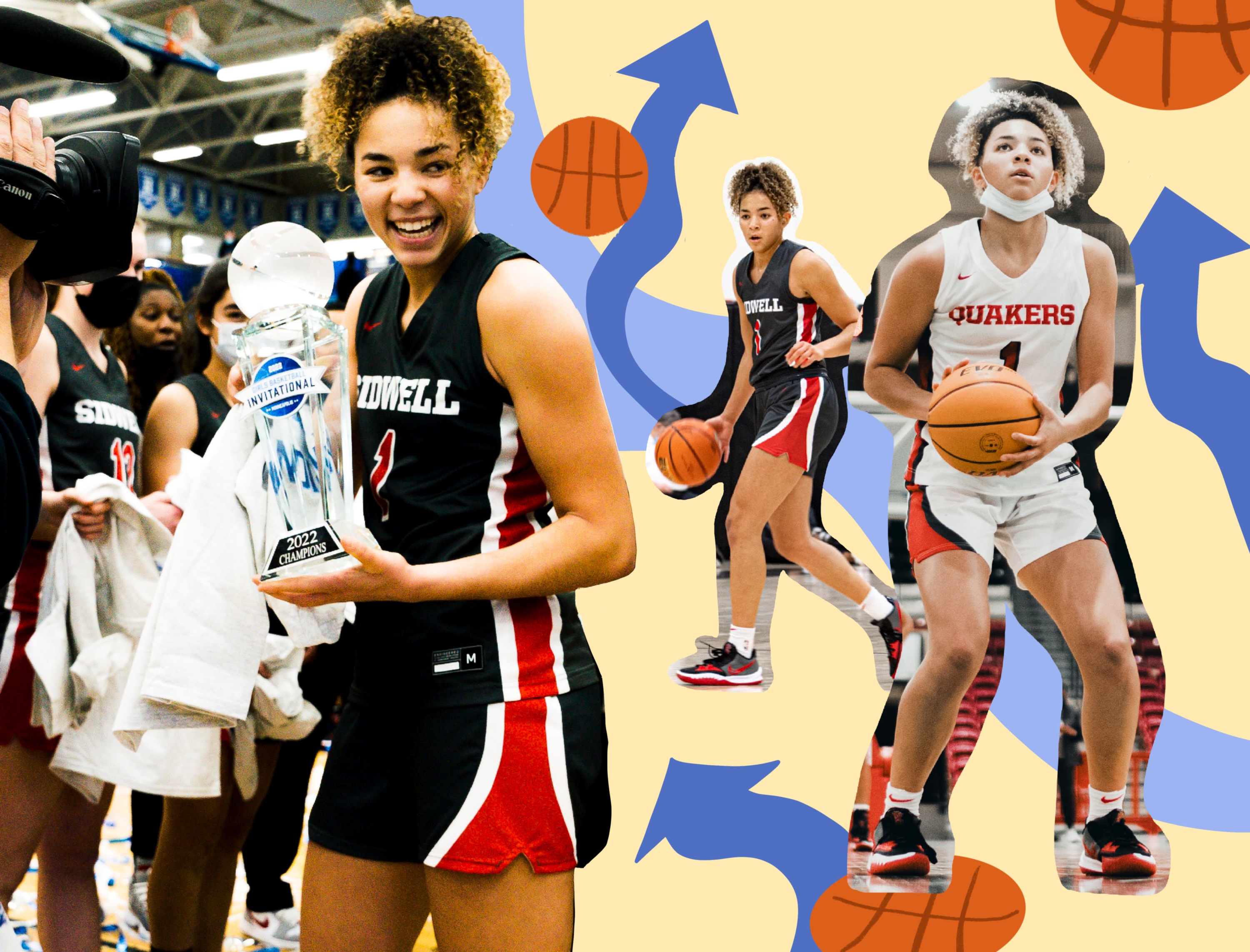 UCLA women's basketball incoming freshman Kiki Rice is the No. 2 overall recruit in the country, the highest-ranked recruit to commit to the program. (Photos courtesy of Adriana Contreras. Photo illustration by Emily Dembinski/Daily Bruin senior staff)
It was an otherwise mundane Thursday in Westwood when the UCLA women's basketball team crowded around the television mounted in coach Cori Close's office.
The anticipation grew as Kiki Rice prepared to make an announcement.
Across the nation, experts and fans alike made their guesses for which premier program the No. 2 overall recruit in the country would select.
Would it be Connecticut, a team with 11 NCAA titles that is currently led by three former Gatorade Players of the Year? Perhaps she would select Stanford, the three-time national champion that secured a ring in 2021. Or maybe she would select the runners-up in that heartbreaker 2021 championship game and call Tucson home with Adia Barnes' Arizona program.
But when Rice unzipped her jacket, it wasn't the Husky white and blue, the Cardinal red or even the blue and red "A" that shone through. Instead, Rice unveiled a blue and gold T-shirt with four letters across her chest.
Watching live from Westwood, her new teammates were sent into a frenzy.
"They were just so excited to make her a part of our Bruin family," Close said.
Rice, the No. 2 recruit in the class of 2022 and the Gatorade National Girls Basketball Player of the Year, is bound for Bruin country in the fall. On that Thursday in early November, Rice made history as the highest-ranked recruit to ever commit to UCLA women's basketball.
Close said that when she first watched Rice, it was her determination to grow and her championship mindset that stood out.
"She's a great testament to when you're intentional about growth, when you have great work ethic, when you surround yourself with great people and you maintain a teachable spirit – look what you can do," Close said. "She's had this steady growth because she has elite drive, elite work ethic, elite mental game – that's why she's evolved into being the No. 1 player in the country."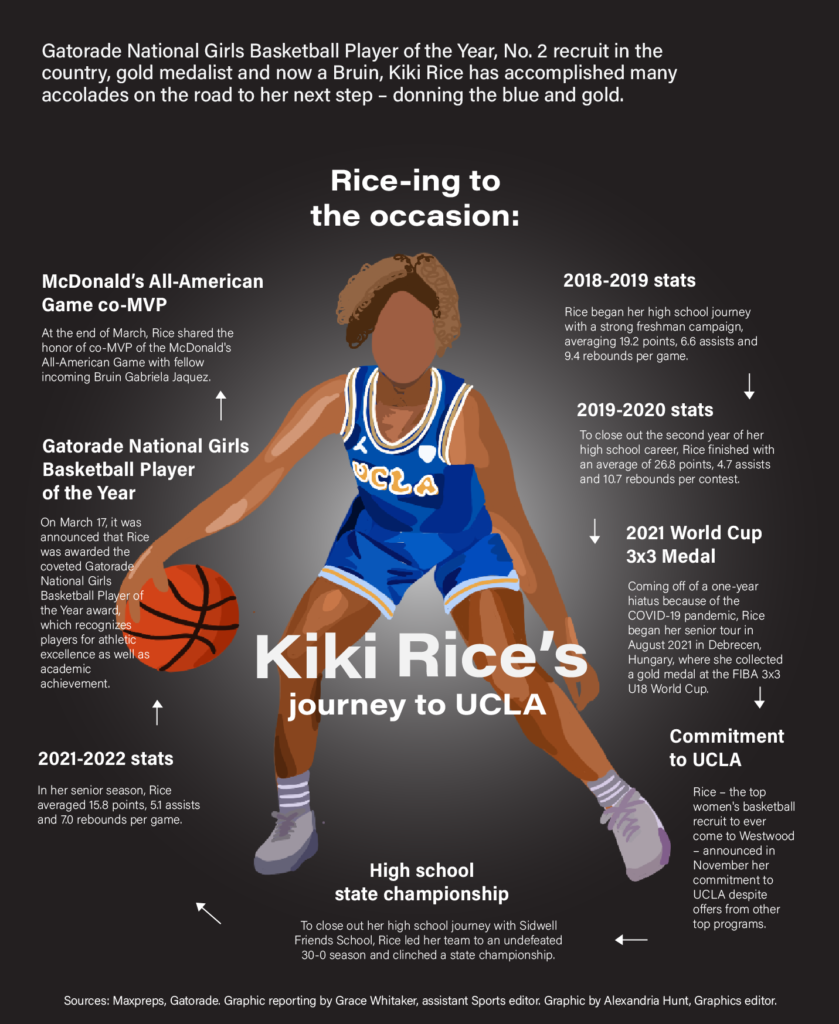 Rice grew up surrounded by basketball. Her father played basketball for Yale from 1984 to 1988 alongside Rice's mother, who played tennis for the Bulldogs. Rice's older brother followed in his father's footsteps by playing for the Yale men's basketball team.
From a very early age, it was evident that Kiki Rice had something special when it came to basketball. She began following her older brother to their neighbor's basketball hoop after being drawn to the court from watching her brother and dad play.
"It was something at a young age I was surrounded by," Rice said. "My brother and my dad played, so I wanted to do kind of the same things that my brother did."
Around fifth grade, Rice began to take the sport seriously, quickly leading to her discovery of her talent and her subsequent commitment to improving her craft.
"That's when I realized, OK, I'm playing on girls' teams and I'm playing up, and I'm still a lot better than a lot of these girls out there," Rice said.
From that point on, it didn't take long for Rice to accrue national acclaim.
Her laundry list of accolades began to pile up at Sidwell Friends School in Washington, D.C.
Entering her freshman campaign in 2018, the Foxes had just been defeated in the semifinals of their state playoffs earlier that year and were ranked No. 1,082 nationally. By the end of Rice's high school career, the Sidwell Friends girls' basketball program would be state champions and the No. 1 team in the nation.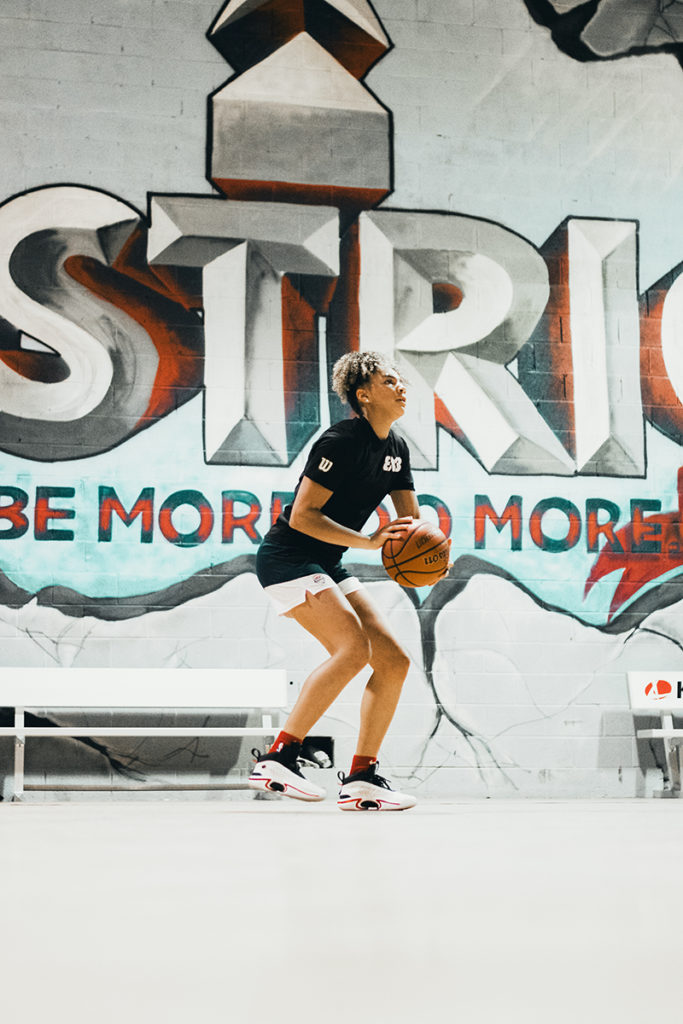 Rice totaled an average of 19.2 points and 6.6 assists per contest as a freshman, and the team cruised into the state tournament only to fall in the semifinals by one point to Georgetown Visitation Preparatory School.
Her sophomore year followed suit as Rice averaged 26.8 points, 10.7 rebounds, 4.7 assists and 2.3 steals. The Foxes finished their season with a loss to St. John's school by 10 points in the state championship game just weeks prior to the COVID-19 pandemic shutdown.
Close said Rice was first brought to her attention by a family friend.
"To be honest with you, the first time I heard about Kiki Rice, I rolled my eyes," Close said. "Do you know how many people tell me that, 'Oh my gosh, I've got this player.' And then I watched her, and I was like, 'Dang, Trent was right. Let's really get to know this kid.'"
After over a year without basketball games because of the pandemic, Rice took her talents across the world to compete in the 2021 FIBA Women's 3×3 U18 World Cup in Debrecen, Hungary, in August. She finished the tournament by earning her second gold medal as Team USA defeated Spain in the final.
With her commitment to UCLA having gone public, Rice took off in her senior campaign as Sidwell Friends claimed a 30-game winning streak closed out by the first girls' basketball state championship in school history. This was headlined by Rice's own per-game averages of 15.8 points, seven rebounds and 5.1 assists.
However, Rice's honors and accomplishments didn't end with high school. On March 17, Rice was selected for the prestigious title of Gatorade National Girls Basketball Player of the Year, an honor once held by recipients that have gone on to win a collective nine WNBA MVP awards and 15 WNBA championships.
Rice said the award was a once-in-a-lifetime opportunity that she worked toward almost her whole life.
"That was one of the most exciting days of my life," Rice said. "There was a little sense of relief, like, 'Oh, I got this award that I've been looking forward to for a long time.' But, there's also a bit of a motivating factor, like you look down on the trophy and you see all the names of the previous winners and you see a ton of legends in women's basketball. So to now have my name on that trophy, it motivates me to be as good as all those previous winners."
To close out her time on the court prior to entering the Pauley Pavilion spotlight, Rice was selected to compete in the girls' McDonald's All American Game. On the court, she would directly compete against fellow incoming Bruin and No. 19-ranked recruit in the class of 2022 forward Gabriela Jaquez. With 17 points apiece, Rice and Jaquez were awarded co-MVP honors.
Close said the team is looking forward to welcoming both Jaquez and Rice to the program.
"Never in the history of McDonald's All American has (there) been that both the MVP of the East and the MVP of the West have been going to the same school. That's never happened," Close said.
From gold medals to MVP honors, Rice's road to UCLA has been anything but ordinary. But unlike Rice's final high school season, UCLA's 2021-2022 season did not end with a championship. Instead, it was packed with injuries that left the Bruins with a .500 record in the conference that landed them in the Women's National Invitation Tournament after failing to receive a March Madness bid for the first time since 2015.
Rice, however, sees potential in the Bruins as a championship-caliber team.
"Being part of the first group to bring UCLA women's basketball a banner is something that I set my eyes on and a goal that I can set for myself and my teammates," Rice said.
Whitaker is currently an assistant Sports editor on the women's basketball, women's soccer, beach volleyball and cross country beats. She was previously a contributor on the women's basketball and beach volleyball beats.
Whitaker is currently an assistant Sports editor on the women's basketball, women's soccer, beach volleyball and cross country beats. She was previously a contributor on the women's basketball and beach volleyball beats.