Maddie Musselman cements water polo legacy, sets sights on medical field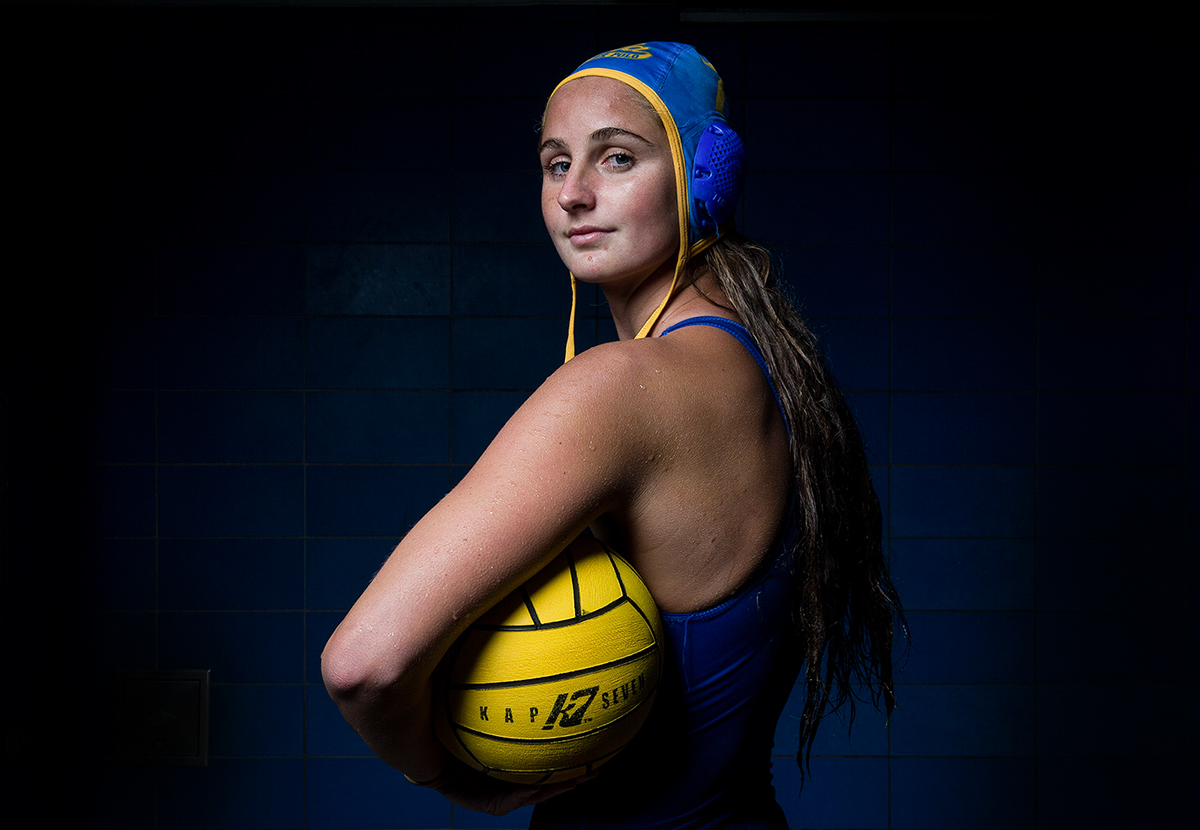 Maddie Musselman tucks a ball under her arm as she poses for a photo. The redshirt senior led UCLA women's water polo in goals scored in four different seasons across her career. (Daily Bruin file photo)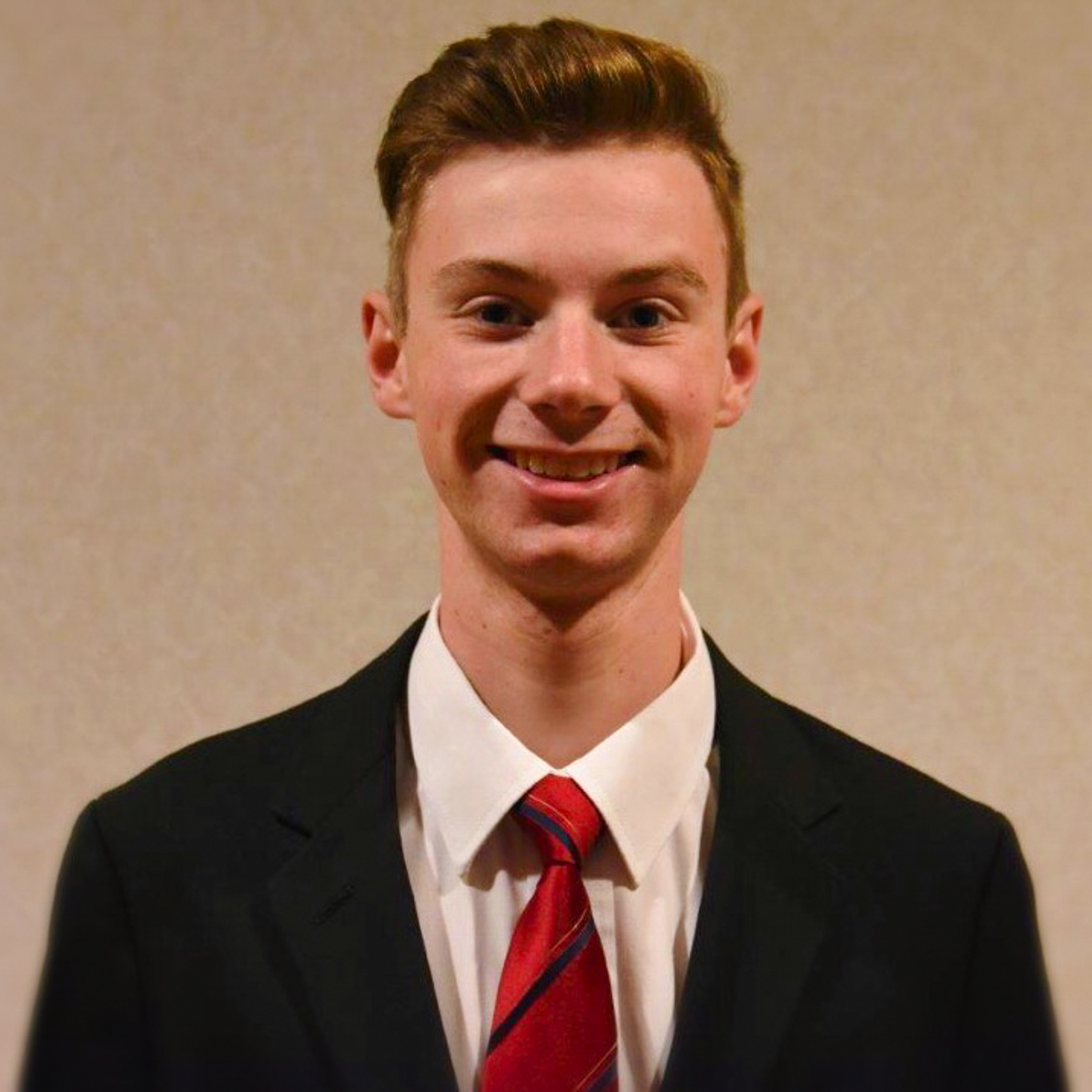 Everything Maddie Musselman touches turns to gold.
Two Olympic gold medals. Multiple Most Valuable Player recognitions. The most goals in UCLA women's water polo history. The list goes on and on.
Sports were inevitable for the redshirt senior. The player from Newport Beach, California, was raised by an MLB pitcher and a collegiate soccer player. Mike O'Brien, the 1984 Olympic gold medalist in the 1,500-meter freestyle, was her swimming instructor when she first waded into a pool at three years old.
When she discovered water polo – a combination of a throwing sport like baseball with soccer and swimming – Musselman immediately fell in love. She wrote in her sixth-grade yearbook that one day, she would be an Olympian.
Her play in the pool eventually earned her the honor of the top-ranked high school recruit in the nation. Musselman skipped her senior year of high school to train with the USA National Team. She committed to UCLA on a rather informal phone call from her backyard as her sister, Alex Musselman, a goalkeeper for the Bruins at the time, watched through the window.
On her 18th birthday, USA women's water polo coach Adam Krikorian announced Musselman had made the roster for the 2016 Summer Olympics.
"What I think about most with Maddie is just her willingness to improve, and it starts with a humble approach," Krikorian said. "She always believes that she's nowhere near where she could be. She's always striving to get better. She's very open-minded. There aren't too many people that are as coachable as Maddie."
After winning the gold medal in Rio de Janeiro as a teenager and being named to the All-Olympic team, Musselman – then a freshman at UCLA – found herself at Spieker Aquatics Center for the first time.
"I hadn't really experienced the campus life, and I remember walking on the pool deck and walking on campus," Musselman said. "I was like, 'This is the place to be.'"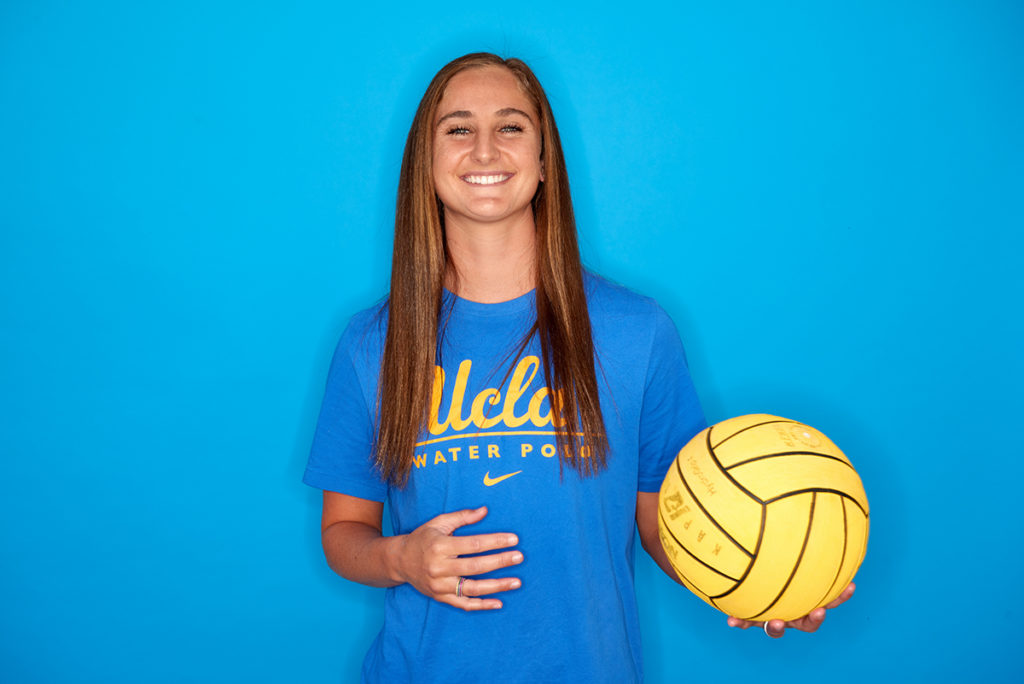 Her impact was evident in year one. She set a UCLA freshman record with 69 goals and recorded a team high in steals and sprint wins en route to earning the Mountain Pacific Sports Federation Newcomer of the Year award. Musselman was also the first player in conference history to win both MPSF/KAP7 Newcomer of the Week and MPSF/KAP7 Player of the Week in the same week.
After Musselman's freshman season, coach Adam Wright was hired to head the Bruins' women's program in addition to leading the men's squad. Musselman and Wright immediately bonded over their national team experience.
At the end of her sophomore season, Musselman was sidelined through the summer and fall following shoulder surgery. She said the adversity she faced during the rehabilitation process while in Westwood highlighted just how much she loved the sport of water polo and representing the Bruins.
In the opening game of her junior season against UC Irvine, Musselman recalled putting on her UCLA cap for the first time after rehab and being filled with a sense of Bruin pride as friends, family and coaches watched from the pool deck.
"That held a lot of meaning for me because I didn't realize how much I would miss it, first of all, when I got taken out, and then, second of all, to do it with a group of individuals who I hold a lot of pride for," Musselman said.
When the season came to a close, Musselman made the decision to take her senior season off to train for the Tokyo 2020 Olympics. But when the pandemic pushed the Olympics to 2021, Musselman was forced to take a second straight season away from Westwood.
When she finally made it to Toyko, Musselman led Team USA with 18 goals – including a hat trick in the gold-medal game en route to another Olympic gold medal – and was third overall in rebounds. She was named Most Valuable Player of the tournament.
But being removed from the Bruins for two years, Musselman was set to return to UCLA as a sixth-year senior to a team that mostly contained new faces and playing styles.
Senior center Ava Johnson, who became one of Musselman's closest friends outside the pool, said the intensity and experience Musselman brought to UCLA's practices this season elevated the team, as the players tried to emulate her habits and characteristics.
Despite Musselman's reputation for her desire to win in the pool, Johnson said she is one of the biggest sweethearts who would do anything for the people that she loves. Even with her fierce competitiveness in the pool, Musselman provided a sense of tranquility to the Bruins this season with her vocal leadership.
"She is really a player that someone can go to in the middle of the game, and you look into her eyes and you know immediately that you're good, and you can be calm because she's going to walk you through it," Johnson said.
Using her voice to lead hasn't always been easy for Musselman. She said that growing, she tried to lead by example, but with the weight of her experiences on her shoulders, Musselman took it upon herself to grow as a coach in the pool.
"When I'm talking, I'm really engaged and present," Musselman said. "It allows my teammates to trust me and allows me to help them. If I'm not vocal, then it's a little bit more frantic. I just give them a little bit more confidence, and I think I find comfort in that. So I just try to talk and talk and talk, even if it gets annoying."
Over halfway through the season, the Bruins hosted their first alumni game after several years of cancellations because of the pandemic. At the contest, Musselman became the bridge between players of years past, many of whom she played with as a freshman, such as Rachel Fattal and Kodi Hill, and the new players such as freshmen Molly Renner and Emma Lineback.
"I was sitting on the wall, and I was like, 'This is so cool,'" Musselman said. "Just the connection through the community of water polo and then specifically UCLA water polo and all the amazing legends and studs that have been a part of it that are here playing on the alumni team."
Musselman finished her redshirt senior season with 69 goals, matching her career high from her first season. She also led the Bruins in steals, assists, sprint wins and field blocks.
Wright said despite her UCLA career coming to a close, Musselman should aim to continue playing professionally potentially until the 2028 Summer Olympics.
"We were lucky that she decided to come back," Wright said. "Obviously, she's a special player. She's got a couple of years to get ready for Paris (in 2024), and I think she potentially should keep going even through '28. She has time."
While Musselman said it's currently a goal of hers to play in the 2024 Olympics, she's taking things one step at a time and keeping the door open for a change of plans.
"I obviously still really love the sport, and I have a lot of passion for it," Musselman said. "Paris will be just another unique experience that a lot of people don't get the opportunity to have. I want to go through that process and journey again with a whole new team."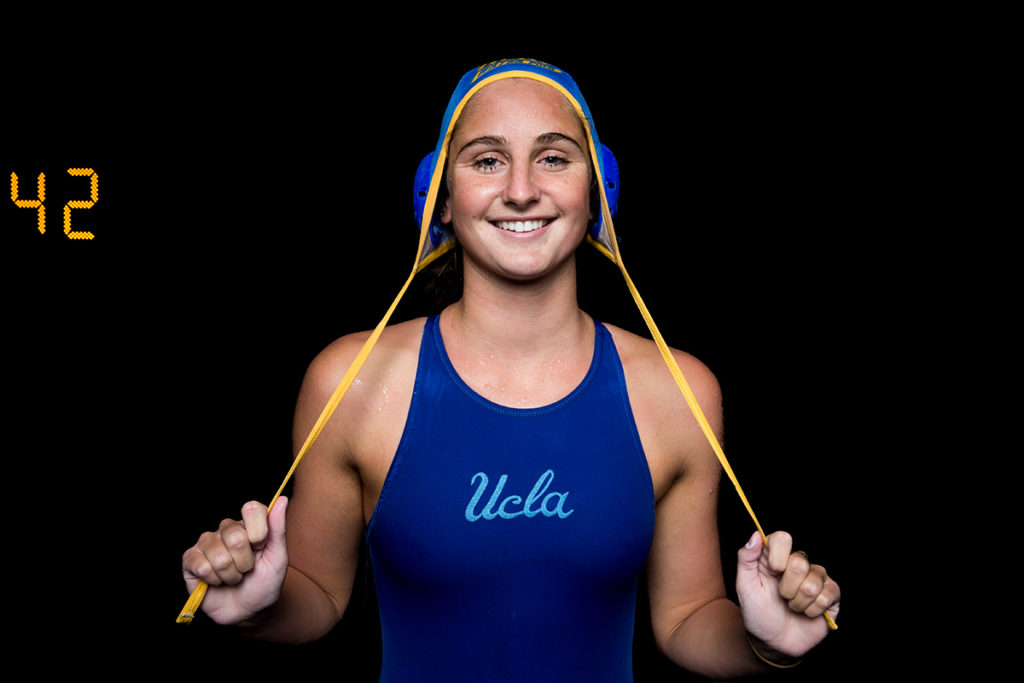 But before returning to the Olympics, Musselman has her sights set on a different goal.
Graduating UCLA with a degree in physiological science, Musselman has long dreamed of becoming a doctor. She has shadowed doctors both in high school and at the Tokyo Olympics.
Never shying away from blood or surgery, Musselman said she's always been drawn toward helping people.
The 23-year-old enrolled in a post-baccalaureate program – which is designed to support the transition from finishing undergraduate to enrolling in professional programs – at Temple University for next year.
Musselman also intends to begin studying for the MCAT as she decides which form of medicine to pursue. While undecided on a specific discipline, Musselman said she loves kids and is drawn toward working in labor and delivery or pediatrics.
"I get really excited talking about the medical field because it's coming sooner than it has been in the past," Musselman said. "I feel like it's always been kind of something that's a little bit further away for me, but it feels like it's starting to happen."
Simply being a student is something Musselman is excited to dive into. She said school served as an outlet outside of water polo this year, and little things such as walking on campus, meeting people outside of her water polo team and participating in a lab group have been some of her most rewarding memories.
With a year of academics looming, Musselman said she's excited to get a new perspective on college.
"I'm very thankful for being a student-athlete, but I'm also interested to see what that (strictly student) perspective is like," Musselman said. "I'll still be training, I'll still technically be an athlete, but I won't be wearing that athlete backpack, so it'll be a little different."
As her time in Westwood comes to a close, Musselman reflected on how she felt both the first and last time walking along the Spieker Aquatics Center pool deck.
"The day that I walked over for the first time and when I walked off the pool deck for the last time, I felt the same pride," Musselman said.
Boal is currently a Sports senior staff writer on the women's water polo beat. He was an assistant Sports editor on the gymnastics, rowing, swim and dive, men's water polo and women's water polo beats. Boal was previously a contributor on the men's water polo and women's water polo beats.
Boal is currently a Sports senior staff writer on the women's water polo beat. He was an assistant Sports editor on the gymnastics, rowing, swim and dive, men's water polo and women's water polo beats. Boal was previously a contributor on the men's water polo and women's water polo beats.