Daily Bruin made me evaluate ethical coverage in photojournalism -30-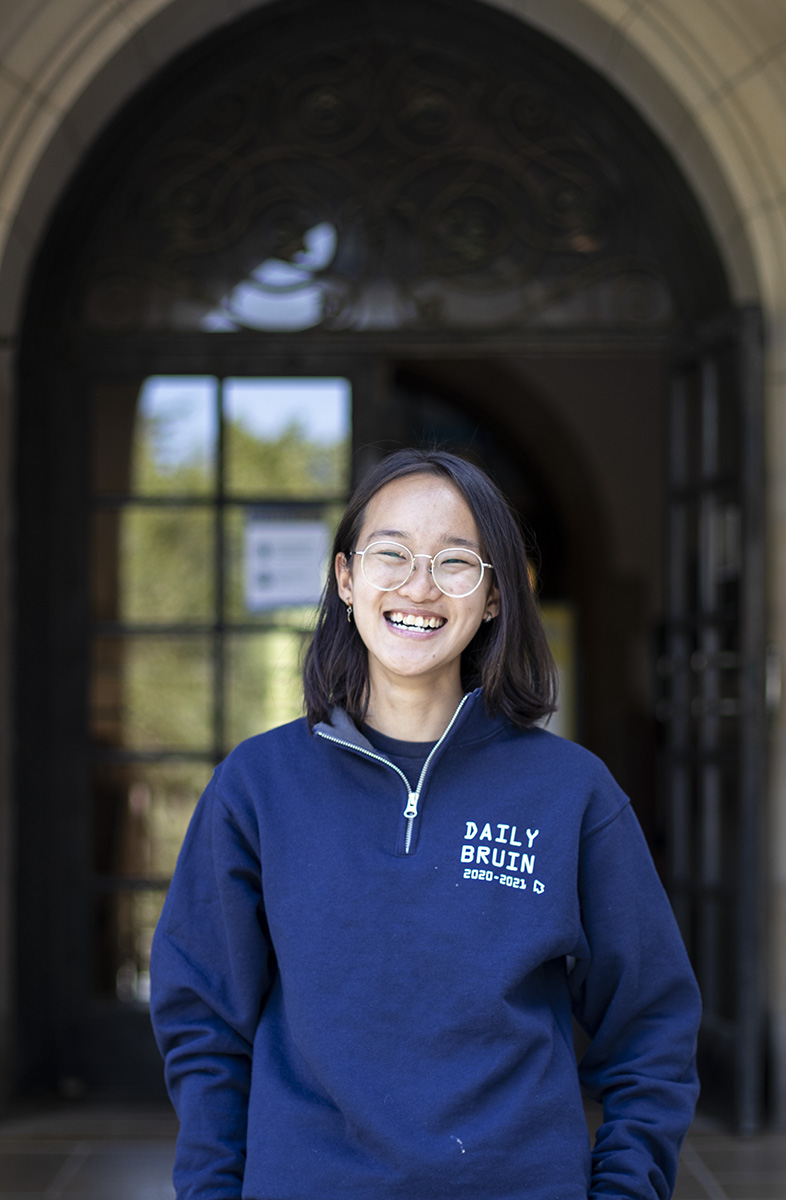 Lauren Man stands for a portrait. (Megan Cai/Assistant Photo editor)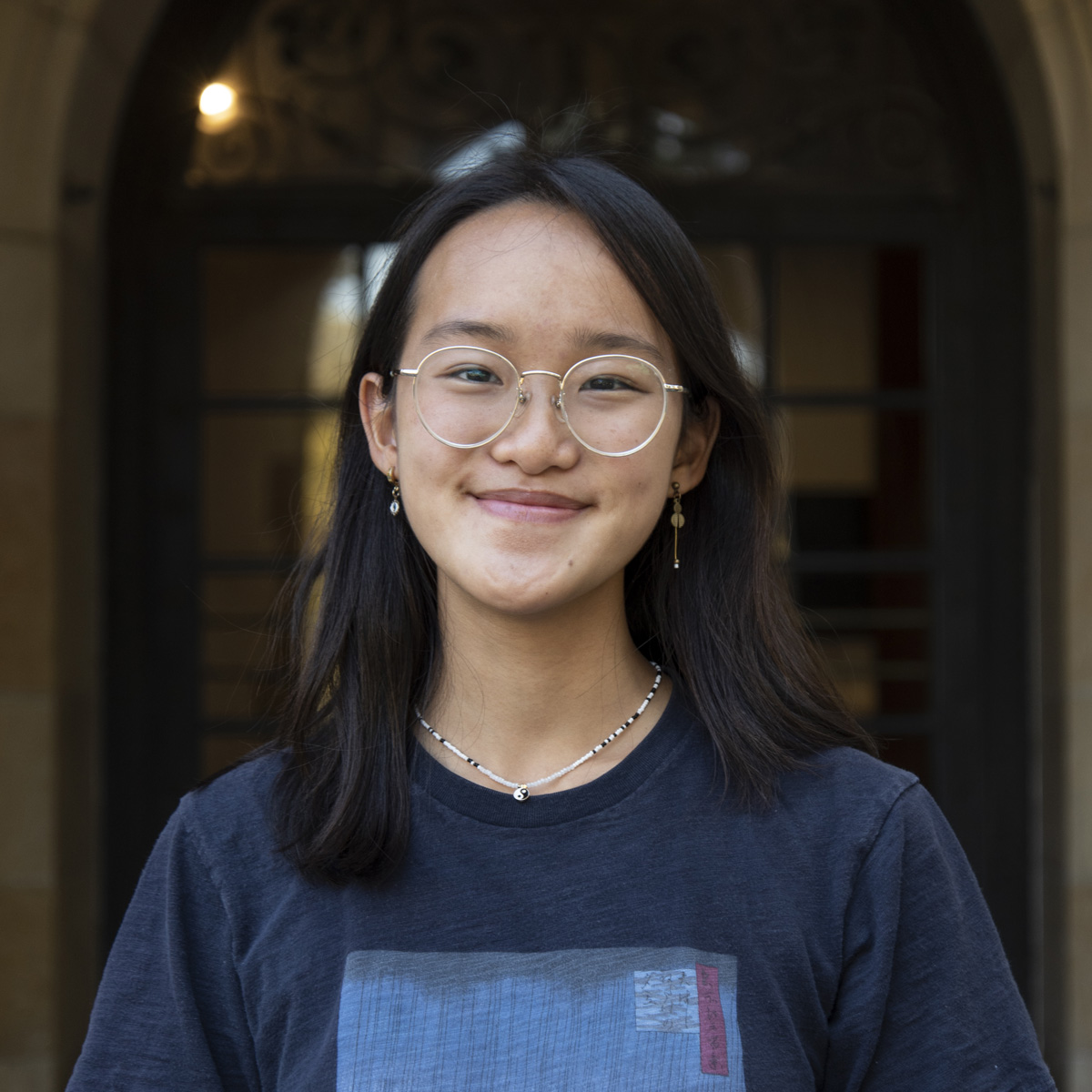 To high school Lauren, photography meant snapping away at the sights around my hometown of Hong Kong while I hung out with my friends. When I arrived at college, I thought it was about time I expanded my photographic horizons. The Daily Bruin provided opportunities for me to cover anything from portraits for student features, sports games to protests. Thanks to four years in the Photo section, I've worked through my initial discomfort directing portraits shoots through countless assignments with the students and faculty we featured and developed a reflex for rolling to avoid athletes who fall into the sidelines at Pauley Pavilion. Photo has been the best place for me to develop my craft and find a photographer community.
During the summer before my sophomore year, the journalism part of photojournalism became more important to me. Pro-democracy protests broke out in Hong Kong, and I saw the symbolic power photojournalism had in the movement. Even though such protests are currently dormant, they will forever be emblematized in images of yellow umbrellas and black-clad protestors flooding the streets, thanks to the journalists who fearlessly braved the tear gas and pepper spray. As the movement progressed, I watched from my Westwood apartment as journalists were arrested and newsrooms were raided in the name of China's national security. I realized that despite only being a student photojournalist, I had more freedom than other professional journalists at home. I started to photograph more campus and Los-Angeles-wide protests, such as the cost-of-living adjustment and the Myanmar protests. I relished in seeing people exercise their freedom of speech and was grateful that I could document that for readers in UCLA and the wider LA community.
At the end of my sophomore year, I became an assistant Photo editor alongside my friends Ashley, Kanishka and Daanish. I was so excited to work alongside my friends, but then the COVID-19 pandemic pushed us away from Kerckhoff Hall 118 and to the confines of Zoom. To make it worse, I had returned to Hong Kong during the pandemic and was faced with a 15-hour time difference. One of our first challenges as editors was managing breaking coverage of the Black Lives Matter protests across three time zones. We were sifting through the photos our photojournalists had sent in, trying to figure out what was the best way to represent this monumental movement. Looking at photos of ablaze police cars, we were debating, "Is it right to focus on the sensationalized components of the protests when most of the movement was peaceful?"
The protests brought up many discussions about the role of journalism in protest movements. Documenting protests is undoubtedly important, but protester safety is too. We had to address the fact that we could be incriminating protesters by photographing their likeness. Was it our responsibility to protect them or their responsibility to protect themselves? Should we adhere to the golden standard of so-called objectivity by leaving our morals at the door? If we were endangering protesters, was our coverage actually objective?
Discussions ultimately circled back to long-standing concerns that Daily Bruin staffers have had about our community. We were amping up our BLM protest coverage, but had we done enough to represent the Black community here on campus? We came up with a few photo-based outreach ideas, such as taking submissions for a community-based photo essay about students' experience in BLM protests across the country, which fizzled out because of a lack of submissions. We got swept up in the inevitable editor burnout doing everyday administrative work and trying to keep our contributors involved over Zoom, and then our term as editors was over. To this day, The Bruin still lacks diverse coverage on many fronts. As a Photo senior staffer, I still have not found the balance between so-called journalistic objectivity and ethics. But as I graduate from both UCLA and the Daily Bruin, I will forever ponder journalism's role in serving our communities in the media I consume and create.
Of course, The Bruin gave me so much more than musings about journalism. Ashley, Kanishka and Daanish made online editorship more fun than I could've expected, from Ashley insisting that we never skip our weekly editors meeting because she needed social interaction to us spending a random afternoon assigning every section in the paper to a Hunger Games district. Greatest thanks to Ashley and the current editors – Anika, David and Sakshi – for bringing Photo back to the in-person world in its fullest glory with endless games of Fishbowl and the most creative photo essays. Thank you Photo for all the fun times, from the opportunity to shoot a Kim Petras concert while rolling around the media pit on my knee scooter to road-tripping to Tucson for football to our unofficial ski trip and our annual Photo editor ice cream tradition. I can't wait to win Most Lit Section at -30- again!
Man was a Photo contributor 2018-2020, News contributor 2020-2021, assistant Photo editor 2020-2021 and Photo senior staff 2021-2022.