Daily Bruin Arts helped me rekindle my passion for storytelling -30-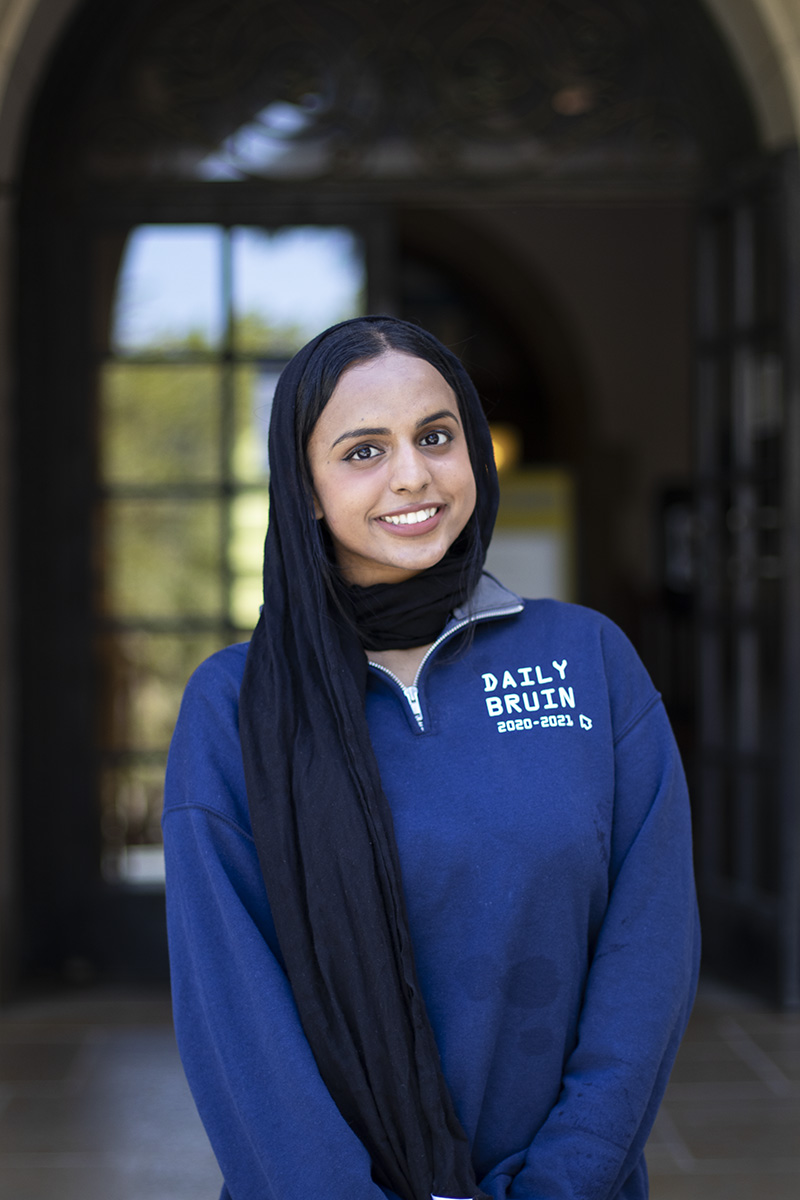 Saba Sharfuddin stands for a portrait. (Megan Cai/Assistant Photo editor)
I spent my four years of undergrad thinking about you.
You had this undying passion for film and storytelling. You would come home from the theaters and secretly reenact the movie your eyes just captured. While others turned off the film when the credits rolled, you would try to read the hundreds of jobs that went into making a 120-minute masterpiece. You would write stories of action and fictional kingdoms until your hand would begin to hurt.
I watched your dream diminish by those same hands that began to code instead. I think about how you moved on from this passion and instead committed to computer science at San Francisco State University because this was the "logical thing to do." This is "what will bring food on your table and what will give you financial stability straight out of undergrad."
That's really boring.
So when I transferred to UCLA and moved to Westwood in 2020, I wanted life to be exciting.
That is when I found the Daily Bruin. After several essays and an interview, the email in October stating its congratulations and that I had been accepted as an Arts intern (which would later turn into contributor) was the first day of the rest of my life off the planned trajectory.
It did something I never thought could happen: It ignited my passion for film again. For that, I am forever grateful. Through the Arts team, I was able to finally wake up and make that dream I had a reality. I received the rare opportunity to not just interview people from film but to learn from them through their answers. I began watching movies through a different lens, picking up on techniques that only Arts members would be excited about. I was more than satisfied with just that one plot twist in my life, yet The Bruin somehow managed to throw me off even more.
Joining UCLA's newspaper created an unexpected calling for journalism for me. There is something so exhilarating about being given the honor to tell someone's story. To every individual or organization at UCLA whom I have written about, thank you for entrusting my hands and a keyboard to piece together your incredible achievements. The times I have felt the most happy here were the times when I sat with split tabs on my laptop – one side an empty document and the other an accumulation of incoherent notes taken from my three sources. The clock would rapidly tick toward my deadline. The adrenaline I felt while I slowly began to unblock my writer's block and watch the once empty document fill up with a lede, nut graf and more was more than enough for me to accept that The Bruin has opened a door for me that will not close for a while. Once again, for that I am forever grateful.
I am grateful to every editor and contributor I have met or worked with in the last two years. Thank you for the advice, the inspiration and most importantly for teaching me. It would be hard to say thank you to the members of the Daily Bruin without also saying thank you to the institution it resides in.
UCLA, I wish I had just one extra day with you. In that one day, I could get coffee from Upside Down with my roommate and laugh with my friends at 655 Kelton Ave. at 2 a.m. until our stomachs hurt. I could climb up the dreaded steps to go to my optimization class, sit there confused but leave with awe at how vast the world of mathematics is. I could walk roughly 30 seconds from my apartment to see a best friend and spend hours talking to him. I could go to Kerckhoff Hall not only to visit Room 118 for a coffee chat but to also visit the Muslim Student Association room – a place that felt like home away from home. I could walk along Wilson Plaza, admiring the beauty of the image of everyone relaxing on the green hills. One more day at UCLA is one more day on a breathtaking and bright campus with friends that healed my heart. Thank you.
To my family, my day-one supporters of my dreams, I don't want to imagine where I would be today without your love and hard work. The 13 of you make up my heart and soul. Thank you so much for everything.
UCLA and my time at the Daily Bruin changed my life. I changed so much that I thought a part of me died inside. Yet in reality, I was simply just myself again – unapologetically and authentically. While my undergrad is now done, my life is just now starting with new and scary opportunities.
I am the young girl who had the undying passion for film and storytelling once again. I spent my four years of undergrad thinking about you, and I hope I made you proud.
Sharfuddin was an Arts contributor 2020-2022.