Senior signoff: Bryce Pereira reflects on lasting takeaways of UCLA student-athlete experience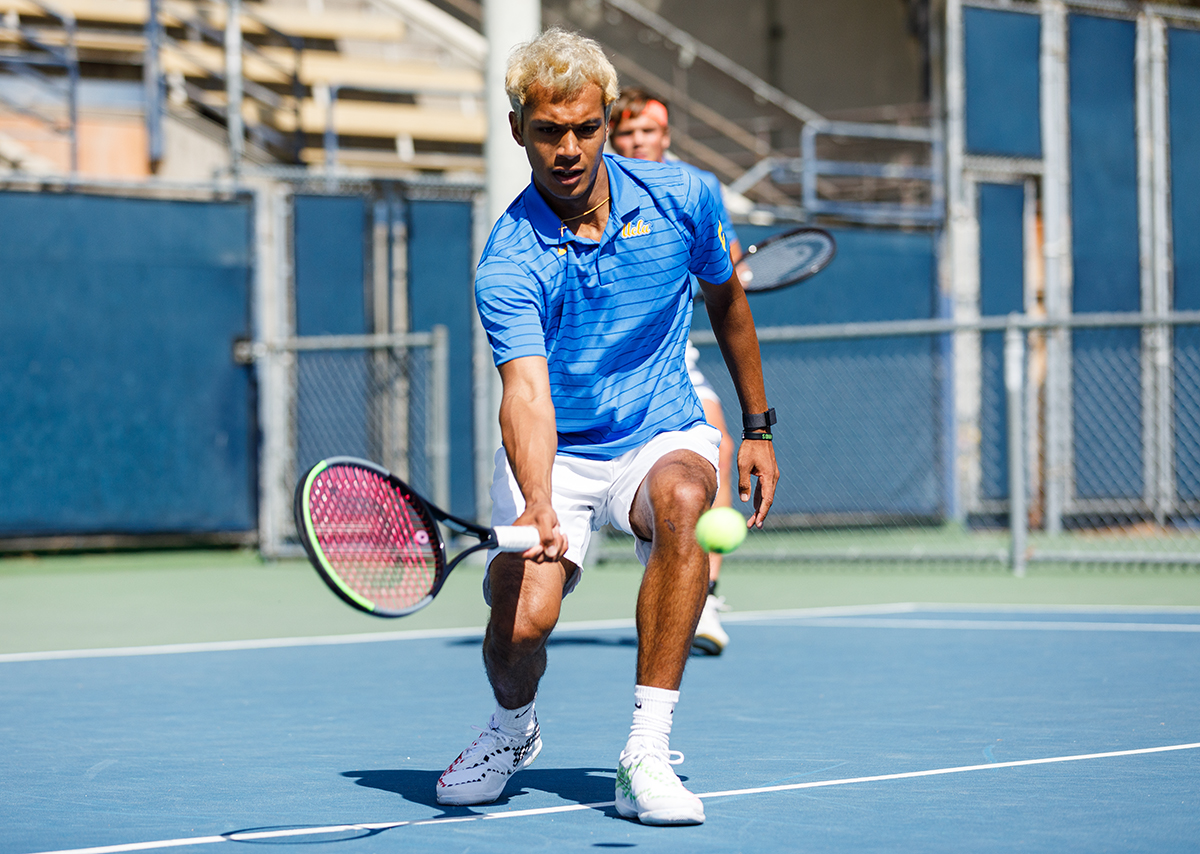 UCLA men's tennis redshirt senior Bryce Pereira reaches down for a low volley. The team leader in match-clinching points and doubles points clinched this season will be graduating after five years with the Bruins. (Anya Yakimenko/Daily Bruin)
September 21, 2017. That was the date that I moved into my dorm room in De Neve Evergreen. As an 18-year-old, I thought I knew exactly how my experience as a Division I men's tennis student-athlete at UCLA would be and exactly what it would entail. Boy, was I wrong – mostly, at least. My first few weeks being a student-athlete were a big learning curve. That "breaking-in period" included persistent fatigue from late nights, constant soreness from tough workouts, napping in two out of my three classes, being out of breath from walking anywhere at UCLA because of all the hills, scrambling to find a party to go to over the weekend and eating until I felt sick at the dining halls because I fell in love with the food. But as an athlete, you learn to adapt very quickly to the situation you are in. My body got used to the higher level of physical training, which meant I was less sore. I started napping in our team room instead of class because it was more comfortable – and better for my grades. I started walking slower, and earlier, to class so I was less in a hurry and less out of breath. And I refrained from trying to eat every single variation of food that was offered in the dining halls so I did not upset my stomach. These were just some of the lessons I learned during my first few weeks as a student-athlete, and they have stuck with me ever since.
It gives me the chills when I hear myself say that I am graduating from UCLA – the No. 1 public university in the country – as a student-athlete. That puts me in very elite company. The athletic family here at UCLA is special. Every athlete here is world-class. There is always a buzz around the athletic facilities here. You can feel the energy and the excitement, not only from current student-athletes during their respective competitions but also in the palpable sense of pride that emanates from the athletic venues that have played host to all the great, historic moments in Bruin athletic history. There is an aura that you can feel from all the past UCLA legends when you walk around campus. It is like a second wind of energy that is guiding you to be the very best version of yourself. All Bruin student-athletes will attest to this. It is, in my opinion, one of the many perks of being a Bruin.
One of my favorite places to be is in the Acosta Training Center because I get to see all my student-athlete friends from other sports and I get to hear about how their weekend competitions went. The Bruin athletic family is exactly that – a family. The support from Bruin Nation across all sports is unmatched. When I donned my UCLA tennis gear for the first day of practice that fall day in 2017, I realized that for the next four years, I would be playing for more than myself. As it turns out, the pandemic happened, and I was lucky enough to have the opportunity to play for a fifth year. It has been a privilege. I have played for my teammates, my coaches, my friends and family in the stands, but most importantly, I have played for the four letters on my chest, U-C-L-A.
During my time here at UCLA, I have benefitted from a few major takeaways that shaped me into who I am today. First, learn to lose. Losing is part of life. If you can learn from a loss and still have your head up while having that fire in your belly, you are a very dangerous individual. That old saying that you learn the most from your mistakes – and losses – is true. There is a certain perspective that you gain from it that can then be used to your advantage the next time around. Mistakes and losses are great teachers. Learn from them. Use them to shape who you are and make you stronger. There will always be another match to be played. Don't dwell on a singular one.
Next, don't be afraid to ask for help. Being a student-athlete is far from easy. You have to balance academics, athletics and a social life. It isn't going to be sunshine and rainbows all the time. Whether you're struggling in your athletic life, academic life or even just life in general, don't be afraid to lean on a friend. I am a huge advocate for mental health, and asking for help does not mean you are weak. It shows that you are strong for owning up to how you feel and taking the necessary steps to get yourself to that next level. I can promise you that without the help of my friends and family, I would not be anywhere close to the person I am today.
Lastly, enjoy the battle. I will never forget my last two tennis matches as a Bruin. I was somehow able to come back from match points down to win both of my matches at the Pac-12 tournament in Ojai, California. The question that everyone asked me was, "How did you manage to stay so calm when you were down and on the brink of losing the match?" My response? "I enjoy competing. I enjoy the battle." When you truly have fun competing, you don't really feel the nerves. If you do have nerves, you learn to embrace the moment and rise to the occasion. Tennis legend Billie Jean King said it best: "Pressure is a privilege." I have played many matches here at UCLA where I let nerves get the best of me. As my time here went on, I started to cherish those moments more and more, and soon, I was able to say that I genuinely love the battle and the struggle of winning a tennis match.
Even though my last season did not go as planned, it does not put a sour note on my time here at UCLA. I'd like to thank my teammates, coach Billy Martin, coach Grant Chen, coach Rikus de Villiers, coach Wil Martin, coach Ben Goldberg, the entire UCLA Athletics staff, my opponents and my family for molding me into the person I am today. The memories I made on and off the court will forever be in my heart. To the late nights lying on my dorm room floor losing my mind over midterms and finals, to the sweat and tears on the court, to the early mornings in the gym, I would not change any of it for the world. Looking back, had I known then what I know now about what it takes to be a UCLA student-athlete, would I choose to do it all over again? Absolutely. In a heartbeat. Thank you, UCLA. This 8-clap is for you. Sincerely, Bryce Pereira. Bruin for life.
Pereira played for UCLA men's tennis from 2017-2022.