Los Angeles city controller candidates present policy positions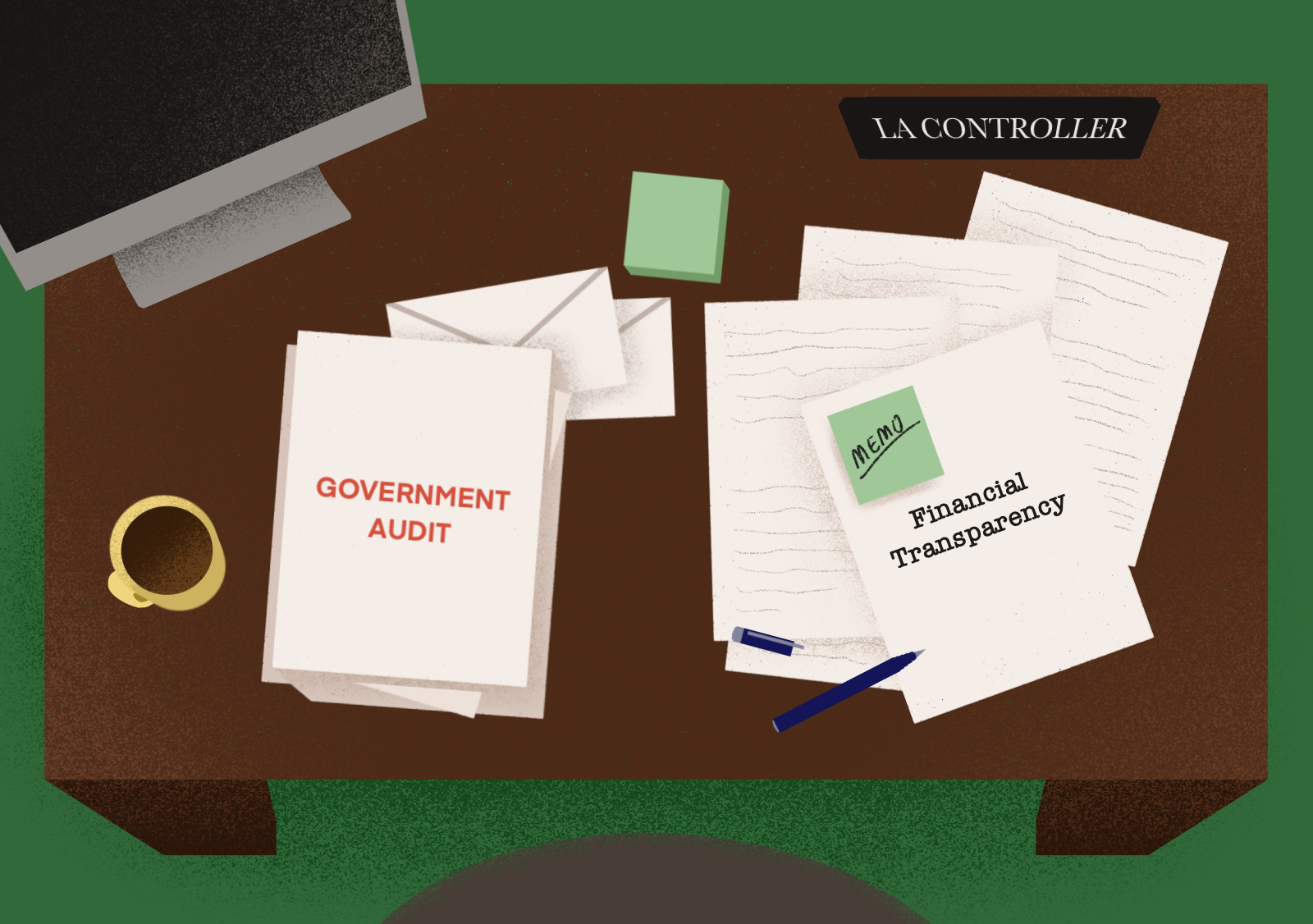 (Isabella Lee/Daily Bruin) Photo credit: Isabella Lee
This year, five candidates are running for city controller of the Los Angeles city government.
The controller is tasked with conducting audits of city departments to ensure transparency and managing the city's finances and expenditures. The controller's office contains three divisions to fulfill its functions: audit services, accounting operations, and financial analysis and reporting.
The primary elections will be held on Tuesday, with general elections taking place on November 8.
Candidate Rob Wilcox dropped out of the race May 19 though his name will still be printed on ballots.
Stephanie Clements, assistant director and chief financial officer at the Bureau of Street Services
Policy stances
Homelessness

Work more proactively with the LA Homeless Services Authority and recognize that homelessness involves mental health and substance abuse issues

Properly assign responsibilities between city and county leaders to ensure accountability and efficiency

Housing prices

Ensure that Section 8 vouchers, which provide financial renters assistance for low-income individuals, are allocated properly and not wasted

Develop new alternative housing methods that are more cost effective and innovative, such as shared housing projects

Public safety

Incentivize the hiring of more police officers and firefighters

Work to decriminalize cannabis, expand access to cannabis dispensaries and reduce taxation on cannabis

Climate

Facilitate the transition to paperless processes to reduce waste and reform the recycling and waste disposal system

Monitor the progress of plans for LA's Green New Deal

Transportation

Hold more regular street cleanings to ensure that sidewalks and roads are clear of trash

Jobs and economy

Divert gas tax funds to public projects, such as roads, rather than toward public employee benefits

Hire more workers from diverse backgrounds in LA by reforming civil service hiring techniques

History with City Politics

Interned under former City Controller Rick Tuttle

Served in the community development department and the city administrative office to manage bond programs

Served as finance director at the department of general services

Served as chief financial officer at the LA Fire and Police Pensions department

Paul Koretz, Councilmember of the 5th Council District

Policy stances
Homelessness

Continue financing the construction of new housing units and facilities and continue carrying out the 10-year Comprehensive Homeless Strategy, which seeks to reduce homelessness through various policy proposals

Work to address homelessness among vulnerable groups, particularly veterans, through strategies such as ensuring rights to eviction counseling

Housing prices

Public safety

Prioritize both domestic and wild animal welfare through various policies, such as supporting the existence of no-kill animal shelters

Climate

Support community-based solutions – such as the Cool Cities Challenge, which has set the goal of making LA carbon neutral by 2025

Transportation

Jobs and economy

N/A

History with City Politics

Former member of the West Hollywood City Council from 1988 to 2000

Served as representative of California's 42nd State Assembly district from 2000 to 2006

Served as representative of LA City Council District 5 from 2007 to 2022 and has chaired the Audits and Government Efficiency Committee and Personnel, Audits and Animal Welfare Committee.

Reid Lidow, mayor's executive officer

Policy stances
Homelessness

Promote a whole-of-government response, in which each department of the city government is delegated specific targets

Create a partnership between the city and Community Organized Relief Effort (CORE) to improve outreach efforts to assist unhoused individuals

Housing prices

Create a rental housing database to track the number of rental units on the market and better understand housing affordability

Ensure that taxpayer dollars go directly toward the construction of new housing projects and implement a citywide parcel inventory system to identify current properties for transformation into housing

Public safety

Expand the controller's help hotline to streamline the complaint service, such as for uneven sidewalks, abuse and business complaints

Climate

Facilitate the transition to 100% renewable energy in LA within the decade

Conduct a climate action audit to identify areas for fossil fuel divestment and renegotiate city contracts with businesses that do not meet climate action thresholds

Transportation

Expand streets to encourage use by pedestrians and cyclists

Cut down on the city's departmental travel and reduce emissions by opting for other meeting mediums, such as virtual meetings

Jobs and economy

Track and eliminate unnecessary supply expenses and cut the gross receipt tax to help businesses stay afloat

Prioritize local hiring efforts, conduct diversity audits within city departments and prioritize financial and inclusionary efforts for Indigenous communities

History with City Politics

Worked as a communications officer, speechwriter and deputy press secretary for LA City Hall

Served as LA Mayor Eric Garcetti's executive officer to counsel the mayoral departments and lead response efforts during the pandemic

Kenneth Mejia, certified public accountant

Policy stances
Homelessness
Audit exact funds going to anti-homelessness projects, locate properties for conversion into housing units and help directly connect unhoused individuals to social services

Assist those living in encampments by providing hygiene and healthcare products

Housing prices
Track rent prices, evictions and potential properties that can be converted into affordable housing units

Identify expiring affordable housing covenants and calculate the number of affordable housing units lost each year

Public safety
Formulate alternative police responses to encampments and criminalization ordinances

Climate
Eliminate fossil fuel drilling and provide the public with a detailed account of funds going toward climate action efforts

Audit Garcetti's commitment to LA's Green New Deal and the amount of city investment into fossil fuel

Transportation
Address and rework Garcetti's transportation budget, such as reducing the costs of parking enforcement and citation processing

Jobs and economy
Ensure an equitable transition for workers in oil and natural gas industries as the city invests in renewable energy production

History with city politics

Joined the LA Tenants Union in 2016 to fight against housing, rent and eviction policies

Served as a neighborhood council board member for Koreatown from 2017 to 2018
J. Carolan O'Gabhann, LA Unified School District teacher
Policy stances
Homelessness
Address potential issues between city and county coordination in homelessness efforts

Housing prices
Public safety
Climate
Work toward the goal of zero carbon emissions and better prepare for natural disasters

Transportation
Jobs and economy
N/A

History with City Politics
Served on LAUSD's Local School Leadership Council
David T. Vahedi, litigator
Policy stances
Homelessness

Report on the allocation of tax dollars toward homelessness and the number of unhoused individuals who move into and remain in permanent housing

Publicize accurate costs of constructing new housing and efforts to address homelessness

Housing prices

Use data analysis to accurately observe prices of affordable housing

Public safety

Track and reduce the time it takes first responders to reach the location of a call

Work with first responders, LAPD and LAFD to ensure the efficient usage of tax dollars

Climate

Transportation

Use data analysis to address key issues regarding traffic

Jobs and economy

Conduct audits and oversight on potential corruption within the city's bureaucracy

History with City Politics

Conducted hearings on tax allocation as an independent auditor for various governmental agencies

Worked with state politicians to streamline the decision-making process of tax appeals