UCLA track and field earns 5 championship entries after victories in Fayetteville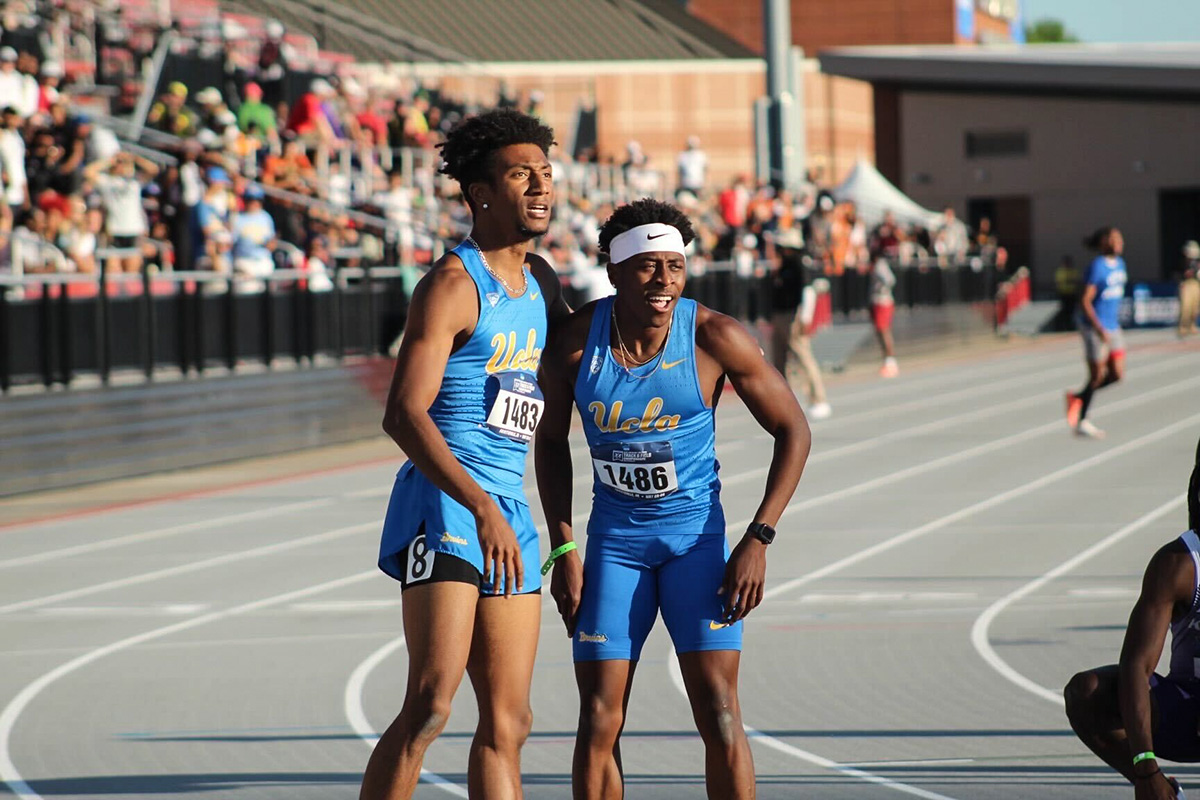 Junior sprinters Cameron Reynolds (left) and Ismail Turner (right) were the first two Bruins to qualify for the NCAA championships last week. The pair finished fourth and third in the men's 400-meter, respectively, while each setting personal bests in the event. (Courtesy of Maddy Doane)
Correction: The original version of this article's photo caption misspelled Maddy Doane's name.
This post was updated June 14 at 7:49 p.m.
The Bruins bested both their opponents and themselves to secure five entries to the NCAA championships this past weekend.
UCLA track and field competed in the NCAA West Preliminary Round in Fayetteville, Arkansas, from Wednesday to Saturday. Multiple athletes notched personal records, and seven Bruins earned spots in five total events in the NCAA championships by placing top 10 in their respective events.
Coach Avery Anderson said he was satisfied with his team's performance and the intensity the Bruins brought to the competition.
"Things went really well, everyone performed at a super high level," Anderson said. "We had people performing at a PR level against great competition."
Of the seven Bruins who qualified, redshirt senior sprinter Shae Anderson, junior sprinter Ismail Turner and junior sprinter Cameron Reynolds have all entered into the program top-10 lists during their tenure at UCLA.
The women's 4×400-meter relay team also qualified for the NCAA championships last weekend, placing second in its heat with a time of 3:32.34.
In the final round of the men's 400-meter dash, Reynolds – who earned a personal best mark to finish fourth overall in the event with a time of 45.07 seconds – was the first Bruin to qualify.
Turner finished third overall and a hundredth of a second ahead of Reynolds, crossing the finish line at 45.06 seconds.
Reynolds lauded the effort of his teammates and said there are still improvements to be made individually.
"I was really proud of everybody. I think everyone executed what we expected them to do and it was good all around," Reynolds said. "For myself, I feel like I'm getting faster and faster, trying to gear up for the remainder of the postseason."
Reynolds said he and Turner – who also set a personal best in the same race – lend each other motivation through competition.
"Ismail went out there and we dueled it out, we pushed on and got stronger together," Reynolds said. "Iron sharpens iron. We want to give everyone a run for their money and upset some people."
The following day, on Saturday, the women's 4×100-meter team was the next to qualify for the NCAA championships. Redshirt senior sprinter Shae Anderson and junior sprinters Catherine Leger, Makenzy Pierre-Webster and Maddy Doane finished third in their heat. The team finished with a time of 44.05 seconds, placing seventh overall to launch the squad further into the postseason.
Anderson said he is pleased with how the relay team developed after last season and is confident their veteran perspective will bring it further success.
"Coming out of last year, once we turned a corner as a program and they saw some success, they knew what it was like to get back to this point," Anderson said. "That's just a matter of experience, and they qualified because of their experience."
The seven qualified Bruins will compete for a shot at an NCAA title from June 8 to 11 in Eugene.
Hallum is currently a contributor on the track & field and swim & dive beats.
Hallum is currently a contributor on the track & field and swim & dive beats.