District 5 candidates for LA City Council share election platforms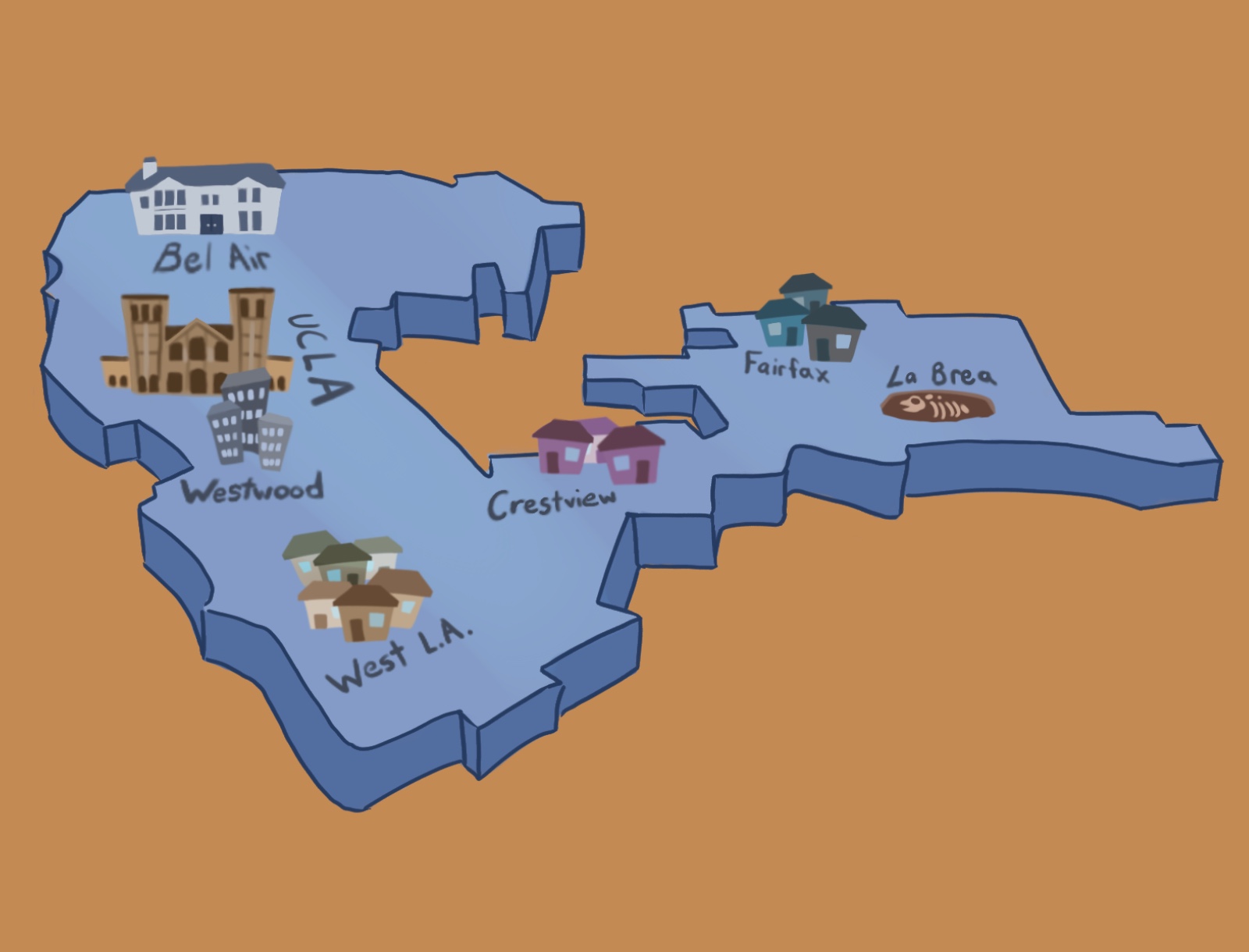 (Christopher Kha/Daily Bruin)
This post was updated June 2 at 1:05 p.m.
Four candidates are running for councilmember representing District 5 in the Los Angeles City Council.
District 5 represents neighborhoods such as Westwood and Mid City West. The city council serves under the mayor as the primary governing body of LA and is responsible for organizing elections, levying taxes and modifying and approving the mayor's budgetary proposals.
The primary elections will be held Tuesday, with general elections taking place Nov. 8.
Jimmy Biblarz, professor at UCLA School of Law
Policy stances

Homelessness

Promote the construction of permanent supportive housing services, expand and protect tenant rights, provide financial assistance for individuals experiencing homelessness and adopt an individualized outreach program suited for the diverse unhoused population

Housing prices

Provide a variety of affordable permanent housing options, ensure developers meet affordability standards, provide subsidies to low-income renters and raise the minimum wage to meet rising living costs

Public safety

Prevent crime by reducing illegal gun sales and providing a medium for community members to voice concerns through an office of neighborhood safety
Implement safe urban design policies and redirect policing efforts to prevent violent crime

Climate

Achieve 100% clean energy in LA by 2035, provide further funds for LA water conservation efforts and promote water catchment systems
Upgrade urban energy efficiency, enforce evaluations on environmental standards and address racism in land-use policy

Transportation

Reduce individual transport costs, improve bike lane access, promote pedestrian safety and make bus transit more passenger-friendly and reliable

Jobs and economy

Advocate for labor rights, create living and housing conditions that meet the needs of city workers, protect low-wage workers and limit outsourcing and privatization
Provide support for small businesses that have been hurt by the COVID-19 pandemic

History with city politics

Led protests to protect jobs in LA during the Great Recession, remains an active union member of Harvard Graduate Students Union-United Auto Workers Local 118 and University Council-American Federation of Teachers
Worked at the LA public defender's office
Sam Yebri, lawyer and former commissioner on the LA Civil Service Commission
Policy stances

Homelessness

Protect tenant rights, invest in mental health and addiction services, and maintain standards of public cleanliness and safety through the street clearance measures of Ordinance 41.18.
Expand the number of homeless shelters

Housing prices

Guide the cost-effective, timely construction of new affordable housing units and preserve existing affordable housing units

Public safety

Redirect policing efforts toward crisis intervention training, place more officers on patrol and hold officers to a higher standard of accountability and training
Better track the illegal sale of firearms, encourage individual neighborhood safety programs, allocate more resources toward mental health crisis services and focus on hate crime prevention

Climate

Improve public transportation and adopt more environmentally friendly technologies such as water reuse methods, solar panels and electric vehicles
Preserve wildlife areas, expand green spaces and strictly enforce inspection and enforcement policies on corporate activities to limit pollution

Transportation

Improve public transportation efficiency and reliability to discourage individual car ownership and reduce emissions

Jobs and economy

Address corruption to ensure political decision-making is aimed toward creating widespread benefits such as affordable workforce housing
Assist small businesses in staying open, particularly in response to the COVID-19 pandemic

History with city politics

Served as commissioner of the Los Angeles Civil Service Commission
Worked for the city attorney's Gun Violence Prevention Task Force and LA County Assessor Jeff Prang's transition team
Co-founded the 30 Years After nonprofit, which seeks to help Iranian American Jews participate and lead in politics
Scott Epstein, contact tracer at UCLA Arthur Ashe Student Health and Wellness Center
Policy stances

Homelessness

Create outreach teams to connect people experiencing homelessness with social services and temporary and permanent housing
Address the link between housing affordability and renter protections and homelessness

Housing prices

Address the lack of affordable housing in LA through renter protections such as the right to counsel
Experiment with zoning reforms and transit-oriented infill housing

Public safety

Redirect funds from policing to crisis intervention programs and antipoverty programs while prioritizing civilian oversight
Enforce officer accountability and decriminalize homelessness

Climate

Invest in clean, environmentally friendly energy methods such as insulated homes and green energy production
Back the Green New Deal while recognizing potential transition difficulties for natural gas companies

Transportation

Address high traffic and motor vehicle deaths by redesigning streets to prioritize driver and pedestrian safety

Jobs and economy

Eliminate regulations that hurt small businesses and disproportionately affect minority groups

History with city politics

Served as former chair of the Mid City West Neighborhood Council
Founded the Midtown Los Angeles Homeless Coalition
Katy Young Yaroslavsky, climate attorney
Policy stances

Homelessness

Support the creation of a regional homelessness authority with local budgetary power and allocate resources toward mental health and addiction treatment
Prioritize cost-effective, affordable temporary housing options until more permanent housing solutions are formulated

Housing prices

Address homelessness by proactively reaching out to homeowners at risk, finding out whether they can afford rent and provide rental assistance

Public safety

Invest in police reform, hold officers accountable and divert officers and resources toward rapid crime response
Collaborate with mental health professionals to address mental health crises along with investment in comprehensive health services

Climate

Shift toward 100% clean energy while phasing out oil drilling and other forms of emissions
Address drought through water reuse methods, construct new parks and green spaces and invest funds in land protection

Transportation

Streamline public transportation through a mass transit system and greater investments into the metro system overall
Set up electric vehicle charging stations, create a safe bicycle network and repair sidewalks for pedestrians

History with city politics

Senior policy adviser for Sheila Kuehl, LA District 3's supervisor from 2015 to 2022, specializing in the environment and the arts
Led the creation of the Clean Power Alliance and helped create an Office of Sustainability in LA County