UCLA softball heads to Women's College World Series accompanied by familiar foes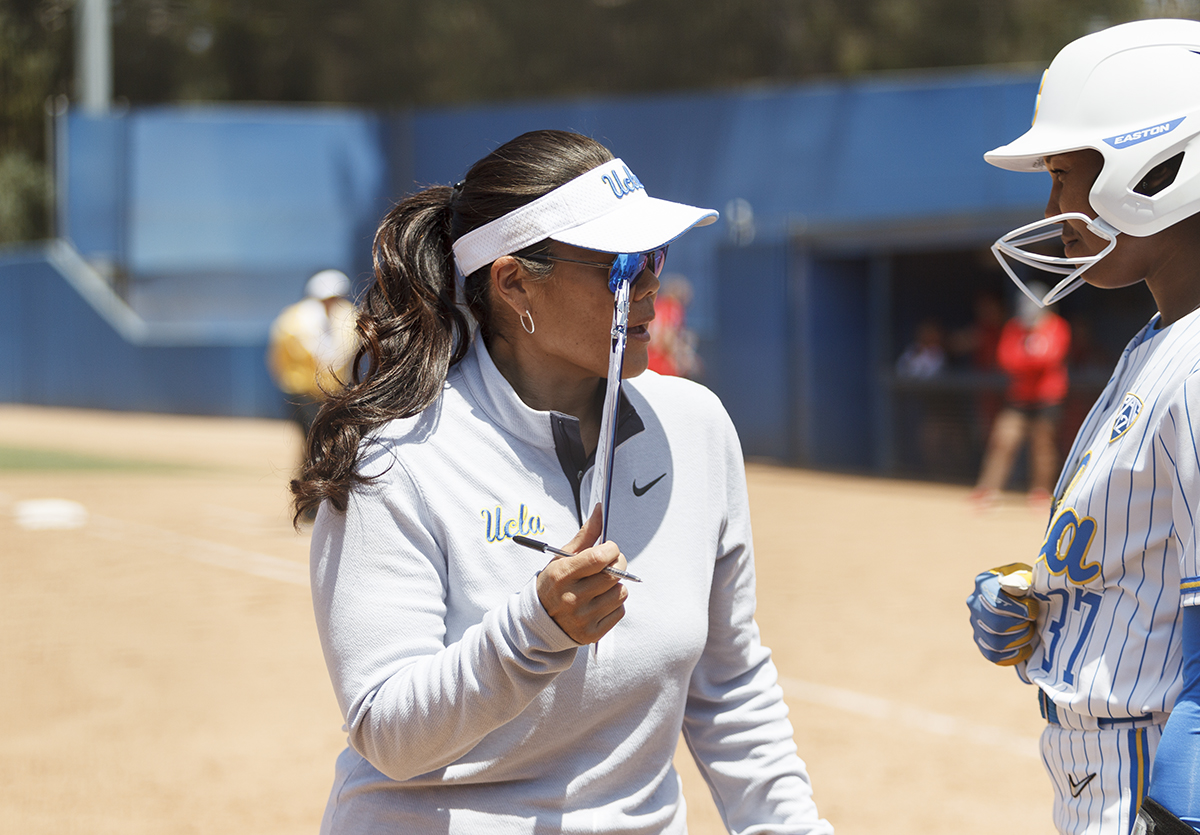 Coach Kelly Inouye-Perez coaches redshirt senior infielder Kinsley Washington during a postseason game. Inouye-Perez and Washington were part of UCLA softball's 2019 championship-winning team. (Joseph Jimenez/Daily Bruin)
The Bruins and Sooners – the sport's most recent champions – are also the two highest remaining seeds in the tournament.
But it's the former that holds the edge in Women's College World Series appearances.
No. 5 seed UCLA softball (48-8, 19-5 Pac-12) paces the Women's College World Series field with its seventh consecutive appearance and 31st overall, while No. 1 seed Oklahoma comes in second with six straight appearances and its 15th in program history. The two schools are the most recent title winners, as the Bruins hoisted the national championship in 2019 before the Sooners did so last summer.
To start this year's postseason run, the blue and gold picked up back-to-back sweeps, winning in run-rule fashion in two of its three contests during regionals before claiming two straight against Duke in its super regional series.
The Bruins overcame a two-run deficit to take the opener against the Blue Devils before scoring six unanswered runs from the fifth inning onwards to break a 2-2 tie in the second day of action, completing the sweep and clinching a ticket to Oklahoma City.
Coach Kelly Inouye-Perez said competitive battles will help her team as it advances to the next round.
"I'd love to be able to just dominate the game, but that's not what happens at this point in the season," Inouye-Perez said. "That's where I believe experience kicks in as well. … I love it when it's actually close. It brings out a better side of my players and builds confidence for us going to the next step – back to the world series."
Over the past six postseasons, UCLA has played in 20 world series games, with infielder Briana Perez leading the team with 12 appearances.
Perez is among four active redshirt seniors on the team and one of seven players who were on the roster when the Bruins beat the Sooners in 2019 to secure the program's 12th national championship.
"I believe our culture is our strength," Inouye-Perez said. "People say, 'Of course you have culture because you win,' and I think it's just the opposite. We win because we have culture."
On UCLA's side of the bracket, only Oklahoma has made it to the final eight in recent years. Texas – the blue and gold's opening opponent – will be making its first appearance since 2013, while Northwestern clinched its first WCWS berth since 2007.
According to Inouye-Perez, UCLA's quest for a national championship will likely begin with the pitching of redshirt senior Holly Azevedo and redshirt junior Megan Faraimo.
"Having a one-two (in) Holly and Megan, you could go either way," Inouye-Perez said. "We're not a program that relies on one. … It's a long tournament – regionals, supers, going to the world series. To be the last team standing, you have to have a staff."
In the 2022 campaign, the two pitchers combined to be the third duo in program history to have 20 wins each.
Faraimo missed out on last season's WCWS because of an injury, while Azevedo pitched limited innings behind Rachel Garcia. In 2019, the two each pitched an inning in UCLA's first win in the final series over Oklahoma.
Despite their limited appearances in the world series, Faraimo and Azevedo will be only two of three pitchers in Oklahoma City who have thrown pitches in the final series of the tournament.
Playing in front of the Pac-12 Defensive Player of the Year in Perez, Faraimo said she understands her success in the circle is dependent on her team's defense.
"I get all my energy from when they make plays – it fired me up," Faraimo said. "Then, in turn, when we get back on offense, the momentum starts going our way."
Redshirt senior infielder Delanie Wisz – who leads the team in batting average and also paces the Bruins with 12 RBIs in the postseason – is entering her second WCWS with three games of experience under her belt.
As a transfer in her final year in Westwood, Wisz said her Bruin experience so far has been a dream come true.
"To be able to wear the blue uniform has always been a dream of mine," Wisz said. "This (Saturday) was just a huge team win, and for this to be my last game at Easton is kind of sad, but it's a bittersweet moment knowing that this is what got us back to OKC (Oklahoma City)."
Farinha is currently a Sports staffer on the softball beat. He was previously a reporter on the women's soccer beat.
Farinha is currently a Sports staffer on the softball beat. He was previously a reporter on the women's soccer beat.