UCLA softball secures 31st Women's College World Series appearance with Duke win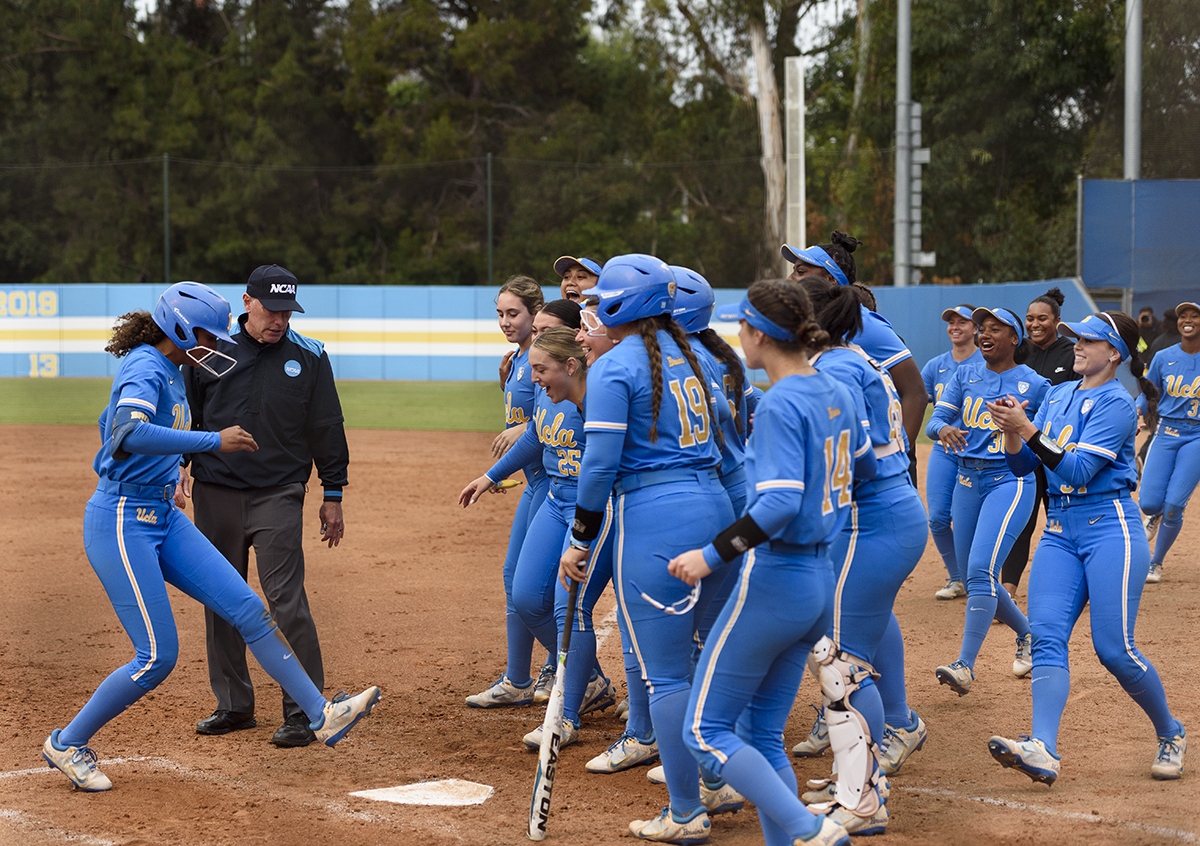 Members of No. 5 seed UCLA softball celebrate with redshirt sophomore Maya Brady after the center fielder drilled a solo home run over the left field fence in the fourth inning against No. 12 seed Duke on Saturday. Brady tallied a 3-for-4 outing, including two RBIs, to help the Bruins advance to their 31st Women's College World Series appearance. (Jack Stenzel/Daily Bruin)
softball
---
| | |
| --- | --- |
| No. 5 seed UCLA | 8 |
| No. 12 seed Duke | 2 |
This post was updated May 30 at 11:34 p.m.
On Friday, the Bruins overcame a two-run deficit.
On Saturday, a two-run lead of their own was erased.
They scored the game's next six runs to book their tickets to Oklahoma City.
"It's a dogfight," said coach Kelly Inouye-Perez. "They're going to throw punches, we're going to throw punches. … Our ability to continue to make adjustments is a big reason why we are moving on to the world series."
No. 5 seed UCLA softball (48-8, 19-5 Pac-12) defeated No. 12 seed Duke (44-11, 19-3 ACC) by a score of 8-2 in the Los Angeles Super Regional on Saturday, sending itself to the Women's College World Series for the seventh consecutive year. Behind a five-run seventh inning, the blue and gold secured its 31st WCWS appearance, an NCAA record.
After Duke tied the game at two in the bottom of the fourth, UCLA scored six unanswered runs – three courtesy of redshirt senior infielder Delanie Wisz – to sweep the Blue Devils.
"The goal from the beginning is always to get back to OKC (Oklahoma City) and win it," Wisz said. "To get this last win under our belt and get back to OKC is really cool."
Entering Saturday, the two starting pitchers had a combined record of 41-5. Blue Devil Peyton St. George hadn't lost a decision in her last 11 outings, recording five wins and two saves. In the opposing circle, redshirt senior Holly Azevedo began her postseason by earning two wins during the regionals.
To start the scoring, UCLA struck in the top of the second.
Redshirt sophomore Maya Brady led off the inning using her legs. The center fielder ran out an infield single before stealing second base to be in scoring position with no outs. Once redshirt sophomore catcher Alyssa Garcia took a wild pitch for ball four, Brady advanced to third, setting up runners on the corners for the Bruins.
With a line drive to center, freshman right fielder Savannah Pola scored Brady on a sacrifice fly for UCLA to strike first.
"You never know when one run is literally going to win you the game," Brady said. "I think we do a great job of working on base running, but I do believe that it is instincts, and our coaches do a great job of making sure that we stay sharp on (it)."
St. George limited the damage to a run, striking out the next two batters to retire the side.
Despite having multiple loud outs and fly outs reach the warning track, both teams were kept off the scoreboard – until the fourth inning.
Brady doubled the Bruins' lead, driving a solo shot inches over the left field wall. With two outs, Pola and redshirt junior pitcher/designated player Megan Faraimo recorded back-to-back hits but were ultimately left stranded.
In the bottom of the inning, Duke tied the game with one swing. After being a few feet from a home run in her first at-bat, right fielder Caroline Jacobsen cleared the fences in her second time at the plate, hitting a two-run long ball to knot the score at 2-2.
UCLA responded in the top of the fifth. With a runner at second and two outs, Wisz – the Bruins' RBI leader – stepped into the batter's box. The redshirt senior infielder doubled into the right-center gap, scoring redshirt junior left fielder Kelli Godin.
Inouye-Perez said Wisz has come up clutch time and again.
"The girl is on fire," Inouye-Perez said. "She epitomizes being clutch under pressure."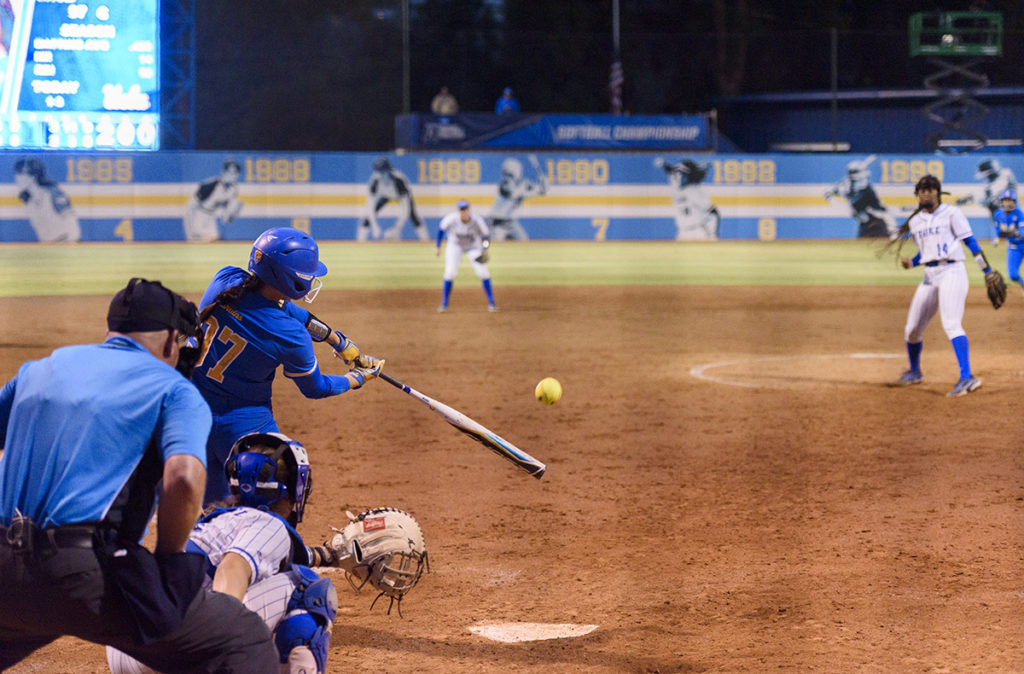 The Bruins almost extended the lead as Wisz attempted to score on Brady's single but was thrown out at home by Jacobsen to keep it a one-run game.
Faraimo replaced Azevedo in the circle and recorded a 1-2-3 inning, including two strikeouts. In her following inning of action, Faraimo allowed the first two Blue Devils to reach base but got out of the jam to retain the Bruins' lead.
In the seventh inning, UCLA added five runs of insurance.
After loading the bases, Wisz added to her day's RBI tally by hitting a two-run double before redshirt senior infielder Briana Perez scored on a fielder's choice. Once the bases were reloaded, Faraimo walked in an RBI before a passed ball allowed the fifth Bruin of the inning to cross the plate.
Faraimo came back to the circle to strike out the side and clinch the Super Regional sweep.
"Playing in such a historically successful program like UCLA, you're almost expected to be in OKC every year, but obviously, nothing is guaranteed," Brady said. "This is not a promised thing, as we've seen, and I'm just really proud of my team."
Farinha is currently a Sports staffer on the softball beat. He was previously a reporter on the women's soccer beat.
Farinha is currently a Sports staffer on the softball beat. He was previously a reporter on the women's soccer beat.