Scouting report: UCLA Softball vs. Duke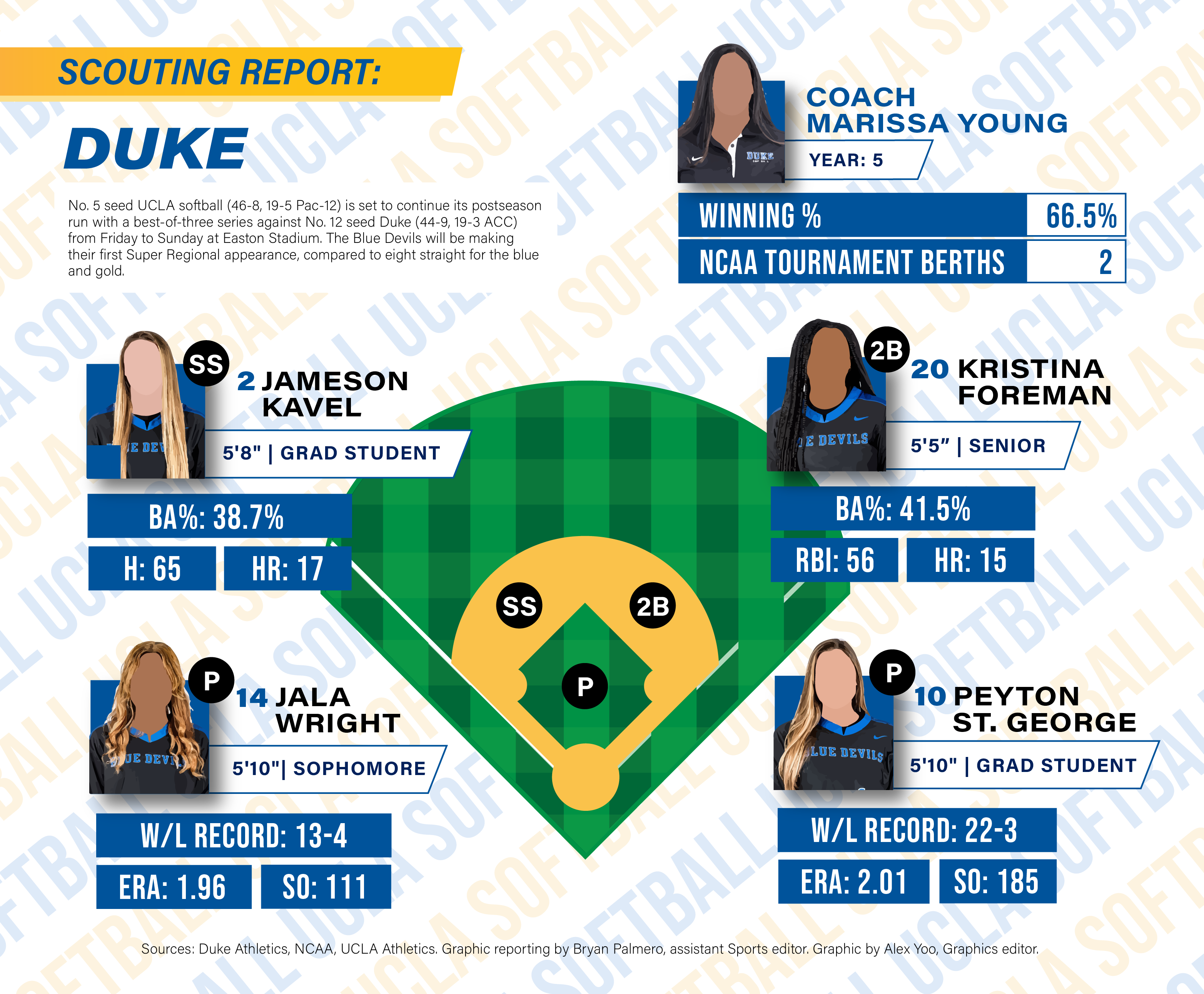 No. 5 seed UCLA softball (46-8, 19-5 Pac-12) will host No. 12 seed Duke (44-9, 19-3 ACC) in the Super Regionals this weekend for a best-of-three series. The Bruins will be playing in their eighth consecutive Super Regionals, while the matchup will mark the Blue Devils' first such trip in program history. Here is this series's scouting report from softball reporter Jordan Coyle — who is procrastinating studying for her finals by writing this profile.
Duke personnel:
Coach: Marissa Young
Position players to watch: SS Jameson Kavel and 2B Kristina Foreman
Pitcher to watch: RHP Peyton St. George
X-factor: RHP Jala Wright
Duke stats profile:
Batting average: 0.335 (No. 5 nationally, No. 1 ACC)
Home runs: 95 (No. 6 changed from 8 nationally, No. 1 ACC)
Earned run average: 2.02 (No. 16 nationally, No. 3 ACC)
Fielding percentage: 0.974 (No. 23 nationally, No. 4 ACC)
In just its fifth season fielding a softball team, Duke is part of an exclusive group.
The Blue Devils are one of five programs to rank in the top 20 nationally for both batting average and ERA.
The other four teams?
No. 1 seed Oklahoma, No. 3 seed Virginia Tech, No. 5 seed UCLA and unranked BYU.
To get where they are today — in the company of a combined 18 national championships in softball — the Blue Devils have done a lot right. And it all starts with veteran leadership from graduate students Jameson Kavel and Peyton St. George.
Kavel, a top-25 finalist for the 2022 USA Softball Collegiate Player of the Year award, paces Duke in nearly every offensive category. Her 68 hits, 60 runs, 16 doubles and 17 home runs not only lead her team but also place her in the top seven of the Atlantic Coast Conference.
Even with the exceptional season Kavel is having at the plate, it would be remiss to call Duke a one-woman wrecking crew. Equally important to the Blue Devil offense this year has been second baseman Kristina Foreman.
If the season were to end today, Foreman would take home Duke's batting title with a 0.417 batting average. Hitting in the cleanup spot, the second baseman has driven in a team-best 57 runs.
With those kinds of numbers, it's fair to say that Foreman was snubbed when she didn't receive a spot on the All-ACC First Team alongside Kavel.
UCLA is home to the first top-five pitching staff Duke will face all season. However, Kavel and Foreman, along with the rest of the Blue Devil offense, have as good a chance as any of creating havoc for the Bruins' pitchers.
Meanwhile, Duke's 16th-rated pitching staff is led by All-ACC First Team member St. George.
St. George has a 2.01 ERA through 149.2 innings pitched and has racked up 185 strikeouts this season. Despite her subpar performance in Sunday's winner-take-all game against Georgia, the Duke ace's performance in the circle over the past five seasons lends her the consistency and experience to create problems for UCLA's offense.
The Blue Devils' pitching staff is rounded out by sophomore Jala Wright, who touts a 1.96 ERA over 100 innings pitched. With a combined record of 35-7 in the circle this season, St. George and Wright are one of the most dangerous one-two rotation punches in college softball.
Wright has the potential to be the difference maker for the Blue Devils this weekend, just as she was last weekend. The Michigan State transfer entered in relief in the Durham Regional Championship game, where she threw three perfect innings to help punch Duke's ticket to the Los Angeles Super Regional.
The Blue Devil rotation will face one of its greatest tests of the season in a heating-up Bruin offense that has averaged 8.6 runs in its last five games. That said, if Duke hopes to advance to its first Women's College World Series, it will need to find a way to shut down UCLA's bats.
And the magic number will likely be five.
The Bruins have won every game where they've scored five or more runs this season. Hold the blue and gold to less than five runs and the Blue Devils have a real shot at winning, but if they let it hit that number — not so much.
Luckily for Duke, it's relatively rare that its staff gives up five or more runs in a game. However, it does happen — in 10 of their 53 games, to be exact.
If the Bruins can keep their current momentum and achieve that magic number in two of their games against the Blue Devils, it is very probable that they'll be advancing to their 31st WCWS.
Coyle is currently a Sports contributor on the softball beat.
Coyle is currently a Sports contributor on the softball beat.