UC academic student workers demand housing support, equitable job opportunities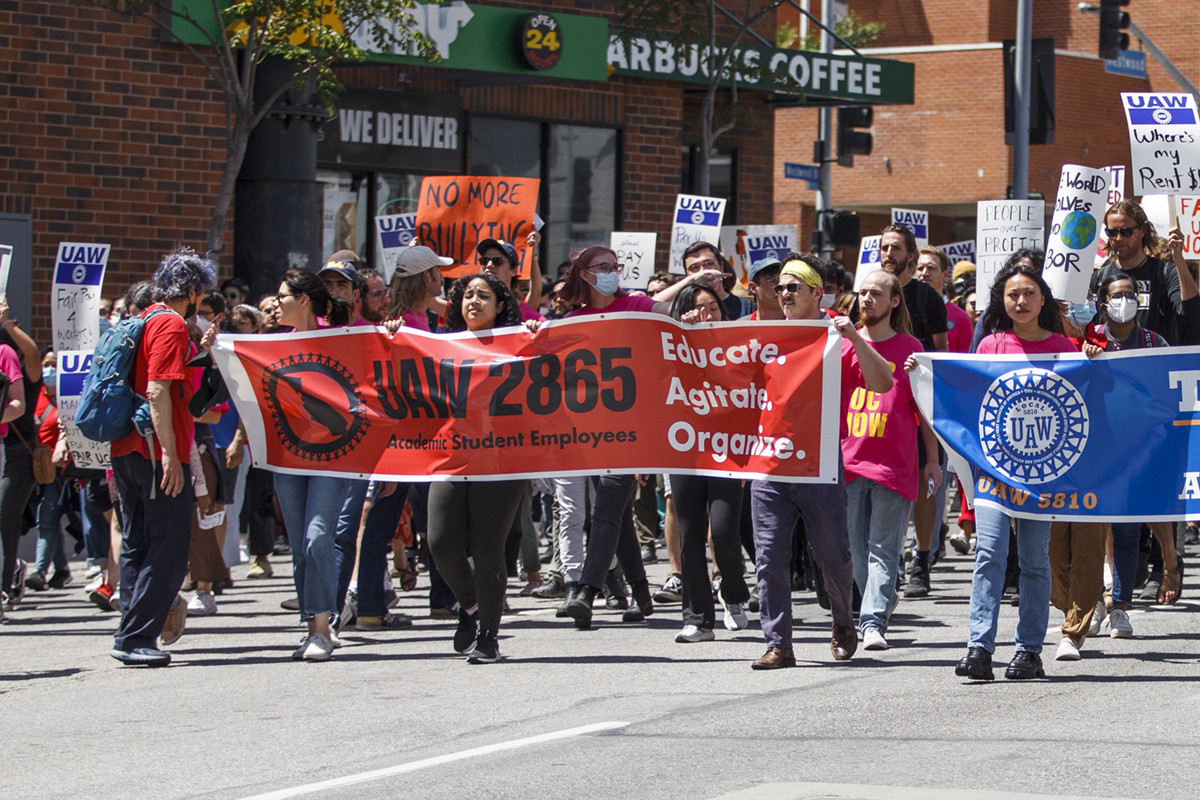 United Auto Workers Local 2865 members protest for job equity. The union represents tutors, readers, graduate student instructors and teaching assistants from the University of California.
(Joseph Jimenez/Daily Bruin)
University of California academic student workers are currently bargaining with the UC, demanding measures that address the housing crisis and make job opportunities more equitable.
United Auto Workers Local 2865, a union that represents UC tutors, readers, graduate student instructors and teaching assistants, was able to secure promises for improved timeliness in posting jobs, transparency in evaluation of workers and maintenance of a safe and clean workspace for academic student workers, according to the union's website.
Michael Dean, the recording secretary of the UAW Local 2865 Los Angeles unit and a bargaining team member, said he thinks the focus of their bargaining is to fight for an attainable higher education.
"The University of California likes to tout its role as a public institution, accessible to the people of California, the citizens of the state and a ladder to upward mobility," he said. "But unless people are paid enough to survive Ph.D. programs and master's programs, it means the University can never live up to this kind of rhetoric."
The union is also proposing fairer wages, comprehensive child care, expanded health care and an exemption from paying nonresident supplemental tuition for international students to the UC, said Rachel Forgash, the UAW Local 2865 Los Angeles unit chair.
UAW Local 2865 is demanding child care access for all academic student employees with minor dependents and a choice between a full tuition subsidy for UC-affiliated child care programs or equivalent reimbursement, according to the union's website.
Forgash said the University's current child care reimbursements barely amount to a month's worth of coverage.
The UC offers academic student workers a comprehensive array of health and family-friendly benefits, which includes financial subsidies for child care, child care centers across all campuses as well as pregnancy leave and other support, said Ryan King, a UC Office of the President spokesperson, in an emailed statement.
Currently, $1,100 is available as child care reimbursement for parents and caregivers per quarter at UCLA, which amounts to $843 after tax, and such reimbursements are only available to those with dependents 12 years of age or younger, Forgash added.
The union is also demanding that the university waives the non-resident supplemental tuition fee international students need to pay to work, Forgash said. Depending on department protocols, incurred fees force international workers to graduate faster or prevent them from being admitted at all, she added.
According to a UAW survey sent out at the beginning of the campaign, the most important issues to its union members are affordable housing and fair pay.
From the survey, union members found that more than 90% of their group were living under severe rent burden, Dean said.
According to the United States Department of Housing and Urban Development, a severe rent burden is defined as when more than 50% of income is paid in rent.
King said the UC is committed to fair compensation, and it routinely reviews compensation data at comparable universities to inform academic student workers' wages.
The UC campuses' locations are home to some of the most expensive private rental markets in California, if not the U.S., Dean said.
Dean said when he lived in university housing at Weyburn Terrace off Veteran Avenue, he had the cheapest housing option available. Yet, he still paid more than half of his wages back to the university in rent.
The union is calling for the UC to eliminate severe rent burdens such that no academic student employees spend more than 30% of their income on rent, according to the union's website.
Academic student employees are not paid nearly enough to perform essential labor, teach undergraduates and conduct research, Dean said. The employees are an organized majority that will pressure the university through collective actions until their needs are met, according to the union's website.
"The University Council-American Federations of Teachers won because they built a credible strike threat, and that is precisely what we are working to do in our campaign," Dean said. "It is the only thing that would move the university and to show them how essential we are."