The Quad: Self-efficacy linked to increased positivity, academic success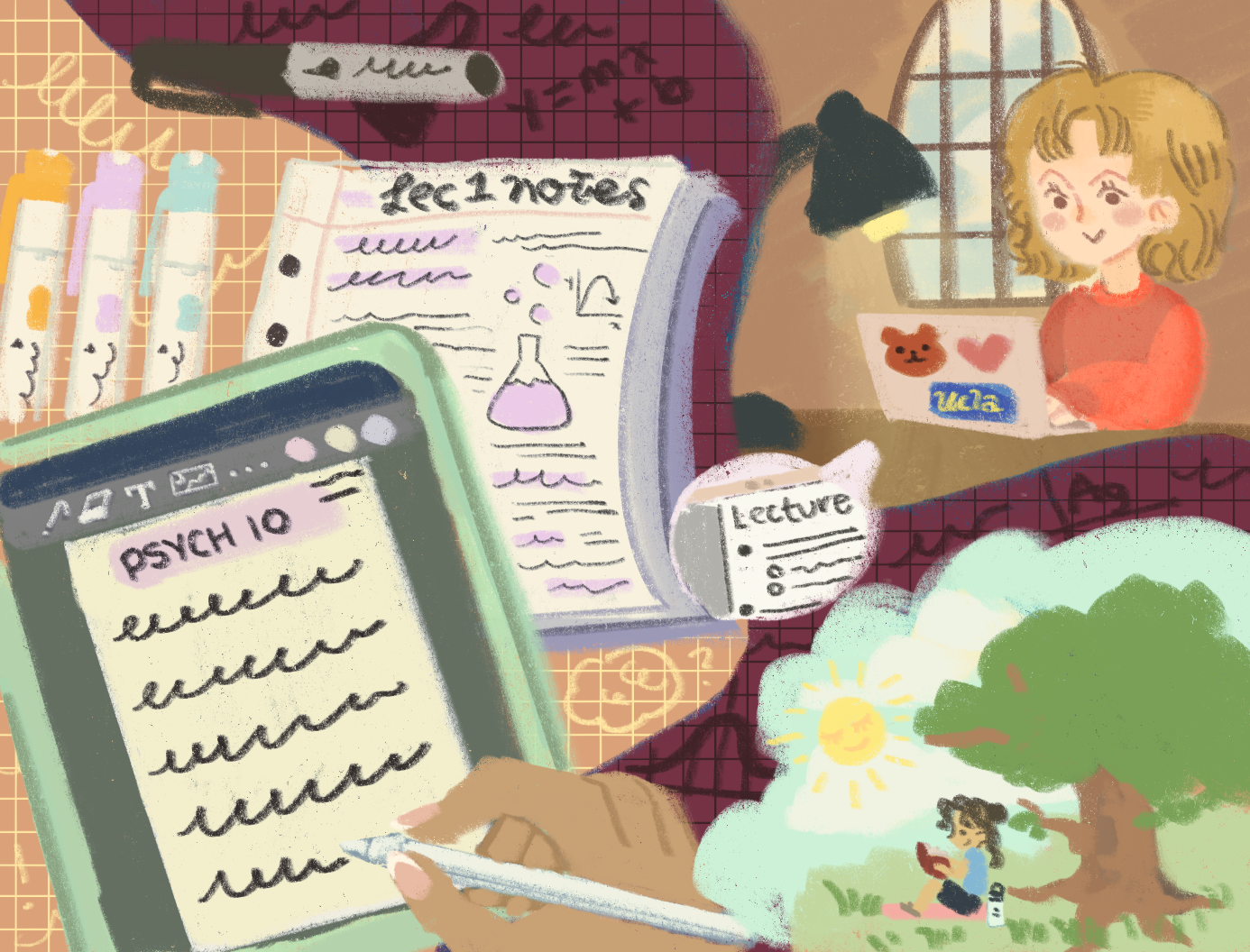 (Maleeha Zaman/Daily Bruin)
"Believe in yourself and you can succeed."
Cliche Instagram quotes inspiring one to feel better may seem to be a relic of the past, yet they hold a grain of truth despite their banality.
According to a study published in the Educational Psychology Review, self-efficacy is a psychological term often used to refer to the belief in one's abilities to succeed in a specific condition or task.
Academic self-efficacy can lead to pleasant emotions and better academic performance, according to a study published in the British Journal of Educational Psychology.
Along the same lines, psychology doctoral student Gustavo A. Martir Luna said students are more likely to achieve their academic goals when they tell themselves they can accomplish them.
"Students were given a choice between a low difficulty assignment, a medium one, or even a difficult one. … Someone with high self-efficacy would try to push and challenge themselves to complete the more difficult one," Luna said. "I speak Spanish, so I'm always telling myself 'sí se puede'; that it can be done, that I can do it."
First-year mathematics of computation student Amy Yin said her confidence in math is derived from her past performance in math courses.
"If it's some math class and I've consistently performed well in math classes, then I will feel more confident taking exams or maybe challenge myself to try higher-level classes," Yin said. "But if it's a humanity classes, like when I take philosophy for the first time, … I was not confident in myself just because I've never tried it before."
Students' self-confidence in their potential abilities can also stem from external cues.
According to psychologist Albert Bandura, enactive mastery experience, or performance accomplishments, is a major source of external information that can build or tear down one's self-efficacy. These psychological states build on a person's past successes to foster confidence, whereas repeated failures can undermine people's belief in their abilities.
Other internal factors, such as subject interest, may also influence one's level of academic self-efficacy and increase or decrease a student's internal motivation.
Rui Ying Yu, a second-year international development studies student, said having interest in courses can build academic confidence.
"If I genuinely enjoy the content, then I think I can succeed in the class, no matter how much writing it requires of me," Yu said. "If I even like it even a bit, and I can form my own opinions about it, then I can write well."
This interest contributes to the buildup of intrinsic motivation, which is very important in providing students with the mindset to overcome academic challenges, Luna said.
"Even though your classes get difficult, even though you might be scared to go talk to the professor during office hours, or you might be afraid to raise your hand or speak up during discussion, if you have a reason why you're doing this, and it's deep enough, you will be able to sort of overcome those academic difficulties and sort of find a way to achieve your goals," Luna said.
Luna added that professors can do two things to encourage efficient study habits — implement frequent but low-stakes tests and split assignments into smaller segments.
According to a study published in the Journal of the Scholarship of Teaching and Learning, students better retain knowledge when reviewing course material in low-stakes quizzes.
"If the professor implements these low-stakes exam questions in the lectures that assess previous learning, it can help the student realize that, wait, I actually remember and know things from week one," Luna said. "And this gives the students a sense of accomplishment, which is also a great way to promote self-efficacy."
Second-year cognitive science student Grace Yang said class structures, such as flipped classrooms that require students to learn material on their own before attending class, can also positively impact personal study habits and attitudes.
"Several courses that I feel like have flipped class structures or encourages the growth mindset, those help me develop confidence because they kind of teach us that mistakes are okay and part of normal life," Yang said. "And as long as we know how to grow and learn from those mistakes, we should be fine."