Track and field aims for championship qualification in NCAA West preliminary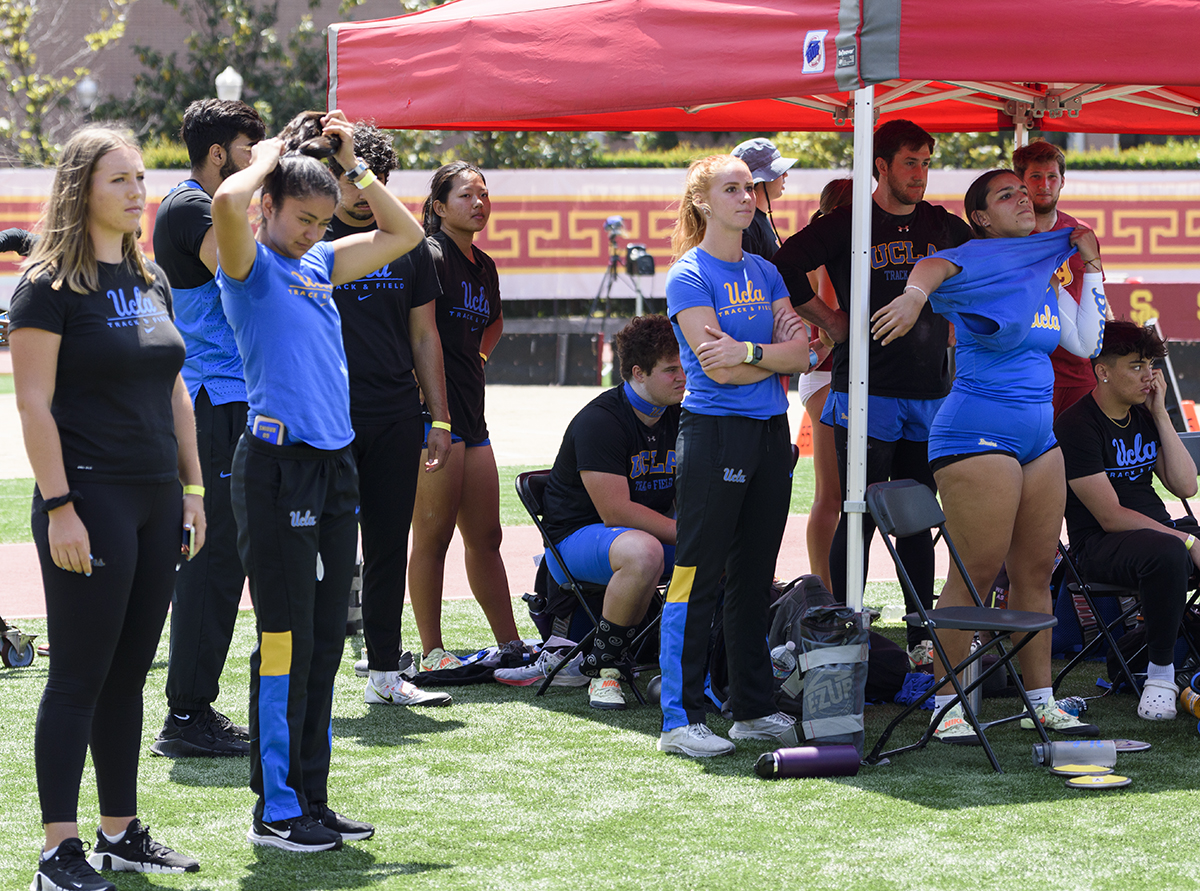 UCLA track and field athletes watch the action during their home meet against USC on May 1. Twenty-four Bruins will continue their season this week at the NCAA West Preliminary Round in Arkansas. (Jeremy Chen/Daily Bruin staff)
Twenty-four Bruins will have the chance to qualify for nationals this week.
Eleven women and 13 men will make their way to Fayetteville, Arkansas, to represent UCLA track and field in the NCAA West Preliminary Round. The four-day meet, which will kick off Wednesday, will be an opportunity for athletes to qualify for both individual events and relays in the NCAA championships.
The Bruins came away with multiple podium finishes at the Pac-12 championships last week in Eugene. The prelims this week will determine which athletes can become one of 12 in each event to further advance in the postseason with the championship meet as the next and final stop.
Those traveling to Arkansas have earned the chance because they were successful in achieving a qualified mark for their event at some point earlier in the season.
Coach Avery Anderson said he has emphasized to his team the importance of remaining focused and competitive in these final weeks, adding that the increased pressure in the postseason environment can help bring the best out of his athletes.
"Holistically, we have been focusing on the way we are living, resting, sleeping, studying – and of course – training and being mentally prepared is on the top of the list," Anderson said. "It's a lot easier to be focused when you have so much on the line at such an intense environment. Plus, this is what we train for, so there's certainly a lot of focus and anticipation going into this competition."
The women's qualifying meets will take place Thursday and Saturday, while the men's heats will compete Wednesday and Friday.
The 4×400-meter relay squad, consisting of sophomore sprinter Kate Jendrezak, redshirt senior sprinter Shae Anderson and junior sprinters Makenzy Pierre-Webster and Catherine Leger will enter the meet following a first-place finish at the Pac-12 championships.
Junior distance runner Emma Tavella will now be racing in her fourth 3000-meter steeplechase race of her career. Despite her limited amount of experience in the event, Tavella broke the school record with a time of 10:07.74 last Saturday.
The men's 4×400-meter relay team shared similar success as the female squad in Eugene. The quartet of senior sprinter Seth Holloway and junior sprinters Myles Misener-Daley, Ismail Turner and Cameron Reynolds took a second-place finish, trailing first by 0.14 seconds.
Junior distance runner Peter Herold and senior distance runner Munir Kabbara will also ride into this week following high-placing performances in Eugene. In the men's 3000-meter steeplechase, Herold took fifth place with his time of 8:42.22 – the fifth-highest mark in program history. Kabbara was not far behind, finishing in sixth with a 8:44.05 to rank seventh in team history.
Anderson said the Bruins are ready to put everything on the line starting this Wednesday.
"As for emotions for me, I am feeling confident and excitement mostly," Anderson said. "Keeping positive thoughts as I know our athletes are trained and ready to perform."
Freeman Sacker is currently a Sports contributor on the men's golf and track & field beats.
Freeman Sacker is currently a Sports contributor on the men's golf and track & field beats.