Hip Hop Initiative unveiled to highlight, share UCLA scholarship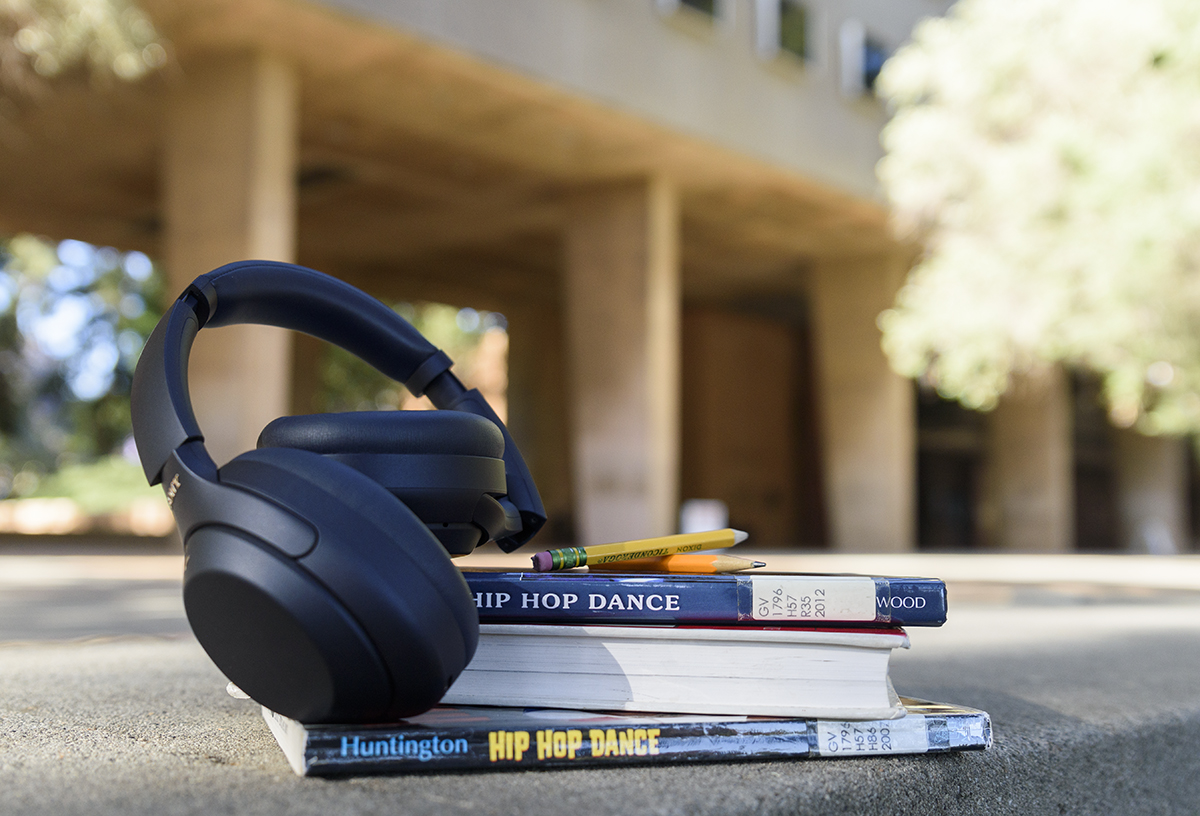 A headset and pencils rest on books about hip-hop. A new African American studies initiative will educate the next generation of scholars about hip-hop culture. (Jeremy Chen/Daily Bruin staff)
This post was updated May 30 at 10:50 p.m.
A new African American studies initiative will educate the next generation of scholars in celebration of 50 years of hip-hop culture.
On March 28, UCLA's Ralph J. Bunche Center for African American Studies introduced a new series of postdoctoral fellowships and lectures through its Hip Hop Initiative, according to UCLA Newsroom. The initiative also unveiled new programs including digital archives and several book series on the subject.
The growing influence of hip-hop and the concentration of notable faculty at UCLA allowed the university to document the transformative power of Black and marginalized artists, said H. Samy Alim, the associate director of the Ralph J. Bunche Center for African American Studies.
Alim said hip-hop has allowed people from marginalized communities to resist the most brutal of conditions, adding that artists around the globe, from Spain to South Africa, deal with injustices through hip-hop as a form of cultural production.
The new initiative aims to share the stories of oppressed individuals to ensure they are accurately told, he said.
"We need to have Black history, Black music (and) the contributions of Black people constantly documented or else they will be erased," Alim added.
The initiative also supports existing programs such as the Hip Hop Studies Working Group, created in 2005 to support students' interdisciplinary research into hip-hop culture.
The working group, consisting of students and professors, meets monthly to discuss themes of social justice and racial issues mentioned in hip-hop literature, said Samuel Lamontagne, an ethnomusicology doctoral student.
Leroy Moore and Stephanie Keeney Parks, both doctoral students of anthropology, said in a joint emailed statement that the working group is supporting their research surrounding the experiences of Black disabled people in hip-hop.
"Disabilities have always been in hip-hop, … and it is up to us at UCLA to bring it out, to write papers about it (and) to write books about it," Moore added.
MiRi Park, a doctoral student in world arts and cultures/dance researching Asian American hip-hop, said the initiative allowed her to connect with a wide range of scholars to expand awareness of how hip-hop permeates our daily lives.
The initiative provides a space for researchers to learn about hip-hop, Park said, adding that it is a generational effort between those in and working to be in the field.
According to UCLA Newsroom, another focus of the initiative is supporting community-based projects such as the Hip Hop High School-to-Higher Education Pipeline.
Parks said hip-hop is a way for students to learn, express themselves and explore the world. Classrooms that are welcoming to all students promote creativity and kindness toward each other, she said.
Parks added that she agreed to work with the pipeline only after requiring their classrooms were inclusive of all disabled students.
"If there are truly inclusive spaces where people are loved and cared for, this (pipeline) makes a real difference in society for disabled people as we move forward," she added.
The initiative also advances hip-hop scholarship through the artist-in-residence program, which collaborates with artists to help people understand hip-hop's meaning, Alim said.
The first artist-in-residence, Chuck D, is a prominent figure from the rap group Public Enemy. He represents hip-hop through the lens of Black creativity for survival, Alim said.
"Everywhere, Public Enemy was the clarion call (and) the battle cry for all of those who are marginalized," they said. "So Chuck D has actually been teaching through his music and through hip-hop culture."
UCLA can amplify hip-hop's regional importance, long-standing history and future, said Tabia Shawel, the assistant director of the Ralph J. Bunche Center for African American Studies.
"We want to focus on yes, what hip-hop has done in these past 50 years, but what are we going to do 50 years from now? What is going to be said about hip-hop in the future?" Shawel said.
Cheryl L. Keyes, chair of the Department of African American Studies, said that through UCLA, the initiative teaches students to move beyond just dancing to engaging with the music critically.
From street culture to mainstream media, hip-hop is too important to American society to be ignored, Keyes added.
"UCLA is finally falling in line with recognizing the academic and the scholarly importance of this culture and music known as hip-hop," Keyes said.